I love sangria but typically, sangria is made for a crowd. I got creative yesterday and came up with the following recipe for small batch sangria. Perfect for days where you're hosting a small party or would like your own sangria. Made with inexpensive products that are easily found, this small batch sangria is very easy to throw together. I would make it in advance if possible. I made the first batch yesterday afternoon around 4pm and when I opened it today at 3pm, it was even better than last night. Even if you don't have time to make it in advance, don't let that stop. The flavors of the ingredients blend so easily, you'll enjoy it no matter how long it 'brews.'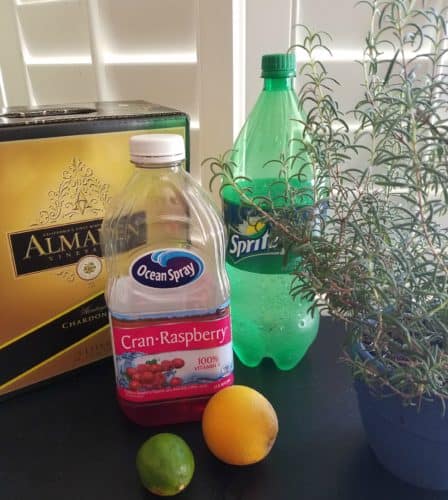 Small Batch Sangria

Recipe
Small jar with lid (glass or plastic will work — I used a glass milk jar)
White wine (I used a box of inexpensive Chardonnay but your favorite white wine will work)
Sprite, 7-Up or Twist (any lemon-lime soda will work)
Tangy juice (I used Ocean Spray Cranberry-Raspberry)
Lemon
Lime
8-10 fresh mint leaves (I used a mix of sweet mint and spearmint)
1-2 fresh sprigs of rosemary
Thinly slice the lemon and lime; place in the bottom of the jar. Add the mint leaves, but bend/fold them a bit as you drop them in the jar. Smush them just a bit with a muddler or a utensil handle.
Fill the remaining space in the bottle 1/3-1/2 full with wine, depending on the strength you'd prefer.
Add 1/3 of juice and finally, 1/3 of the soda. (I left about 1/2″ or so in case the soda fizzed, but even with fresh soda, it didn't.)
Place the lid on the cap and gentle turn the bottle so everything mixes well.
Place in the refrigerator to cool. Every couple of hours, turn the bottle more so the flavors continue to infuse.
Whenever you're ready to enjoy the small batch sangria, fill your glass at least halfway with ice. Sangria is delicious very cold.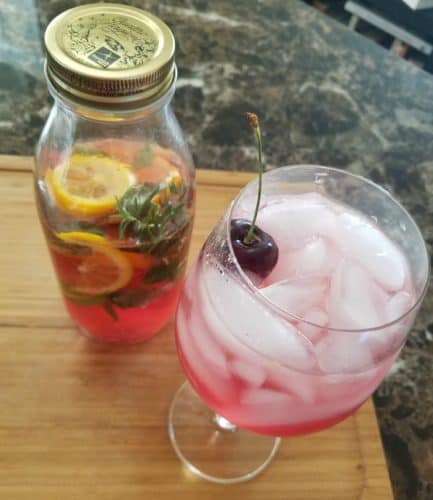 When I tried my sangria the first afternoon I made it, I got a delicious flavor of citrus mixed with the tang of the cranberry. The longer it sat, the more the rosemary infused with the liquids. It was a much stronger, herby flavor on day 2, but not enough to overwhelm the fruits at all. I prefer it when it sits overnight, but I could drink it either way. It's a low-alcohol beverage for a hot summer day where you want to have an adult beverage but don't want to over-indulge. This will be perfect for tomorrow's July 4th celebration!
If you want to try creating your own small batch sangria, have fun with it! Use the wine, juice and fruits you have at home. Give the fresh herbs a shot. I have four big different selections of mint out back in the garden, all organic, and I love to find ways to enjoy them. This sangria is just one of many ways I utilize the herb section of my garden.
Let me know what your favorite sangria is and your favorite kinds — I'm always looking to try new recipes!