When was the last time you had a Madeira wine? Or are you saying, 'what is madeira wine?' right now? If you enjoy wine, you need to make it a mission to try it. I knew little about it beyond it is a fortified wine, so my day spent at the Madeira Wine Experience in Los Angeles last week was incredibly educational — and a lot of fun.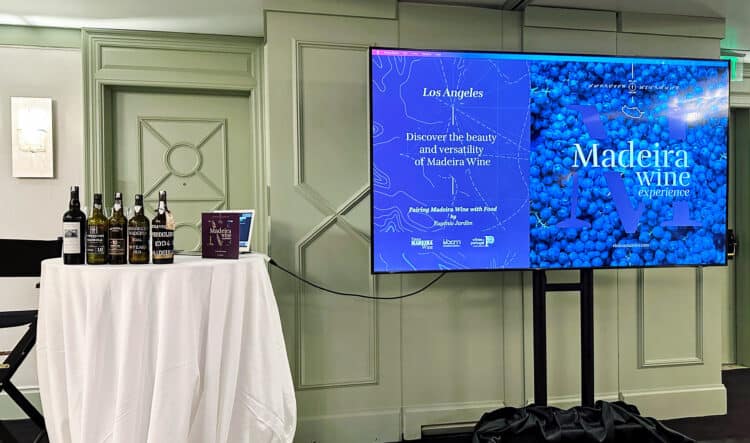 The Madeira Wine Experience was held at the Maybourne Hotel Beverly Hills, formerly known as the Montage, on October 24, 2023. Open to only wine trade and media, it was a day full of education about what is madeira wine, the history of this delicious fortified wine, what to pair it with, and how to use it in cocktails. Beginning at 11am and wrapping up at 5pm, it included multiple seminars, all-day madeira wine tasting, and a full buffet of appetizers, entrees and desserts that go well with the wines. If you're a wine lover and work in the industry, I recommend you keep an eye out for future similar events! I had a really great time and I came away with a lot of fantastic info to share with you!
First, a bit of info on me, in case you're new to my site. I am a long-time wine lover with a goal of making wine tasting and wine vernacular less intimidating and more fun for everyone. I have no professional certification, but I do have many years of wine trips, wine purchases and wine writing. Oh, and wine tasting. When we renovated our home in 2020, we designed our kitchen to hold both a white wine refrigerator and a red wine cabinet. Currently, both are almost at capacity, yet I still find myself purchasing more. Once you get started, it's hard to stop.
What is Madeira Wine? What Should I Know About Madeira Wine Pairing?
The first seminar I attended was led by Sommelier and Wines of Portugal brand ambassador Eugénio Jardim. The presentation began with the history of Madeira, which is actually an island off Portugal. If you're unsure of where that is, join the club. The island is actually closer to Morocco than it is Portugal, and it's one of a series of small islands clustered together in the North Atlantic Ocean. The location, and the climate where any grapes are grown have a huge impact on the end product, and you could go down a long wormhill learning all of the facts about wine making, also known as oenology. If you have a favorite winery or varietal, it's worth the time to do at least one deep dive to become familiar with the process and terms. I can't go too far into it here, but I'll give you a quick breakdown on the island of Madeira and how its topopgraphy lends itself to the production of this delicious wine.
Madeira Island is a small mountainous island that was once too populated with foliage, so a decision was made to set it ablaze in an attempt to clear it. It burned for years, but it resulted in an island that could sustain homes in an environment that allowed for not only growing food but starting vineyards. 47% of the island is mountains and forests, with many varying climates and microclimates due to the altitude changes and winds. The majority of grape vines are supported by pergolas, basically a trellis system that gives the vines all the sun and water they need while providing a space for vegetables to be grown underneath; this dual growth system maximized the use of space and both grapes and vegetables benefited each other.
Within 26 years of the colonization of the island, wine was being produced — and it hasn't stopped since. There are six primary wine producers on the island, with four main types of varietals. Five of the six producers represented at the event, and with each type of wine, we were given a carefully chosen food to enjoy with the wine.
Wine pairing is more art than science, though there definitely is a level of science involved. Acidity levels, sweetness, fruitiness, heaviness — every wine is different and while they can be enjoyed with many types of foods, the flavors can be highly complimented by specific profiles. Finding what works best with each type of wine requires skill, creativity, and a dose of ingenuity. Thinking a little outside of the box can often put the wine in its absolute best light while giving you, the wine drinker, a perfect tasting alongside bites of food that make you want more of both.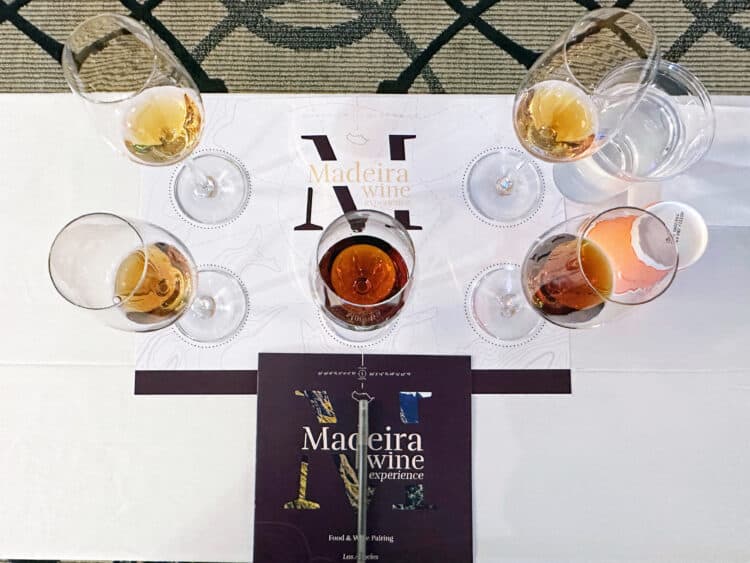 Eugénio Jardim did not disappoint.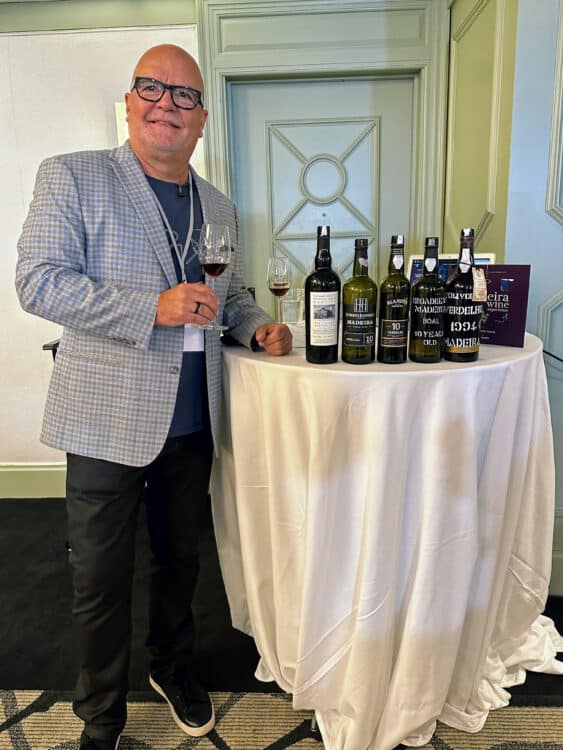 In fact, a couple of his pairings were very unique, yet they worked perfectly. (He also is incredibly charming and shares his information in such a way that everyone can understand. Some speakers can be over your head, even for industry folks, but that was not the case, and everyone was furiously taking notes as he spoke.)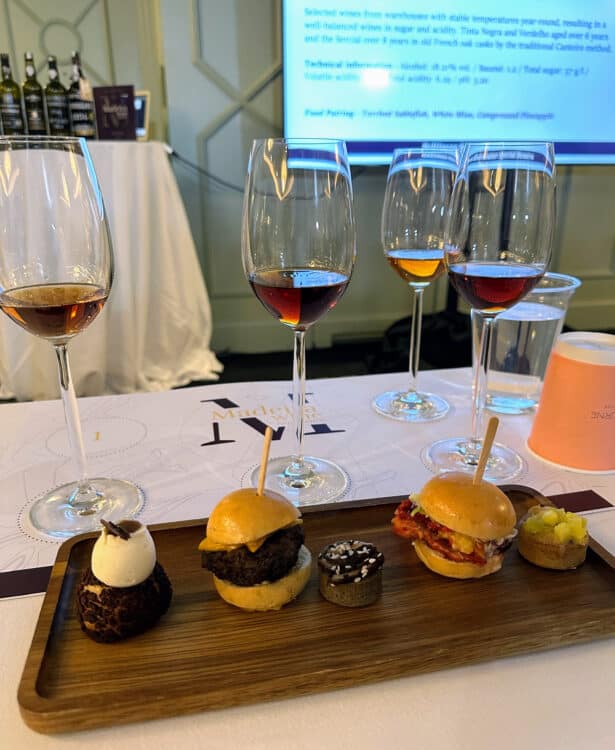 He paired the Barbeito Baltimore Rainwater Special Preserve with Torched Sablefish with White Miso and Compressed Pineapple. It isn't something you'd necessarily think of, particularly with the salty aspect, but it it was definitely a success, and one that surprised several industry guests. (My food was spun around in this photo, which I did not notice until too late, so pardon the confusion — the sablefish is on the far right.)
See the color variations in the photo? All Madeira wines will be a varying shade of tawny or amber color. Why is a Madeira wine considered "fortified"? It's because a portion of brandy is used during the fermenting process. One big difference between how Madeira wines and other wines are made have to do with the exposure to heat and oxygen. Fermentation occurs either via estufagem, which is intentional exposure to heat for several months, in a stainless steel container, or via the cantiero method, which utilizes casks that are placed in a location to absorb the sun's heat for at least several years. There is so much to "what is Madeira wine?" that I absolutely cannot cover it all here, but I hope this gives you a quick primer on all things Madeira so you have enough info to buy some or confidently order it in a restaurant.
Madeira wine is often served as an aperitif, an after-dinner drink, or even a nightcap, similar to how one would enjoy a port. The flavors of each type vary, and if you're ever offered the opportunity to try multiple Madeiras, take it. You'll be surprised at the way they blossom after opened, and you'll find they make a wonderful addition to any meal or dinner party. From being used in a cocktail to opening your special celebration, these wines deserve further consideration as an addition to your basic wine collection at the very least. Try them with different foods, experiment and go outside your comfort zone at an affordable price. If you're unsure which to buy for enjoyment at home, sample some at your local bar or restaurant. I guarantee you'll be surprised that you don't hear more about it.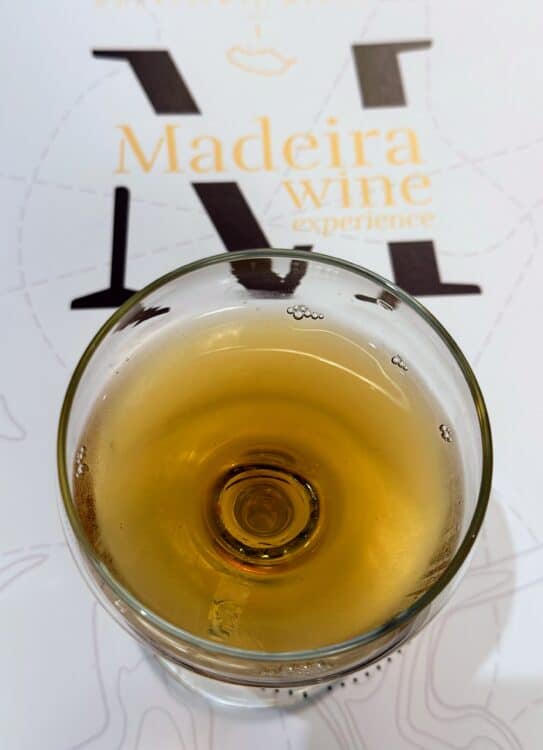 Following the Madeira pairing session, we had some free time to wander the main wine tasting hall. There were tables to try Madeira wines from five different wineries, along with buffets of tapas, desserts, cheese boards, fruit, dumplings, egg rolls…you name it, all labeled with the types of wine best paired with them.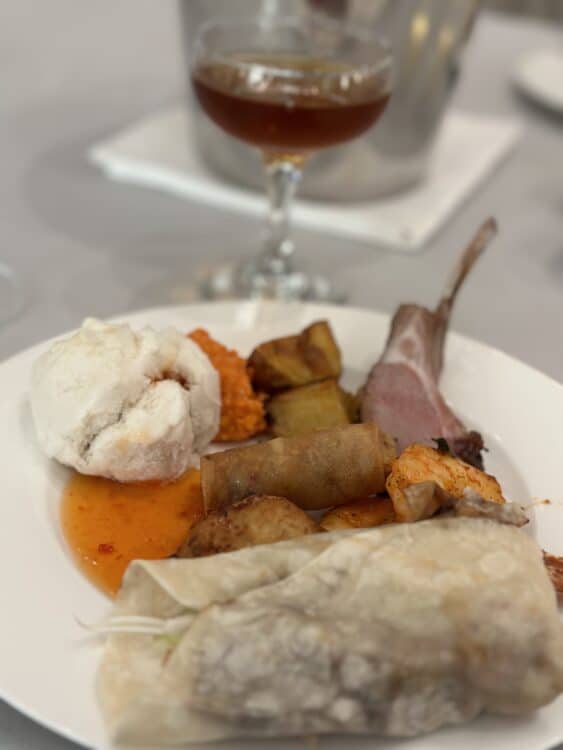 So many good things! I was driving home after, so I needed to pace myself…but look at these mini-Myrrha Cup cocktails!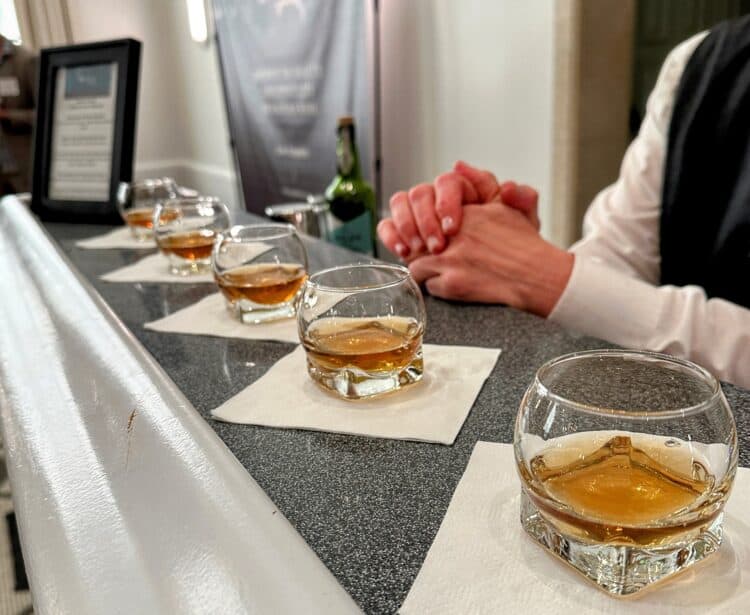 I got into the line for one of them early on, when they were full-sized. It was absolutely amazing and something I would love to try to recreate at home…so much so that I ordered cardamom bitters the next day. They took over a week to arrive (thanks, Amazon!) so I haven't yet made my own attempt at this cocktail but I hope to hit up Total Wine tomorrow for the amaro. (I did already grab some Madeira though!)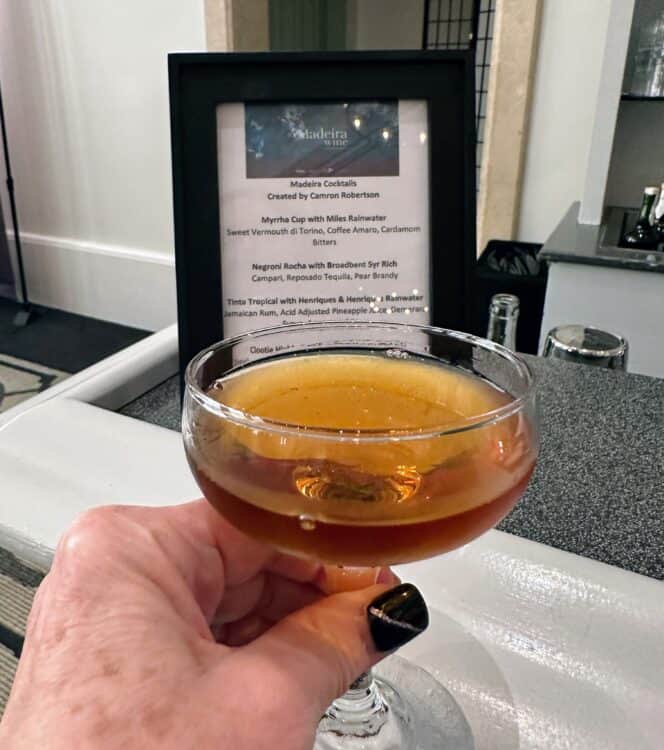 The hall was spacious and allowed for all the guests to wander at their leisure from table to table, speaking with everyone at each wine producer's table. There was opportunities to ask questions, try various years and varietals, and to really get in the weeds about each wine. With this particular event being focused on wine-industry and wine writers only, the discussions were detailed and very interesting to listen to. We ended up eating with sommeliers from local restaurants, wine buyers from store chains and mixologists from all over. It was fascinating and a dreamy event for anyone who loves to talk shop regarding wine….which is me, I am one of those people.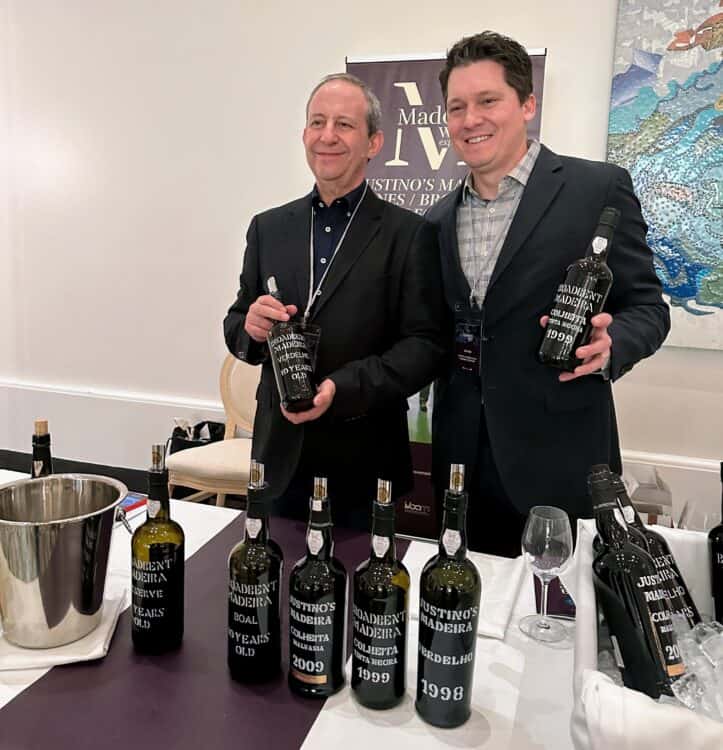 I've never really considered a visit to Portugal, to be honest. Upon learning more about my ancestry years back, I'd created a list of places to visit, including Spain, Scotland, Algeria and more, but also Hungary, as my husband is first generation. I'd only recently learned how big of an industry wine is Hungary. That's another fun thing about wine: there is always more to learn. Wine production doesn't stop and while basics may never change, nor should they even, there are many nuances and minor evolutions taking place all the time. There will always be more to explore, and for me, one of them is the island of Madeira. I want to see the pergolas in person. Thanks to the Madeira Wine Experience Los Angeles, and the handy little books they provided, I'm armed with a lot more information to make that possible.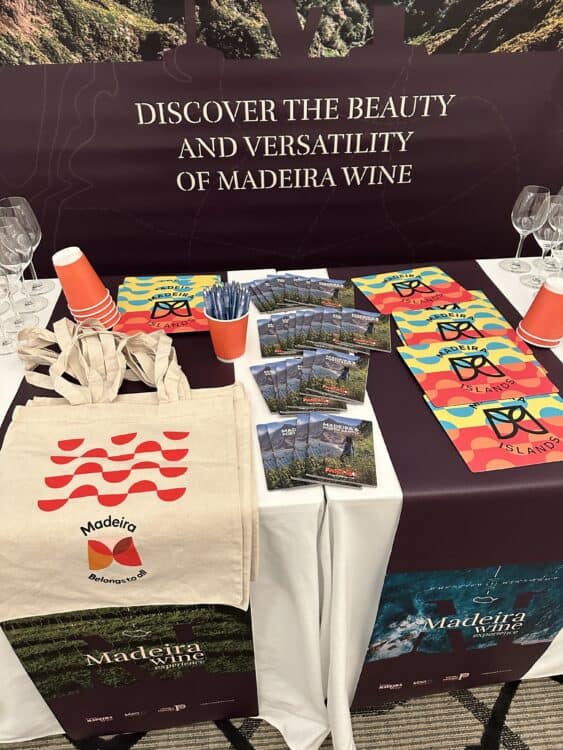 The second session I attended was Madeira and Cocktails — basically, cocktails made with Madeira wine. You may have had one before and never known it, as the wine isn't always the forefront flavor but a blend that is incredibly unique. This session was led by Camron Robertson, General Manager of the wildly popular bar, Thunderbolt LA. His mixologist skills were on full display as he made us each five cocktails using Madeira wine. I only wish I could have finished each one fully, but that would have required a stay at the hotel that night, slightly out of my budget though one day…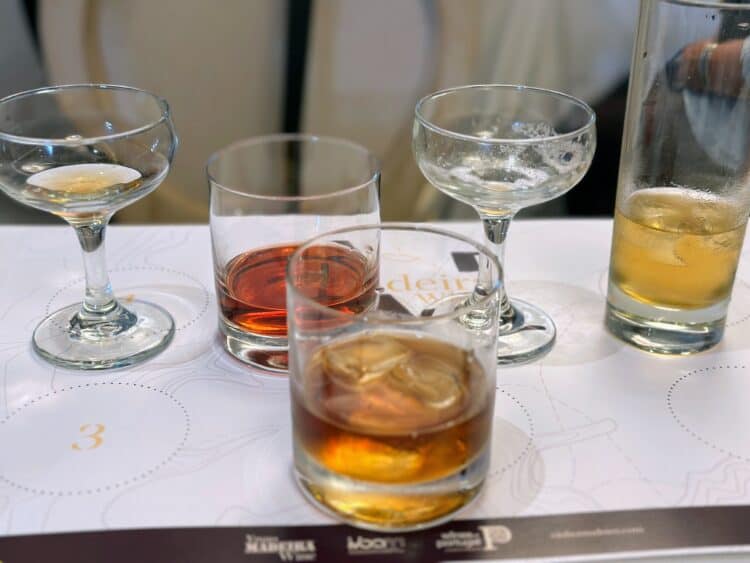 The five Madeira wine cocktails were:
Myrrha Cup, which is similar to a Manhattan, with coffee notes and cardamom on the finish
Negroni Roche, a tequila-forward Negroni with apple, brown sugar, and vanilla notes
Tinte Tropical, using Rainwater Madeira (to add acidity and fruit flavor) with rum and acid-adjusted pineapple juice
Clootie Highball, which contains scotch, apricot liqueur and almond bitters for a gentle blend that packs a punch of pineapple-forward flavor
The Round Trip, similar to a Vieux Carre (which we particularly enjoy at the O Bar at the Orange Hill Restaurant in Orange, California), with brandy, banana liquer, bitters and cognac. (There's a trick to pouring this one, where the brandy is better at a specific temperature.)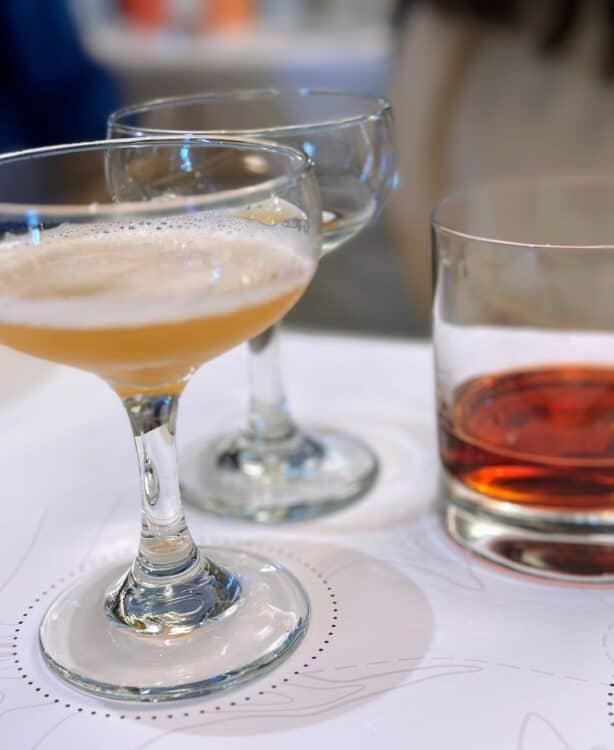 Each cocktail was amazing, but I think I favored the Tinte Tropical and the Clootie Highball. I'm more partial to sour and smoky notes, less to sweet flavors, and I could have easily finished both of those if I'd had a personal driver! Every cocktail used the Madeira wine to its advantage, showcasing its balance between sweetness and acidity and its well-rounded profile.
A little more breakdown on Madeira wine types:
Madeira Wine Dry, Sercial
Madeira Wine Medium Dry, Verdelho
Madeira Wine Medium Sweet, Boal
Madeira Wine Sweet, Malvasia/Malmsey
This small portion of one of the presentations gives you a little more in-depth detail on pairing each one.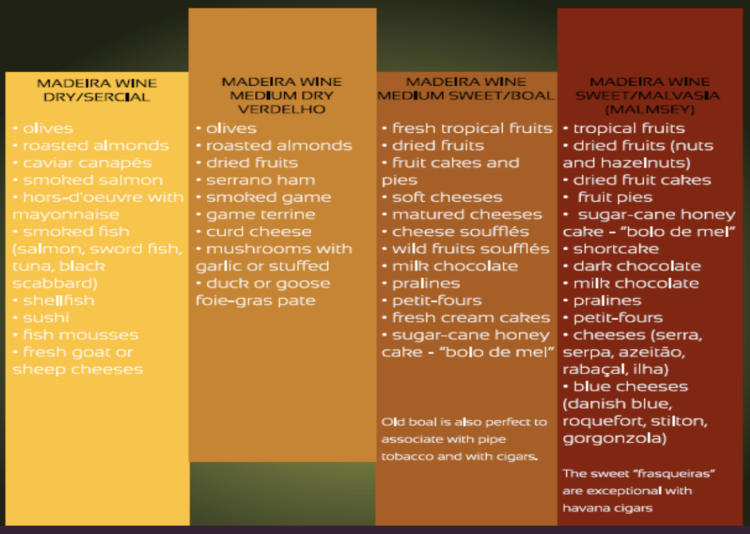 Madeira wines are available at many of your favorite stores, such as Total Wine, Gelson's, Trader Joes and more, as well as a lot of your favorite restaurants. I hope this introduction to Madeira helps inspire you to give them a try in one of their many forms.
Thanks again to the Madeira Wine Experience Los Angeles and Allison at Please The Palate for the invitation to attend! I look forward to more wine education and opportunities to share with you all. No matter what your level of wine knowledge and/or comfort is, don't let lack of info stop you from trying new things!