Growing up in Anaheim meant Disneyland was a big part of my childhood. Even when my friends and I weren't inside the park, we were exploring the surrounding areas. Downtown Disney, a long strip of shops and restaurants leading to the entrance of Disneyland and California Adventure is just an expansion of the magic that is Disney. Last Saturday, we spent the afternoon at a media tasting in honor of Happy Hour at Naples Ristorante, another Downtown Disney restaurant that lends a taste of Italy to the popular promenade.
We've walked past Naples frequently, always smelling the fresh garlic and tantalizing scents of pizza but usually dragged by a kid counting steps until we get to the rides. This time, we were excited to sit down and enjoy the happy hour festivities set up for the attendees at the media event. Surrounded by blogger friends, we knew we were in for a fun afternoon.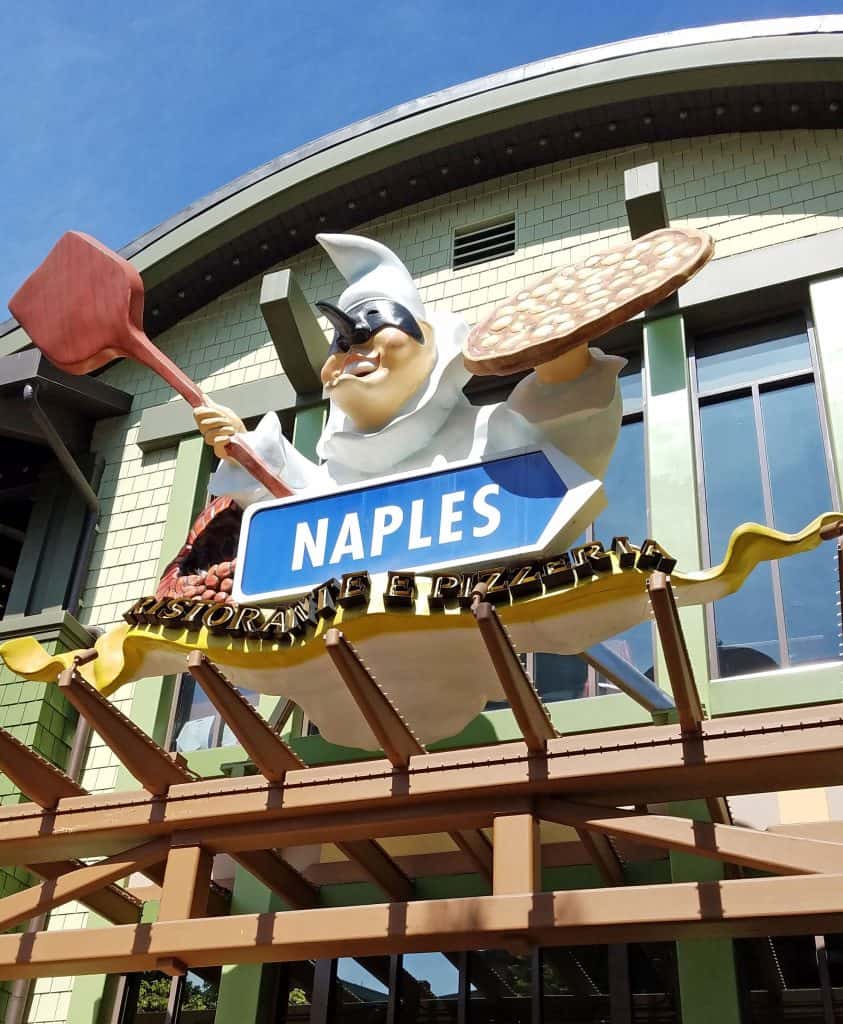 Happy Hour at Naples Ristorante keeps it simple. Available from 3pm – 5pm Monday through Friday, the menu consists of Bruschetta, Calamari and Panzerotti along with the draft beer, house wine and sangria. Each authentically Italian appetizer is delectable, fresh and filling. Keep reading for a discount code on an appetizer and for a chance to win your own $50 gift card for Naples Ristorante.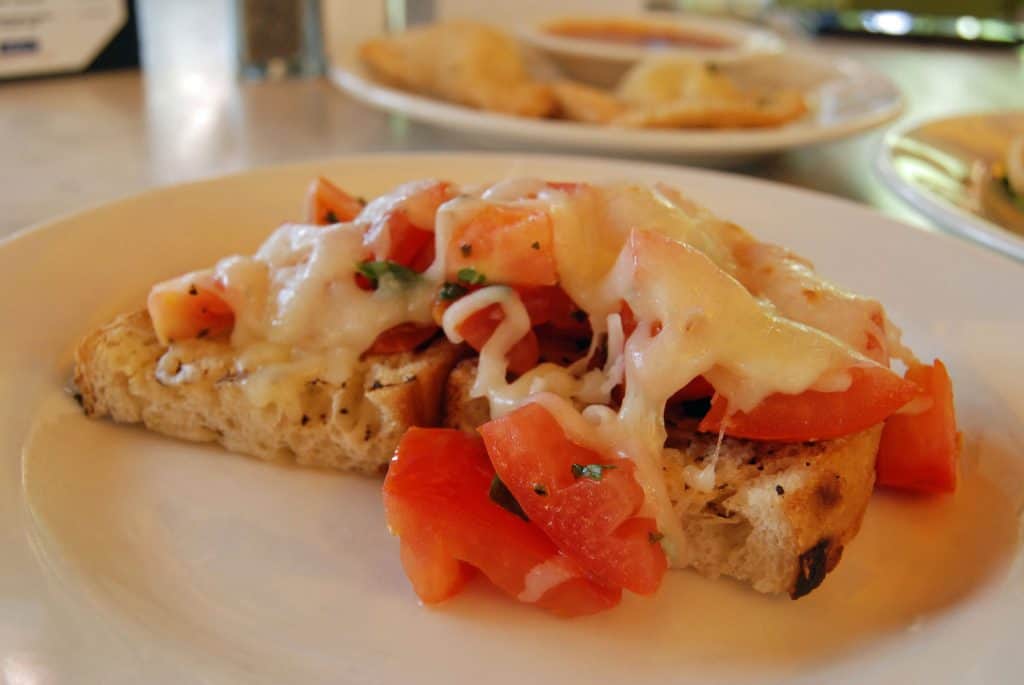 The Bruschetta's cheese was perfectly melted and held the tomatoes onto the grilled bread. The smokey taste and seasoning on the ciabatta bread, as well as the crisp, resulted in us having two of these dishes. Shhhhh….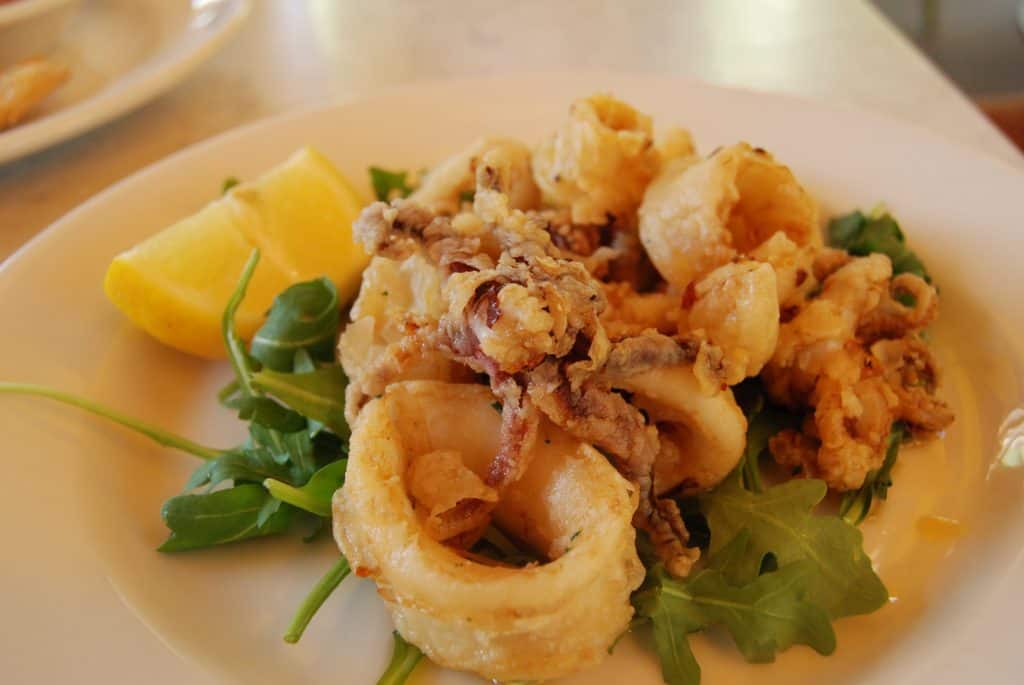 Calamari is always one of my favorites, but this approach was above and beyond. The coating on the squid is light, seasoned well and the arugula itself was something to eat, not just serving as a bed for the calamari. Don't forget to squeeze the lemon onto the whole dish and enjoy, and it's served with spicy garlic aioli.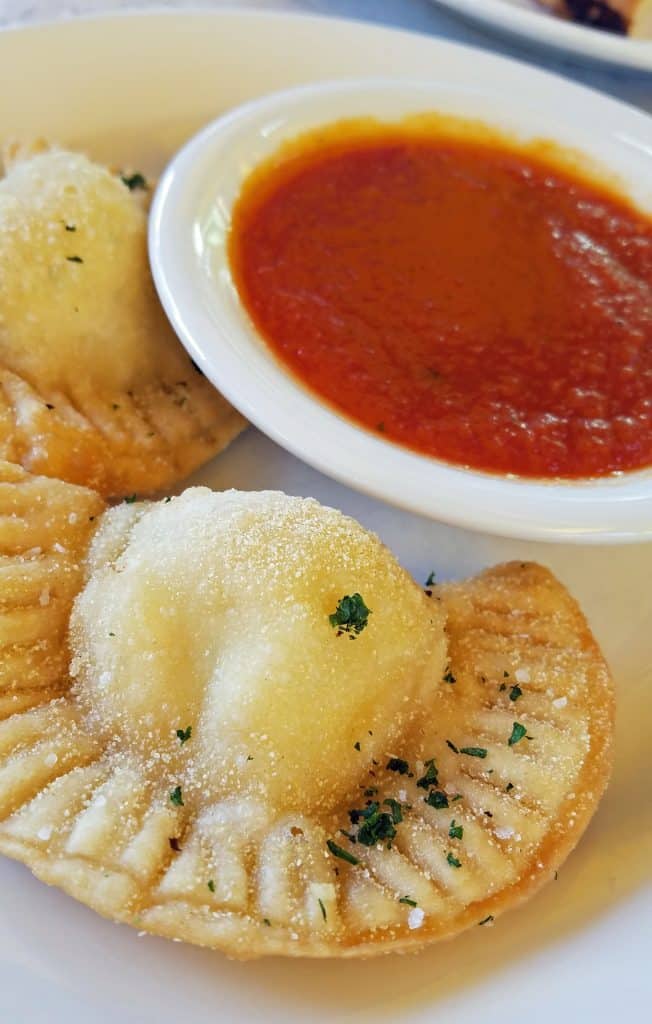 I don't know if I've had a Panzerotti before, but this won't be the last time. Fried pizza dough filled with mozzarella, ricotta and parmesan, it comes with a marinara sauce for dipping — you just may not need it as the dough tastes so good on its own, then when you bite into the cheesy center, you won't remember there even was sauce.
Served by fantastic wait staff, the food arrived quickly. No time is wasted, so you're not kept away from Mickey and friends any longer than you want to be. Should you choose though to make your visit to Happy Hour at Naples Ristorante be a break, then you've chosen the right place. Languish under the umbrellas outside, people watching while you sip your beverages, or head indoors to watch the chefs prepare the pizzas and other dishes. Whatever you choose, your visit will be another fun memory of your visit to Downtown Disney. (Read more about it at their website.)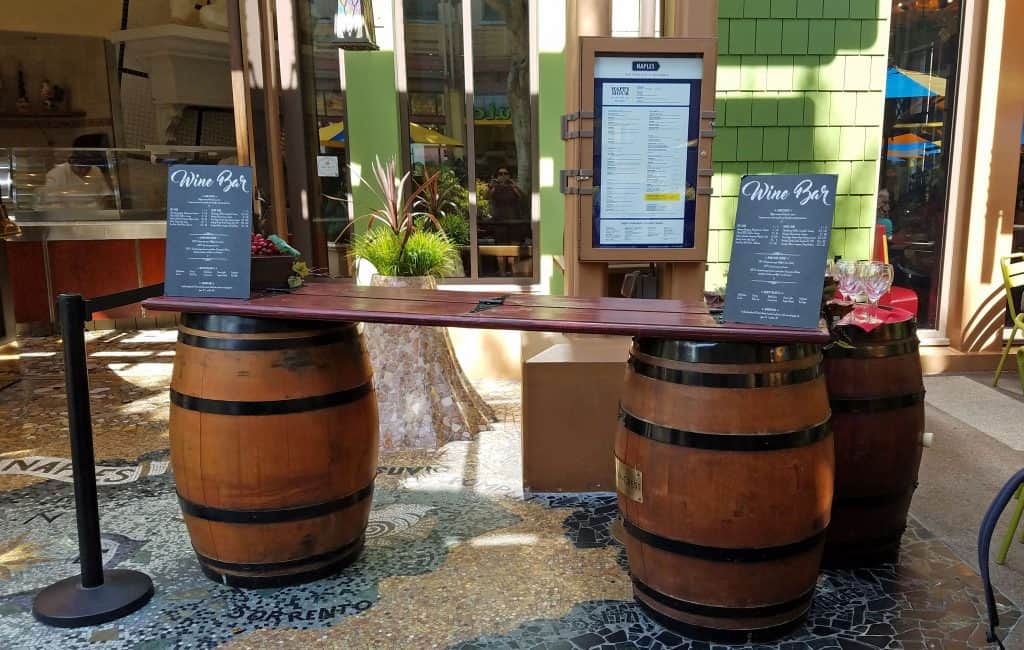 Whatever you choose to eat, be sure to try the blind wine tasting challenge. For $13, you are served a flight of three wines — white or red — and given the task of guessing the type of wines you are served. For white, the choices are Chardonnay, Sauvignon Blanc, Riesling, Moscato and Pinot Grigio.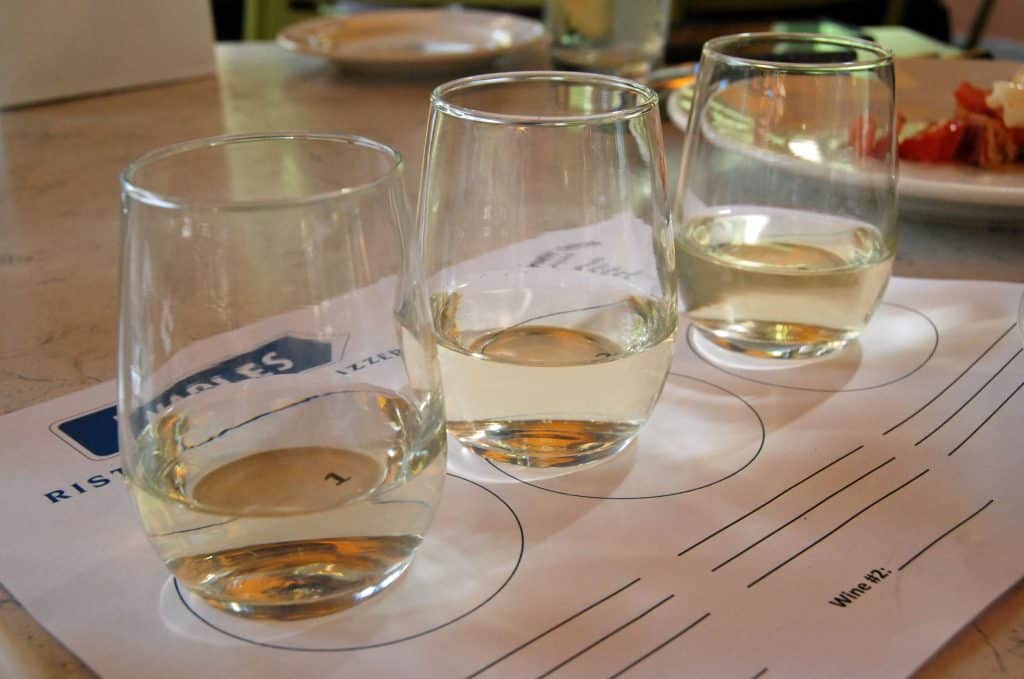 For reds, the options are Merlot, Pinot Noir, Chianti, Zinfandel and Cabernet Sauvignon. While you may be pretty confident of your palate, as I was with the whites, it's not as easy as it sounds! If you do get all three correct, your wine tasting is free!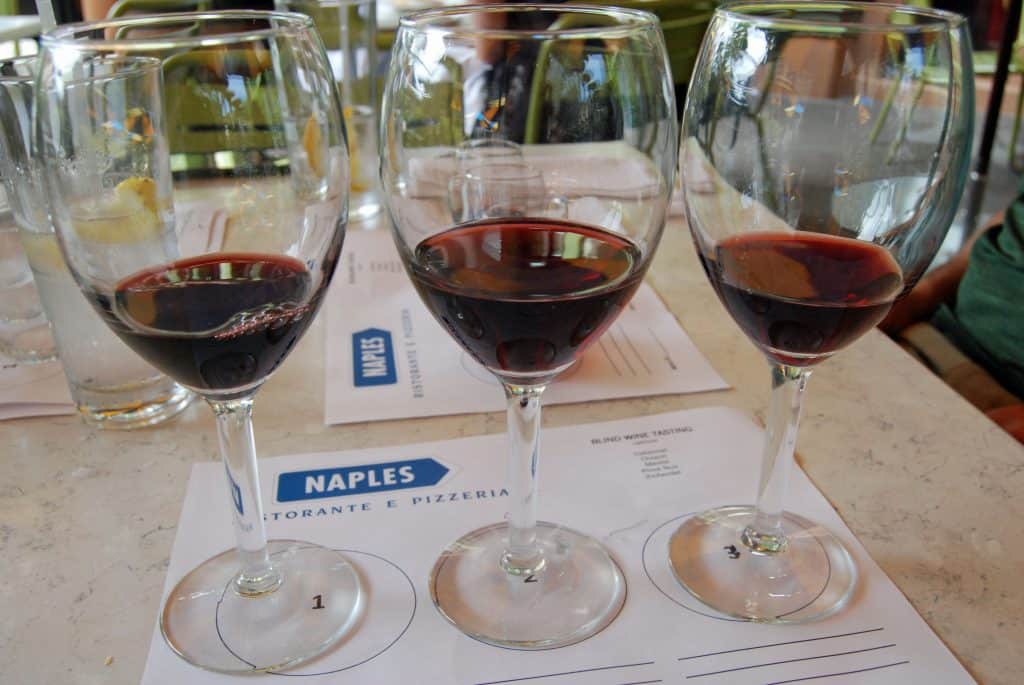 I did not get mine free. As much as I thought I knew my whites, I only got 2 out of 3 correct. Same with reds, only 2 out of 3. The thing is though, you don't even care because even if you have to spend the $13, the wines are delicious, the atmosphere is energetic and the General Manager, Gabriel, is a good conversationalist! We learned a lot about wine tasting and international wines in our short time at Naples Ristorante. We've been planning a European vacation for a few years now, and we're finally making it happen in 2019. Gabriel gave us wonderful suggestions of places to visit and things to try in regards to wine and safe travel overall.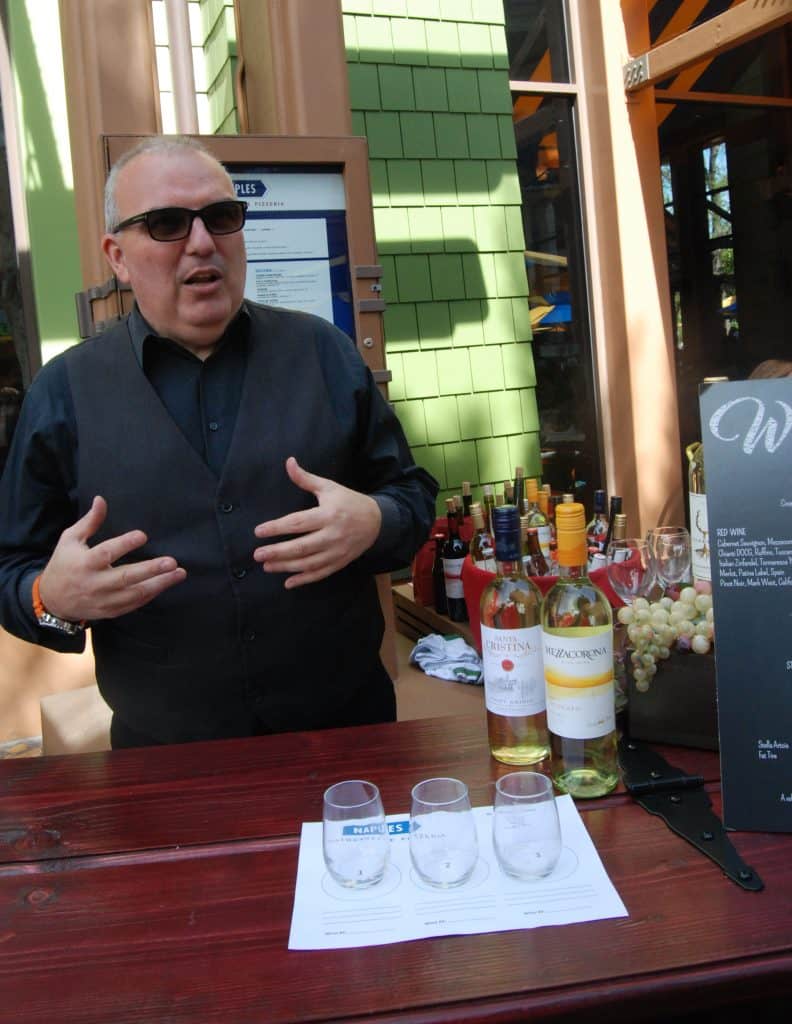 And this sangria! You can order by the pitcher or the glass, and whichever you do, the glasses are adorned with fruit. Aren't they pretty? We may or may not have shared a pitcher. Gabriel explained the sangria has a little kick, and then he demonstrated a little kick for us. I wish I'd gotten it on video, it completely sold us on trying the sangria. If you get a chance to speak with him, take it!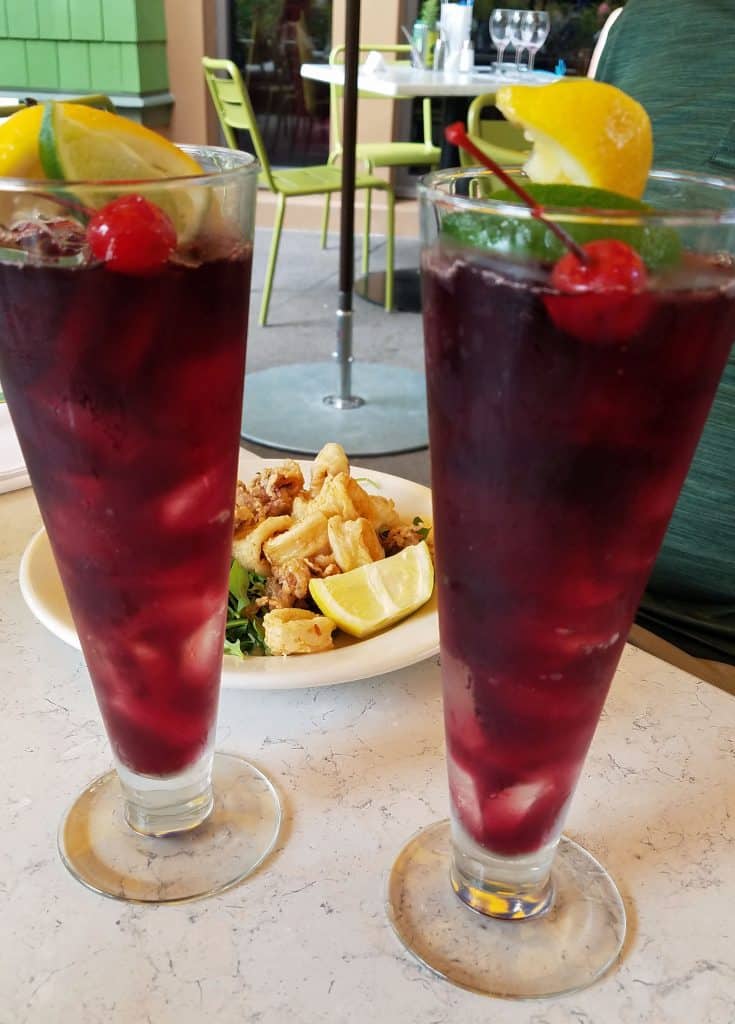 Michael, our server, was wonderful. He brought this beautiful tray with a smile on his face…right before he was mobbed by bloggers with cameras. Kudos to Michael for not backing away from the sangria-thirsty crowd.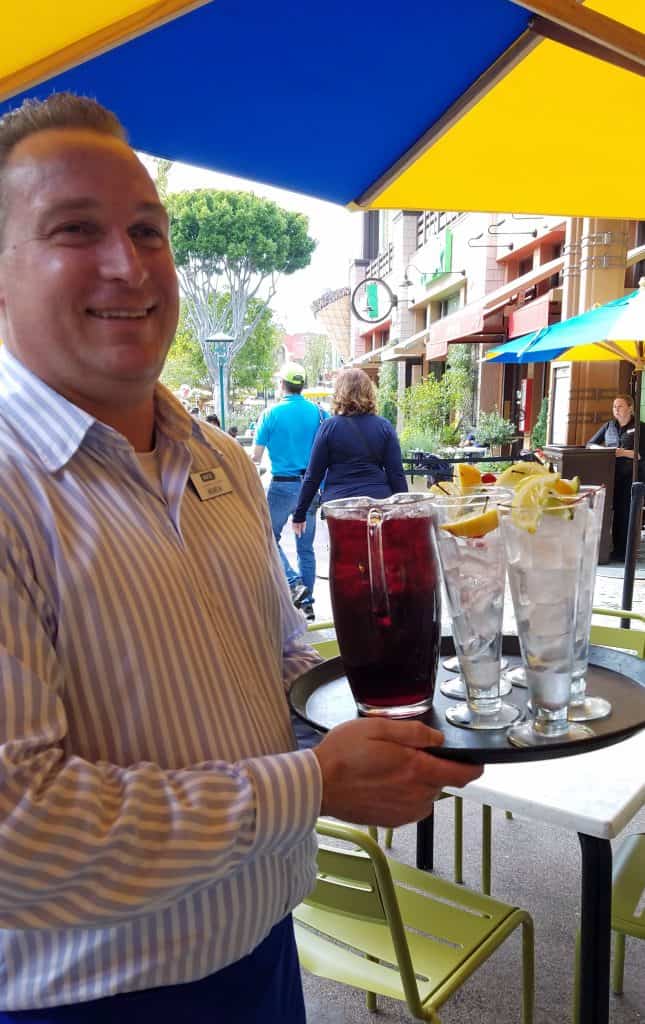 Located near the far end of the promenade, Naples Ristorante is just a short walk from the trams and the gates of both parks, making it convenient for park visitors and Downtown Disney shoppers alike. Easily accessible from all the parking areas, the restaurant is located near all your favorite Disney stores, but don't blame me if the sangria makes you head to Vault 28 and buy up all the Marvel gear you don't have. (Or maybe that was just me?)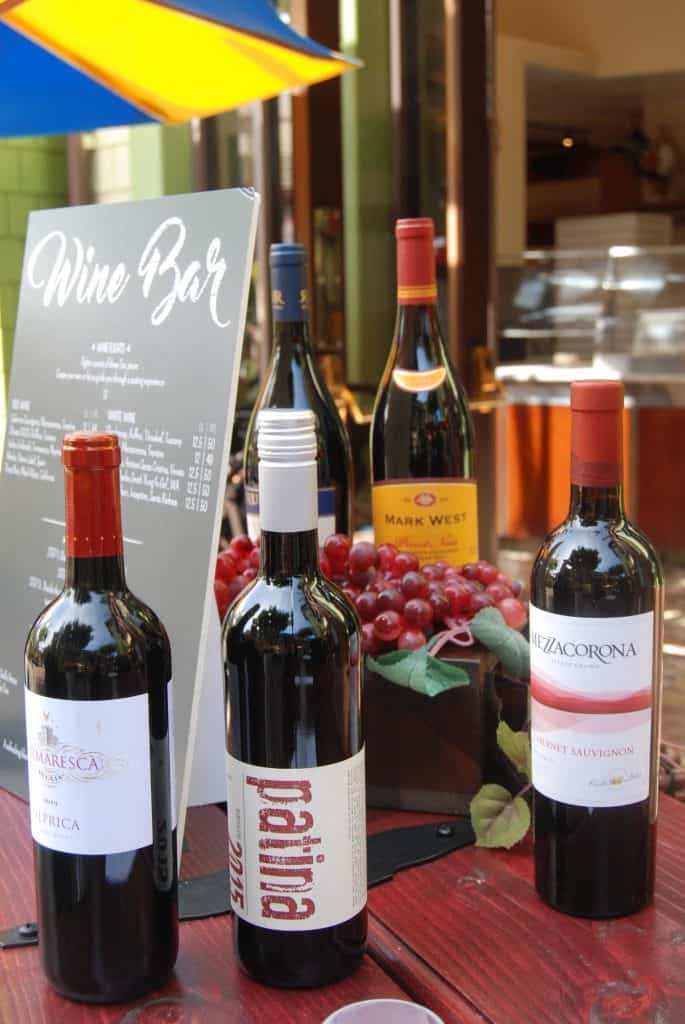 So many good wines! I'm glad we did the blind wine tasting challenge…twice each. I think our favorite red was the pinot noir. I considered taking the husband's and telling him that the table got cleaned, but I couldn't quite pull it off.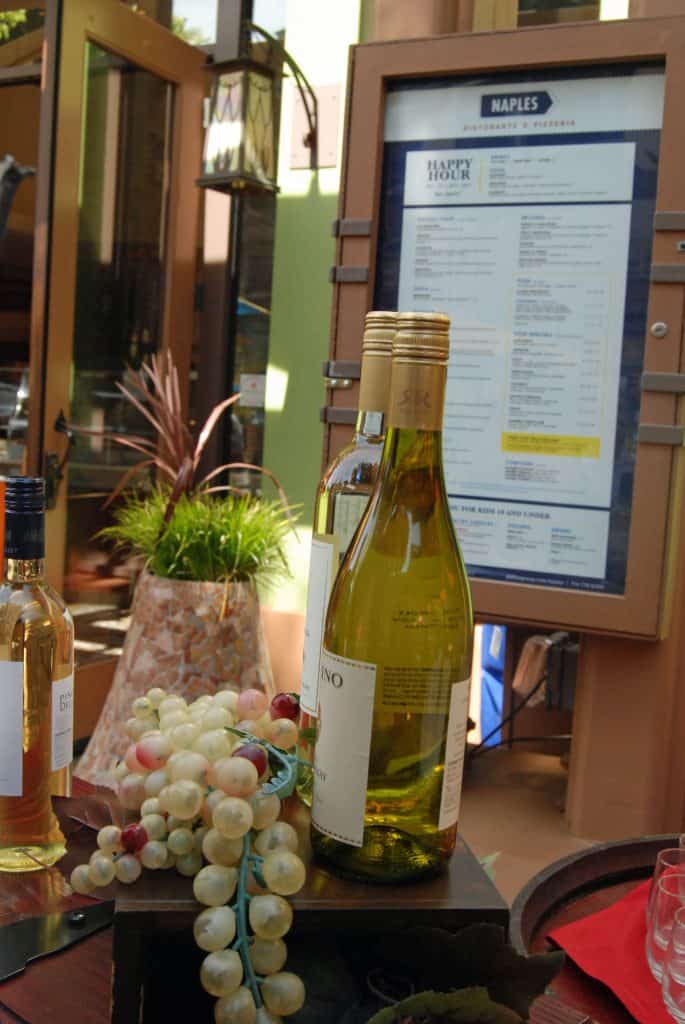 Do you have an upcoming visit planned to Downtown Disney, or maybe you just need a nice afternoon away from the job and under an umbrella? Enter my giveaway below for a chance to win a $50 gift card for Naples Ristorante! You can try Happy Hour on your own, or enjoy one of the many authentic Italian dishes served daily. (Giveaway rules: must be 18 to enter, live in the United States and winner must provide physical address for me to email the gift card provided by Naples Ristorante.)
Whether you win or not, use my discount code to save 50% on one appetizer (per table) during your next Happy Hour visit. Use promo code WINENOT and enjoy one appetizer half-off. (Valid through April 30, 2017.)
For more information before your visit, follow along on Facebook, Twitter and Instagram. You can also read the full menu here. Enter my giveaway daily and stop by Naples Ristorante on your next visit to Downtown Disney!