Like wine? I do. Got wine? If not, you need to get some from Holman Ranch. Quite honestly, their Chardonnay is the best I've ever had…and it would be a lie if I said I hadn't tried quite a few. A lot. Holman Ranch wine tasting was a great Sunday afternoon!
**Disclaimer: I was provided a complimentary box of six bottles of wine by Holman Ranch but the opinions and photos are my own.**
Who doesn't like to open their door and get a delivery? When the box showed it was from Holman Ranch, I did a little dance. I'm really glad the mailman had already stepped away. I expected a few bottles of wine and thought the box was pretty heavy but didn't realize until the next day that it was two-layered! SIX bottles…awesome!
We gathered a few people, got out the glasses and had a tasting in the kitchen, complete with some crackers and mild cheese. What a blast to have such a wide array of varietals to try! We've done a lot of tastings throughout the years, most in an actual winery, so we know how to go about it the right way. It was a lot of fun to host Holman Ranch wine tasting in our own kitchen and was the first official tasting we'd ever done here in the new house.
The box contained:
2012 Pinot Gris
2010 Pinot Noir – 2 bottles
2011 Pinot Noir
2012 Sauvignon Blanc
2011 Chardonnay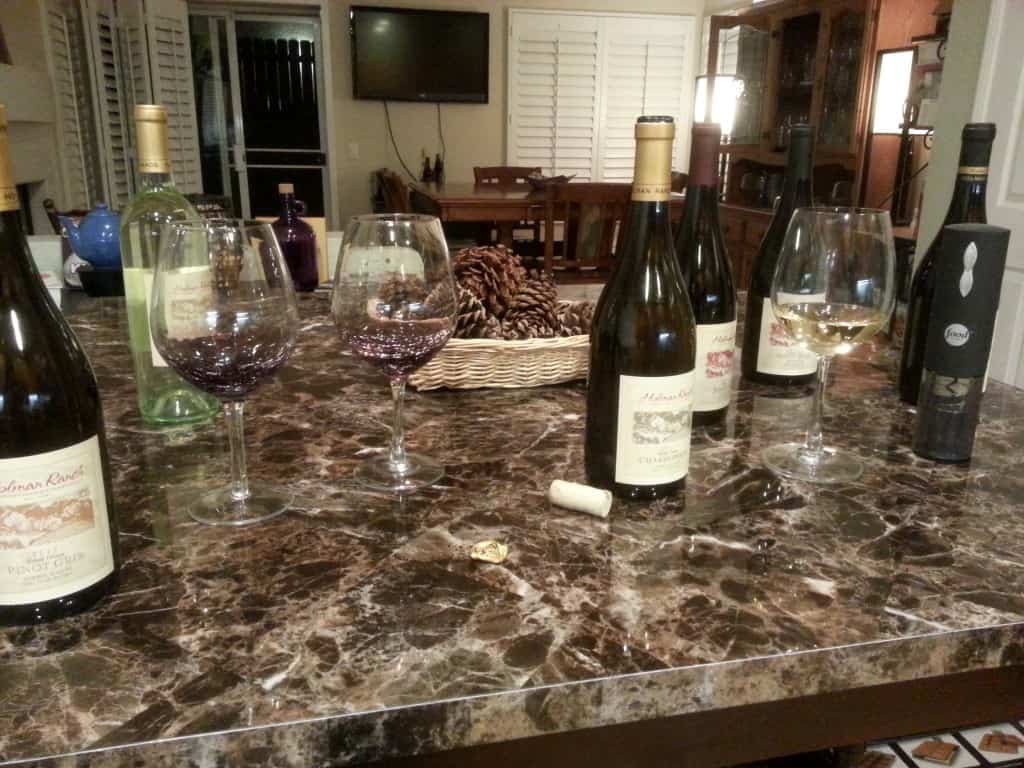 What a list! I am more of a white wine drinker than red, but some wineries really make me wonder about my preferences. The 2010 Pinot Noir was amazing. The notes on your tongue were perfect. As the description on the Holman Ranch website states, the wine "presents a bold, rich taste with subtle hints of blueberry and raspberry jam." The label is so accurate but we also picked up strawberry. The husband and I always try to guess the details of the grapes and nuances without reading the label. Swirl it, look at the legs, smell it, then taste it. We're getting to where we're frequently right, and now it's a challenge! We did pretty good with the Holman Ranch wines, which leads me to their website. A lot of wineries have wonderful websites, but I like Holman Ranch's layout; it's easy to find what you're looking for and how it lets you in on how many acres are grown, when the grapes were planted and how many cases were produced.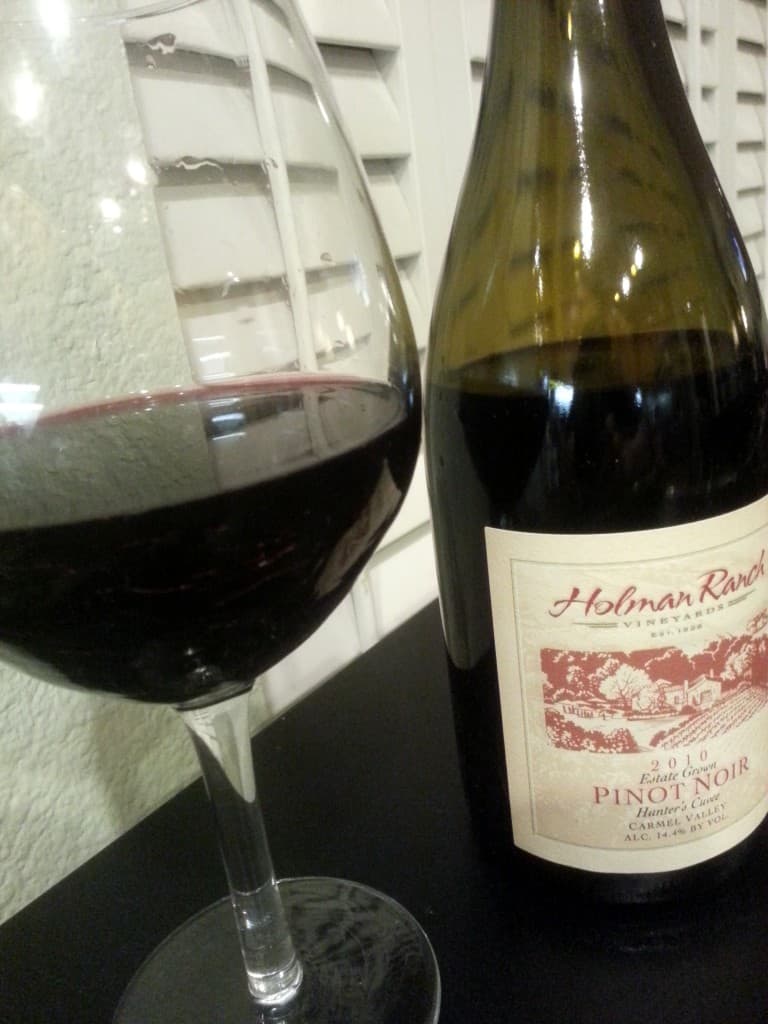 My other favorite was the Chardonnay. I wasn't very right on the descriptions though! This one was my downfall. It's so unique! The website describes it as brown grass and cinnamon, with notes of toasted nuts and warm brioche. My first word though? Buttery. So bold yet not, very balanced and was well-liked by everyone at the tasting.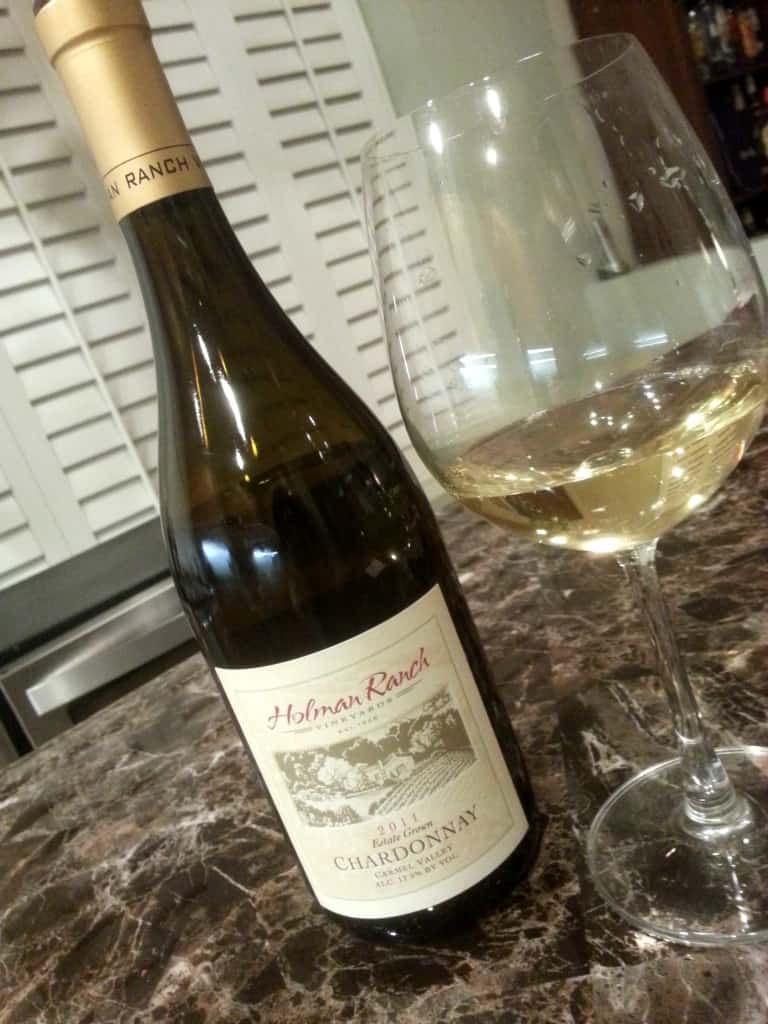 Isn't it beautiful?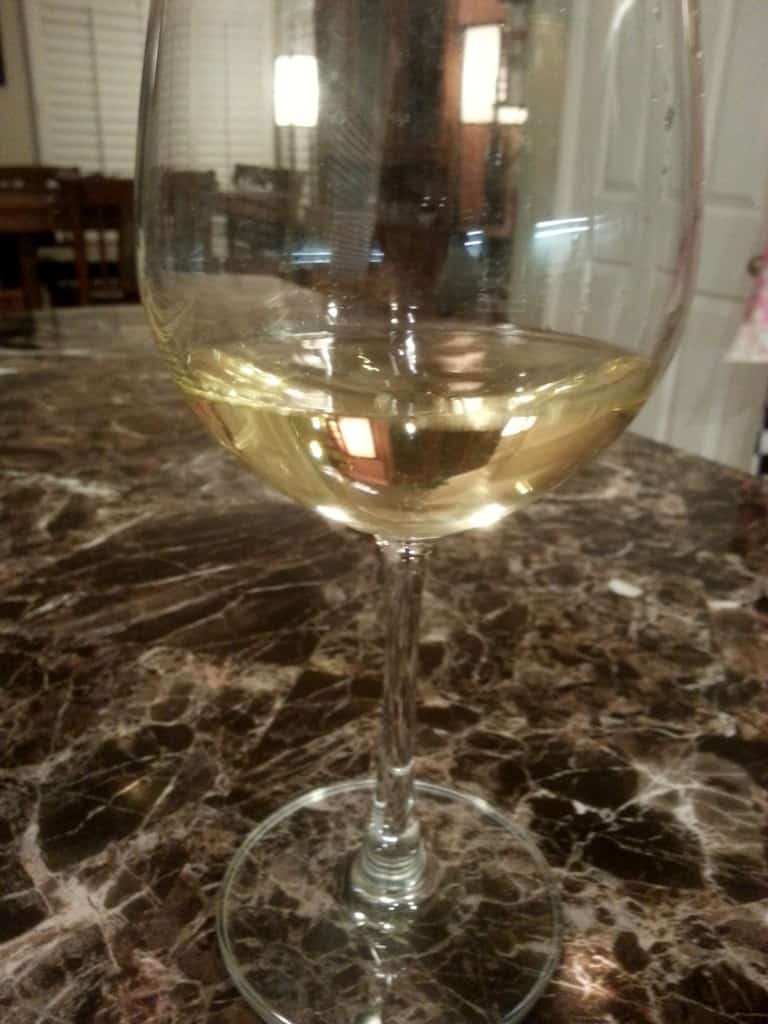 The Sauvignon Blanc was also amazing. A bright citrus-y flavor that was very smooth. The website describes it as having a light finish of minerality but none of us picked up on that, we didn't really have a good description for the finish other than "delicious," which isn't a fancy word when describing wines but it totally fits. I also didn't find it grassy at all, which you do with a lot of Sauvignon Blancs.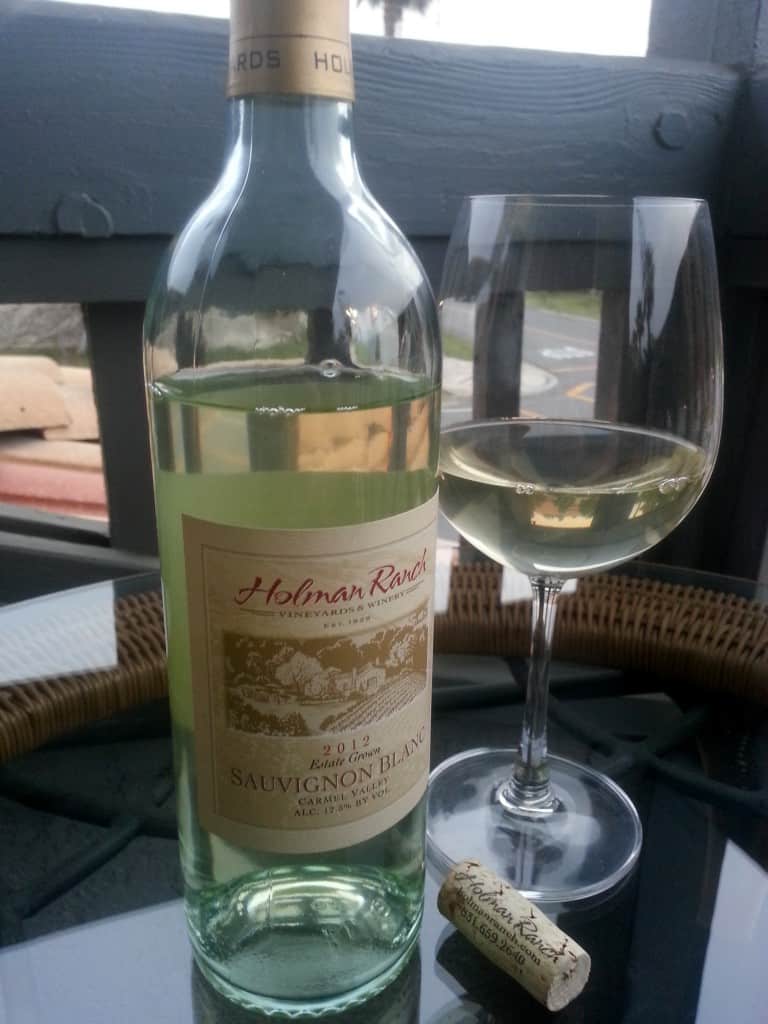 We didn't get to all the wines that night – last night, we popped open the Pinot Gris. Very mild, light and with a good finish. It was on the dry side and had a vague citrus aroma. This one would go with a lot of meals and appetizers, but we chose it as a post-dinner drink for watching the Olympics opening ceremonies. Perfect!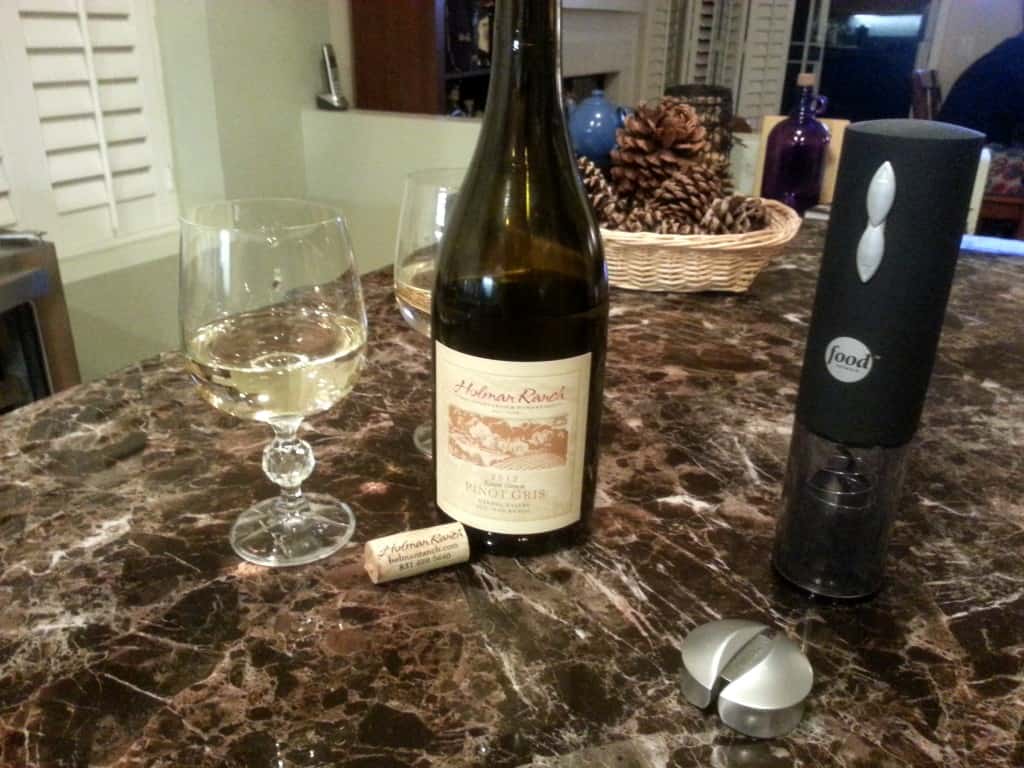 In fact, all of the wines have now been opened and were all perfect. A lot of the successful enjoyment of wine is based on what you pair it with, or just enjoying it on its own if you're unsure what to drink it with. We have a balcony overlooking the front of our yard and the neighboring area, and the husband and I love to sit out there on our bistro table with a glass of good wine and talk about our day. (And laugh, just a little, at the lost people – we live in a development with a lot of loops and cul-de-sacs, so it's very easy to get lost and not figure your way out. We get it, as we used to do that too before we moved here, but some lost people tend to brake a lot, stop where they shouldn't and then do weird things when they pull over in desperation at the end of your driveway, making phonecalls complaining about being lost and not realizing people can hear. It can be humorous at times, though sometimes it's just dangerous. At least we get a good idea of what goes on out there and how to remind the little dude to be careful!) That little sanctuary out there is an important space some days, and affords us beautiful views of the mountains, which right now have a very light dusting of snow from this week's cooler weather and rain.
Holman Ranch has been in existence since 1928. The labels on the wine don't all describe the wine but all are graced with wording that exemplifies how important it is to this winery that people understand their passion and dedication to making good wine. A couple of phrases that stand out are ….'our dream to create distinctive wines from premium, handpicked estate-grown grapes, crafted to exhibit true varietal character' and 'wish that this wine be shared and become a part of those occasions that mark time with memories that are cherished forever.'
The ranch is located in Carmel Valley, approximately 12 miles from the Pacific Coast. They host corporate events, weddings and retreats, and judging from the photos on the website, it would be an honor to attend something there. 19 acres of hilly terrain would be a gorgeous sight to see. They also have a tasting room, a member's club and they host tastings. I just wish they were closer to me! They even have a stables with boarding options and equestrian clinics. Doesn't it sound like a place to enjoy, wandering around for a couple of days to take in the views and ride a horse? Relax at night with a glass – or three – of wine. Sounds perfect to me right now!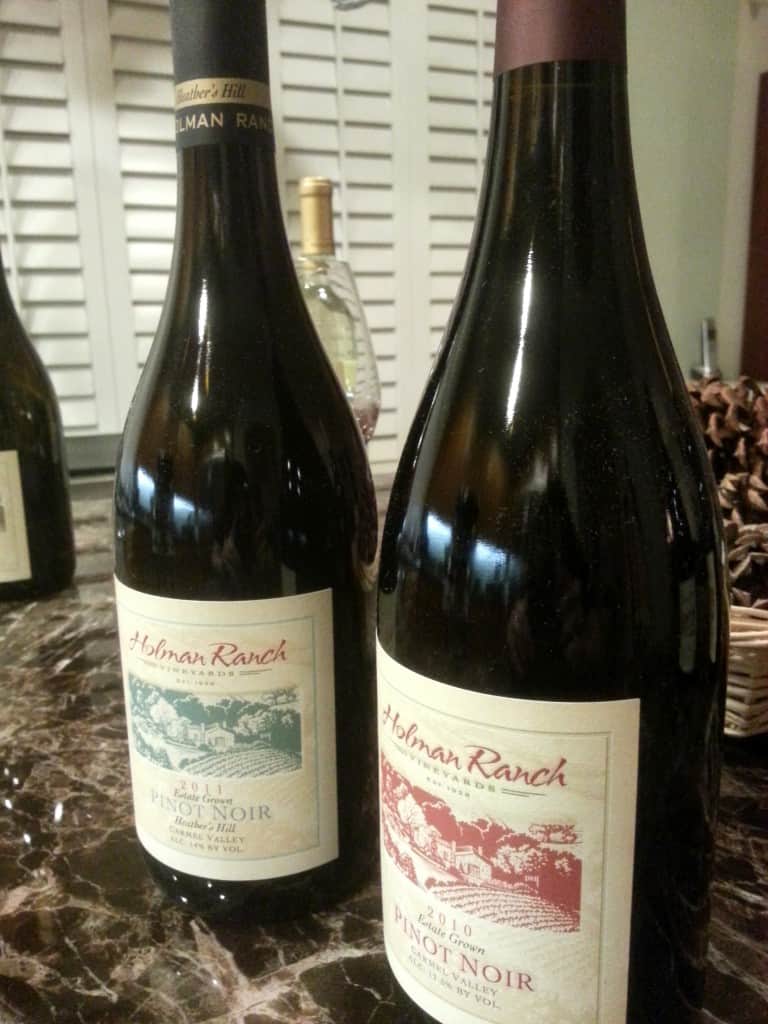 SO good.
Thank you again, Holman Ranch, for the gift of wine. It gave us a wonderful excuse to gather around some of our family and friends and have a fun evening, something not always easy to do when everyone's so busy! Throwing in the word "wine" may have helped it a little… We do hope to get up there one weekend and pick up more of your fantastic wines! We'd also love to glimpse Casa Escondida, or "Hidden House," which housed Charlie Chaplin and Theda Bara on visits back in the day. The ranch has gone through some changes, which you can read about on their website, but is now owned by Thomas and Jarden Lowder, who purchased it in 2006 and dreamed of making wine and olive oil. They completely refurbished it all in 2009, keeping the old-world charm while providing needed modernization.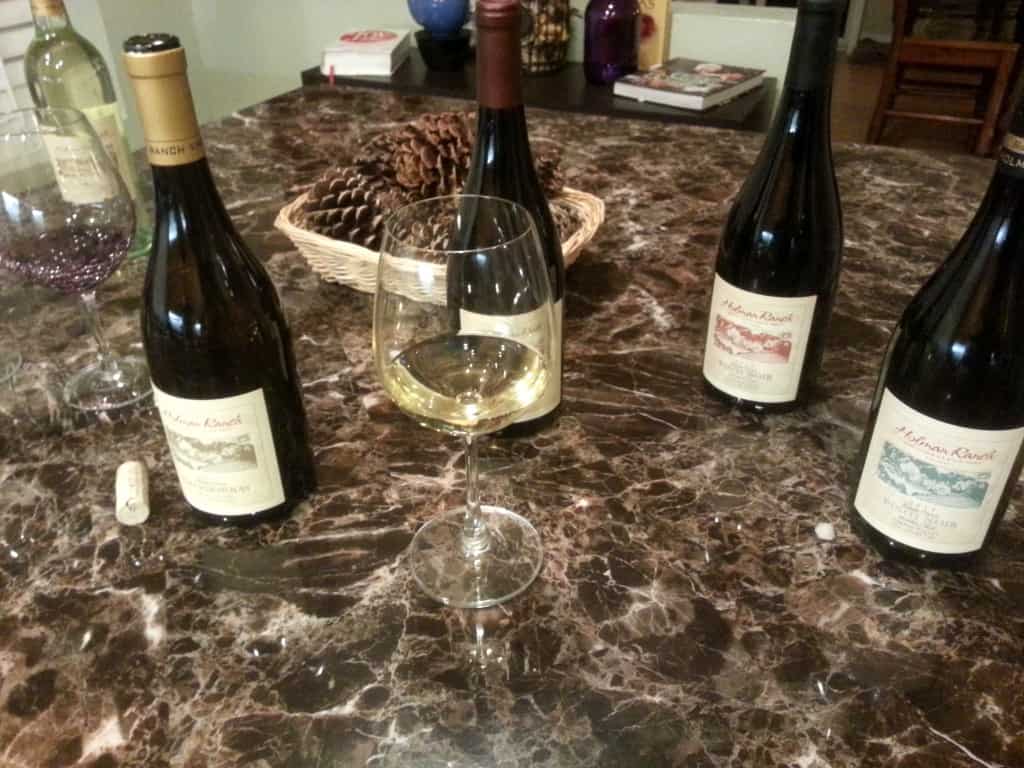 Holman Ranch was beautiful — and if you're thinking about planning a wine tasting trip but can't get all the way up to NorCal, visit Holman Ranch and read some of these tips from our wine tasting trips to Paso Robles!