Wine and Girl Scout cookies — would you pair them together? We did recently, in a class at the San Antonio Winery. We learned a lot and I had a blast! Thank you, San Antonio Winery, for inviting me to attend!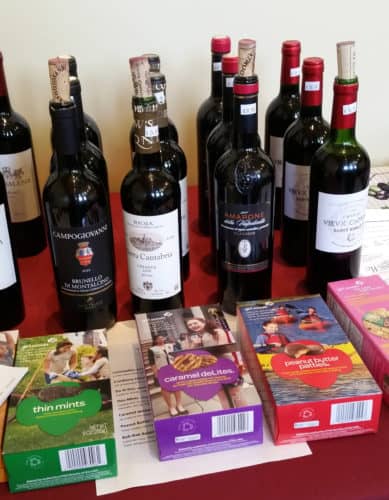 As I've always said about San Antonio Winery, whenever you walk in to an event and they hand you a glass of wine, you know you're in the right place. (If you're a wine lover…if not, then you can just hand that glass to me, thankyouverymuch.) Every San Antonio Winery event is a fun, well-planned and extravagant event, in only the best ways. There's always plenty of wine — of course — and plenty of food. Kevin, the manager of the Ontario location, is a great teacher so there's plenty of wine education, too.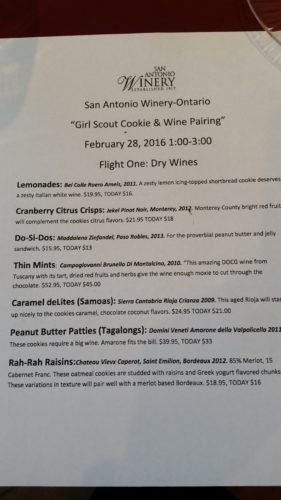 That's an example of the first flight of wines and the cookies they were paired with. I'm honestly not the hugest cookie eater, never have been, but give me a Peanut Butter Patty (or Tagalong) and I'm going to ask you for a box. If you give me a box, I'm going to eat it all. And I won't share. You can keep your Thin Mints, I know, I'm weird, but I will glad take any of those peanut butter babies off your hands. The week before this class, in fact, I'd had a icky day. I'm not a normal "eat your feelings" kind of person, but a sleeve of those Tagalongs sure did help my day improve. No shame.
If you have attended any wine pairing classes, you know how it goes. You learn about the wine, try it without the food, then try the food, then the wine. You experiment a little. Swirl. Try more food, then try the wine. You learn how the flavors of each item of food enhance or change the wine flavor. You pick up little nuances of the wine and learn your personal preferences. Kevin's Wine and Girl Scout Cookie pairings were no exception. I learned I really need to start buying the new Cranberry Citrus Crisps and Lemonade cookies next season. (Have you tried them? They're not available in all counsels and I had to go out of bounds to get some, thank you to my dear friend who had a cookie connection.)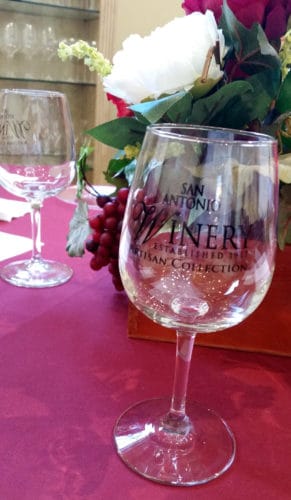 San Antonio Winery has two locations in Southern California. Read more about the specifics at their website, but this particular class was at the Ontario location, the location which I visit for any San Antonio Winery event as it's only about 20 minutes from home. The winery is located off the 60 freeway or 15 freeway, depending on your direction, and there's plenty of parking; they also share the lot with a fantastic Mexican restaurant so you can eat and imbibe. The winery's gift shop is also a lot of fun to browse through. Check out these Easter gift baskets they had the weekend of the cookie class.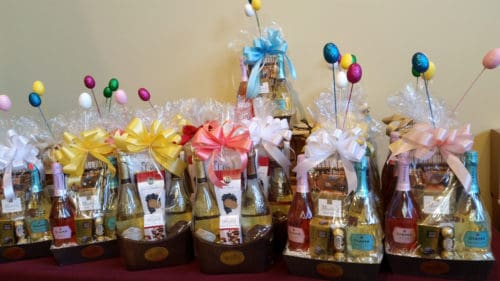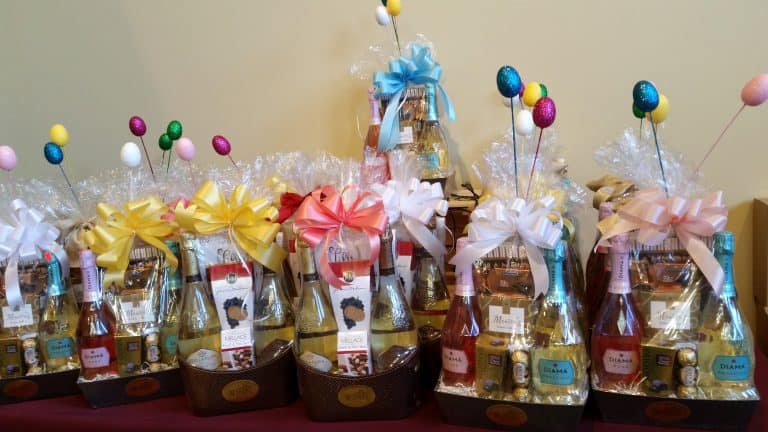 Then, this beverage … this sparkly, pretty delicious beverage belongs at your next home wine tasting event or dinner.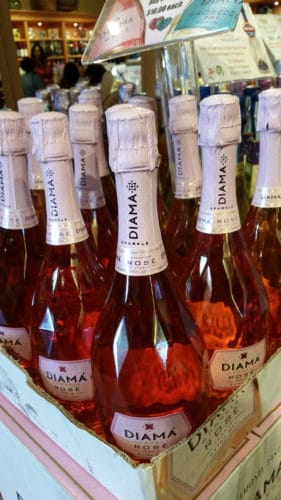 Just the bottle alone is beautiful, with the diamond-like shaping and pretty pink color. I may or may not have purchased a bottle of this to enjoy at home.
Visit San Antonio Winery's event schedule here to see what's coming up soon. Hope to see you at an event some time!