On Monday, the husband and I got quite a treat: the opportunity to hang with the Gigasavvy Social Club crew for a night out at Tempo Urban Kitchen in Brea.  Located in Brea, about 1/2 mile off the 57 freeway on Imperial Highway, the restaurant is easily accessible from both Orange County and the Inland Empire, as well as Los Angeles County, and even if you have a bit of a drive, this dining experience is completely worth it.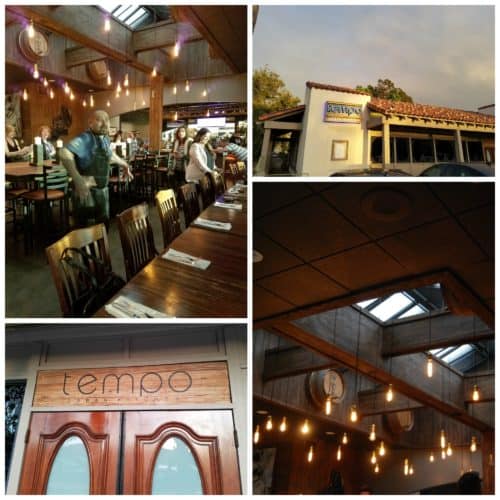 A bit of a background on Tempo Urban Kitchen: the head chef is Chris T. Zorin, a recent winner on Food Network's Guy's Grocery Games. Owned by Jorge Cueva, Tempo has a fun vibe in a unique building with bold flavor-filled menu. With a "campestre" approach, or farm-to-table, everything you eat is fresh and delicious. The chef team, which also includes Executive Chef Salvador Carrillo, who won second place in the national competition "Cocinero del Año 2014" and Charly Urban, is a dynamic trio with the goal of making your experience good from the minute you walk in the door.
Take a peek at the Tempo Urban Kitchen website. You'll see that they're very people-oriented and social media plays a large part in how they operate their restaurant. They even offer a free ceviche or taquitos if you check-in on Facebook. Tempo really wants to stay engaged with their customers and interact with you, and that's something you pick up on the second you walk in the door. The modern American cuisine menu is varied and offers something for everyone. I can't wait to go back and try some more food..and have another one of these terrific Mango Serrano-Infused Margaritas.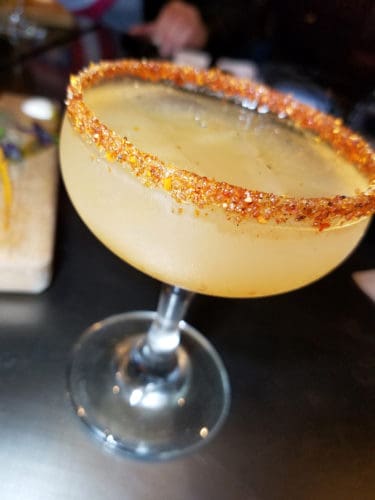 The infusion sits for a week so the flavor is fantastic! I love anything mango, so to hear this was the first course of the night was perfect. The tajin rim, well, I might have licked mine entirely clean. It paired so good with the serrano kick!
Next up was this unique play on grilled octopus, topped with micro-greens and a side of chipotle aioli. Not only was the food delicious, but the plating was beautiful and each of us received an individual serving plank, 'painted' with smears of varied house-made sauces for dipping.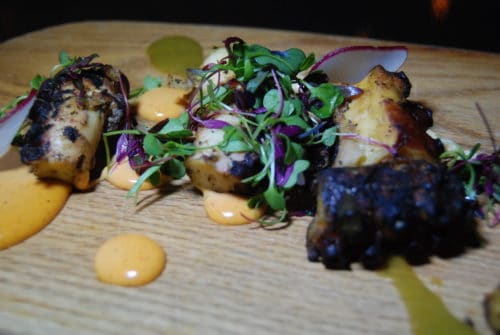 I'd never had octopus prepared this way before, with a slight char but in big chunks that were the perfect consistency. Octopus is one of those things that is so easily overcooked, but that wasn't a concern. I may or may not have offered to eat the last leftover piece and thankfully found someone willing to share it without anyone else stabbing us with a fork. So good!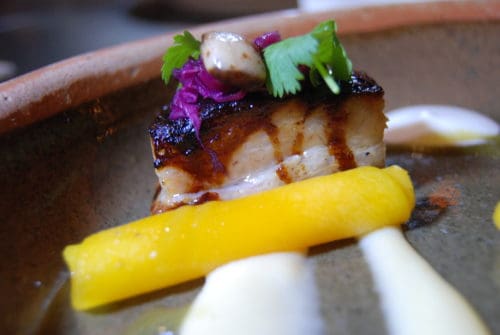 I am a huge pork belly fan. I love it and could eat it in a lot of different ways…so I have, yet the Tempo Urban Kitchen approach was different. This plate was a deconstructed Korean taco of sorts. The pork belly was seared to a slight crisp on the outside, glazed with a soy-lime mixture and served on top of a tortilla puree, with a smear of serrano sauce for additional zing. The mango fruit roll-up really was a pure fruit roll, sliced so thin it almost melted in my mouth and played off the fat of the pork belly perfectly.
The last course was one I really couldn't try, but The Husband ate mine and his, so there was no doubt it was delicious. The empty planks on the table were a testament to everyone appreciating them.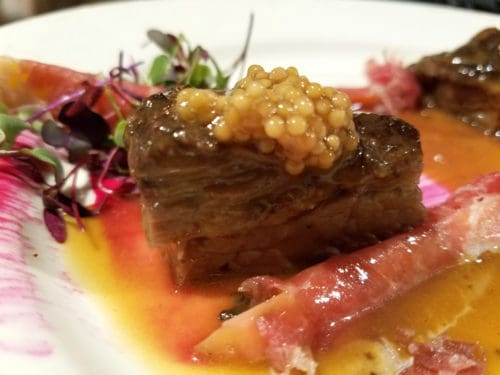 Look at the colors on the plate! That's a thinly sliced serrano-style ham, wrapped around a pickled carrot. I stole the carrot out of mine before I passed it over to the Husband. It was served alongside a short-rib topped with a mustard seed caviar, tart and tingly with a little 'pop' with each bite. I did a number on the gravy.
What do you need after these amazing rich entrees and handcrafted cocktails? Dessert! Table-side ice cream creation! Chef Tzorin and his team pulled out Kitchenaid mixers on rolling carts and made an ice cream, using liquid nitrogen, right next to our table. Fresh ice cream takes on a whole new meaning when you watch them pour the ingredients into a mixer, crank it for a few minutes, then scoop onto your lightly sweet waffle cone. It was the perfect end to the meal.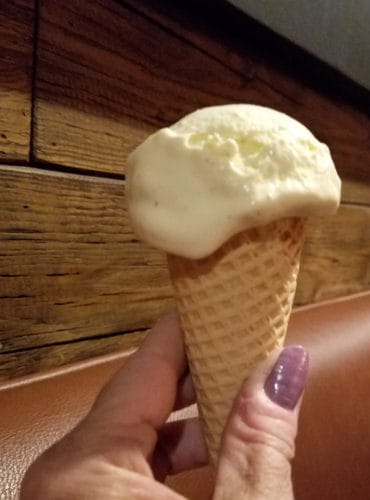 The restaurant offers a healthy bar, too. We had the margarita and an old-fashioned, but if you're headed in for happy hour, you cannot go wrong with this set-up.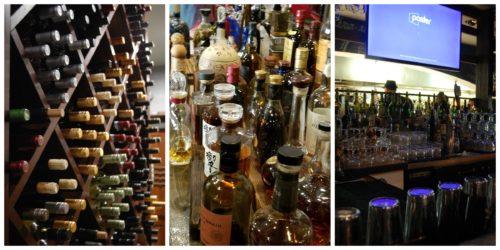 We go to a lot of restaurant openings and re-launches, but not everyone offers us the all-access kitchen pass that Chef Tzorin's team offered. We were allowed to get up close and personal with the stoves, the sous vide, the slicer and all the other equipment, allowing us a view of the inner kitchen workings that we don't usually get. In fact, Chef Tzorin invited us in to take pictures and showcase the restaurant as it really is. What a trip!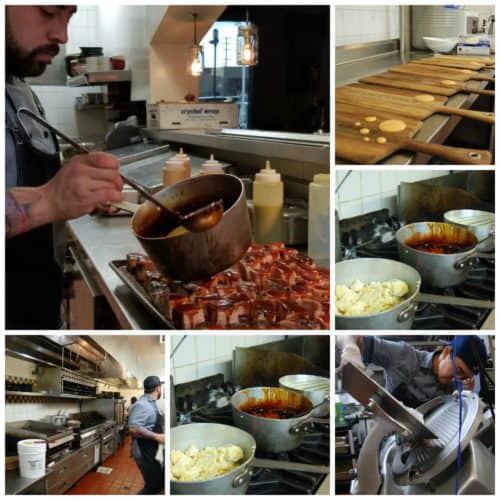 Our night out at Tempo Urban Kitchen in Brea was a blast, from start to finish. Light rain began right as everyone was arriving, and some lucky guests were able to get a photo of the rainbow that appeared over the restaurant. I didn't get to see it, but it was kind of a sign that we were going to have a good night, and we did. Thank you, Tempo team and Gigasavvy, for a fun night with cool people and delicious food.