Spiderman, Spiderman…the old school song still gets stuck in your head, but the Spiderman franchise has come a very long way since those days. We've moved through several iterations of the Spiderman live-action movies, and with this new addition, Spiderman: Into the Spider-Verse, we've entered what may be the best "spider-verse" yet!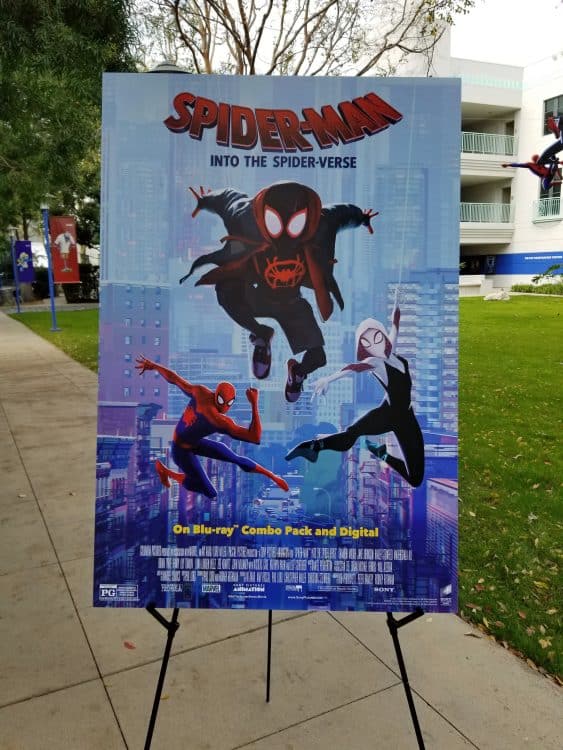 We were invited to Sony Animation Pictures last week to attend a behind-the-scenes look at the making of Spiderman: Into the Spider-Verse, where we had sessions with the directors and animation staff. There was also a lot of adorable Spiderman-themed food, and if you've read my blog before, you know that I am all about the food.
Even more exciting than the food though? The movie just won an Academy Award® for Best Animated Feature Film! Congratulations to Sony and everyone involved on this win, along with their Golden Globe® Win for Best Animated Feature Film!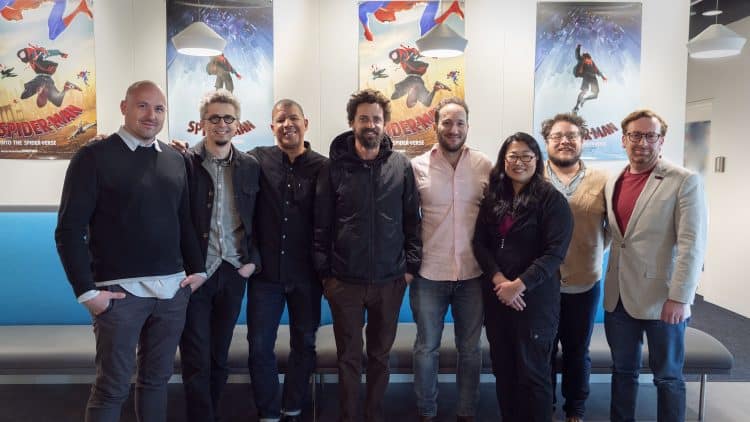 Animation (hosted by Animation Supervisor Josh Beveridge): Behind the scenes look at the character animation in the film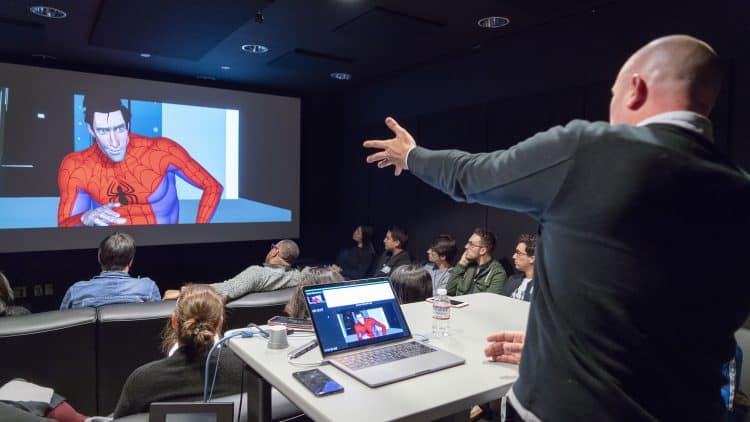 Josh explained that he didn't want the movie to be nostalgic, so that really changed how they created the scenes. He gave us a crash course in frames and the effects they all portray. One simple scene, such as Gwen walking up to the front of the classroom, is far more intricate. In order to give her a seamless walk and pace, they had to mess with the type and speed of animation in order to avoid a choppy effect that is hard to watch or has a strobe light feel.
Something else we discussed were the differences between young Spiderman (Miles Morales) and older Spiderman (Peter Parker). Miles is young and new, and not yet adapted to his abilities. He has a type of skepticism that comes from a thoughtful space, where he's slightly more introverted.
Peter, however, is comfortable and straightforward. He's physically a little less flexible than he used to be, whereas Miles has a lower center of gravity and long outstretched limbs, allowing him to appear to swing more effortlessly.
In short, the team wanted to ensure a level of realism — something we don't always think about in terms of an animated feature — so they deliberately removed the perfection and put imperfection back into it.
When you see the movie, you'll see how this is exactly what the movie needed.
VFX (hosted by VFX Supervisor Danny Dimian): Behind the scenes look at the creation of the unique visual style of the film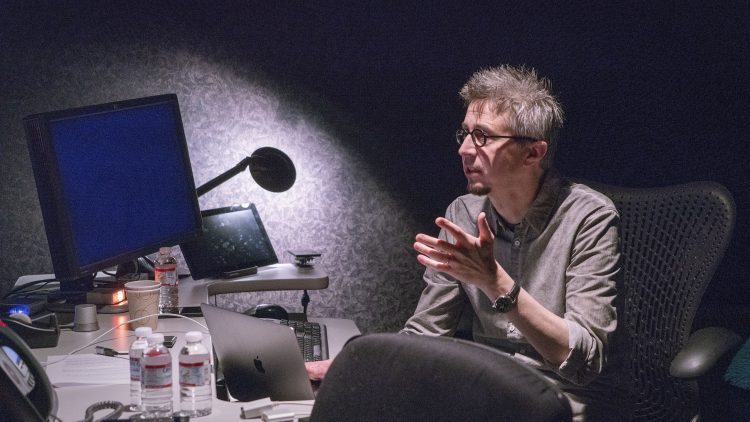 So much goes into the making of an animated movie, far more than anyone ever really thinks about. There's so much detail that is put into every scene, all the layers and pieces that complete every picture. Just colorizing the scenes is a process that goes beyond simply choosing palettes that are familiar from the comic.
Even something as 'small' as a traffic cone had to be laid out, tweaked and re-done in order to look as realistic as possible.
You wouldn't know it unless someone pointed it out, but the characters on the bus are a deconstructed painting, and there's one very special passenger: Stan Lee! He's also in the movie elsewhere. For those who have seen it, did you spot him? (And if you haven't watched it yet, keep an eye out then come back and let me know!)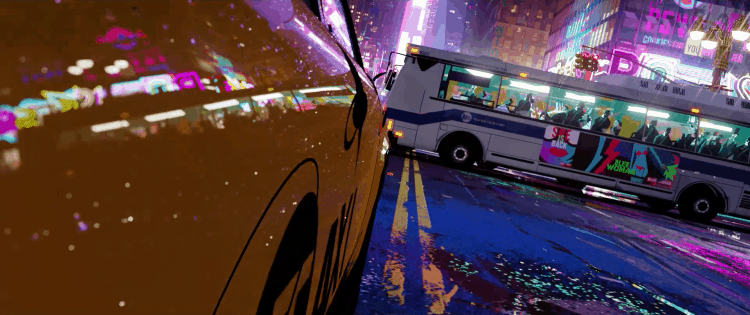 Story (hosted by Story Artist Denise Koyama): Learn how to draw key characters from the movie like Miles and Gwen!
I was particularly excited about this session. Little known fact about me? I studied art in college, and I had plans to be an illustrator. Watching Denise show us how the story was laid out and created in story boards was fascinating, and she followed up her demo by showing us how to create a spontaneous animation. It was hand-drawn on the computer and then animated, similar to the animation she laid out on sticky notes before to give us one additional example of creating a story. The creativity this takes is so impressive, and Denise is so good at it that she made it look easy.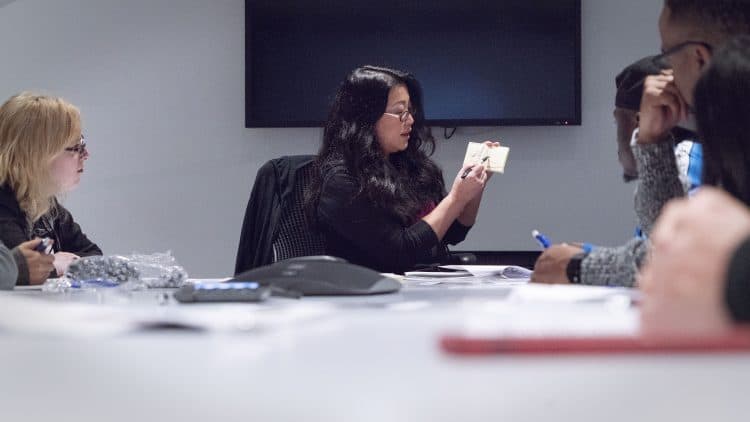 Next up was lunch out on the patio, the same place we'd eaten breakfast. (Press days are awesome for so many reasons!) The menu was based on the food in Spidey's Diner in the movie.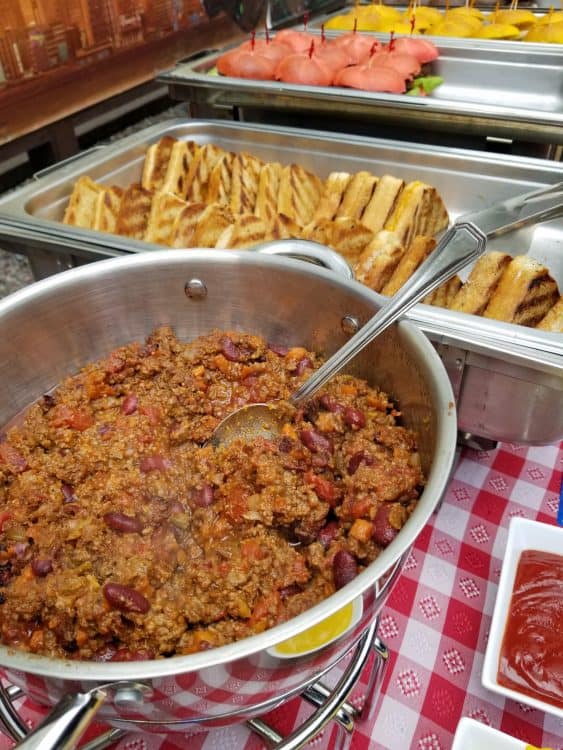 Everything was so cute! Sliders for everyone's preference (beef, turkey or veggie), chili, grilled cheese, popcorn and more. My favorite though? The desserts!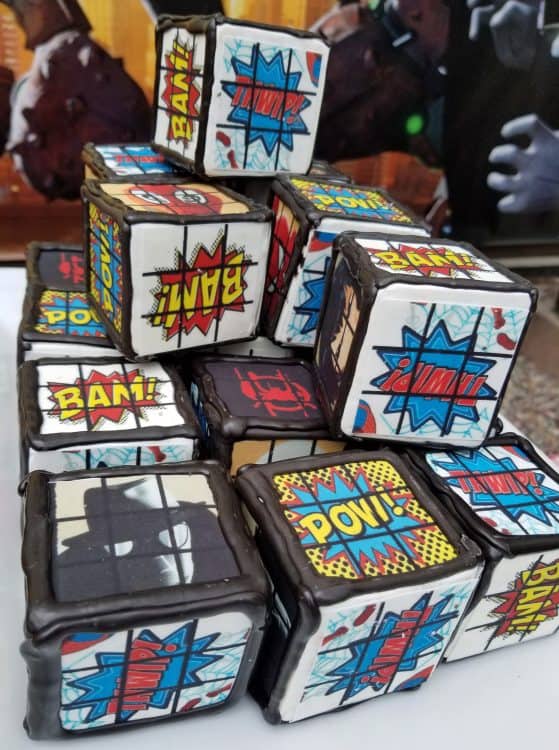 See what I mean? Those are actually cookies designed to look like Rubik's Cubes, with a rice krispy-ish center that my son devoured!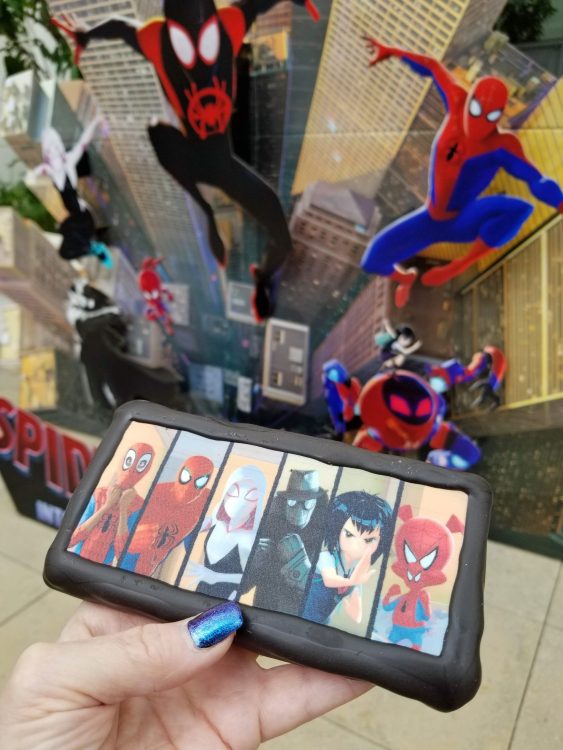 That's another cookie, covered in a light patterned fondant and chocolate. They were pretty big and the illustrations were so detailed.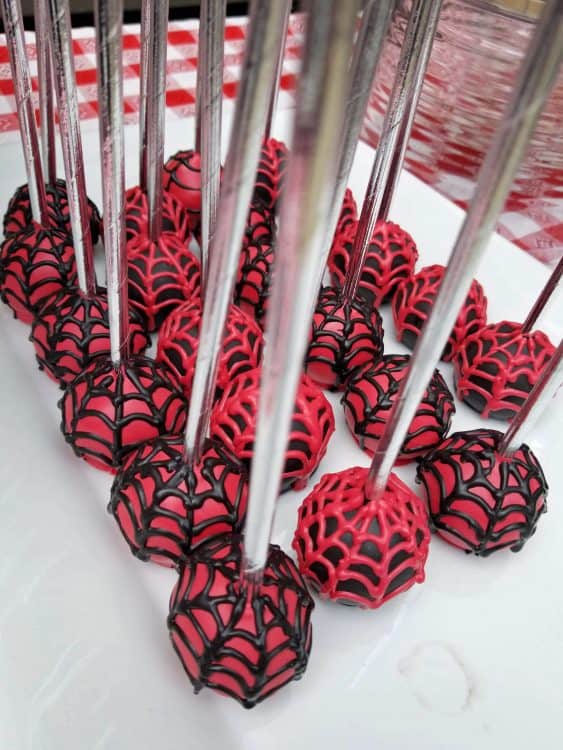 I ate one of these cake balls. I never eat cake but ohmygosh, the soft legit red velvet center, covered in chocolate webbing, had me wanting more. I was good though and only had the one.
We took a few minutes after we ate to explore the lot. Spiderman decor was everywhere.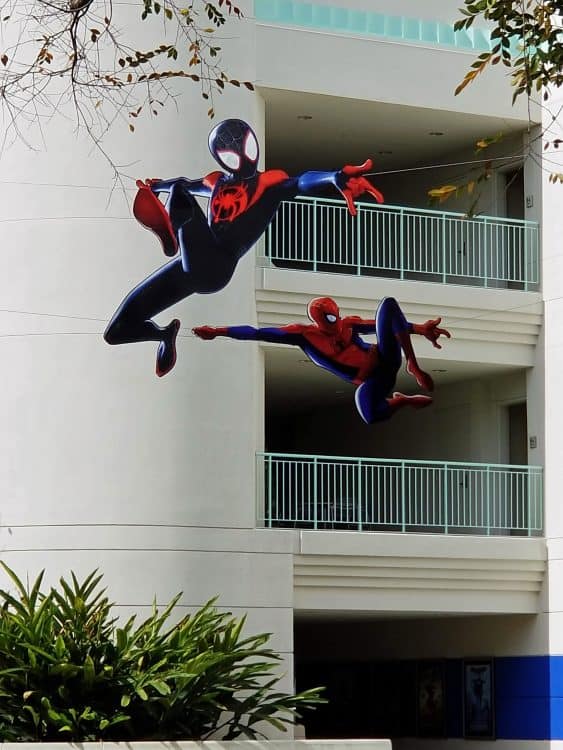 We also took a lot of photos, and while my daughter rocked the spidey pose, clearly, I have some work to do on my form.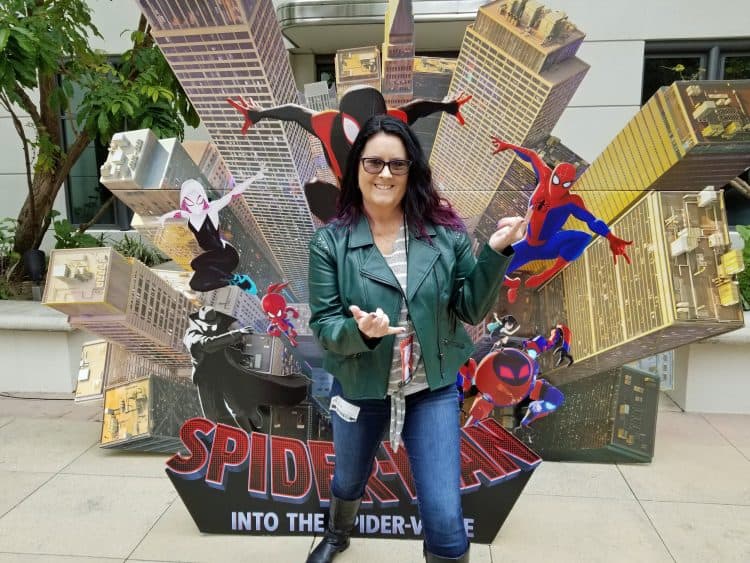 After lunch, we headed into a screening of the new short, "Caught in a Ham," a hilarious animation about the character Spider-Ham, followed by behind the scenes discussion with the short's Director, Miguel Jiron and Producer, David Schulenburg.
Spider-Ham, or Peter Porker, is a little known real comic character by Marvel. He's a good guy, uhm, pig, and the animation is full of witty pork-related puns that will have the audience of all ages laughing.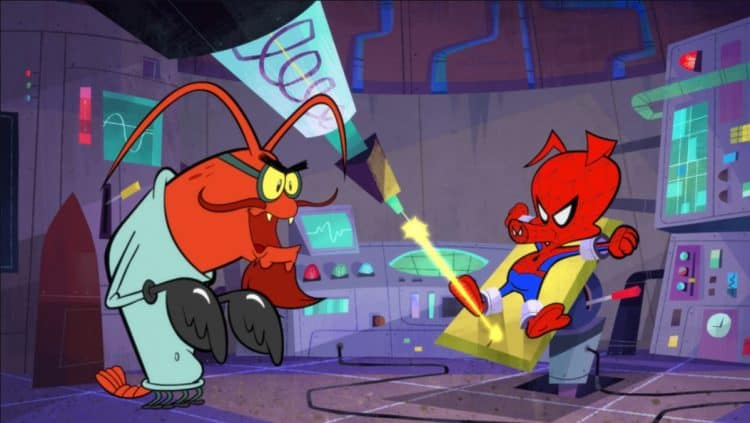 Last but not least, we had a brief Q&A with Producers Phil Lord and Chris Miller and Directors Bob Persichetti, Peter Ramsey and Rodney Rothman so they could introduce and discuss two clips from the bonus features on the combo packs.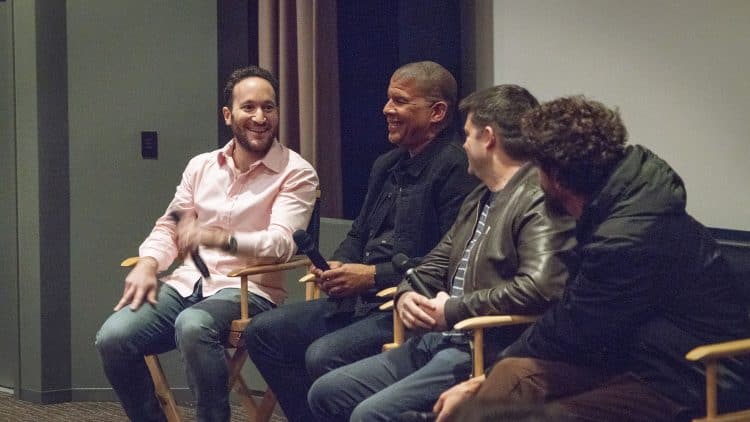 Anyone who knows Marvel — or just watches TV — is aware of Stan Lee, creator of Marvel overall as well as the character, Spiderman. In fact, Stan had an extreme affinity for this character and in homage to Stan, the team produced a seven-minute video all about Stan and how everyone felt about him. I don't know about everyone else, but at the end of that very special video, I needed a tissue. Oh Stan, you are so sorely missed but what a legacy you left behind!
Thank you, Sony, for allowing us a peek into the making of Spiderman: Into the Spider-Verse. We gained a whole new perspective into the animation of the movie, the development of the story line, and the pure talent of everyone involved. Knowing now that those same directors and animators won the Oscar on Sunday night? It is so, so deserved.
SPIDER-MAN: INTO THE SPIDER-VERSE, swings onto Digital February 26 and on 4K Ultra HD Combo Pack, Blu-ray Combo Pack, and DVD on March 19 from Sony Pictures Home Entertainment and Sony Pictures Animation. Be sure to pick up your copy, pop the popcorn and sit down to enjoy a fun family evening with your favorite neighborhood Spiderman!