I recently got one of my most favorite press/blog gigs ever: a week-long press loan, driving a 2017 Mazda CX-9. Read on for my experience and cool specs on a fun vehicle you're going to want to try!
I'm not a mechanic, but I can appreciate a good car and since I spend a lot of time on the road heading to press events, I rely on my vehicle a lot. In the last couple of decades, I've had a family sedan, a minivan, a full-size SUV that seats eight and tows an RV, a sporty five-seater, and now a muscle car. I read a lot before I made a car purchase, and still stay up on what's available out of enjoyment. As I drive, I'm always looking at other cars on the road rather than the buildings we pass, reading personalized plates and eyeing paint jobs. I guess that kind of makes me a car girl, as I am not only a NASCAR fan but I love to go fast and I have plans to take my car out on the drag strip one of these days. For me, cars are more than just a way to get around.
I've gone through all the types of cars as a mom, and this past year, I got to buy a new car based more on what I liked and less on practicality. But in today's automotive world, the lines between the two are blurring. You no longer need to sacrifice looks or the bells and whistles to cut your budget or to get a car that will make your mom chauffeur tasks easier. You can now have it all: a sleek vehicle that's within your budget and makes you enjoy your time on the road.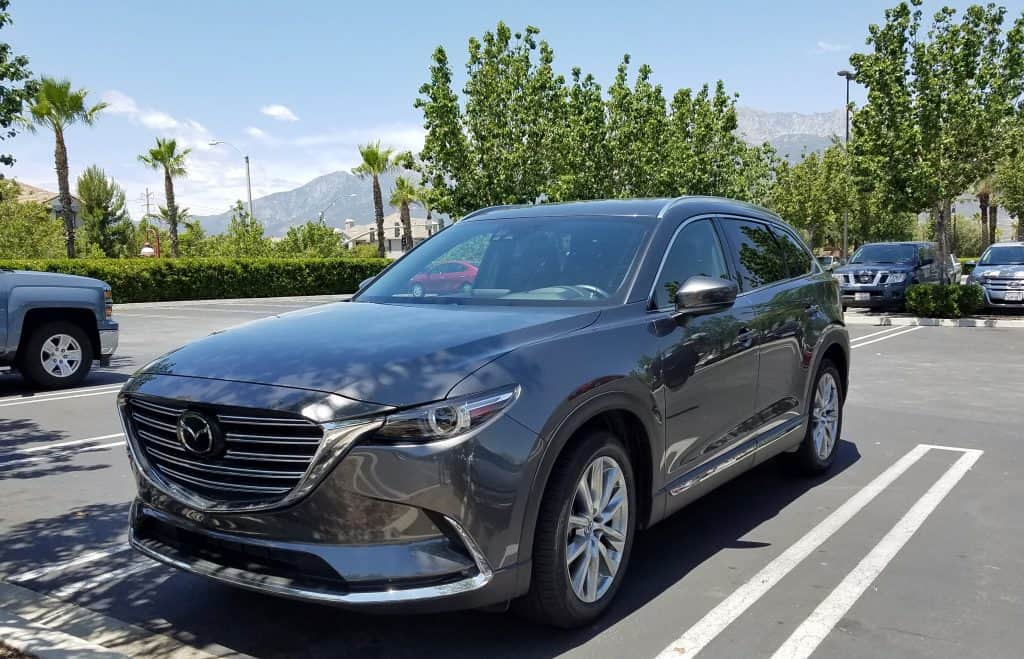 Thanks to Drive Shop, I got to test drive a new 2017 Mazda CX-9 for a week-long press loan. They delivered this shiny, gray metallic beauty to my house on a Tuesday afternoon and gave me a tour of the options to make sure I was comfortable hitting the road. Minutes later, we loaded up the back and headed down to a local thrift store to make a donation. Lots of bags of clothing and random household gear fit easily into the back of the car, especially once we put the seats down, and we were on our way in our maiden voyage in a crossover SUV. It handled like a car but with the seating and space of an SUV. I was hooked!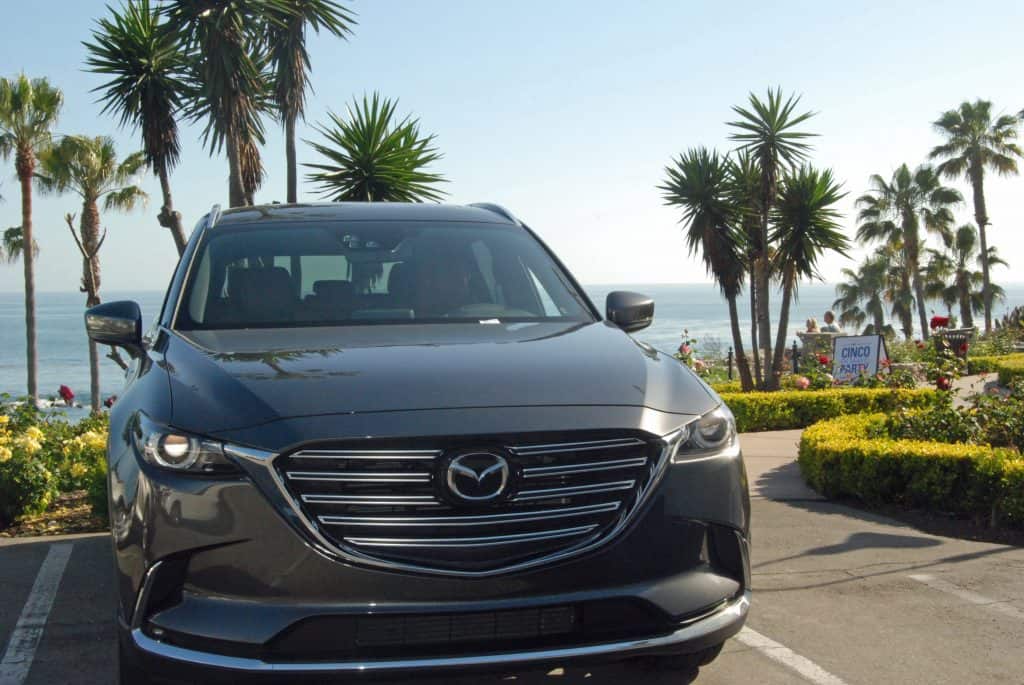 The Mazda CX-9 has a combined city/fwy MPG of 23, with 20 mpg in the city and 26 on the highway. It's a four-cylinder, but with its Skyactiv-G 2.5T Turbo Engine and all-weather control, it's got all the power you need to handle busy city traffic, change lanes in a flash and power up inclines, lag-free. During the week I had it, we went from here in the Inland Empire down to Laguna Beach, out to Los Angeles and numerous errands in between. When Drive Shop picked up the vehicle the following Tuesday morning, it still had over 1/4 of a tank of gas left. Impressive, right? Its sticker was $44,315, but starting at $31k, you can choose your trim and package without breaking your bank account, even fully-loaded.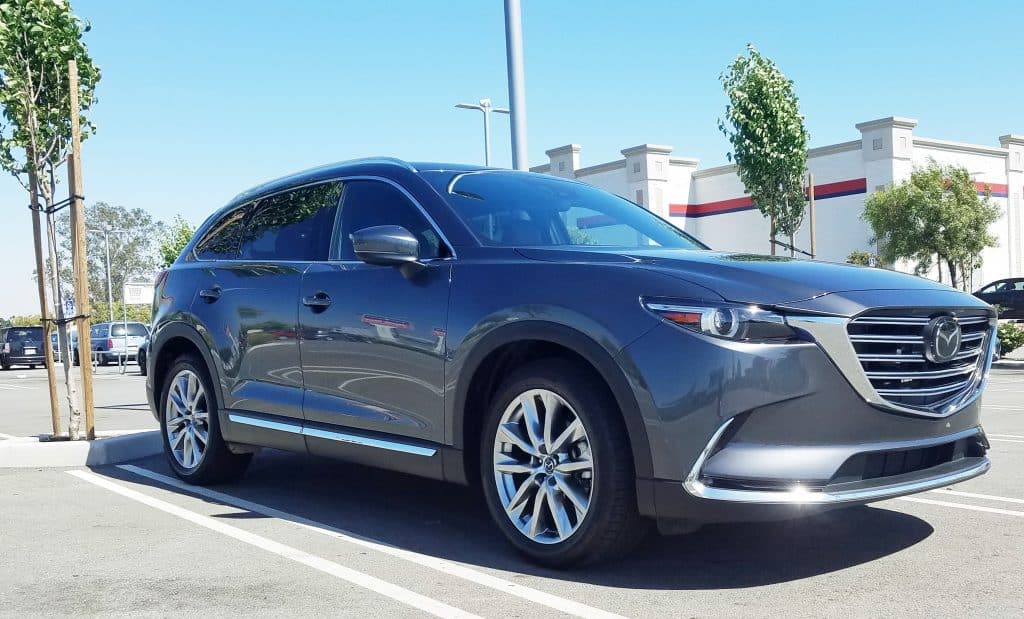 There are so many cool things about the new Mazda CX-9 that I won't be able to list them all here, but let me start with a few things that made my busy mom errands more enjoyable. Probably at the top of my list was the console, where literally everything I need to do while driving is within hand's reach and the digital screens are clear and easily visible.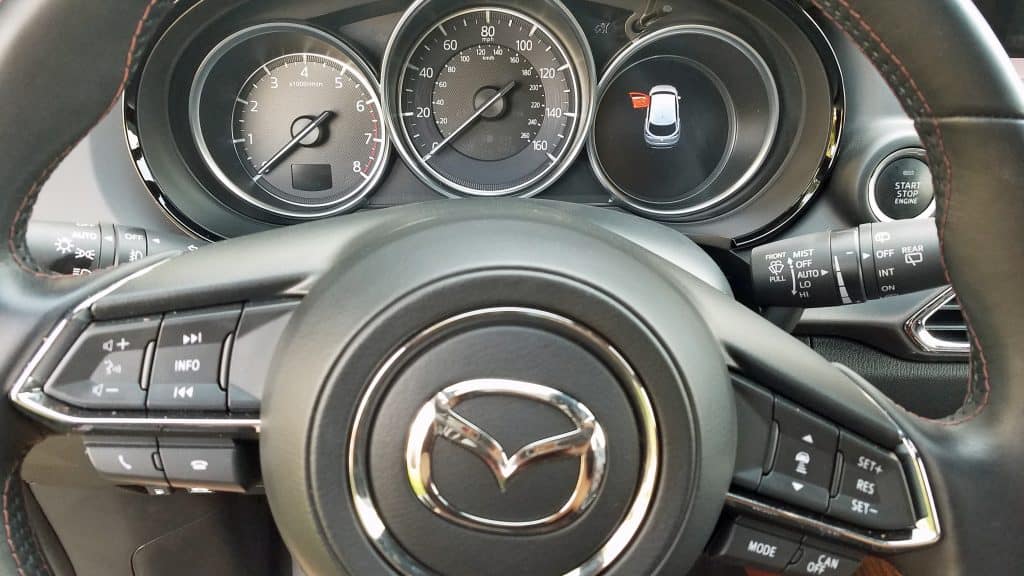 No reaching to turn on the navigation system or turn down the volume of the stereo when a kid starts calling your name from the back seat. Thanks to a simple knob right by the gear shift to the driver's immediate right, I was able to dial in the nav screen or dial the list of radio stations. With the push of the button in the middle of the knob, you can select a new genre of music from Sirius or bring up the local map. So convenient! And speaking of convenience, there's even an instant mute button for the Bose 12-speaker audio system. Love that!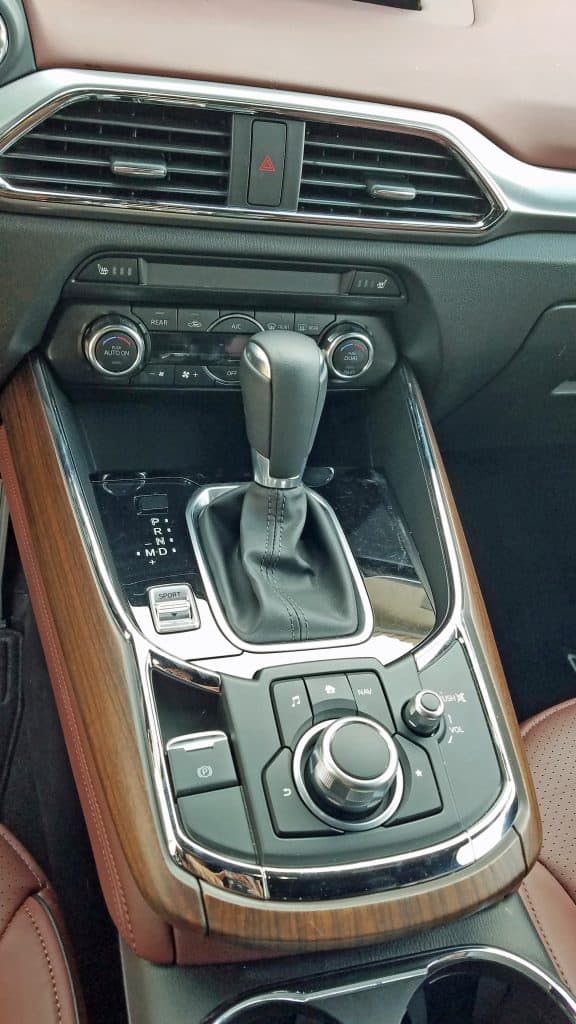 The biggest surprise was the day that it rained. Just as I was reaching to turn on the wipers, they went on by themselves. Rain-sensing wipers! Such a good thing to have and just one of many options in the new CX-9 that allow you to focus on the business at hand — the road and the safety of your passengers — rather than fumbling while you're driving in the dark or in the midst of a sudden, bad storm.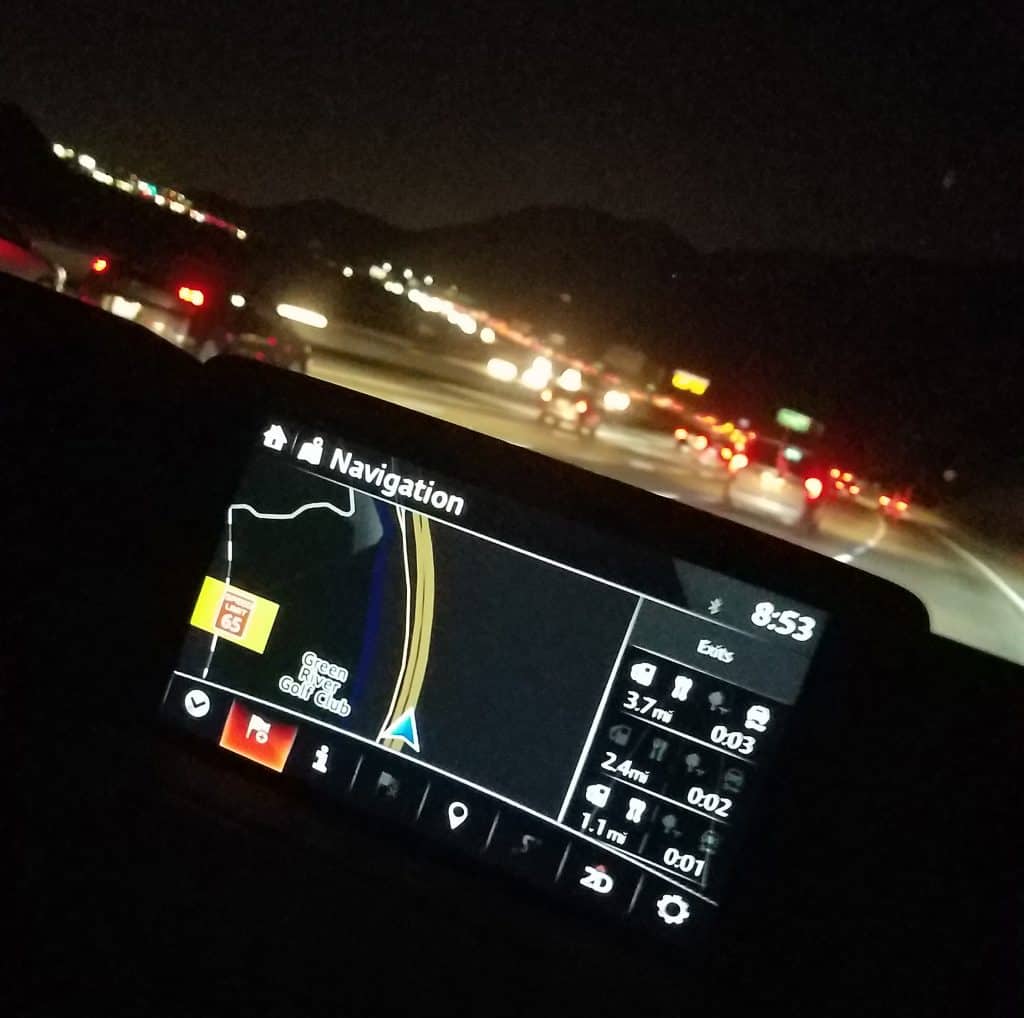 Another surprise that I've never seen before was the projection of the speed onto my windshield. (Sorry, no photo of that because it's only visible to the driver and no phones or photo taking while I'm driving!) Driving in the dark, you need your eyes on the road even more, so Mazda's made it even easier to be sure you're not speeding by projecting your current speed, and the local speed limit, right at the bottom of your field of vision on the windshield. No more looking away from the road to see how fast you're going! The nav screen, even if it's on the music option, also will tell you the name of the next upcoming street so if you're in an area where you're unfamiliar, you get a heads-up even if you don't have your destination programmed into the navigational system.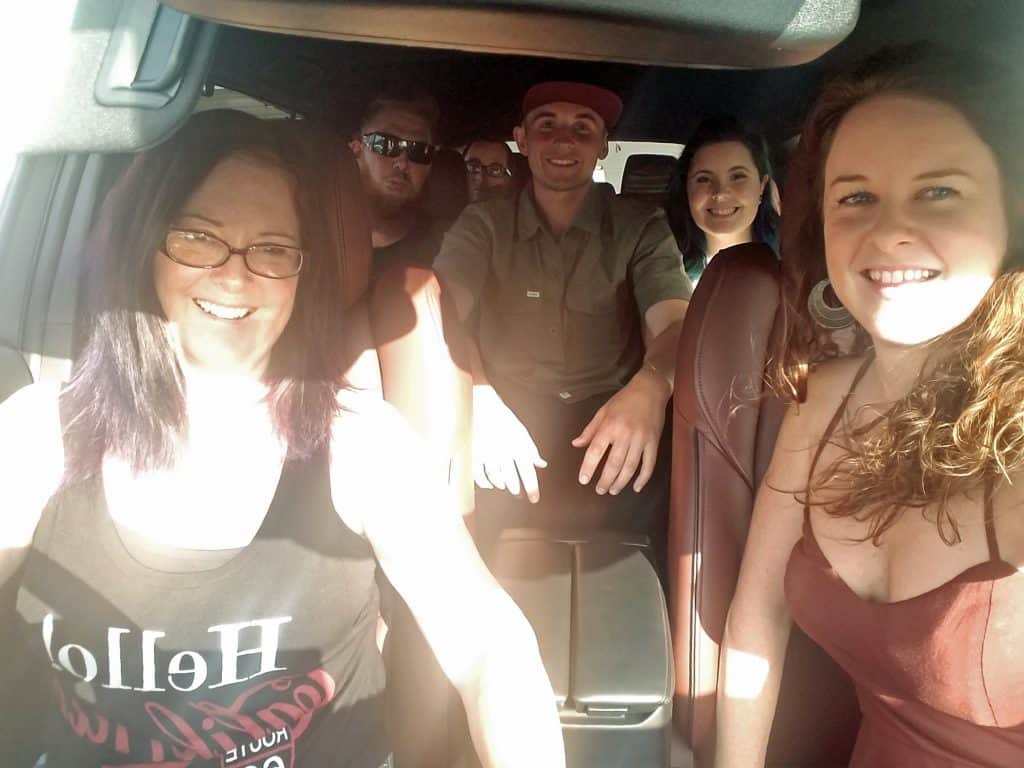 A vehicle that seats my entire family comfortably used to mean expensive gas costs and hunting for a spot big enough in a parking lot. Not the case at all anymore! I zipped around with the whole family and still had room to put groceries in the trunk. (There's another kid, my youngest son, in the back there on the right.)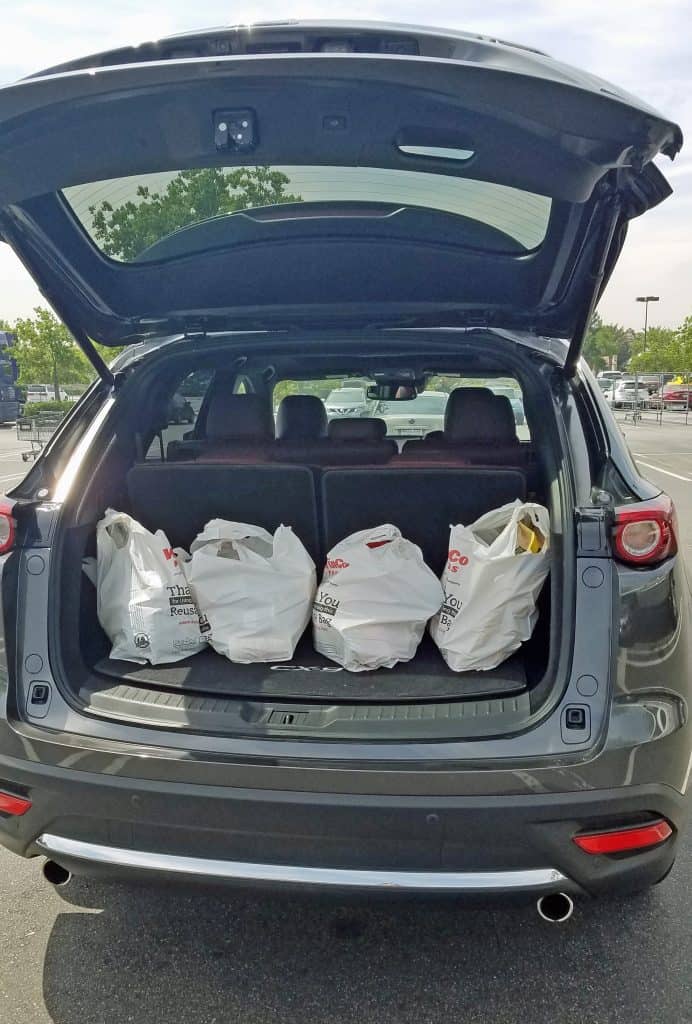 And then this — what a sanity-saver for a mom carrying groceries and a purse while wrangling small children! Simply push the trunk button and it opens. Loaded up and ready to get into the vehicle?
Hold down the same button and the trunk closes. This option should be available on all vehicles!
Doesn't it look cool at the beach? (That was a launch party for a restaurant in Laguna Beach. That car was made for the ride through the foothills down to the Coast Highway. Pop open the moonroof and enjoy the ride!)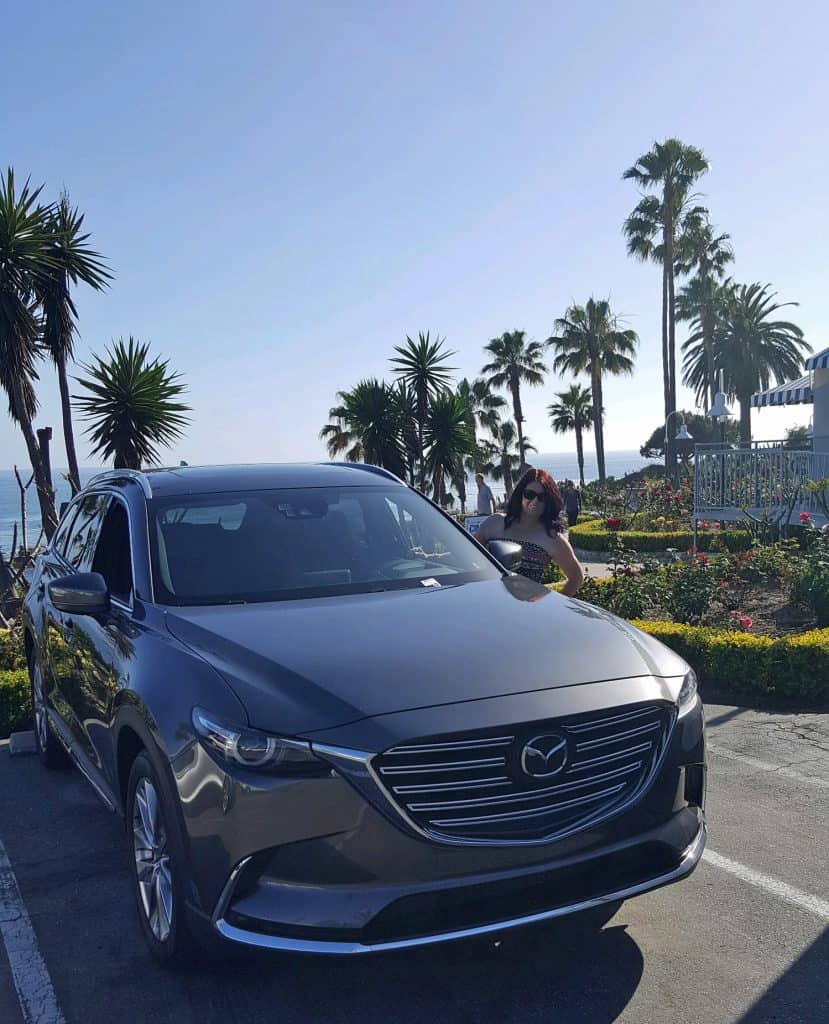 And speaking of the trunk space, one of the biggest problems of parking your car on a sloped driveway is the possibility of bags rolling out the back when you open the hatch. Not a concern with the 2017 Mazda CX-9! Just pop out these little hooks on the side and latch your bag loops over the top. Problem solved! It even goes a step further if you have the back seat down, with hooks for a net to help hold things as well. That's ideal when you're carrying around football gear. With all this vehicle has, these hooks may not rate on your scale but with all the cars I've had for my family, sometimes these little things make a big difference in convenience.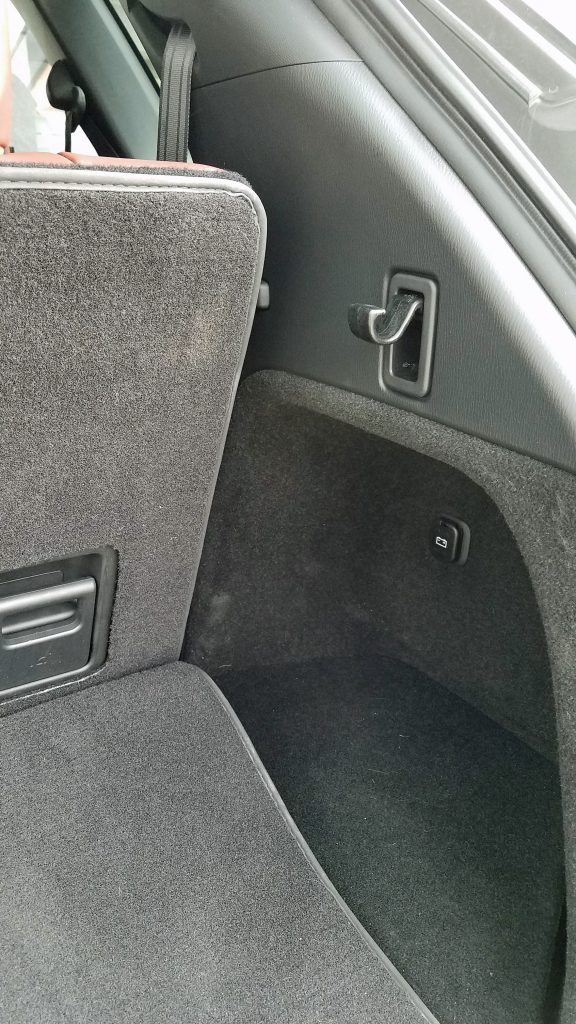 Another fun add-on are the side window screens. Those suction-cup window shields are a thing of the past! Lift up the little latch on the bottom there, gently pull up the screen and use the two latches at the top to hold it up. No more bright sun in your baby's eyes!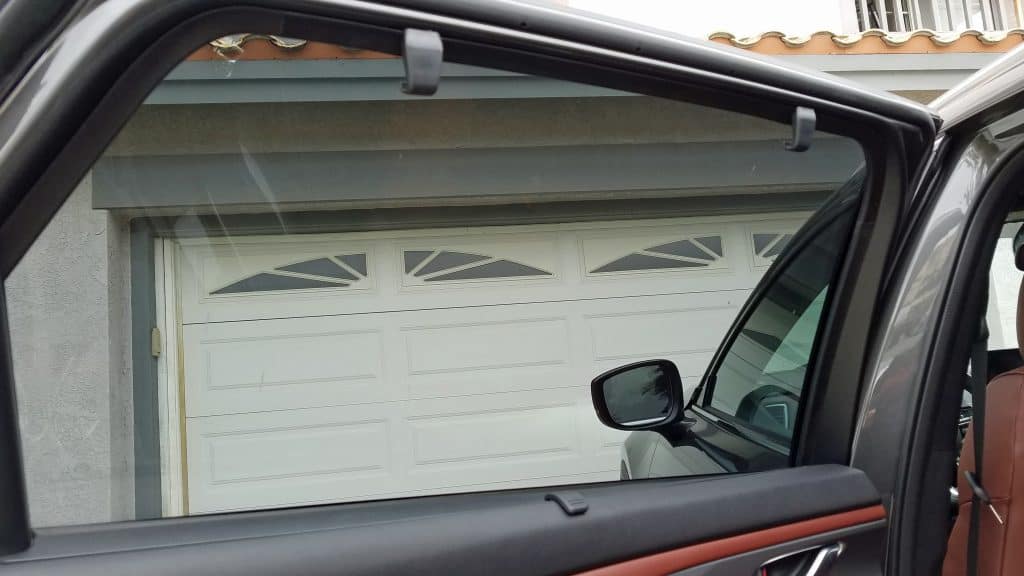 As far as technology, in addition to what I've mentioned is a long list of extras, such as auto lights, a power moonroof, an adaptive front lighting system, a push button start, 3-zone automatic climate control, Smart Brake technology, Bluetooth connectivity for your phone (so you can make/take calls hand-free, which is particularly handy here in California where the laws require us to be hands-free), heated front seats and too many charging ports to count. There are also so many built-in safety options, the 2017 Mazda CX-9 has taken driving to a whole new level. The lane departure warnings let you know if you're getting too close to vehicles to your side or in your blind spots, helping ensure you stay within your lane and letting you know if you aren't. Not good at parallel parking? The rear backup sensors and camera system will have you parked in no time.
I'm not a cruise control person, so I admittedly didn't try it out in the Mazda…which makes me sad, as it was pretty much the only thing I didn't try…but it's got a new feature I've never experienced while using cruise control. The CX-9 has options for you to choose how many car lengths back you want to keep from the vehicle in front of you. One, two, maybe three, the vehicle will not only stay at a consistent rate but help you not tailgate or get too close to a slowing vehicle.
I did, however, try out the Sport option. One small button and I was in Sport mode, a wonderful option if you're driving in areas other than school runs. Remember how I said I have a sloped driveway? The parking brake is also a push-button brake. No more stretching down to disengage it when you're ready to leave; just a slight lift of the button with your finger and you're ready to roll.
Mazda has gone all out to make your driving experience a safe and enjoyable one. The front seats are highly customizable, as is the steering wheel position and rearview mirrors. Even if you're like us and sometimes swap driving responsibilities, it's not a long project getting the next driver comfortable.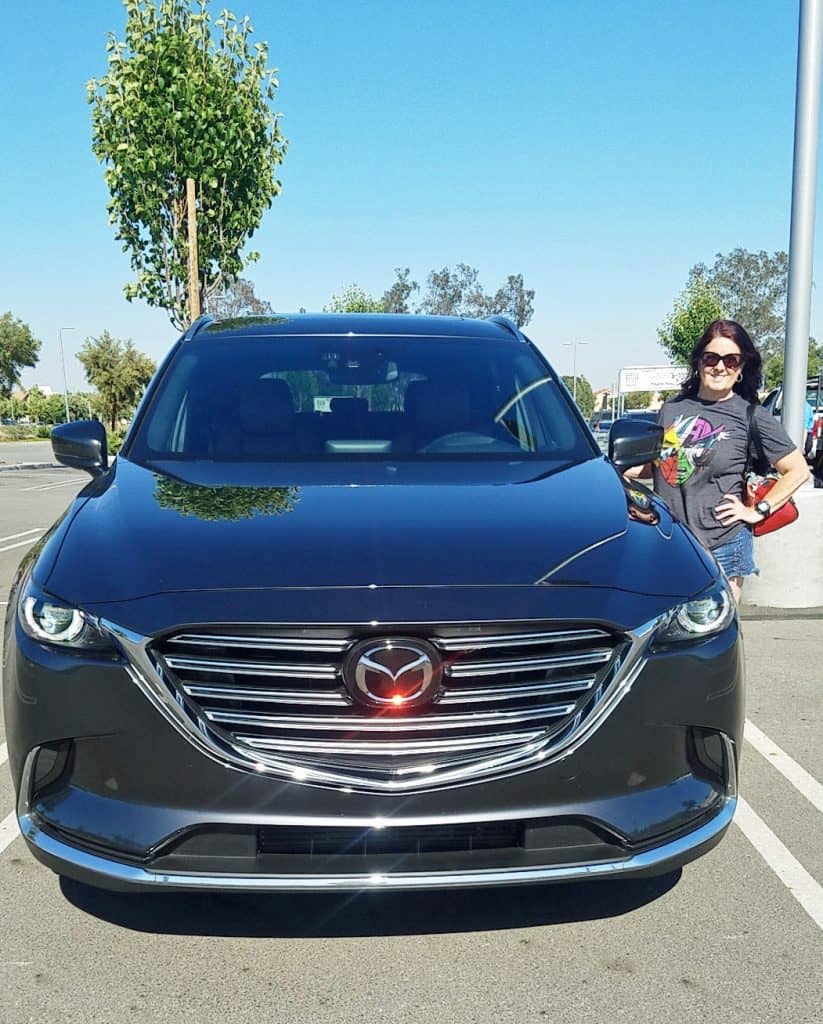 Thank you, Drive Shop and Mazda, for the fun experience driving a 2017 Mazda CX-9. I loved it all, from the snazzy front grill to the fancy trim and auburn interior. Its a plush ride that keeps you safe from Point A to Point B. Driving's not a chore when you're in the CX-9!