"I got a rock."
"Wah wah wah."
"It's the great pumpkin, Charlie Brown!"
Fun with the Peanuts Gang at the 2019 Knott's Peanuts Celebration
I grew up watching Charlie Brown and all of the Peanuts characters. I always loved the holiday specials, and even now, they make me smile. In fact, I outright laugh every time I see Snoopy and Woodstock trying to juggle all the food preparation for Thanksgiving. Then, when Snoopy fights to keep the chairs open? It's still funny all these years later!
Even though I don't have little kids to watch the shows with anymore, I still enjoy them, so when I visit Knott's Berry Farm, I always head to Camp Snoopy. My goal is to get a photo with the big dog himself, and sometimes, other characters. Now that the 2019 Knott's Peanuts Celebration is taking place, there are even more characters and photo opportunities available, and that's just the beginning of all the new Peanuts-themed fun in the park.
Knott's Berry Farm takes holidays and special events seriously. When they come up with an idea, they make sure it happens on a big scale, and this year's Peanuts celebration is no exception. The long list of new food items, available for the length of the celebration, is impressive, colorful, and fun. Everyone is sure to find a few things they want to try. We were invited to media day, so our food, parking, entertainment and more was complimentary, but the photos and opinions below are my own!
This year's Peanuts celebration has already begun, and takes place every weekend through February 10, and Presidents' Day on February 18. The shows and entertainment are all a part of your regular admission ticket, and you can buy your tickets online here!
Peanuts-themed gear is available all over the park, as well as Virginia's Gift Shop outside the main entrance on Beach Boulevard. T-shirts, hats, plush animals and characters, the selection is varied and there are sizes for all ages. I personally want this Snoopy hat the most. Look at those ears!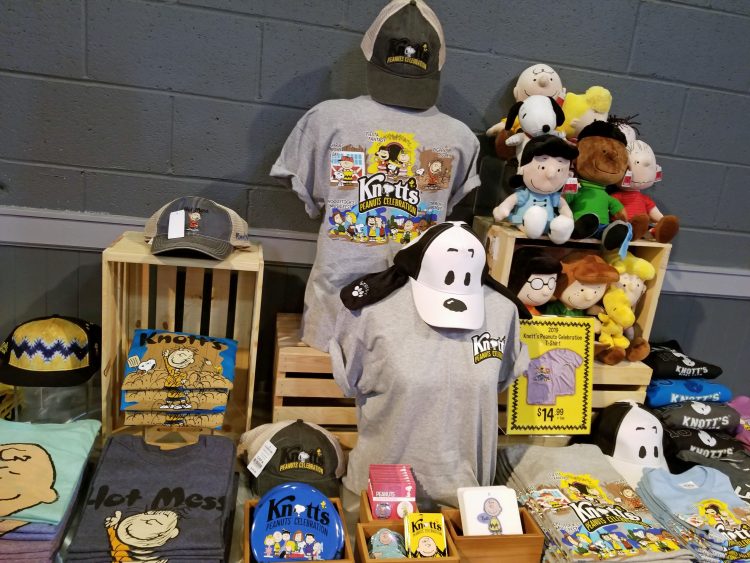 The food available is pretty amazing, and while I could only fit in so many samples to tell you about it, I just have to say this: the peanut butter and jelly filled mini-bundt cakes are amazing. Another top contender are these Charlie Brown-themed strawberries.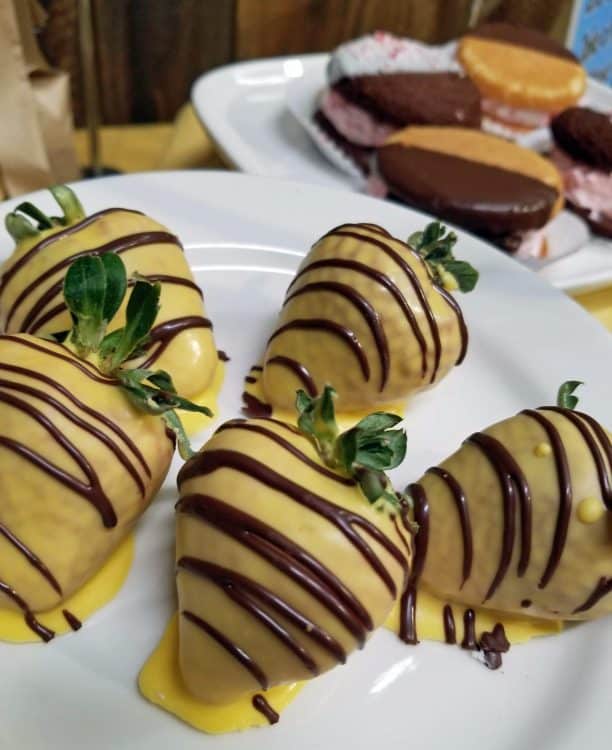 Aren't they adorable?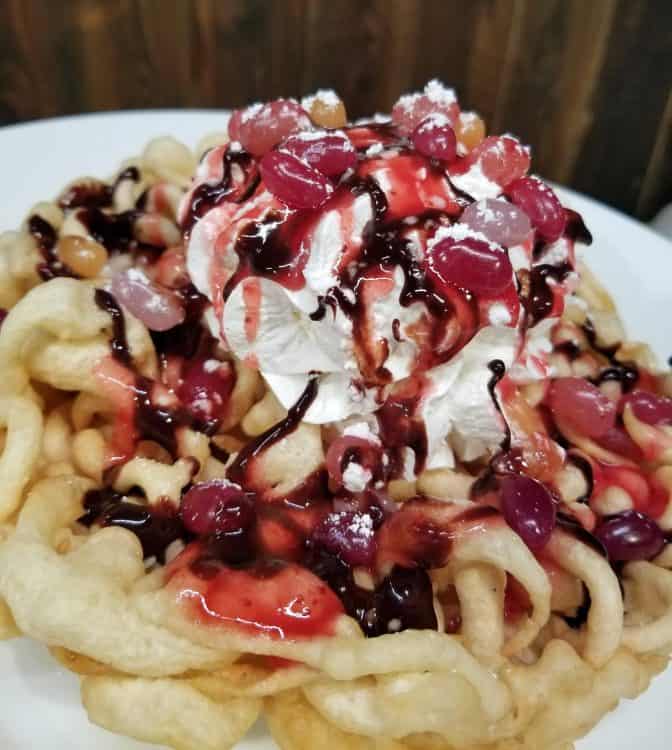 This Jelly Jelly Bean Funnel Cake is SO COOL. Pictures don't do it justice. The boysenberry jelly is classic to the park, and those jelly beans take it up a notch to something that's never been done before. But then again, Knott's is known for pushing the limits on food. They create all of these things that turn us into kids again, and meanwhile, the kids can decorate kite sugar cookies with this cute little kit below. (The cookie kit costs extra.)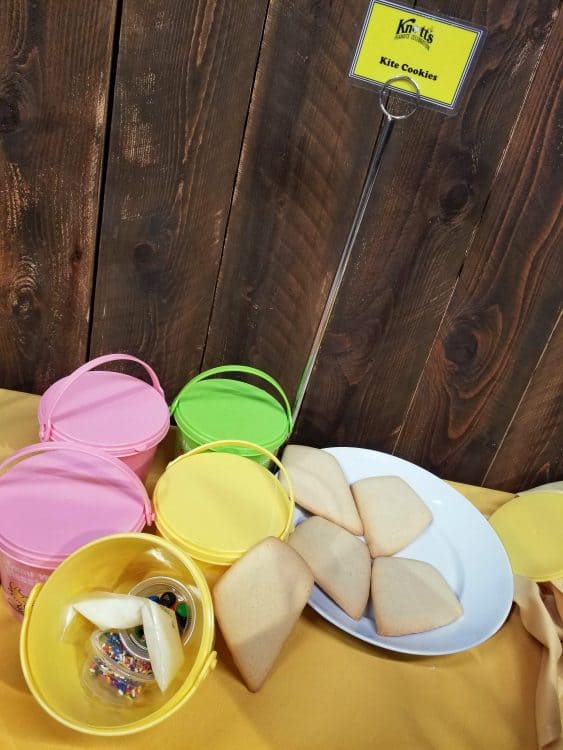 Food isn't just sweet though. They're rocking it with the savory, including these Wah Wah Buffle Chicken Fries. I didn't get to try these, which was the bummer of my day. Don't they look good?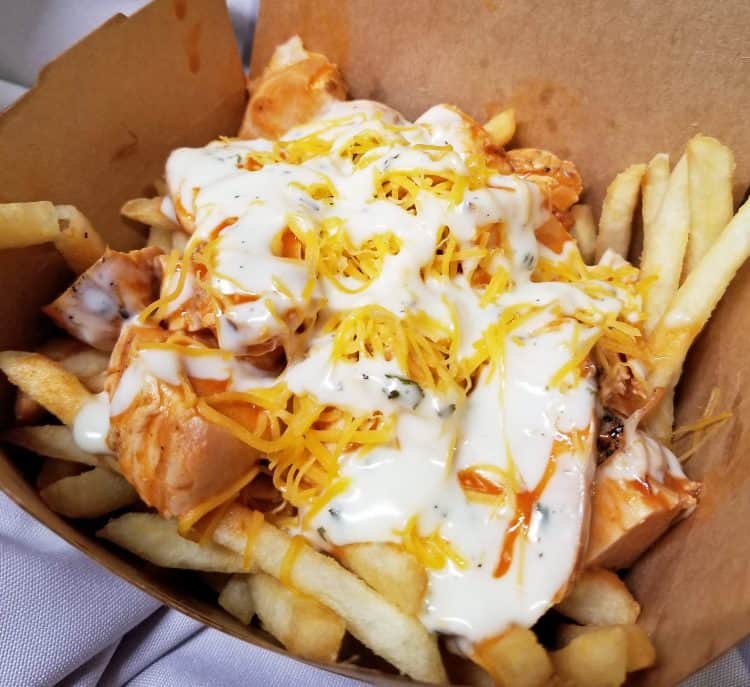 Yeah, I know. Fries are my guiltiest of guilty pleasures and I need to sit down with one of these, a cold boysenberry punch, and thirty minutes just to enjoy it.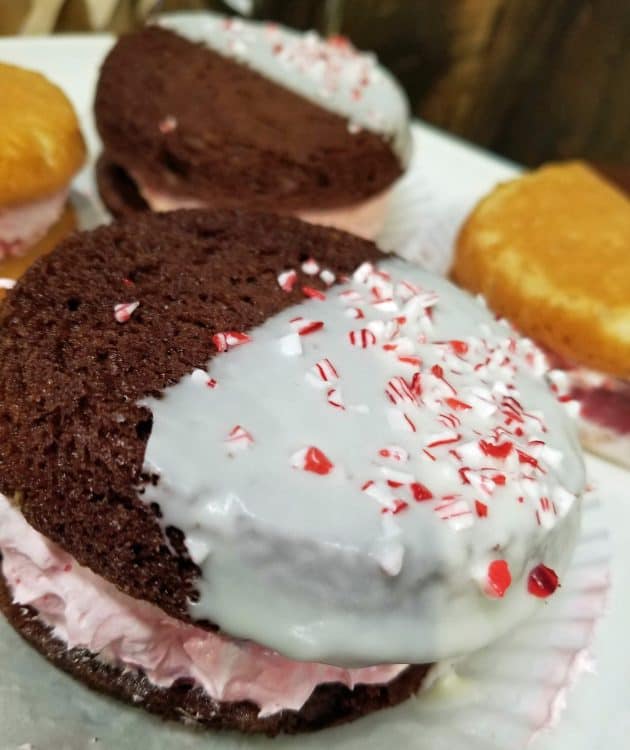 And if you like peppermint, these Peppermint Patties are going to be your new thing! For a full intro on all of the newest foods available, take a peek at this short video take at Knott's Peanuts Celebration media day!
Which one is your favorite? I am already planning what I'm going to try on my next visit, which will being with one of those rice krispy treats.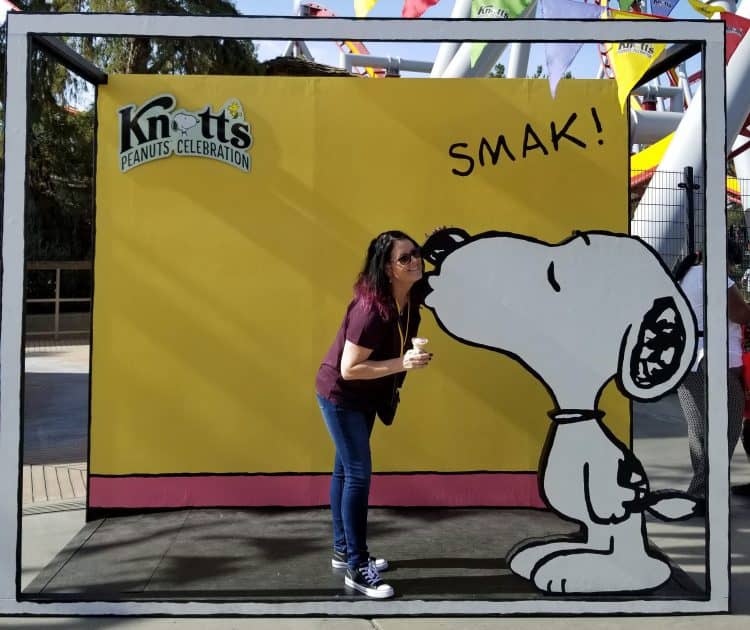 No visit is complete without running into Snoopy. While I missed the opportunity to meet the real Snoopy that day, I did score a hug with the real Charlie Brown, along with my daughter. Charlie Brown was pretty popular!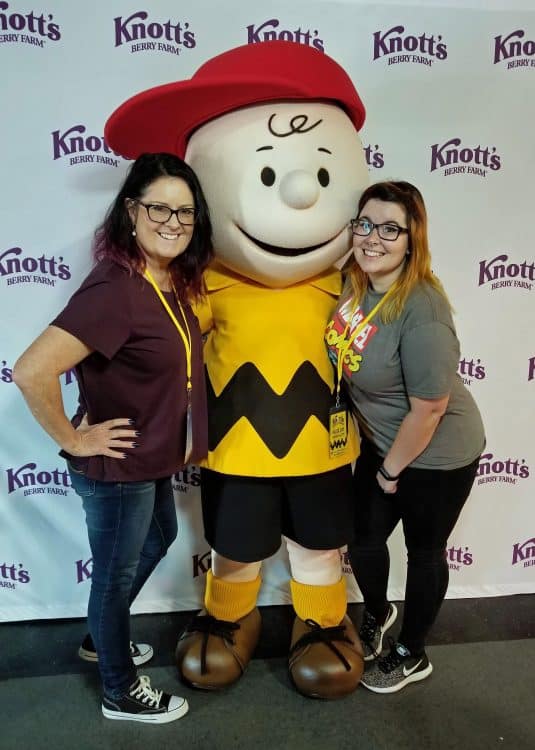 ….but we couldn't resist the chance to mess with him just a little bit by taking away his football as he's getting ready to kick it. Aaugh……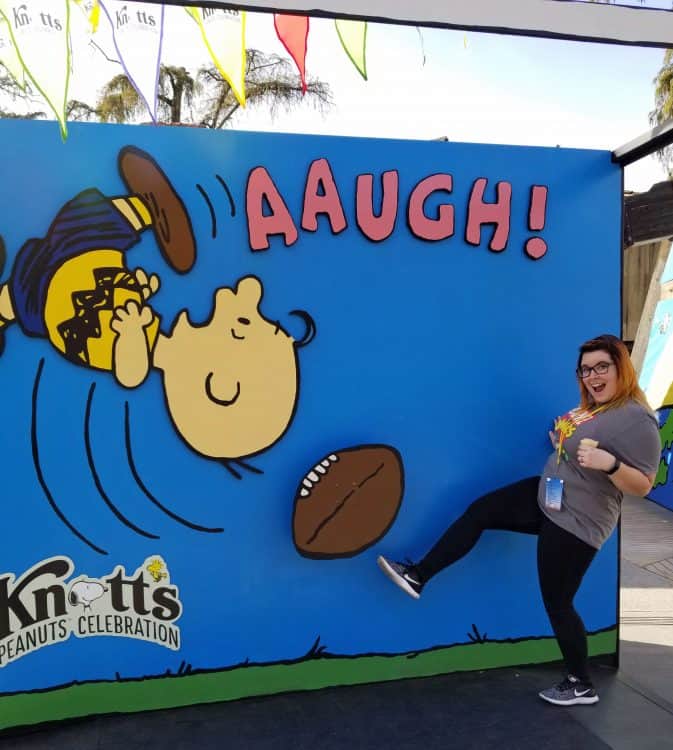 And who doesn't love Pig Pen? He's available in the Livery Stable in the Ghost Town. Get your picture taken with him, and visit with the donkey, the horses and even little piggies!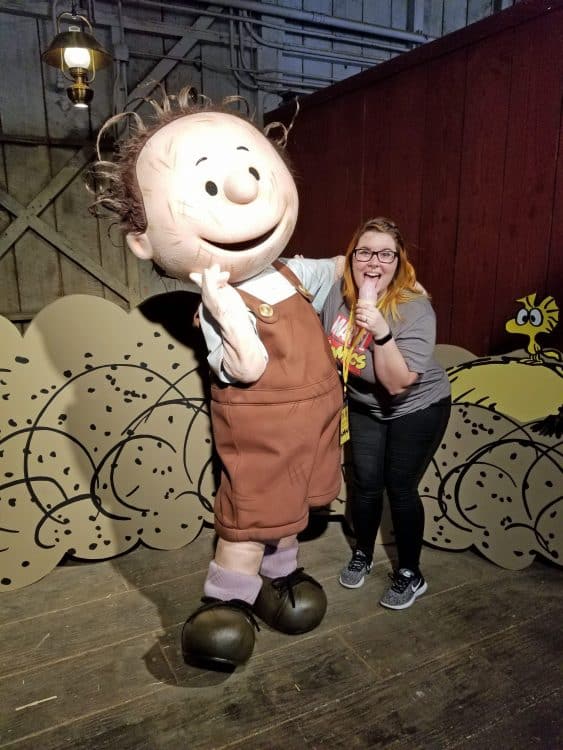 Yes, that's ice cream in Devon's hand. A lot of people don't know it, but you can purchase soft serve boysenberry ice cream over in the ice cream shop at the edge of Ghost Town near the entrance to the railroad. We only had so much room left in our dessert stomach, and that ice cream cone was the perfect fit. Pig Pen even tried it!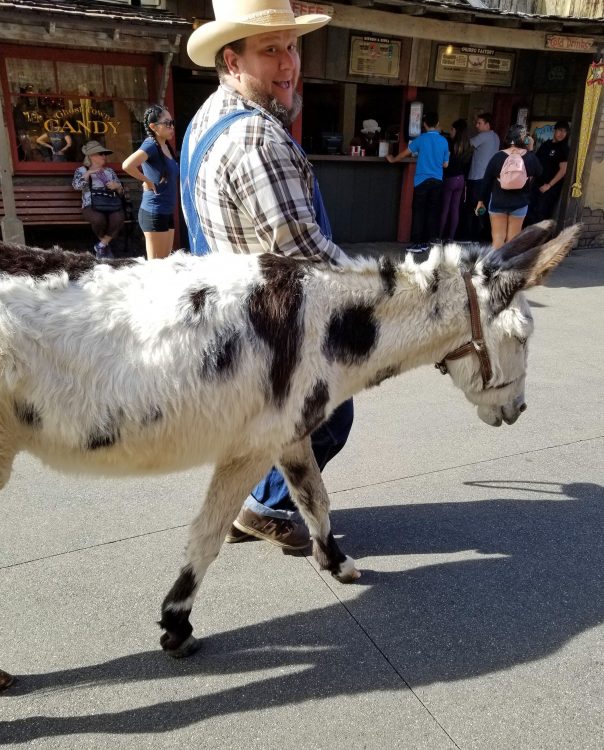 Meet Betty. She wanders Ghost Town throughout the day and loves to be pet…if she's in the mood. She really likes to take her walk and say hello to everyone!
On Media Day, we arrived at 945am and had about an hour before the Boardwalk Ballroom was available for lunch. We used that hour to ride Hangtime (front row!) over along the Boardwalk, the coaster with the inversion that leaves you hanging just long enough to think the ride is broken, before dropping you straight down and propelling you through a series of turns and twists. So much fun!
We got on Xcelerator, which goes from zero to over 80 mph in just a few seconds, leaving your scream so far behind you that you almost beat it back to the platform! It's such a short ride, less than 20 seconds, so the line moves quickly and is totally worth any wait you may run into.
When you're in the Boardwalk area, be sure to take a ride on the Sky Cabin, complete with the new Peanuts overlay. It takes you high into the sky on a slow spin giving you a 360-degree view of the park. The weather was so clear on the day of our visit, we could see the Queen Mary in one direction, the beach in another, and the snow covered mountains to the east. I haven't ridden the ride in many, many years, but I'm so glad we took the time that day to enjoy the peaceful quiet that gave us a new perspective.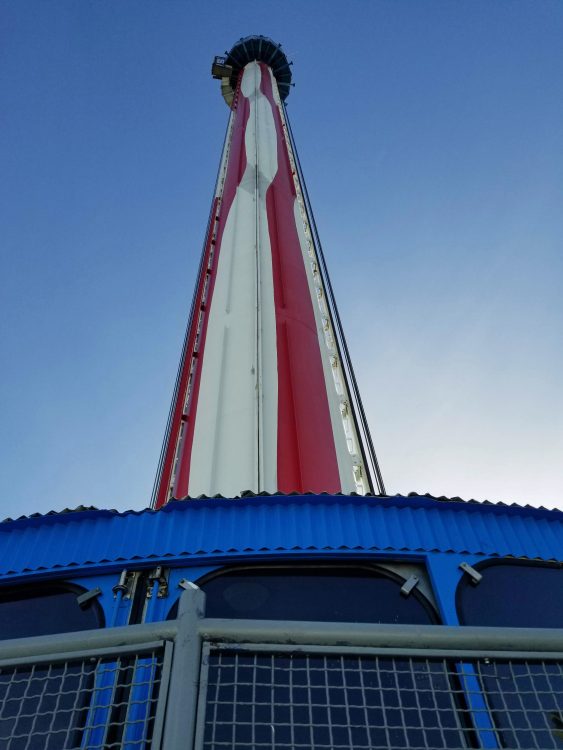 There's also a litany of Peanuts-themed entertainment available, like Woodstock's Music Festival at the Calico Mine Stage (at night), drawing lessons at Peanuts Sketch School inside the Bird Cage theater (where you learn to draw a different Peanuts character each class), and the Peanuts Cowboy Jamboree at Calico Park. Look at these kids enjoying riding a stick horse with Franklin, Linus and more!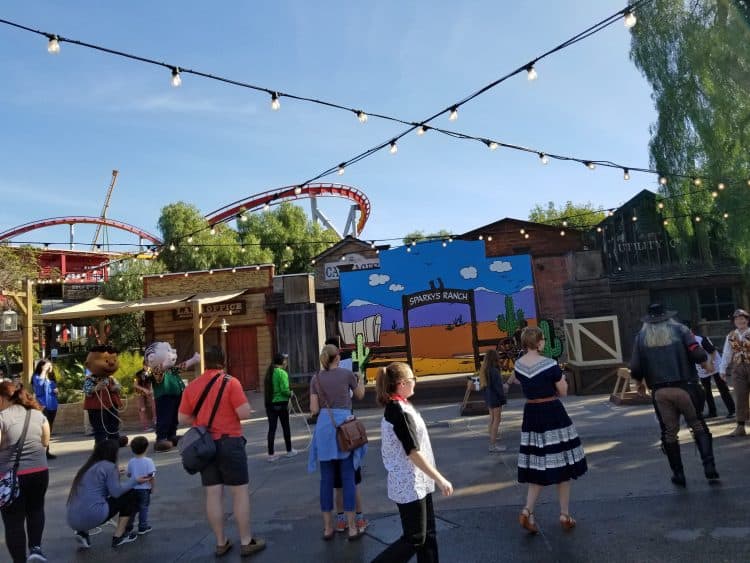 The park's decorations were newly renovated before the holidays in 2018, and pops of color are everywhere. The fountain over by Johnny Rockets and the Starbucks (where you can get a boysenberry latte) is always decorated uniquely throughout the year, and these multi-colored bright balloons were beautiful.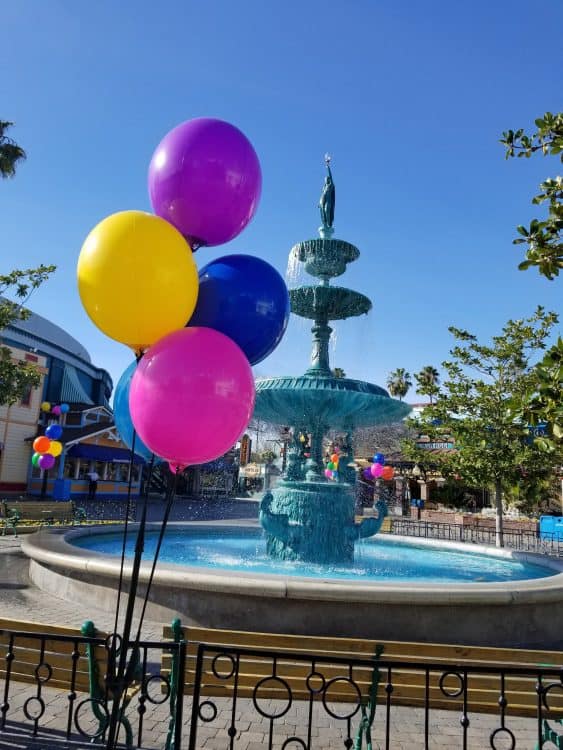 Speaking of beautiful, the inside of the Calico Mine Ride has also been renovated. The digital and special effects are new and improved, as are the animatronics and narration. Be sure to keep an eye on the characters — a few of them "talk" as you ride by on the train and it's hilarious! My favorite part is still inside the stalagmite and stalactive cave. Look at these colors!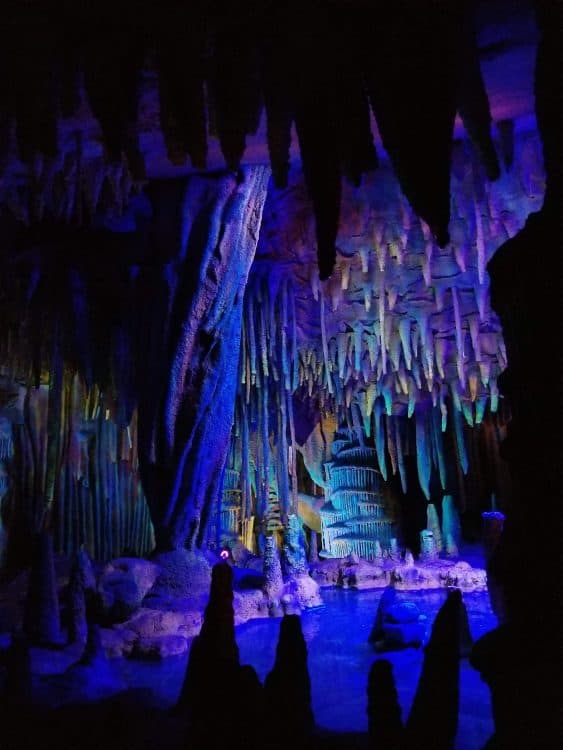 Whether you're a resident looking for a fun family weekend activity, or someone visiting from out of town, Knott's Berry Farm makes a fun place to spend a day or two. Food, fun and Peanuts characters, what more could you ask for? Wait, affordable season passes, right? Done! Look at these rates on passes, starting at $98 total PER YEAR, and daily tickets. You can also upgrade and get free parking.