Who says it doesn't snow in Southern California? Mountain High, located in Wrightwood, is SoCal's closest winter resort, making it easy for everyone to learn to ski and enjoy a day of snow play!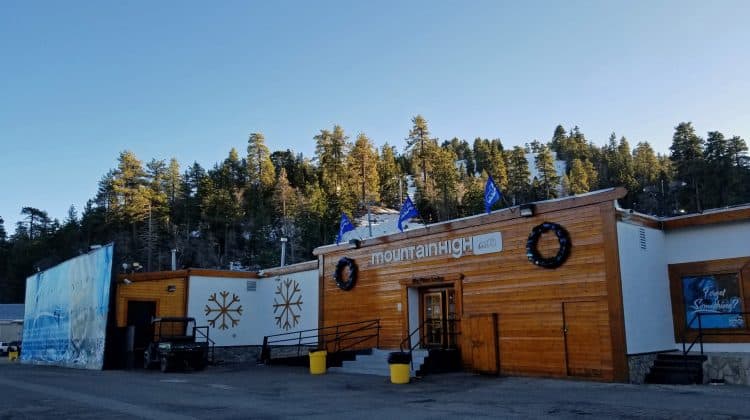 Covered in a beautiful blanket of white, Mountain High is accessible via the 15 freeway just a little north of the 210 and 215 freeways. It's an easy drive, only about 15-20 minutes once you leave the highway, where you slowly climb the mountain on a two-lane road. Surrounded by tall trees, the ski resort is a world away from busy Los Angeles, offering visitors the opportunity to experience a real winter feeling without a long drive. (Chains can be required at sporadic times throughout the season, so be sure to check before you head up the mountain.)
We attended last Friday on media day, where we were invited to ski or snowboard, take a lesson, and enjoy the day of unlimited lift rides. Mt. High also provided us complimentary meals and beverages all day long, making it a day full of adventure and minus any hassles. All we had to do was show up in our winter gear…and who doesn't love the opportunity to dust off those winter boots and fuzzy hats?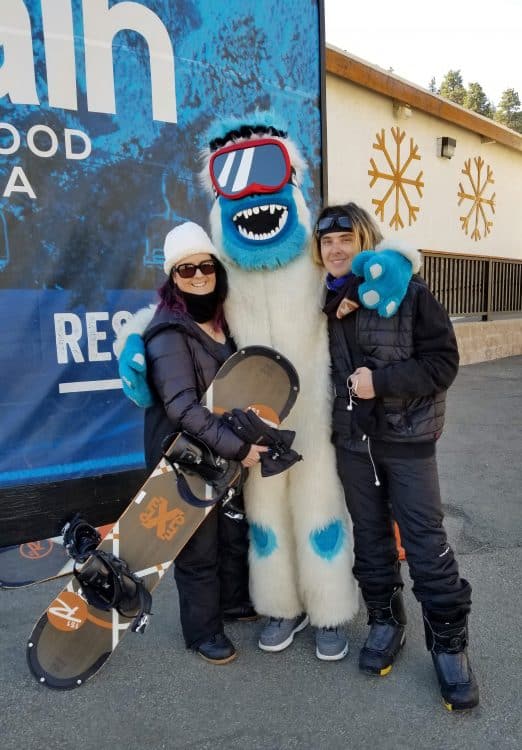 Can I Learn to Ski at Mt. High in Wrightwood and are There Bunny Slopes Available?
My son and I arrived around 8:15am, enjoyed a protein- and carb-filled breakfast to keep us going, and then we headed to the rentals shop. We both chose to snowboard and whether you ski or board, the rental process is easy. Fill out a digital form and the rentals staff will fit you with boots and your board (or skis, if you choose) based on your weight, height and ability. Before you know it, you're on your way to the slopes!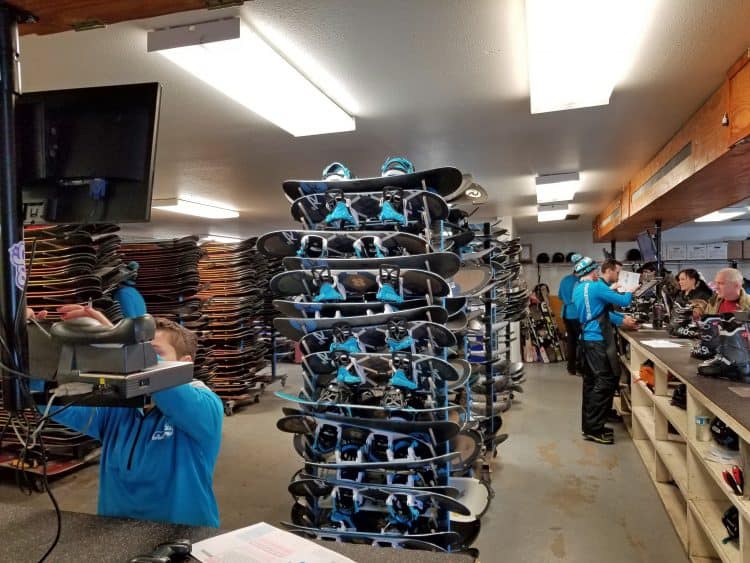 If you're new at skiing or snowboarding, learning to ski in one of the many offered lessons is a good idea. We took lessons last year, so this year we opted to practice for a bit on the 'bunny' slope. It only took me about 20 minutes to realize that I should switch back to skis — something I'd learned to do when I was a teenager living in Orange County — so I headed back to the rentals area, where Benjamin kindly and quickly swapped my board for Rossignol skis and poles, while my son took off on his board. We then met up to start taking the lift to the slopes and away we went!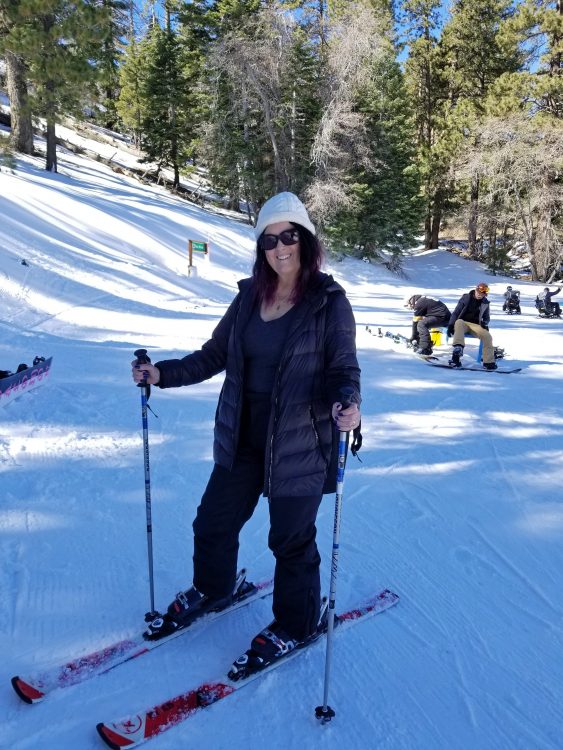 I'd fallen pretty hard on my backside when trying the board, but once I got on the skis, it was smooth sailing. We spent a few hours skiing and boarding, usually together but my son did head up to the top on the highest lift to check out the view. I happily stayed down within my comfort zone, relying on him to take a few photos so I could experience it by proxy. I remembered why I loved to ski, and I was so relieved that it was kind of like riding a bike — other than one tangle when I got psyched out after watching people in front of me fall as they got off the lift, resulting in them stopping the lift so they had time to get safely out of the way, I never hit the ground again!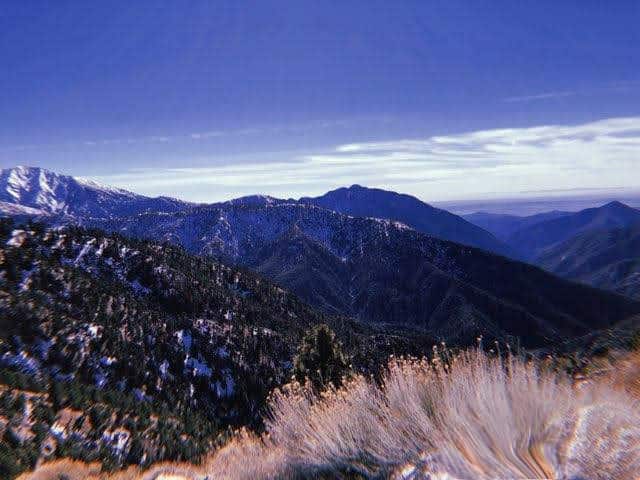 When the lift stops, it can be a little scary but the lifts are smooth, so there is no jolting when it re-starts. It's also good to know how heavily manned the lifts are, so the attendants are always watching so they can stop it if you need help getting off. This is a good thing!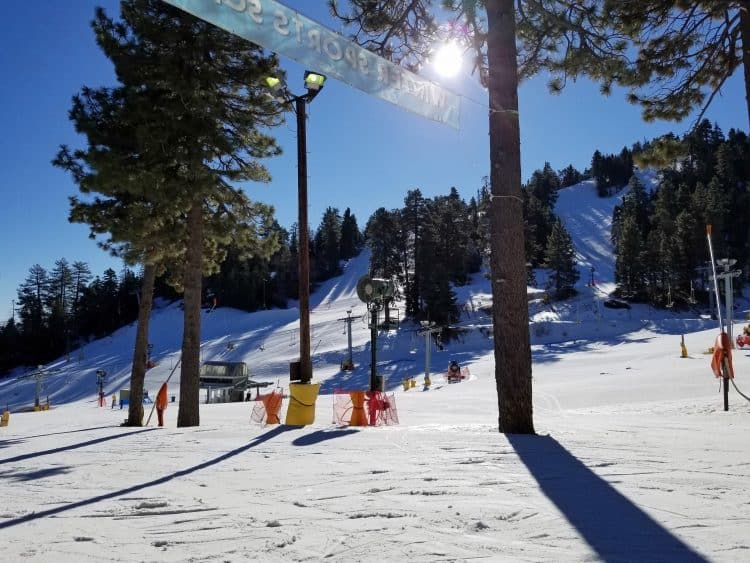 The slopes at Mountain High are well-maintained, smooth and offer a variety of landscapes to meet everyone's skill level. We saw people of all ages skiing and snowboarding! It's the perfect place to learn to ski, with plenty of space to practice out of the way of fast and skilled skiers. No need to worry that you'll get in a pro's way!
There's also a few places to just plop in the snow…..who doesn't want to do that? Or this?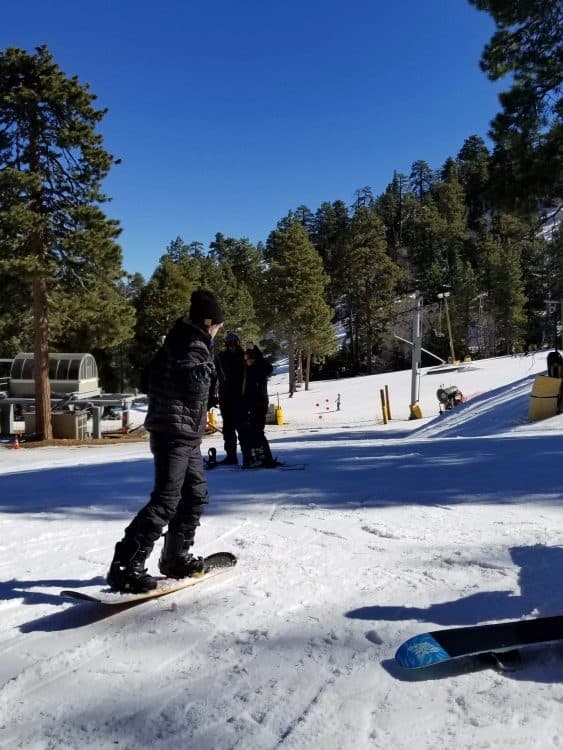 Lessons can be group or private, and gear rental can be purchased as packages or separately. The Winter Sports School is the perfect way to gain confidence on your gear, learn how to stop, and how to turn as well as just maintain an upright position — and yes, you even learn how to fall AND how to get up! (This sounds silly, but get stuck one time in the snow, face down or flat on your back, and you'll be glad you had a professional tell you the safest way to return to the standing position!)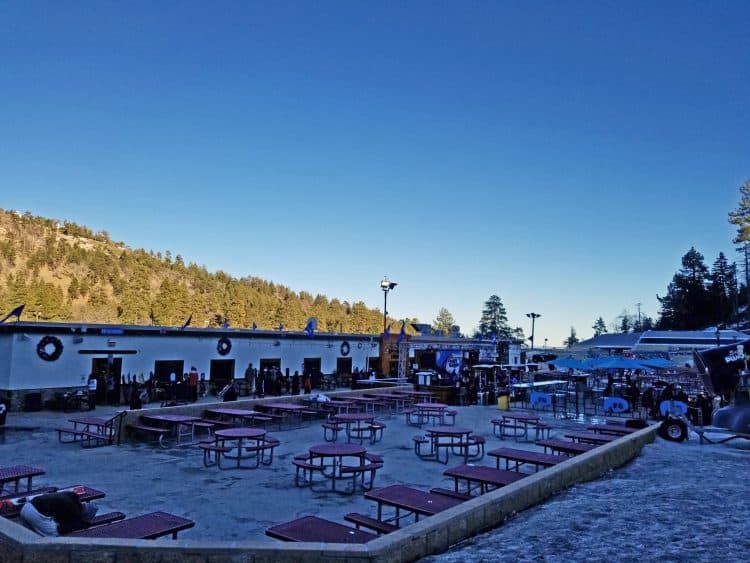 When you get hungry, you have a lot of options: pre-made convenience food at The Fix inside the front lodge up front near the rentals area, hot breakfast items the Big Pines Base Lodge, burgers or sandwiches at the outdoor Big Pines BBQ and appetizers and entrees at the Bullwheel Bar & Grill, up the hill a bit, also offering beautiful views, a full bar and a fireplace. If you'd rather sit by the fire and enjoy a beverage, the Foggy Goggles, on the other side of the Big Pines BBQ, is your place. Listen to live entertainment throughout the week or just people watch as you relax and get warm.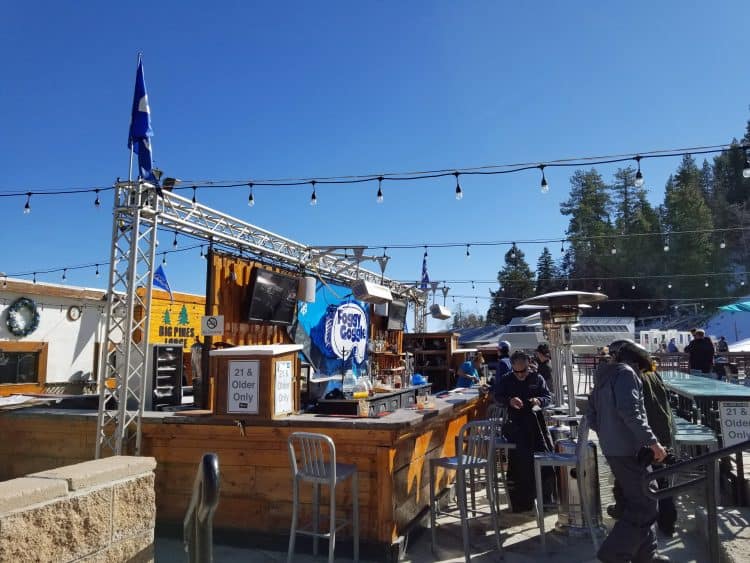 Mountain High offers night skiing lift ticket from 5pm to 10pm for $49, while typical day lift ticket rates are $84 for eight hours or $79 for four hours. Learn more about the lift ticket rates and other programs and/or discounts here. If you're more interested in just playing in the snow, head to Mt. High's east resort and visit Yeti's Snow Park. Parking is $20 per car, and tickets are available for purchase to play and/or tube.
Learning to ski doesn't need to be expensive, but don't skimp on your attire by wearing leggings or jeans if you can help it. Once you get wet, it can be hard to enjoy the day as much as you should. Temps are 20-30 degrees lower than the city, and while the sun can reflect back on you, it can get chilly as you get higher up the mountain and the breezes may make you cold, especially once the sun starts to dip. Snow pants will protect your legs from getting wet; even if you don't fall, sometimes snow will splash up onto your legs. A waterproof jacket, warm socks and gloves are also necessities, and a fluffy hat is a good idea. (You can rent a helmet if you'd prefer.) Lockers are available to stow your gear, but we put ours back in the truck during the day, as the lot isn't far away. However, it can fill up quickly so if you don't arrive early, your vehicle may be far enough away to make renting the locker a better plan.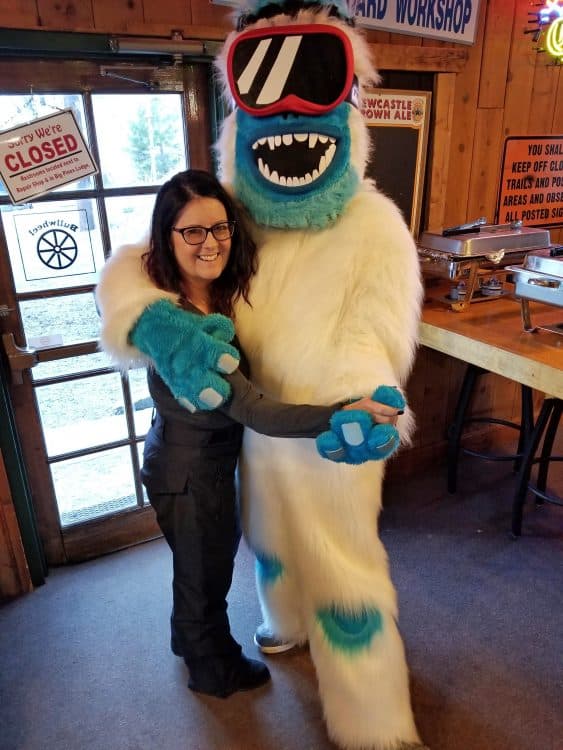 After we finished skiing, we kept our snow pants on, as they weren't wet and they were lined and made for apres-ski parties like the one Mt. High had planned for us up at the Bullwheel. We put on our own personal warm winter boots, found a table next to the window and enjoyed the apps and beverages as we waited for Yeti to arrive for another selfie. Our waitress (Christine) was amazing, so friendly and helpful, and we got warm while getting full on delicious finger food.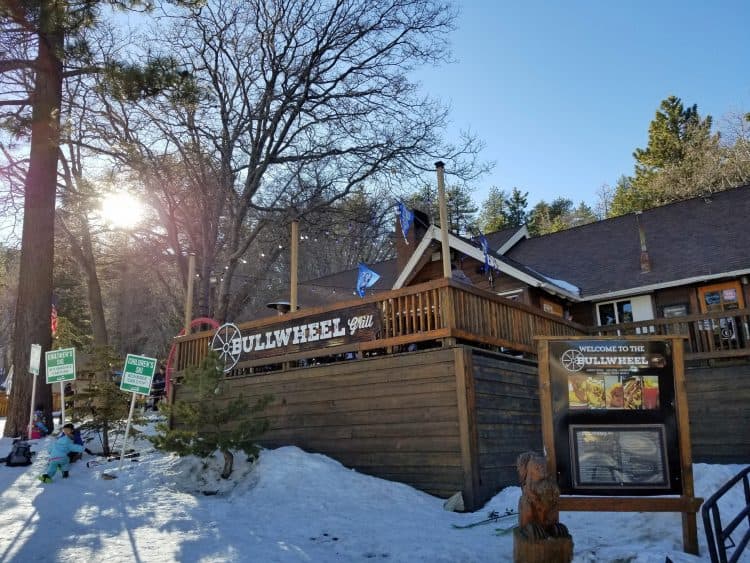 If you want to learn to ski, you can't do better than Mt. High. It's only about a 40-45 minute drive from our house, so we plan on returning before the season ends. It's close, affordable and once you have your gear, you can go on a whim — but tickets are available for purchase online, simplifying the process once you get to the mountain. (And if you have your own gear, you can skip straight to the lifts.) We left just as the sun dipped down behind the mountain, and while we were tempted to head back up the mountain for a few more runs, we'd had a good day and knew it was time to head home. Night skiing is beautiful and the lights were on, spreading a gorgeous glow amongst the trees, making me even consider sitting down just for a bit longer with a coffee and cocoa. Next time for sure!
Thank you again, Mt. High, for inviting us up for the day and for providing everything complimentary for us to truly enjoy the day from start to finish! Here's to hoping for a few more storms and cold days to keep that snow level up for a good, long winter ski season!