Valentine's Day is coming up quick and I am SO not ready. Our January was a pretty messy month, and I'm not gonna lie, still having a hard time getting in the groove, but thanks to Smart & Final, one of my blog partners, I've got a delicious and easy Valentine's Day appetizer recipe!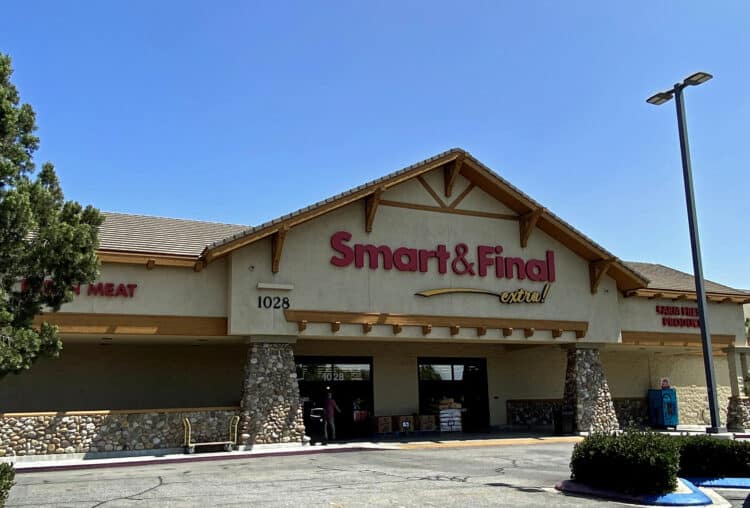 I shop at Smart & Final frequently. I love that they have a huge variety and their First Street line helps keep my grocery costs down. I can buy my regular produce, frozen foods, wine and also many big box items that we need for entertaining, such as big sleeves of disposable cups, plates and large packages of chips, cookies and anything else we may need for feeding a crowd.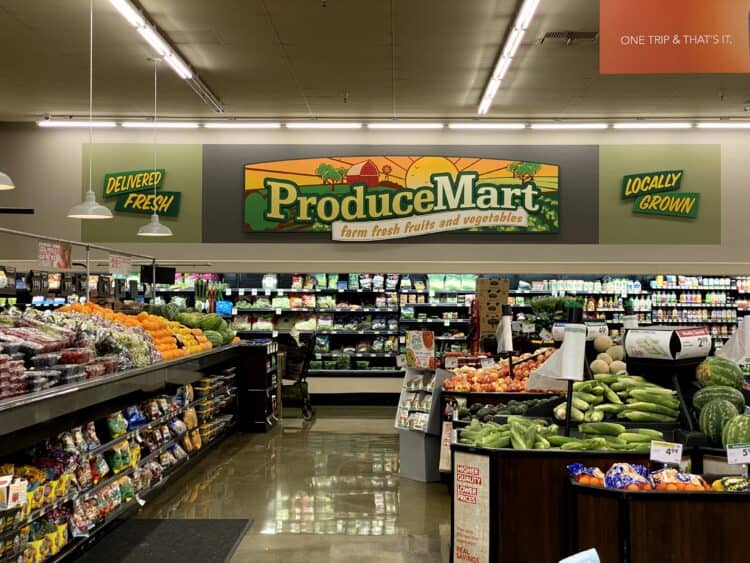 This recipe's more aligned with a healthy diet, yet it tastes really indulgent. We tend to eat a lot of foods during the big game that may not be good for us, so while this could be perfect for game day food, it is going to be our Valentine's Day appetizer, paired with heart-shaped ravioli, garlic bread and a nice bottle of wine. With Valentines Day falling on a Monday night, we've decided to skip the extra-heavy crowds and eat at home. (The hubs also made a reservation for a fancy restaurant the following weekend, so it will be back to more normal traffic and busyness without interfering with the double-whammy of crowds.)
Every ingredient in the fries and the accompanying Chipotle Ranch dip can be purchased at Smart & Final. (I prefer the Extra! stores as they're a lot bigger.) You don't need an air fryer, but I imagine you could make this in one if you need to. It's so simple!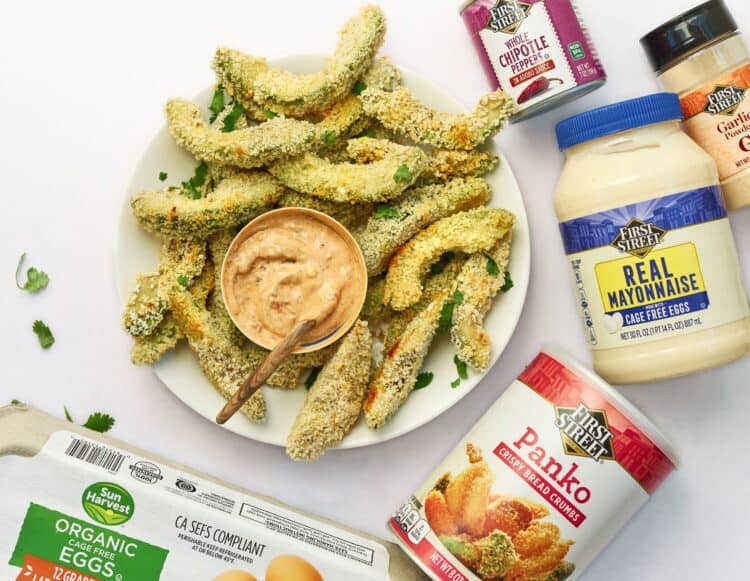 Baked Avocado Fries with Chipotle Aioli Dip, created by Patrician Bannan, MS, RDN

Serves: 8
Prep Time: 10 minutes
Cook Time: 12 minutes

INGREDIENTS

Avocado Fries
3 medium ripe (but still firm) avocados
1 lime
2 large Sun Harvest eggs
1 cup First Street panko bread crumbs
1/3 cup First Street all-purpose flour
1/2 teaspoon First Street garlic powder
1/2 teaspoon First Street onion powder
1/2 teaspoon First Street black pepper
Vegetable oil spray
¼ teaspoon sea salt

Chipotle Ranch
1/2 cup nonfat Greek yogurt
1/4 cup First Street real mayonnaise
2 First Street chipotle peppers in adobo sauce, finely chopped + 2 teaspoons sauce from the
can
1 1/2 teaspoons apple cider vinegar
1/2 teaspoon First Street garlic powder
1/2 teaspoon First Street onion powder
1/2 teaspoon First Street dried dill
1/4 teaspoon sea salt
Sun Harvest and First Street are private label brands available at Smart & Final grocery &
warehouse stores.

DIRECTIONS:
Preheat the oven to 425F and line a sheet pan with parchment paper.

Cut the avocados into quarters lengthwise, then slice each quarter in half lengthwise. (Each
should be about ¾-inch thick; there will be roughly 24 wedges total). Place the avocado slices
on a plate and squeeze with the juice from 1 lime.

In a small bowl, add the eggs and 2 tablespoons of water and whisk to create an egg wash. Set
aside.

Add the panko bread crumbs and flour to separate plates. Season the flour with garlic powder,
onion powder, and black pepper.

One at a time, dredge each avocado slice first in the seasoned flour, then into the egg wash,
and then in the panko crumbs until each is fully coated.
Let me know what you think if you make this — whether or not it's your Valentine's Day appetizer recipe of the day or you try it for the big game…or for your lunch next week (we won't tell) I'd love to hear how you like it!