If you're like me, winter is a big deal. I relish in wearing cold weather gear, drinking hot cocoa, playing in the snow, seeing Santa and just enjoying the festive environment. Raising kids in California means they don't get the joy of waking up to a blanket of white, but I remember it fondly when I grew up back east. We'd get up in a rush, down a quick breakfast and begin the process of putting on a heavy pile of warm jackets, gloves and boots so we wouldn't get cold too fast. Eventually, we'd always get cold anyway but we rarely cared. Snow! Snowmen! Snowball fights and sledding! Ahhh, the joys of winter that I wish my kids could experience like I did. Finding snow in Southern California is no easy feat.
Thanks to Winterfest OC, now they can get a chance to play in a winter wonderland, and we adults don't have to drive in snow to do it! Opening December 16 and running through January 1, Winterfest OC, SoCal's ultimate winter experience, is an experience like no other.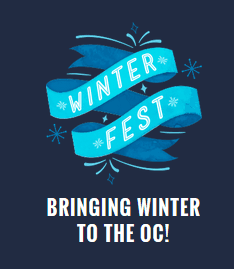 My family and I will be spending a complimentary evening at the event, courtesy of Winterfest OC. We plan on making the rounds and trying all the things! Ice skating, photos with Santa, and of course, playing in the snow are at the top of the list. They blow in real snow daily, so finding snow in Southern California isn't hard now! I also can't wait to walk through the 10 themed sections in the new Festival of Lights, where over two million lights illuminate the walkway. I think my sons will enjoy the unlimited tubing down Snowflake Summit, a 130-foot 6-lane ice slide and Santa's Petting Zoo. With nightly fireworks, snowfall and Christmas tree lighting, I think we're going to have a busy evening fitting it all in!
For a full list of things available, visit the Winterfest OC website. You'll see the many food options (including tamales, yes!) and if you want to maybe enjoy an adult beverage, you can do that at the Mistletoe Lounge, located adjacent to the ice rink, snow play area and entrance to the Festival of Lights. You will find us getting our fill of snow play. It's been a few years since this California family has been able to do that! We lived along the coast in South Carolina for three years, and surprisingly enough, during our first Christmas there, we got 10″ of snow that lasted for days. Such good memories of us playing in the snow — we stayed out for hours and hours because we didn't know when we'd get the chance to do it again. Now we can relive that a little bit, minus the snowball in the ear.
Located at the OC Fair and Event Center, tickets start at $10. You can buy them online here and consider which options you want to add-on, as some things do cost extra. You can even rent a cabana for the evening. Follow along on Facebook, Twitter and Instagram for great photos and other info.
Enter my giveaway for a chance to win a family four-pack of tickets in the widget below!
a Rafflecopter giveaway