Anyone that knows me knows that purple is my favorite color. Purple hair, purple kitchen equipment, purple clothes…why not purple Brussels sprouts? Melissa's Produce sent me some last week and I decided to use one of my new pieces of kitchen equipment, so I came up with a really stupid-simple fast and easy side dish, Air Fryer Brussels sprouts.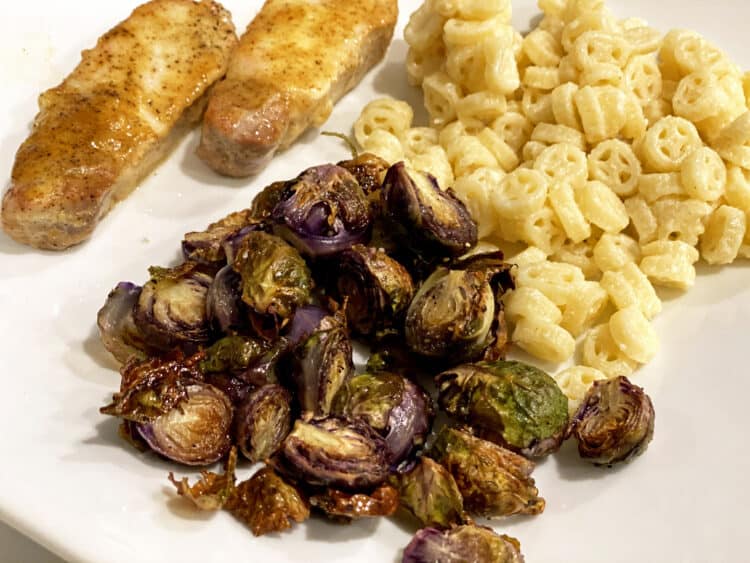 It's so easy, I hesitate to even call it a 'recipe.' There's no mixing, little prep and just a couple of basic directions. I had these on the table in about 25 minutes, including chopping time, thanks to my Calphalon Precision Control Air Fryer Toaster Oven. That's a mouthful, but it does all the things I need a toaster oven to do and more. Toasts, bakes and broils…and air fries, roasts and defrosts. It's got a small footprint, looks good with its stainless steel and black decor, and came in at about $150.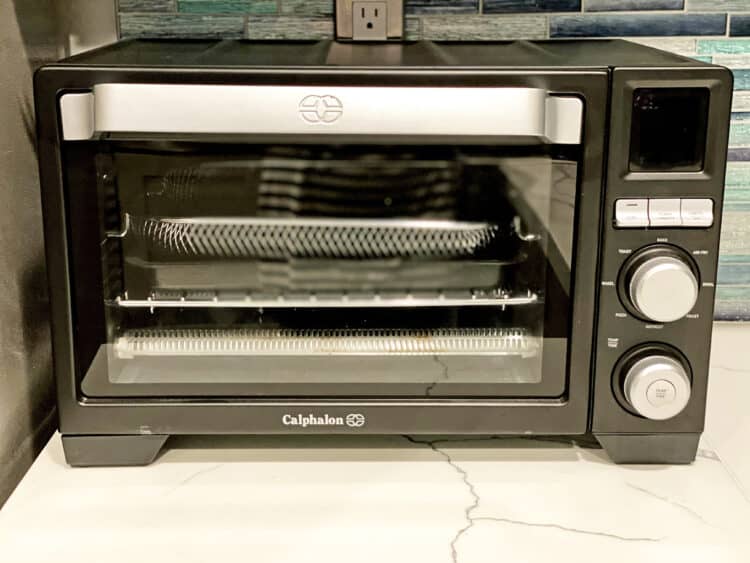 Brussels Sprouts have come into popularity in a big way the last couple of years. A lot of people who would have never eaten them before have now found they're a favorite component of a meal. I remember when I grew up, my mom would boil them, then pour vinegar over the top; they were to be eaten whole and if they got on my plate, I had to eat them. It was the start of a love-hate relationship with sprouts, one that continued until a few years ago when I first had crispy sprouts from the oven.
Since then, I've tried making sprouts in a lot of different ways, but the easiest, by far, roasting them. A quick chop…either in half of in thin slices…and they are ready to go onto an oiled pan and into the oven. The only decision then is how to season before you back until they're crispy.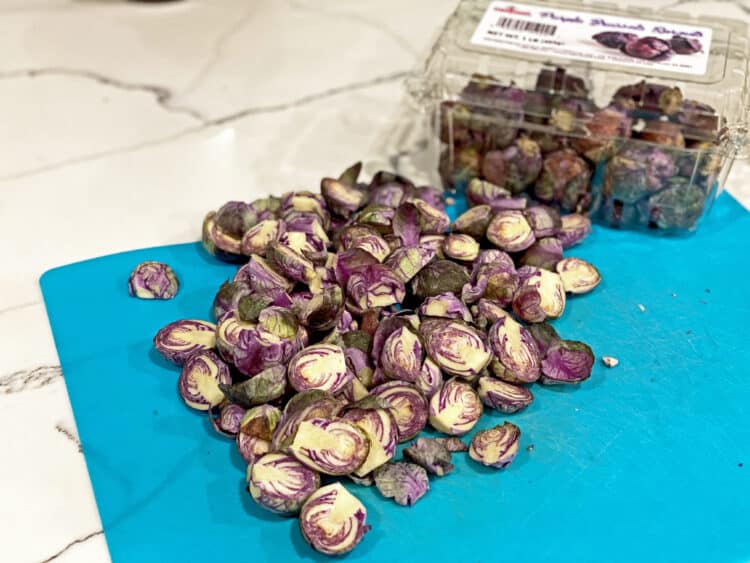 Another option is to pan fry them, but that does mean a little more attention, and they usually don't get as crispy. Using an air fryer assures you'll get more crisp without the wilt.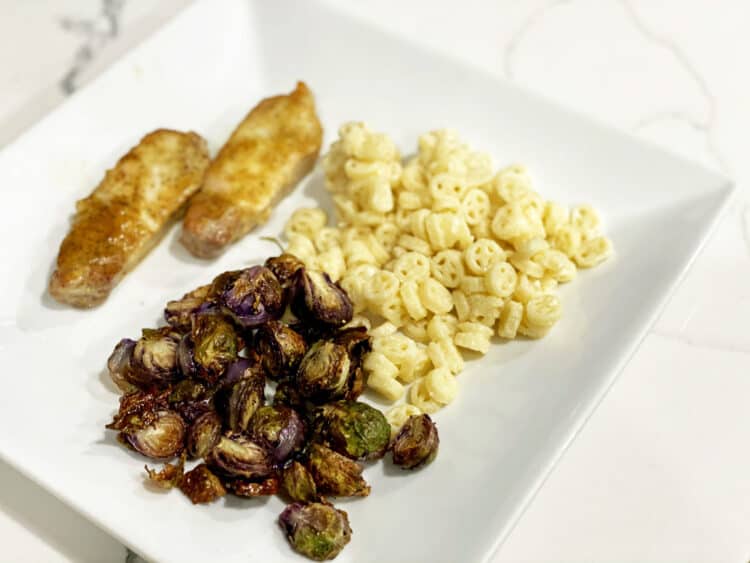 Air Fryer Brussels Sprouts
One pounds of <purple> Brussels Sprouts
2-3 tablespoons of good quality olive oil (I used Garcia de la Cruz.)
Salt and Pepper
Optional: Cayenne pepper
Chop the Brussels sprouts, after rinsing. <We cut in half, as the purple sprouts aren't always as big as the green ones.>
Place in a bowl, with the olive oil. Stir to coat.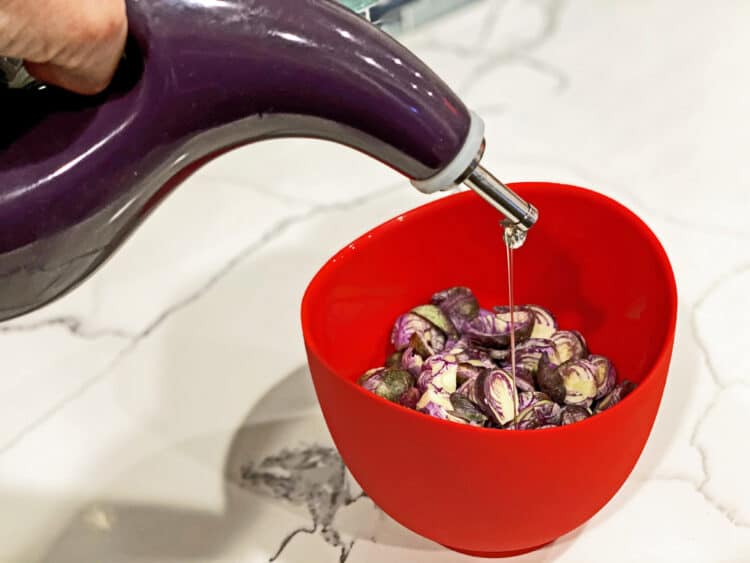 Sprinkle salt and pepper over the top.
Place on air fryer basket. Sprinkle Cayenne Pepper on top.
Air fry at 375 for 15-20 minutes, depending on preferred level of crisp.
Serve hot!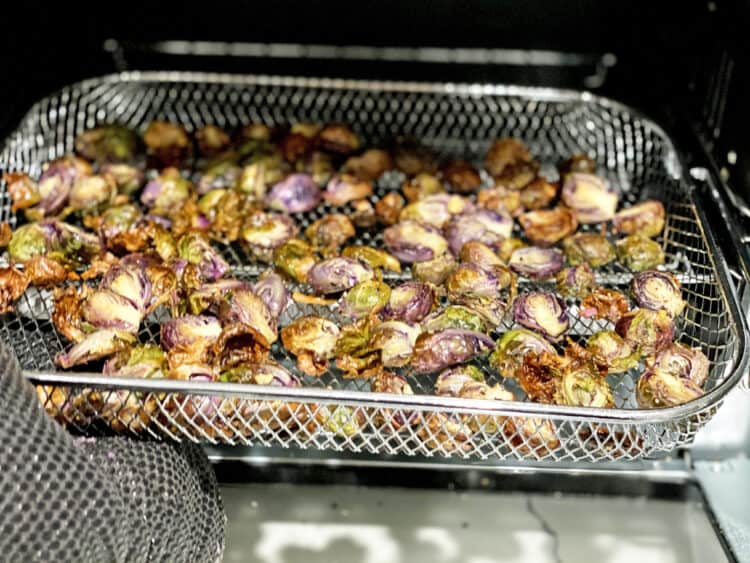 Along with the sprouts, I served a couple of other lazy foods: honey-mustard pork loin strips and Hollandaise pasta. The pork recipe was something I threw together quickly (and I have zero photos, so I won't share it here) but the pasta was something that you have to try!
Melissa's Produce sells premade Hollandaise sauce in small packets, just enough for a serving of Egg's Benedict. I have yet to perfect my poached egg so I knew I wouldn't use them on that, and Melissa's sent me several so I wanted to experiment. Enter the easiest pasta you've ever made!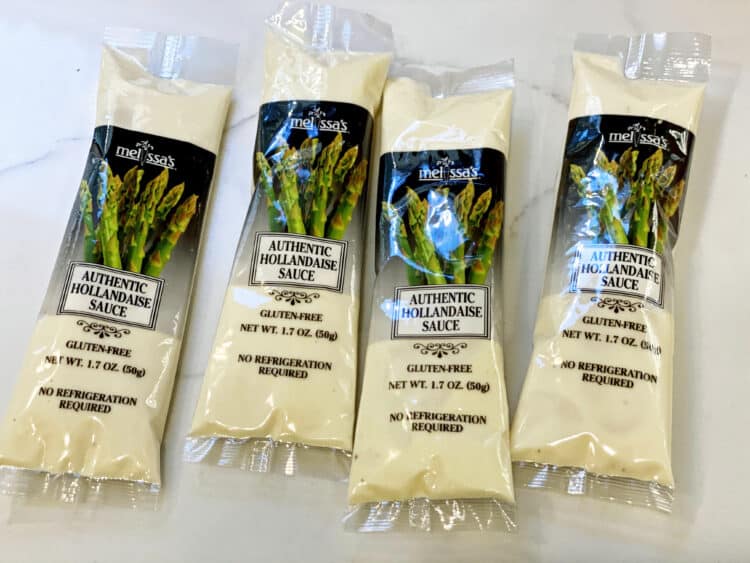 Literally, SO easy. I cooked some basic wagon-wheel pasta to al dente, immediately put into a bowl after straining, and poured on three packets of the Hollandaise sauce. Zest some fresh lemon over it, mix and boom, done. (You could also squeeze out a little fresh lemon juice if you want the consistency a little thinner.) Crack some fresh pepper on top and we had our third course for dinner. My son called it "Mac and cheese" and I didn't even correct him, it was gone before he asked about it.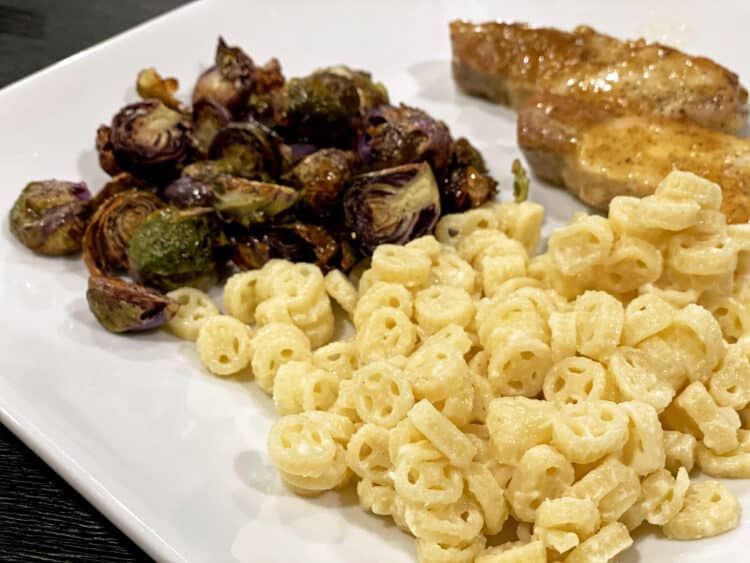 If you're new to an air fryer, don't let it intimidate you! It may not produce the same level of crispy goodness that your grandma's fried chicken will, but that doesn't mean it won't become a very valuable part of your kitchen. I'm still working on the perfect sweet potato fry, but I've made potato 'chips,' along with many other sides that are healthier than their predecessors because they're made with so much less oil. (And then I feel less guilty about the dippers!)
Check out the Melissa's Produce website for info on how to order your purple Brussels sprouts. You can also buy their products at Smart and Final, Sprout's, and more. They also have a lot of new things, which make for great excuses to get creative in the kitchen!