A couple of weeks ago the Dangerous Cupcake team was invited to cover the Sonic the Hedgehog cast interview for the movie, hitting theaters this Valentine's Day, February 14. Starring James Marsden and Jim Carrey, with Ben Schwartz voicing Sonic himself, it's a fun flashback to the Sega game so many people loved.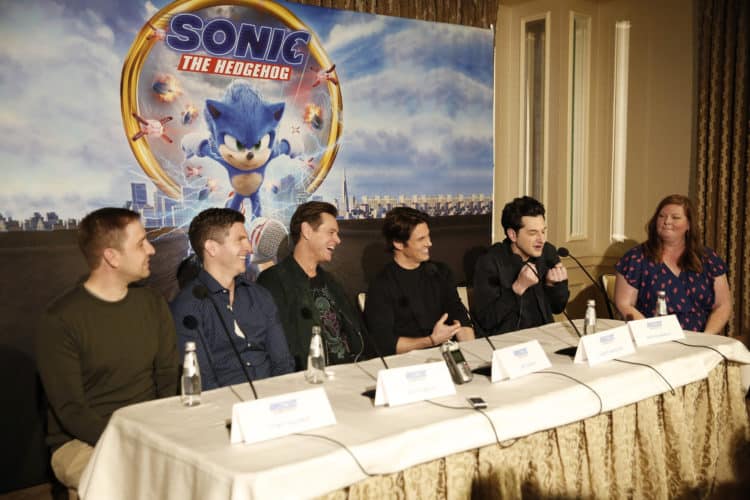 Jim Carrey started the event by walking in with an iconic "I smell children!" He remained ebullient throughout the conference, yet turned profound when asked emotionally-based questions.
This picture kind of sums it all up for me. I love them all!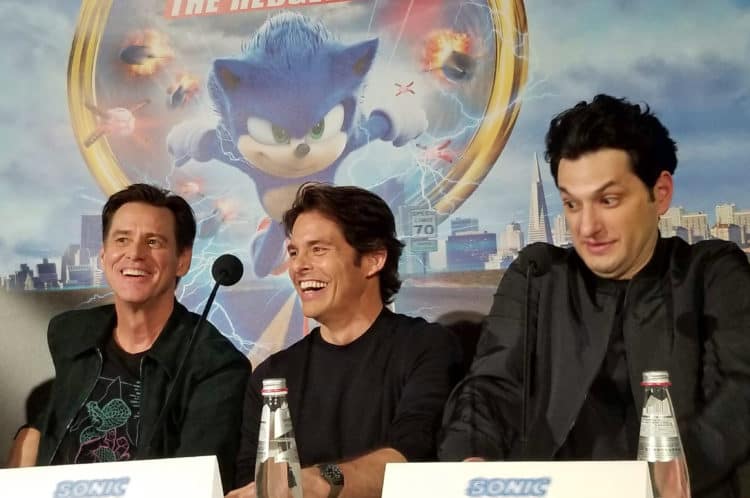 The interview went into a lot of different directions, all in the very best way. I'll share some fun snippets that stood out to me.
A question arose from the press about the cast's experiences with being a gamer and playing the original 1991 Sega game. James Marsden did play the game, probably too much, but Jim Carrey, was not a gamer. "I feel that this is a game, and I am a perfect avatar for this game, fully loaded to the teeth." He went on to say he's getting into it but is in the perfect position now as he can lose the game but still win, "because I'm Robotnik."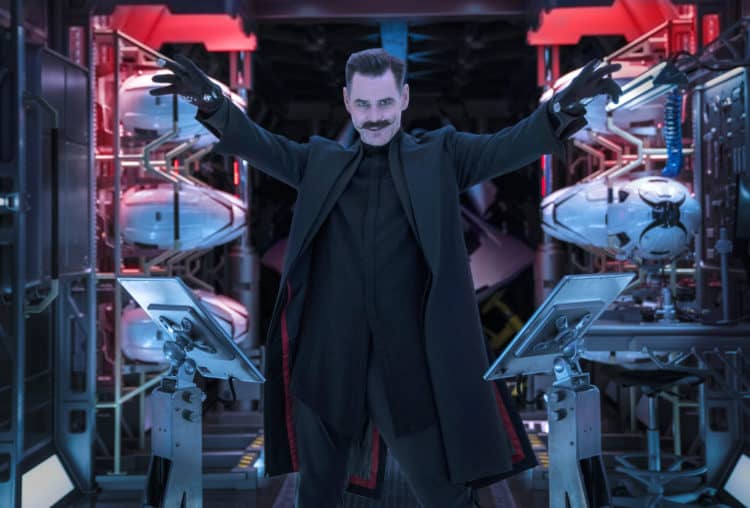 Ben Schwartz referred to the Sonic as a little kid in a cave who finally gets to get out and do all the things he's always dreamed to do, but gets to do it with his best friend. He then did a little bit of Sonic's hypersonic movements, which had everyone laughing. Again.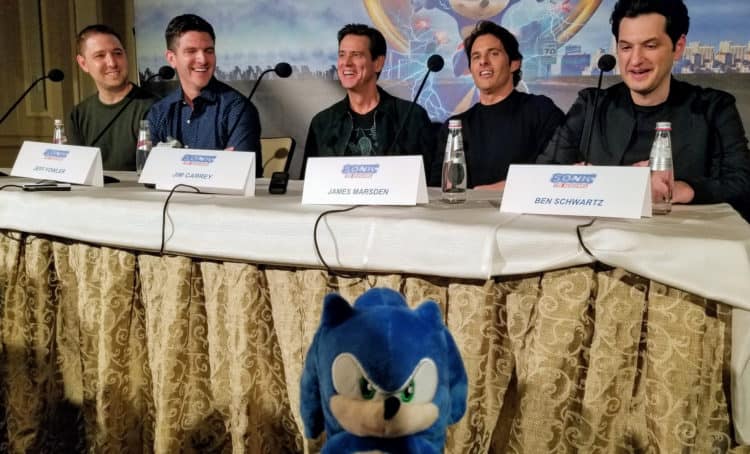 When acting in a movie that's a mix of live action and animation, actors and directors/producers alike have to be creative. There are so many scenes between the little blue guy and James Marsden, the question was posed about what represented Sonic during those scenes so he knew where to look and react. At times it was a blue sandbag, and other times, it was a rough stuffed animal "with a vapid stare." (It was also a tripod with a piece of tape.) It made him use his imagination and turn into a kid again.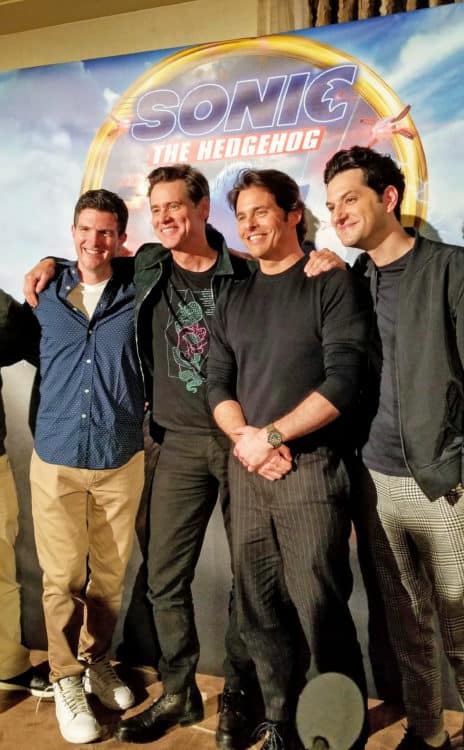 Seriously, these guys prove their comedic chops not just in movies, but in press conferences. Their wit and sharp repartee is legit.
Jim Carrey "I've always had a dialogue going with an imaginary character. It's a bungee-jumper that lives in my nose." Apparently it's named Flurby. Who knew?
"You're the future of the world." Jim Carrey has so many one-liners. This was directed at the many kids in attendence as the Sonic the Hedgehog cast interview was a fun family affair. They even took time for a photo with all the kids after, with Jim Carrey sneakily tapping kids on shoulders and turning away, then engaging them with funny faces.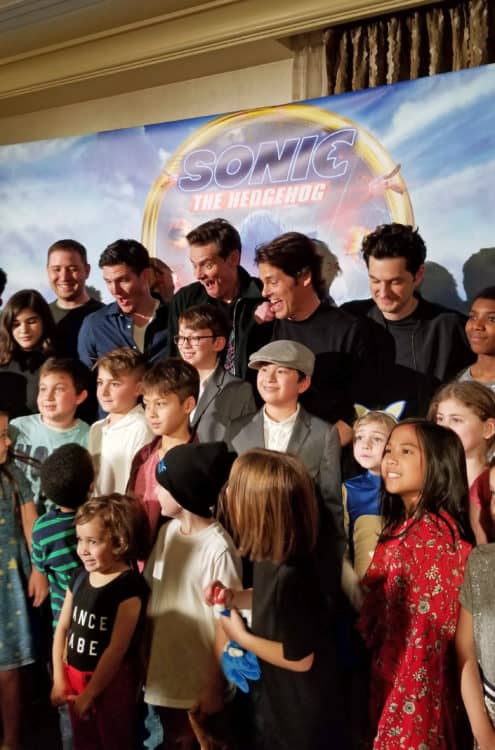 When he gets a character like this, "Every character has to have an origin, you know? For Robotnik, it's not very fleshed out in the game…it's genius coupled with a complete sense of worthlessness. He wasn't loved properly, he didn't get the affection, and he turned against the world for that." He feels the character is the absolute manifestation of pure ego and absolute abandonment that was so fun to play.
Why did you say yes to the role, in a summary? Schwartz got to do something he loves: play video games. Marsden's was even briefer: I got to be Sonic's best friend. Carrey's answer can't be so easily summarized. The world is becoming so robotic and high-tech, it can be scary, so this role was a way to be able to deal with those things in a funny way.
When asked why Robotnik wants to steal Sonic's power, Carrey's answered included the importance of hanging onto the kid inside yourself.
Did they get to ad-lib? Most definitely. Jeff Fowler wanted the best for the movie, so that meant that each of them tried different approaches after doing it once as written. The funniest part of that was Jim stating that he was told the script was written in stone. We all know that's not true, as is evidenced by the dance scene. See the movie and you'll know what we mean. The dinosaur part had the audience erupting in laughter.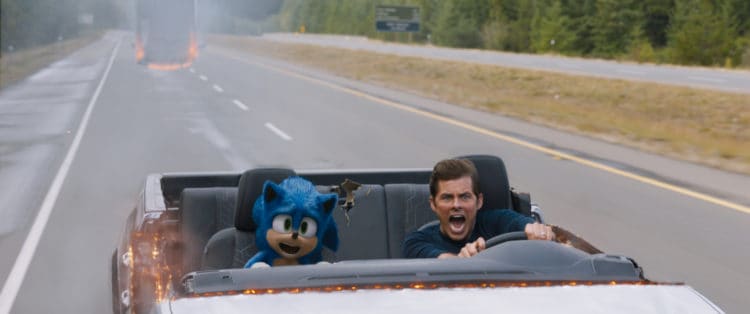 Carrey talked quite a bit about how the ad-libbing would somehow push the real script out of the window, as he had so many ways to add to an already great script. "If you really understand your character, things just pop out of your head. It's like popcorn, wonderful popcorn."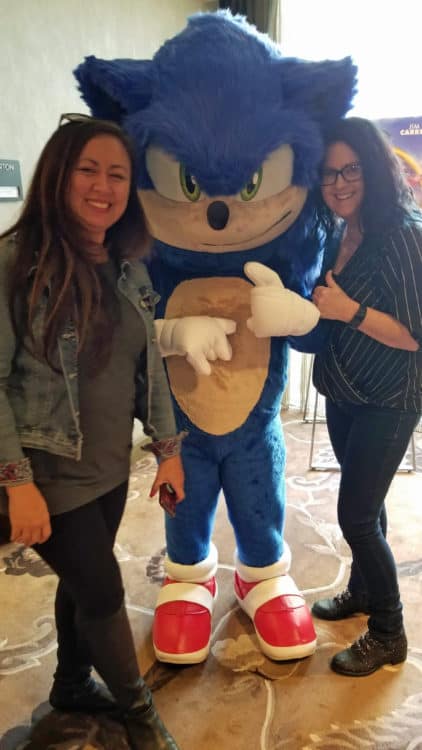 Thank you to Paramount Pictures for inviting us to the Sonic the Hedgehog press conference. We loved the movie, laughed a lot and thoroughly enjoyed seeing the cast come together. Jim Carrey's always a joy to watch and you never know what to expect. Sonic the Hedgehog is another example of that incredible talent.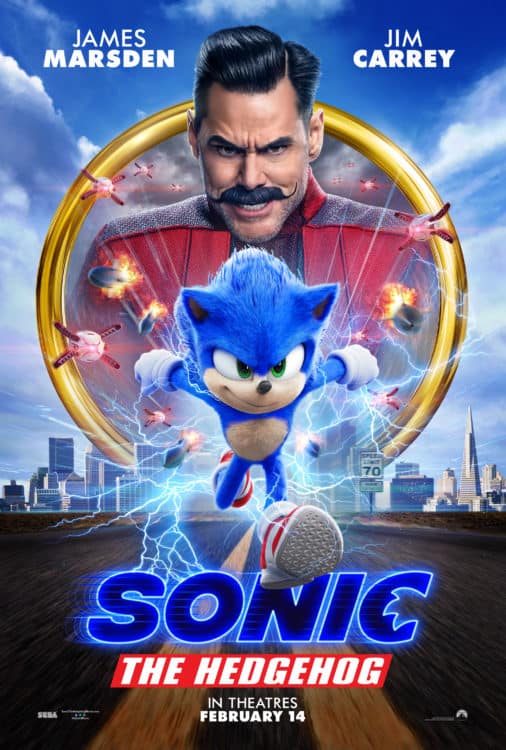 In case you haven't seen it yet, here's the official trailer. Enjoy!