I started going to Knott's Scary Farm back in, well, back when I was almost 14 years old. It was a blast and I've loved it ever since. Now, all those years later, being able to go to media preview nights and see the behind-the-scenes details is such a treat!
Knott's Scary Farm 2015 is going to be another amazing season. This year includes:
11 Mazes
1000 Monsters
3 Scare Zones
2 Shows
13 Thrill Rides
Many of your favorites are back — the Tooth Fairy, the Green Witch, Carnevil — with the addition of new things as well, including new skeleton key rooms and one maze that has a blackout zone where you have to feel your way out. I've included a few videos below to give you a sneak peek at what you can expect!
The Paranormal crew is one of the new things and based on this little clip, I'm so excited to see what else they have planned!
What do you think about that??
Scared yet??
Jeff Tucker filled us in on all the fantastic scary things they have carefully chosen to make 2015 the scariest and most fun Knott's Scary Farm yet. He was rolled in on a dolly, in fact, a la Hannibal Lecter from "Silence of the Lambs" and the preview event only got more entertaining from there, all the way through when he walked off the stage with Clementine from another new attraction, My Bloody Clementine.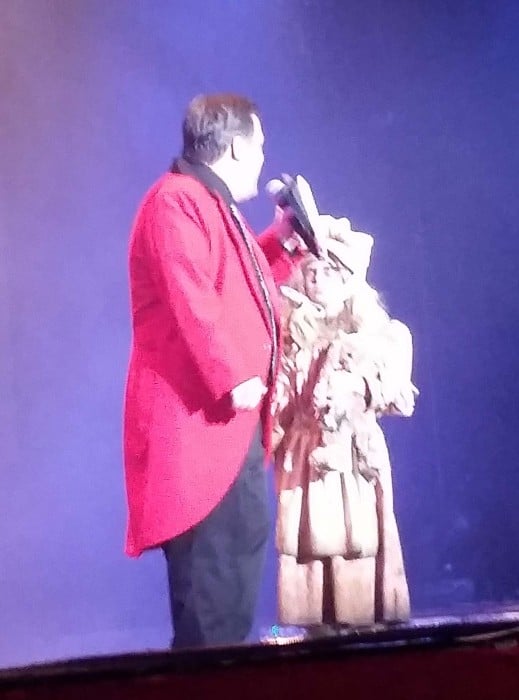 Isn't she a sweet looking little girl?? (Pardon the blur, too far for a flash and too dark for not.)
Back story on Clementine: she and her family are brutally murdered inside the Calico Mine while visiting, and their spirits haven't left. You'll need to visit her on the Calico Mine Ride, which, for the first time EVER, has live ghosts inside!! My favorite attraction last year was Special Ops: Infected, with Trick or Treat being a very close second, but I have always wanted live talent inside the Calico Mine Ride so this has me really excited!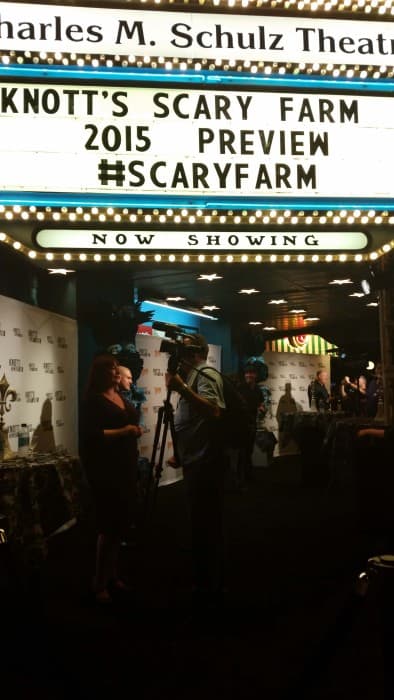 The event culminated in a networking reception upstairs outside the Charles M. Schulz theater, complete with a huge buffet of food and photo/interview opps with the maze creators and monsters.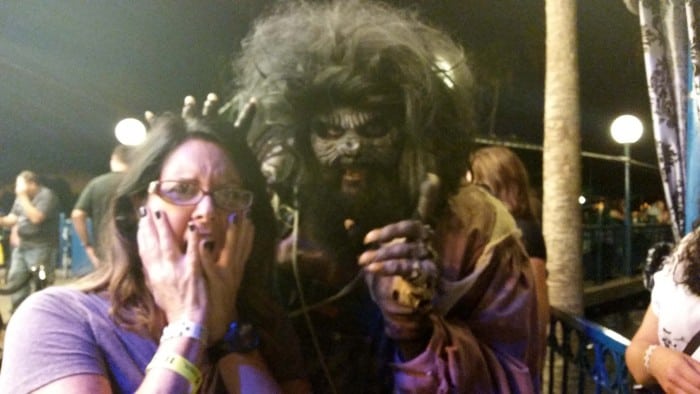 This guy had some gorgeous hair.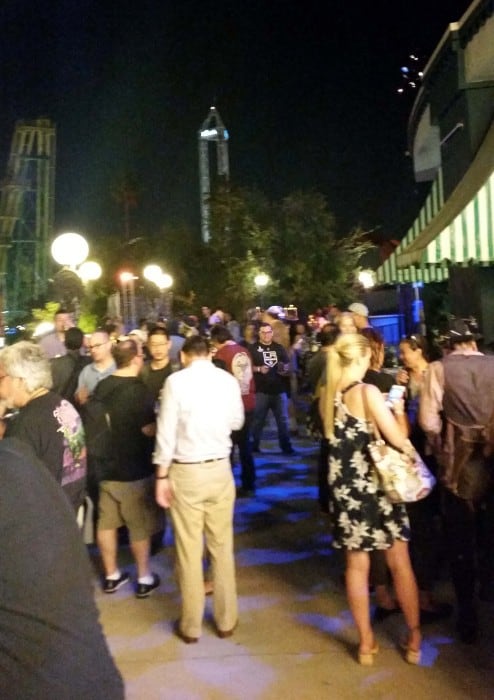 Quite a crowd in attendance!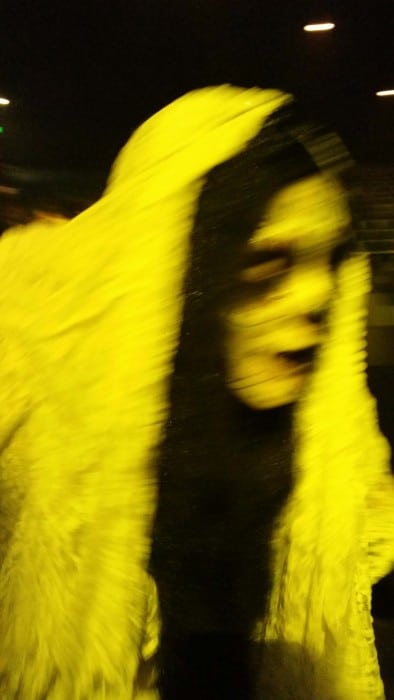 A crowd favorite was La Llorona. If you're unfamiliar with her story, good for you…but if not, she indeed was wandering around looking for her babies, and making the creepiest sound while doing so.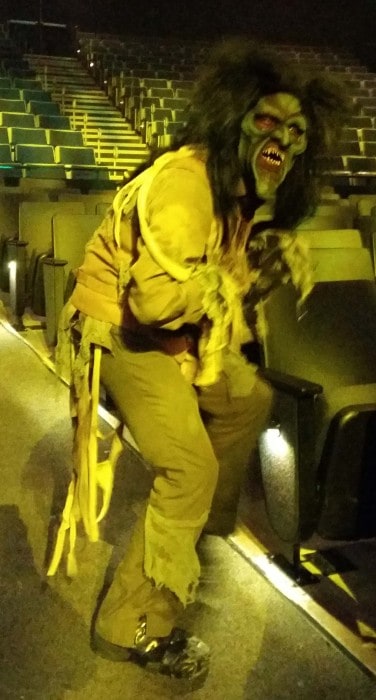 This guy may have been her friend.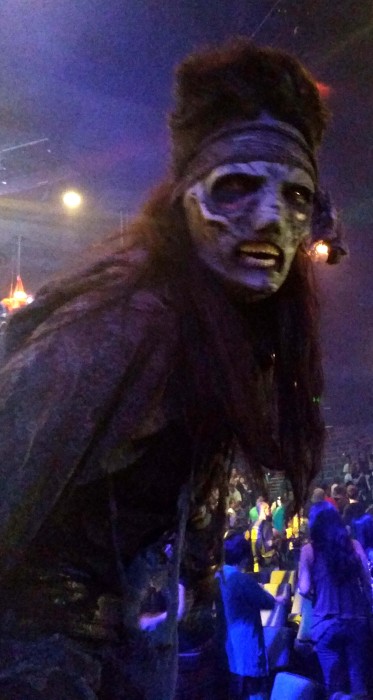 Guys, let me eat!! I almost dropped my plate so many times.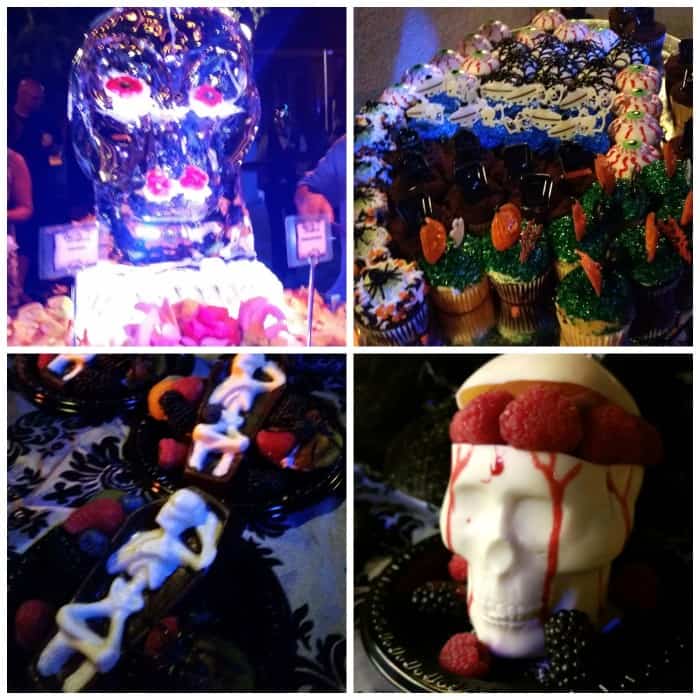 Such an array of scary food but my personal favorite was the white chocolate skull filled with boysenberry mousse. They also had it available with a Frankenstein head filled with pistachio mousse. Green food though…
If you tried Special Ops: Infected last year, you'll remember how you were trained and handed a weapon, then sent on your way to kill zombies. This year, the maze is twice is long, has a lot more zombies AND maybe even cooler, new weapons! They score your kills, your health takes a hit and when you run out of health, you have to find a health recharging station before you can go on your way. How cool is that? I'm both scared and intrigued at the same time!
Are you a Knott's Scary Farm lover who wants to come a lot? Check out the season pass! $80 for all 24 nights, no blackout dates — and only $70 if you're already a Knott's Berry Farm pass holder. Limited quantities are available so consider it quickly if you're interested. (And ask about the new parking options too!)
Follow along on Instagram and/or Twitter with hashtag #KnottsScaryFarm. You can find their social media accounts on Facebook, Twitter and Instagram, too. (And on my Instagram account, @DangerousCupcakes!) Let me know if you go — I'll be the one screaming!