In this crazy year, we all need some joy. Encouragement. Uplifting stories. Sometimes they're hard to find, but with the holiday season coming, we're given a few more options. One of them is this new Lionsgate movie, and as of November 10, Charlie's Christmas Wish on Blu-ray is available for purchase.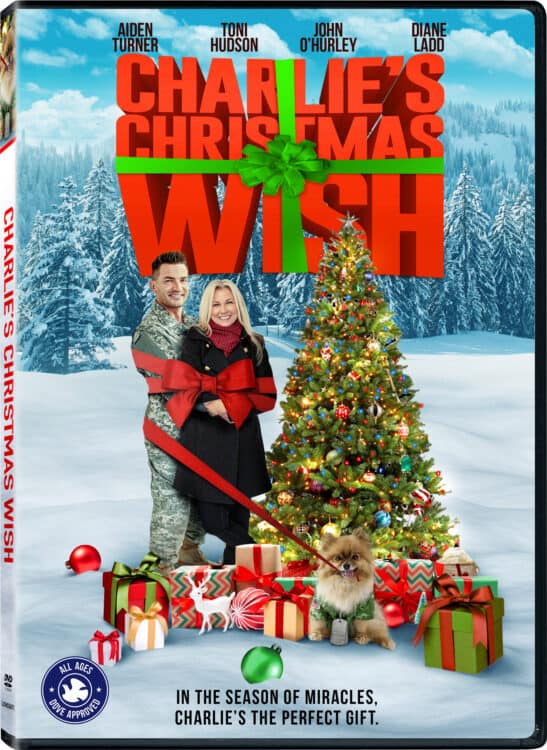 In this heartwarming holiday film starring Aiden Turner ("Marvel's Agents of S.H.I.E.L.D."), a troubled war vet's family finds new hope from a scrappy little rescue dog. Discharged and sent home for the holidays, John (Turner) tries hard to adapt to civilian life—and to son Jimmy's new pet, a feisty terrier named Charlie. As the family meets other struggling local veterans, they know it'll take a miracle to bring peace to them and to John. Good thing Charlie has a direct line to the Man Upstairs.
Who doesn't love a movie with an adorable dog in it? As a dog lover, and a military veteran, and a parent, I really enjoyed this cute film. It's PG-rated, so it will make a good family movie night. It runs 99 minutes end-to-end, so even the younger crowd will enjoy it, though you might need to explain what PTSD is. (I'd suggest 8 and above for this film.) The movie makes a good attempt at addressing the very important issue of the vast numbers of homeless veterans, and a little about why.
It also shares what PTSD is, and how sounds can play a critical role in causing flashbacks or post-traumatic stress disorder episodes. Many movies have tried to help people get it, and Charlie's Christmas Wish gives a basic and less flashy portrayal, fitting for the theme and age range. When I was in the military, I specialized in working with soldiers and veterans suffering from a multitude of mental health disorders, and I found myself thinking back to them.
The movie is faith-based but if you're not a Christian viewer, don't let that stop you from enjoying it. It's not so heavy as to detract and the message of our critical need to do more for homeless veterans needs to be seen, heard and considered far more than it is right now.
That said, it is NOT a heavy movie. It's a story of hope and of a community coming together. And it's got an adorable dog and a talented cast of familiar faces. Watch this brief trailer!
Charlie's Christmas Wish on Blu-ray is now available for purchase. Give it a go, let it take you away from the stress out in our real world right now. I think you'll find it's a good addition to your Christmas movie collection.