Some weeks, we really have to get creative with our recipes and our cooking. Right now, while we're in lockdown due to the virus, that's even more important. We need to use what we have on hand and use things together we may not usually consider. That's why I came up with my new Cheesy Grits and Chorizo Bowl recipe, and I think you're going to like it!
As part of our monthly challenge, I received a fun box of produce from Melissa's Produce, the sponsor of this blog post. It came with enough items for me to use in several ways, so I made three different things. One was what I call "Pixie Dust Bread," which is a way to utilize fresh Ojai Pixie Tangerines and up your vitamin C intake while tasting delicious. The other is my take on French Onion Soup, but made with mushrooms. More on those in separate posts!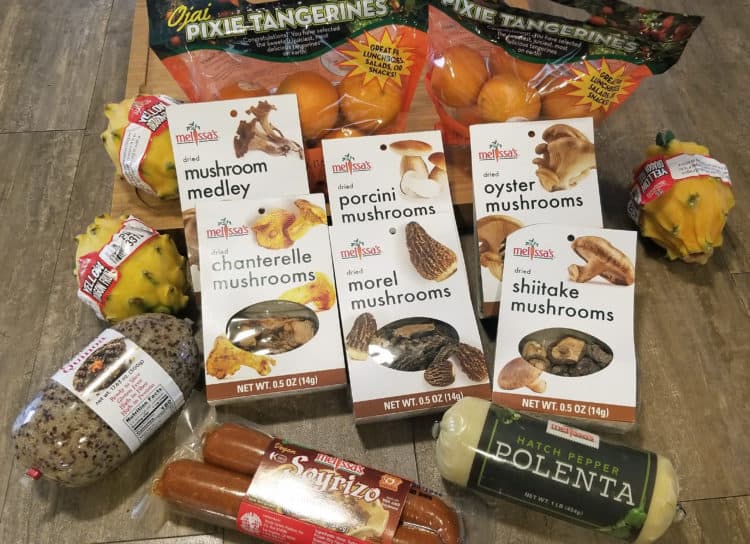 When I lived in the south, I grew to really love grits. Creamy, cheesy and flavorful, they make a great side dish and they are pretty easy to make. They're also affordable. Everyone has their own spin on them, and my favorite is simple: make it big, and make it buttery.
Based on my love of grits, I immediately thought of turning the Hatch Pepper Polenta in the Melissa's Produce box into cheesy grits. But, feeding two young adult males and the husband, in addition to myself, I knew that wouldn't be enough. I could eat an entire platter of grits myself, so I wanted to beef it up …. minus the beef. Bring on the "chorizo" part of the chorizo bowl recipe, but with a twist: it's soyrizo, not chorizo, and if you didn't see the package, you wouldn't taste the difference.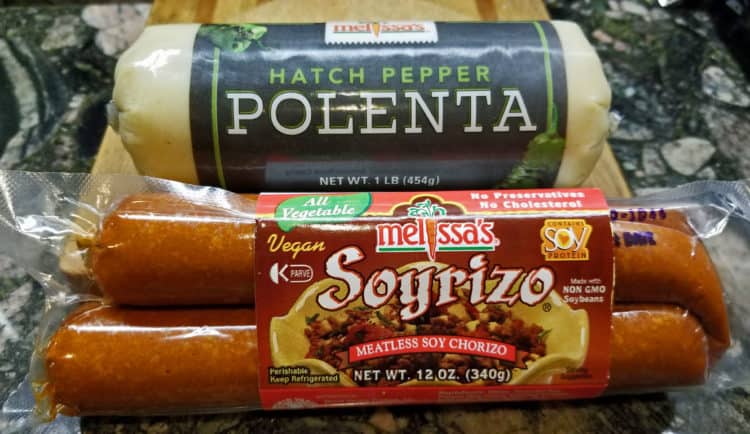 What is soyrizo? It's compressed…with all the spices and seasonings of regular chorizo, but with far less fat and no grease. It's done when you cook it until it's browned and crispy. (This takes a little longer than regular chorizo, so begin browning it about 5-7 minutes before you start the cheesy grits portion of this chorizo bowl recipe.)
This recipe is so simple, it's hard to even put it in a recipe format. The biggest part of the dish is rehydrating the tube of polenta into a soft mash in a bowl. You can do this with either water or milk, but I chose to use organic chicken broth with a smidge of almond milk. This kept it a little more low-calorie with less fat, and since chicken broth can be made from shelf-stable ingredients, that is hopefully easier if you're having a hard time procuring milk or cream, which is usually used in authentic cheesy grits.
It's not the prettiest of pictures — it's been dark, rainy and dreary lately (much like the moods of many of us, being stuck in the house so much) and I didn't set up lighting over the stove.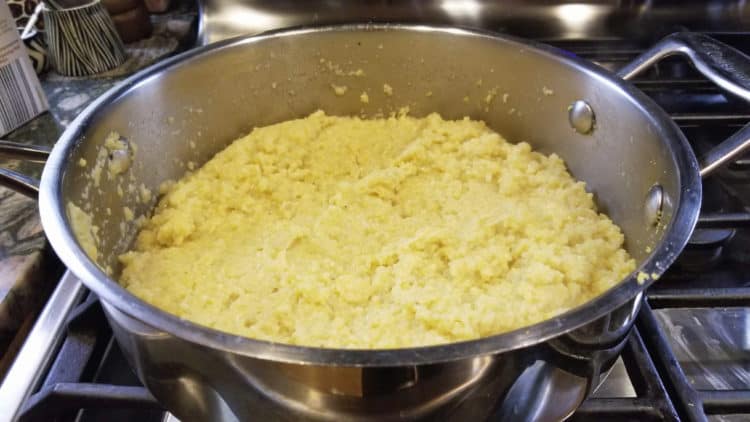 You'll have this all together and completed in about 15 minutes. You can make it with real pork chorizo or if you don't eat meat, the soyrizo is a great option. We paired it with a pork loin made in the Instant Pot, but it would go great with a salad, chicken or other protein.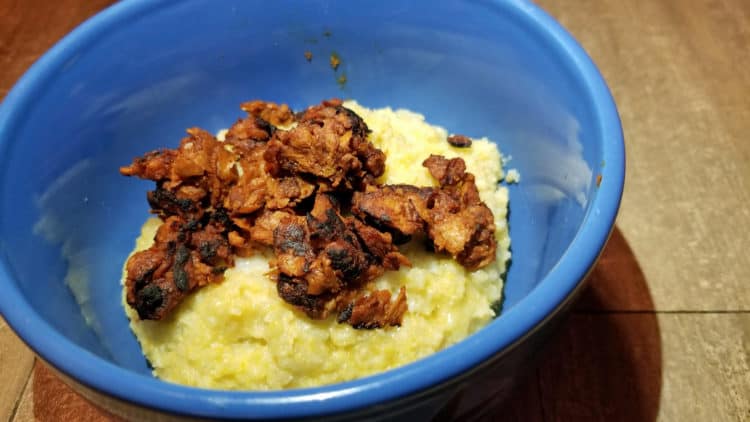 Cheesy Grits and Chorizo Bowl
Ingredients
1

tbsp

Olive Oil

1

tube

Hatch Pepper Polenta

12

oz

Chorizo or Soyrizo

1

cup

Chicken Broth

1/4

cup

Milk, Cream, Half-and-Half or Almond Milk

1/2

cup

Parmesan Cheese

Salt and Pepper

4

tbsp

Butter
Instructions
Slice polenta into thin slices. Place into frying pan with the olive oil. Add 1/2 cup of chicken broth and let sit for five minutes to soften.

Put chorizo or Soyrizo into frying pan and begin to saute.

Smash polenta into a mash. (I used a potato masher.) Turn heat on low and stir, adding milk and remainder of broth slowly, stirring constantly.

When polenta is fully combined, add parmesan, salt and pepper. Combine and keep on low heat until polenta is heated through thoroughly.

Cook chorizo/soyrizo until cooked completely.

Serve 1/4 of grits in bowl, topped with 1 tbsp of butter and 1/4 of chorizo/soyrizo.
As you can see, it's very simple…so simple, it almost doesn't really need a recipe. Who doesn't love a fast side dish that's creamy and cheesy?
Enjoy!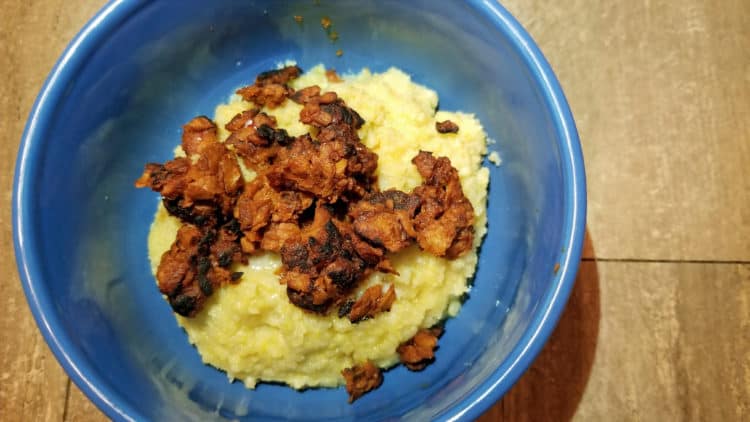 Here's another fun recipe to check out, too!