You've heard about Taco Tuesday, but have you heard about National Burrito Day? In honor of this fun foodie holiday, Miguel's Jr is celebrating with $1.99 BRC (beans, rice and cheese) burritos and bean and cheese burritos all day. I'm pretty sure I know what we'll be having for dinner that night.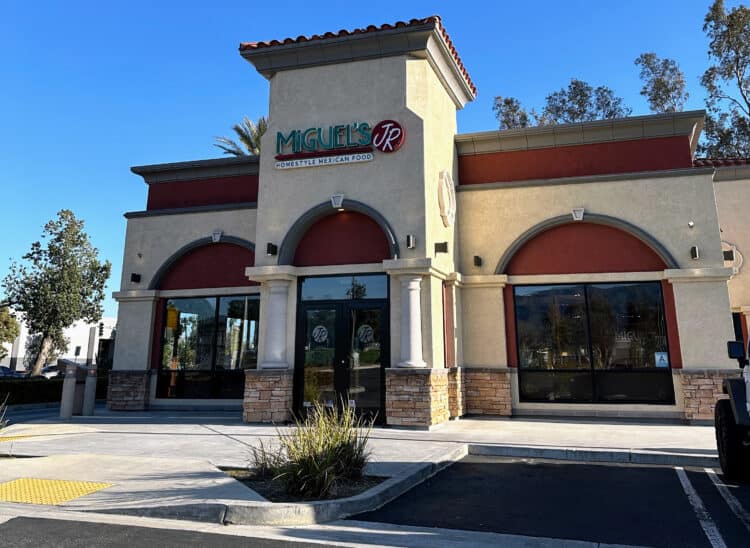 We live about a half-mile from Miguel's Jr., making it the closest restaurant to our house. Between busy schedules and a son that loves their Garbage Burrito, we're there a lot. The fast-food restaurant offers both a drive-thru and indoor seating, where service is fast for both and the food is affordable. Thanks to Miguel's, we got dinner there tonight. Shredded beef garbage burritos, a Chile relleno burrito and three horchatas hit the spot!
If you haven't tried their horchata, give it a go! It's got just the right amount of cinnamon and isn't overly sweet. We get it every time we go.
It's hard to find one fast-food restaurant that provides options that meet everyone's needs. Whether you're a vegetarian, a vegan or a meat-loving college student, Miguel's Jr has you covered. They even offer breakfast, so you can eat on the run.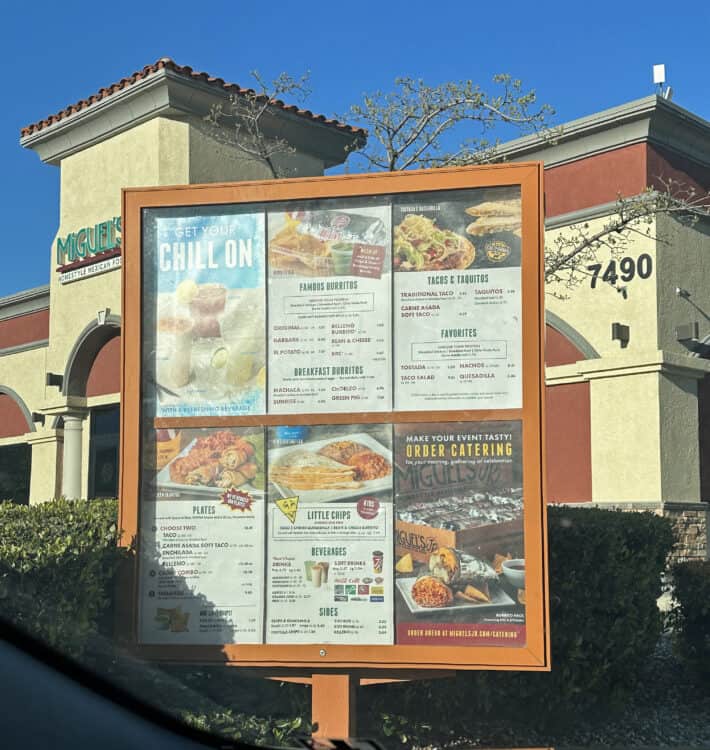 My favorite item on the menu is the Chile Relleno Burrito. It is made of beans, rice and a cheese-stuffed relleno pepper. I prefer less refried beans, and Miguel's Jr delivers it perfect every time. That's one thing we really like about the restaurant. We can get authentic Mexican food, customized to our preferences. You can tell them how you want an item that's on their menu, and they'll make it your way. No premade food here, all of it's made while you're waiting, which means you go home with fresh food. I don't need to feel guilty when I'm too busy to cook — or if I'm just lazy — when I send the guys to Miguel's Jr for dinner. And they're all happy! Win-win.
If you're a parent, you know how it can be. Name a restaurant and three out of four will be okay. Number four though is unhappy, so you offer another suggestion. That kid's happy but now two others aren't. It's so hard to get everyone on board, but we don't have that problem when we go to Miguel's Jr. And if you're already in pajamas or not feeling shoes, the drive-thru makes it easy for even the driver.
If you observe Lent, Miguel's Jr offers many menu items that don't include meat. Their quesadillas are delicious and very filling. The BRC or bean and cheese burrito are kid-friendly as well. We can even go here with the grandkids, they love the bean and cheese burritos almost as much as my oldest son. Currently, they also have chicken or pork pozole on the menu. It's seasonal, and I'm not sure what day it ends, but it's fantastic. $9.29 for a 32-ounce container and it also comes with shredded cabbage. We picked one up for lunch tomorrow. It's going to be chilly and windy, and pozole will make the perfect lunch.
Don't miss out on National Burrito Day, which is April 6! $1.99 for a burrito makes it a cheap lunch and they're big, so you won't go hungry. (And at that price, you can get more than one!)