During this neverending quarantine, I haven't headed to the store once. I have asthma, and so does my son, so as a family, we're adhering to the stay at home orders as strictly as we can. This means that we're having to get creative with using the items already in our pantry, because no matter how many food orders we have delivered, we forget things. This means my list of stay at home snack hacks is growing, so today, I pulled out a favorite: Chocolate Chip Cream Cheese Filled Croissants!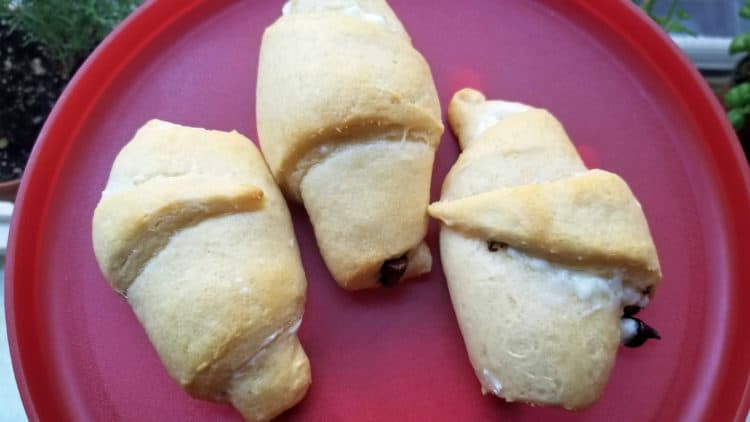 This easy and delicious snack or dessert is my youngest son's favorite. He could eat the entire batch if I let him…but to his dismay, everyone here likes them so he has to share! They only have four ingredients in them, though you could add one or remove one depending on your preference. Everything's easily available at Smart and Final, either in-store or via delivery. (Did you know they delivered?)
**This post is sponsored by Smart and Final, but the words and opinions are my own.**
Here's my super-easy stay at home snack hack recipe! It's so simple, I hesitate to even call it a recipe. To make my Chocolate Chip Cream Cheese Filled Croissants, you need these few items:
4 ounces of cream cheese, softened
1/8 cup granulated sugar
1/3 cup chocolate chips
1 tube of croissant dough
1/4 tsp of vanilla or almond extract (optional)
Mix the cream cheese with the sugar and extract, if you choose to use it. (I softened mine in the microwave to make it even more smooth.) Roll out all eight croissant triangles onto a nonstick cookie sheet. Spread the mixture from one end to the other, on the upper side only. Spread the chocolate chips on top of mixture, as many as you prefer, then roll up as you would if they were unfilled. Bake at 350 degrees for approximately 11-12 minutes. Eat! (Be careful, filling can be hot.)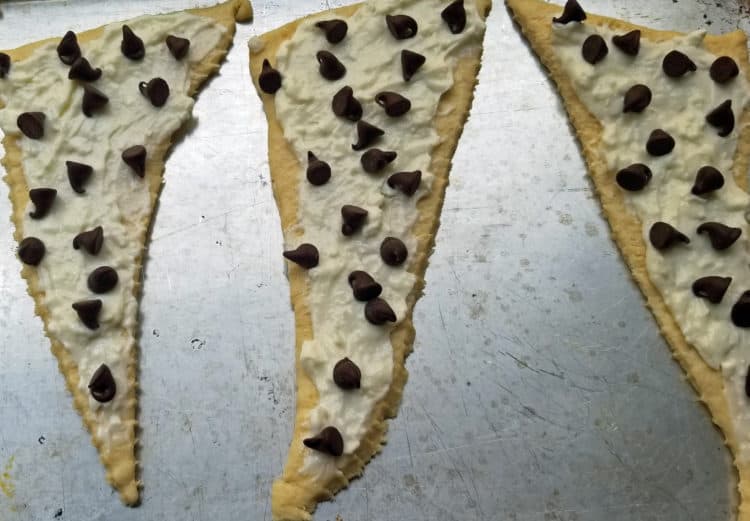 There are fun ways you can mix these filled croissants up a little bit, too — different types of chips (like butterscotch) or extracts (like orange or cherry) or even no sugar in the cream cheese, if you want a more cheesy flavor. I've made these for sleepovers and afterschool study sessions, so I bet you'll add croissants to your future shopping lists after this!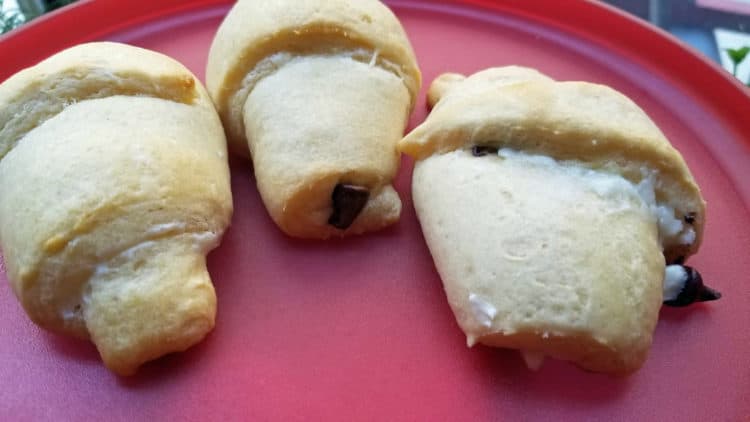 What kinds of things are you doing to get creative with food while staying at home? How are you stretching items in your pantry and refrigerator, while still making the family happy? When those kids come out and say "Mom, I'm hungry!" it can be difficult to continue to provide the variety that we all need in our diet.
We've been finding all kinds of ways to be more self-sustaining during this time, from snack hacks to cleaning hacks to entertainment. With my kids all being young adults, I've got to entertain them less, on one hand; on another, it's harder to help them when they DO get bored or missing their normal lives. Just because they're not little doesn't mean you aren't involved and that they don't need you.
In addition to new food ideas, we planted our own seedlings this year, because that helped us avoid a trip to the hardware store. We also learned to dry our own seeds to add a few additional things to the garden that we wouldn't have otherwise bought. In the meantime, we have produce delivered and if we have just a little of something left, we use it in a soup or stew. Vegetable sauces with tomatoes, zucchini or squash, bell peppers, other odds and ends, are delicious over pasta.
Another easy snack hack? Take a unwrapped cheese stick, place it in the center of a small tortilla and roll up tight like a taquito. Microwave for 45 seconds approximately and you have a portable snack. Alternatively, you can bake them for 12-15 minutes at 375 degrees.
For more ideas, follow the hashtag #MySmartandFinal on Instagram. On Mondays, you'll find quite a few ideas being shared for other snack hacks and cleaning hacks to help us get through this quarantine together. You'll also have the opportunity to enter the Smart and Final giveaway for $25 gift cards. (Remember when I was talking about them delivering?)
You'll also find me on Instagram, over at DangerousCupcakeLifestyle, where I'll have my own quarantine hack to share! We really can get through this together!