I grew up on a farm in Pennsylvania, miles from the border of New York, where I was born. Thanks to very early memories of picking fresh rhubarb from a plot just to the side of the house my dad built, I've got two easy rhubarb recipes…and a little back story why I love it so much.
Before we moved back to New York, I was given an experience all kids should have: raising small animals, fishing from a pond and growing vegetables from scratch. I remember being told to go pick the veggies, and if it was the snap peas, I was so happy. If it was green beans, not so much, because then I'd have to snap them into a bowl.
One day, I had a friend over. Our moms were friends, so we were forced to hang out together. I guess we liked each other enough, because I was probably around 7 or 8, showing her around the garden. She had a small backyard and she seemed interested in all the things we had on the farm. Here are the lilacs. Hey, there's the horse than ran me over once. And this stuff that looks like celery, I'm not sure what it is, but let's try it!
Don't do this.
I saw this celery-looking food. I didn't remember seeing it before, but it was this gorgeous red color. Big green leaves. So I took a bit bite. Why not, right? It's an organic garden full of delicious things.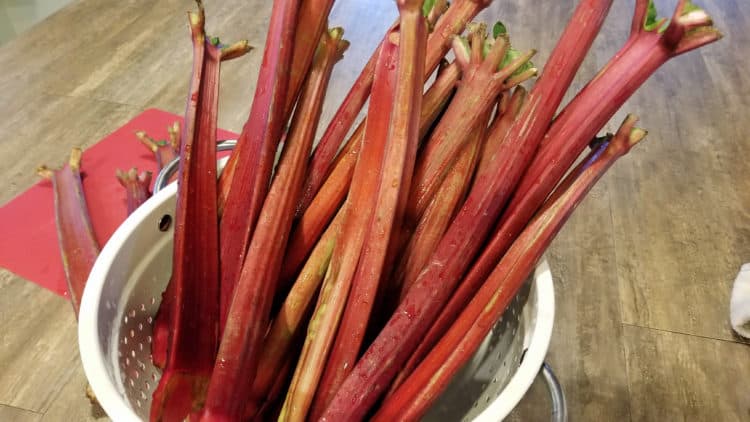 Except it wasn't. It was not delicious. It was sour and bitter and somewhat stringy, nothing at all like celery. I learned very quickly, when my mom caught me with this horrible pucker face, that rhubarb is not to be eaten raw. This amazing fruit has to be cooked — stewed, baked, boiled — until softened. THEN, and only then, does it turn from the tart sour face-inducing piece of produce into one of my favorite fruits ever.
Rhubarb is amazing. Versatile. Beautiful. Affordable. Delicious.
To help show you, I'm sharing two easy rhubarb recipes, two delicious ways to quickly use rhubarb that don't take a lot of prep time. Both rhubarb recipes are totally different, depending if you want a dessert or a more universal purpose. Let's get started!
My first recipe is for stewed rhubarb, which is basically like a preserve or a sauce. I put this on waffles and bagels, but a couple of tablespoons taste great in plain Greek yogurt, over vanilla ice cream or even on pancakes. It's probably the simplest way to serve rhubarb and I'm sure there are a lot more ways to enjoy it.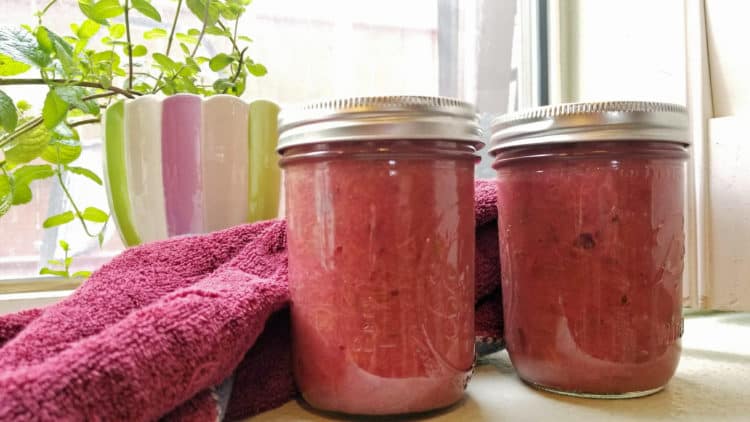 Rhubarb Sauce
Ingredients
6

cups

chopped fresh rhubarb

2/3

cup

sugar

3

tbsp

water

1

tbsp

lemon juice
Instructions
Chop off exposed ends and throw them away.

Chop rhubarb into thin slices approx 1/2" thick. (If they are too thick, they may cook at different times.)

Put all four ingredients in one pot on stove over medium heat.

Stir every couple of minutes and cook until rhubarb is soft. (It took mine around 10 minutes to get to the consistency I like.) Feel free to mash the pieces if it's too chunky.

Remove from heat and let cool. Once thoroughly cool, place in jars and refrigerate.
My other recipe for fresh rhubarb is a delicious dessert that tastes like summer and your guests will think it took a lot longer to make. It's crazy easy, takes only a few basic ingredients and even during quarantine, you should be able to make these without a trip to the store, once you get that rhubarb! (Mine was sent to me courtesy of Melissa's Produce, and you can order online if you don't want to leave the house. Thanks to Melissa's, we've been stocked on fresh produce and I've not been in a store for almost six weeks!)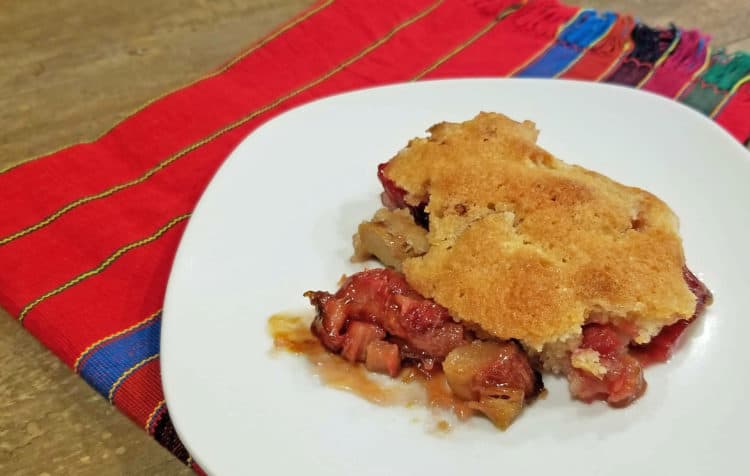 Rhubarb Cobbler
Ingredients
4

cups

chopped rhubarb

3/4

cup

sugar

Divide into 1/2 cup and 1/4 cup.

2

tbsp

butter

1/2

cup

shortening

1

egg

1

cup

flour

1

tsp

salt

1

tsp

baking powder

1/2

cup

milk

I used unsweetened almond.
Instructions
Lightly grease 9 x 13 pan.

Heat oven to 350 degrees.

Drop rhubarb into pan with butter. (Break butter into a few pieces.)

Sprinkle 1/2 cup sugar over top of rhubarb and butter.

Mix shortening, 1/4 cup sugar and egg until thoroughly combined.

Combine flour, salt and baking powder; stir till combined.

Add milk to shortening mixture, along with dry ingredients. Lightly stir until combined.

Drop batter on top of rhubarb, sugar and butter.

Bake for one hour. (Check for a few minutes sooner, to avoid the batter from browning too much.)
Take heed of my advice above. While you're chopping rhubarb, you may be tempted. It's SO pretty.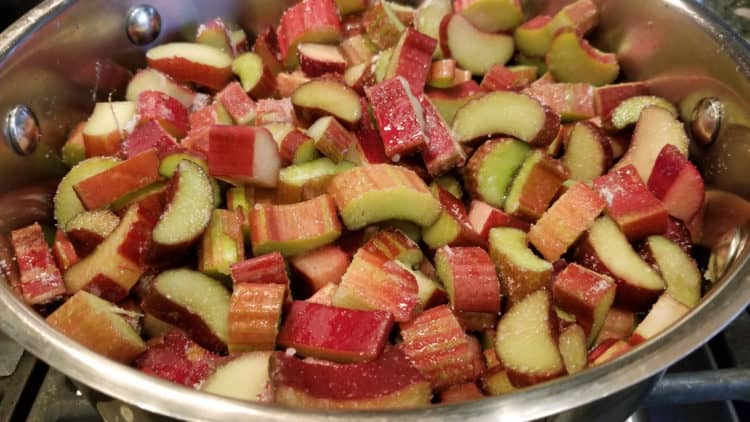 It looks so sweet, almost like candy. It is not. That said, you do not need to add huge amounts of sugar when you use it. You can decrease the amount of sugar in either of the above recipes and it will still be delicious. We tend to like them more tangy and tart than sweet, so I've already decreased the amount considerably. You will need some sweet to it, but how much is up to you.
Check out Melissa's Produce. They're helping you fill gaps on your pantry shelves and in the refrigerator for less. They ship all over and can get you the fresh produce, spices and snacks you need. They also have a selection of cookbooks and recipes available on their site. I've been working with them for a couple of years now and I've learned so much about food….which my family greatly appreciates. Thanks, Melissa's, for the rhubarb and a walk down memory lane!