Almost two weeks ago, I was invited to attend a blogger's evening event down at the Brea Mall. About 45 minutes away from my house, I don't get to visit the mall too often, but I grew up not far from it. I was so surprised to see how big the mall is now and all the new stores it has. It's definitely worth the drive!
The event was sponsored by Brea Mall, and we left with four gift bags full of thank you gifts for attending and sharing what we saw with you. We got some amazing stuff and I've shared photos below.
During the one hour event, we were shown top gift recommendations from the 16 vendors in attendance, including the wonderful AmeriPark Valet Service who took such good care of my car, parking it right in front of the booth. (My beast was in good hands!) Other stores who were represented that evening were:
Ben Bridge Jewelers
BoxLunch
Brookstone
California Pizza Kitchen
City Chic
Godiva
Guess
Kiehl's
Marciano
Noerr Santa Photo Experience
NYX
Swarovski
The Art of Shaving
The Spa at the Glen
Williams-Sonoma
Quite an array of vendors, right? Gathered together in a cordoned-off area over by JC Penney, our small group had the opportunity to individually work our way around the tables to see all the things they had to offer.
Ben Bridge shared their very impressive business history and their display was beautiful. They opened back in 1912 in one shop and have expanded ever since, though they still hold on tightly to their strong family values that has allowed for quality products, happy customers and a successful growth plan. With an extensive timepiece collection and diamonds that are safely excavated, Ben Bridge's unique collection is definitely a popular place to shop this time of year. With certified employees and watchmakers, you can rest assured that your money is going towards items that will last.

Box Lunch, known for pop culture clothing and accessories, had so many things I wanted to buy! I also was motivated to go back and buy more from them because they donate to Feeding America for all your purchases with their "Get some, give back" campaign. Every $10 you spend buys a meal for a person in need. I don't need more slow cookers, but I don't have one with Mickey ears. Do you? (If you do, we need to be good friends. Disney lovers unite!) I think I need one. Or both.
Brookstone always has quality unique gift ideas and their display including one of the softest blankets I've ever felt, and a foot massager any busy mom needs. City Chic clothing focuses on fashionable larger size clothing in addition to show wear, with the catchy tag line "world of curves." We had a discussion about bras, in fact, because they can be very expensive and hard to find if you're well-endowed as one of my daughters is. I plan on taking her down there for one of their sales.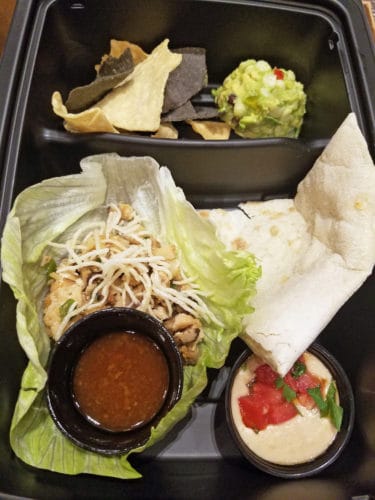 California Pizza Kitchen provided food for the evening, which included a couple of their popular appetizers. The corn relish and chips was a big hit, as was the hummus with pita chips and lettuce wraps. They have a really good program for school fundraising, so if you're looking to raise money for your school, consider California Pizza Kitchen. We enjoyed speaking the founder of the school program, so be sure to head over here for more details on how you can help earn your school 20% while eating pizza!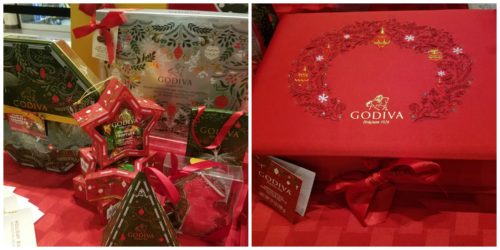 And Godiva was on the scene. You can't walk past one of their stores without nearly melting from the delicious smell of chocolate. It lures you in, as did their table at the event. They were providing samples while sharing updates on their latest holiday gift options. That big red velvet box is full of goodies that you can hand-select and it's oh so tempting, but I really would love this silver ornament. (Santa, are you reading my blog?) They offer so much more than just chocolate, including coffee and cookies.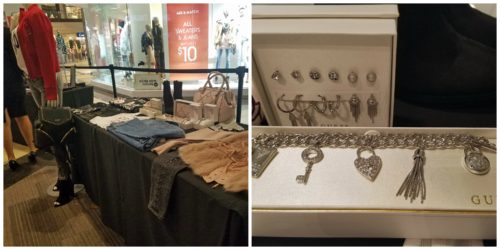 The mannequin had on a really cute outfit, but I was more drawn to the jewelry at the Guess and Marciano by Guess table. That charm bracelet is totally down my alley. Perfectly shiny and super-cute, I could pair that with a lot of my outfits. I'm not always the most fashionable because I tend to wear my own style but all of the clothes they had on display would make it easy to sneak in good pieces without worrying if I match.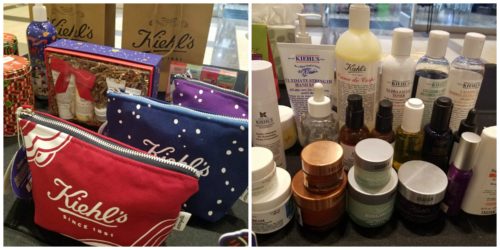 I got sucked into the Kiehl's table, too. I love quality and safe personal care products, and they haven't disappointed since they opened in 1851 as an apothecary. They are more high-end than some I own yet that wouldn't stop me from buying as I know I'm getting product that's safe to put on my face. The promise of their skin care line is healthier and younger skin. The use safer and sustainable packaging procedures while also giving back to Feeding America.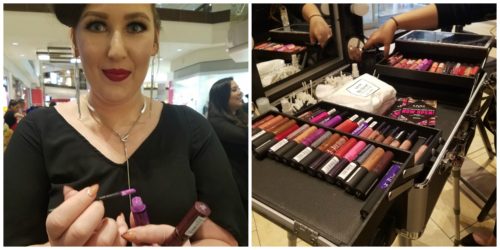 See that gorgeous purple color, being held by a beautiful NYX makeup artist? I tried that lip gloss! It's a little out of my norm, but I decided to try a lip makeover and I'm glad I did. I pulled it off! Thanks to NYX's very generous gifts, I am now able to wear bright, shiny colors for my upcoming holiday parties. NYX Cosmetics has so many colors and styles to match every skin tone and makeup preferences. I can't wait to try my huge new makeup palette and really dress up my eyes. NYX's prices and quality make it fun and easy for everyone to experiment with new looks.

Swarovski's table was sparkly and those champagne glasses are a dream Christmas wish list addition. The stems were full of crystals and the bottoms are even signed. The snowflake ornament is a more realistic item for me to add though; it would look beautiful on my serious Christmas tree. (I have two — one for the kids and one that's more serious, though it's quickly becoming a story of our lives, which is a very good thing. One look and you can tell a lot about us!) If you like bling and unique holiday glam, visit Swarovski.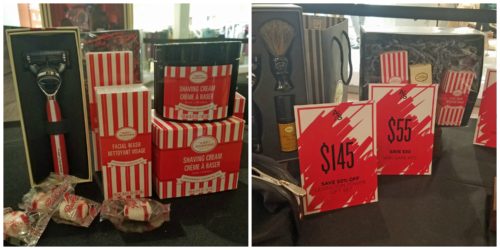 The Art of Shaving is one of those shops I've wandered through a little, but the only product I'd tried before was a basic shave cream. I'm rethinking that now. Their holiday shaving cream, in its signature red and white striped packaging, is a new favorite of mine. They even sent me home with a big jar that I've passed along to the husband. I love the scent, and it's always fun to add in a little holiday cheer during regular daily things, right? They have some amazing sales going on right now, several of which are shown above. Another is a starter kit half-off for only $15 and $10 back for every $100 you spend.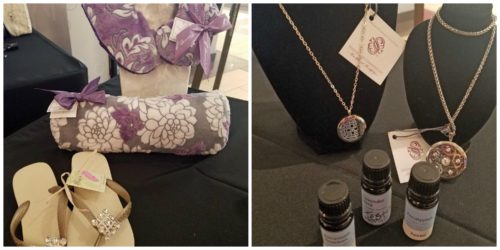 Who doesn't need a spa day, especially one at this time of year, right? The Spa at the Glen will meet your pampering needs: manis, pedis, facials, massages, the list goes on. Steam rooms, spas, I'll be trying it out soon on my free day pass, courtesy of the spa. I can't wait to get away from it all and see everything they offer while hiding away from the holiday bustle. They also sell those beautiful sandals and an array of aromatherapy products. I really want to get my hands on one of those lockets, where I can put in a few drops of essential oils (EOs) and stay relaxed or peppy throughout the day.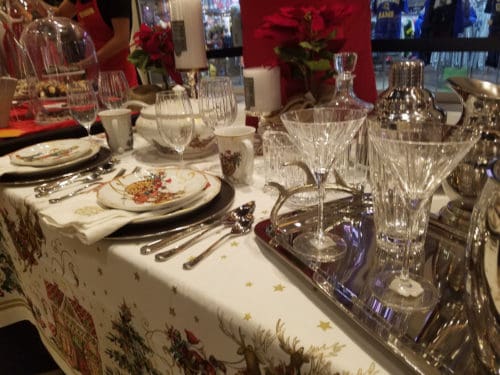 And Williams-Sonoma. This place, ahh, I've got a lot of experience roaming their stores and buying kitchen equipment for myself or as a gift for others. I can't wait for my next shopping expedition there, checking out their beautiful holiday table settings, crystal and serving ware. You can also never get out of Williams-Sonoma without trying their infamous peppermint bark, which they sent me home with. It was quickly devoured, so I have a reason to go back now, or so I'm telling myself. I have a few things on the Christmas list that I can get for myself, I mean others, there. The huge cookie cutters are so fun — we use them to have a family gingerbread house and cookie decorating day every single year. Memories aren't always derived from spending a ton of money but from having fun together.
We were sent home with a lot of great things to thank us for writing this post.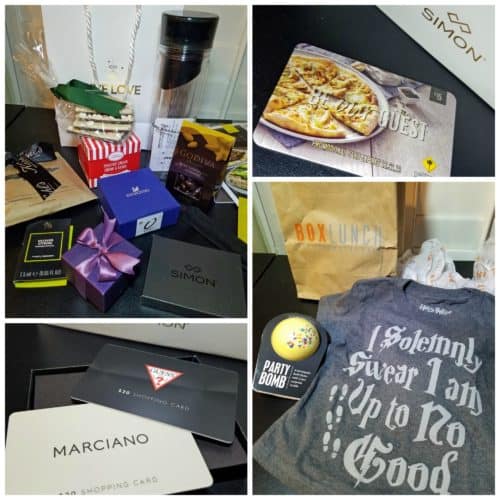 Gift cards, an adorable toddler shirt, one of those amazing Swarovski crystal bangles in black, pearl earrings…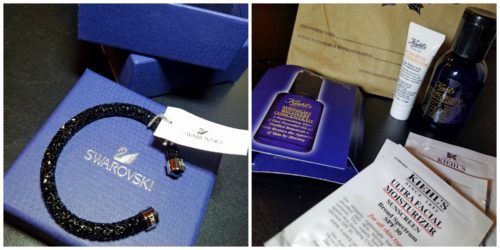 Moisturizers, infusing water bottles, chocolate, a jewelry tray, bath scrubs and a slew of makeup…I can't list it all, there's so much!

Brea Mall is located off the 57 freeway slightly north of the 91 exchange. There's plenty of parking with more than one parking structure, and there's even valet parking if you're so inclined. (I personally love that option, as I'm tired of my new cars getting door dings from lazy people.) Park the car, wander the mall and don't forget to stop by and see Santa at the Noerr Santa Experience. You can't miss it, outside the indoor entrance to JC Penney, Santa's next to a beautiful try under an atrium. (They even offer a Caring Santa experience, in the event you're like me and have a special needs child who wants to see Santa but can't do the lines and typical experience.)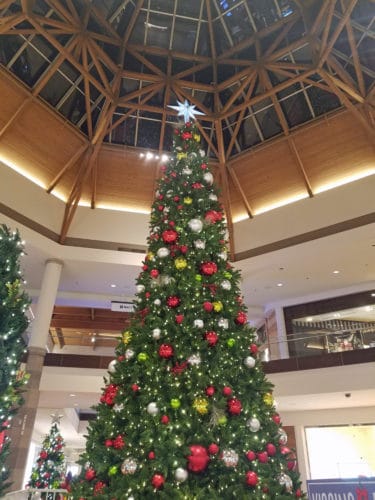 Santa was busy when we left, so I didn't get the chance yet to give him my list, but maybe he reads my blog. He does see everything, right?
Check out Brea Mall if you're looking for some new stores to explore. Full of sales, holiday promotions and stores you won't just find on any corner, it's worth the trip and is a great place to get into the holiday spirit if you're not feeling it yet. Happy holidays!