I'm a girl, so I buy makeup. Some days, I hate to put it on — I hate the time waste and tedium. Other days are complete wastes of makeup, but regardless, when I put makeup on, I want it to look good, feel good and be quality if it's going to be applied to my skin. Finding a makeup product that fits all of those traits isn't easy, but I think I have a new one to share!
Disclaimer: I was provided a free Looks Collection by One Direction makeup kit for the purposes of this review but the opinions and photos are my own.
To make this review better, I gave the kit to my 19-year-old daughter. Not only is she beautiful but she's much more skilled at makeup application. We didn't have YouTube videos about eyeliner skills when I was young. (That's my story…)
Let me share some of her opinions on the kit, before I move on to the pictures.
No, wait, first let me tell you that she's a HUGE One Direction fan. They are her guilty pleasure and when I said One Direction Looks Collection makeup, there was a little jump…
Now, back to her review of the makeup itself:
•Good quality eyeshadow – not cracked, doesn't crumble when applied
•Cream glitter eyeshadow was a little hard to apply but super thick and stayed put
•Basic mascara, good for standard volumizing
•Bubble gum pink lipstick applies smooth and isn't chalky
•Didn't try the nail polish due to just painting nails, but the color is super pretty and the texture seems easily applicable (not chunky and/or too thick like some I've tried)
•Lip gloss was nice and sticky, gave some nice color and left some glitter behind for later
•Body pencil is a pretty color, and didn't seem to come off as I continued doing other stuff, but came off easily with soap and water when I was ready to take it off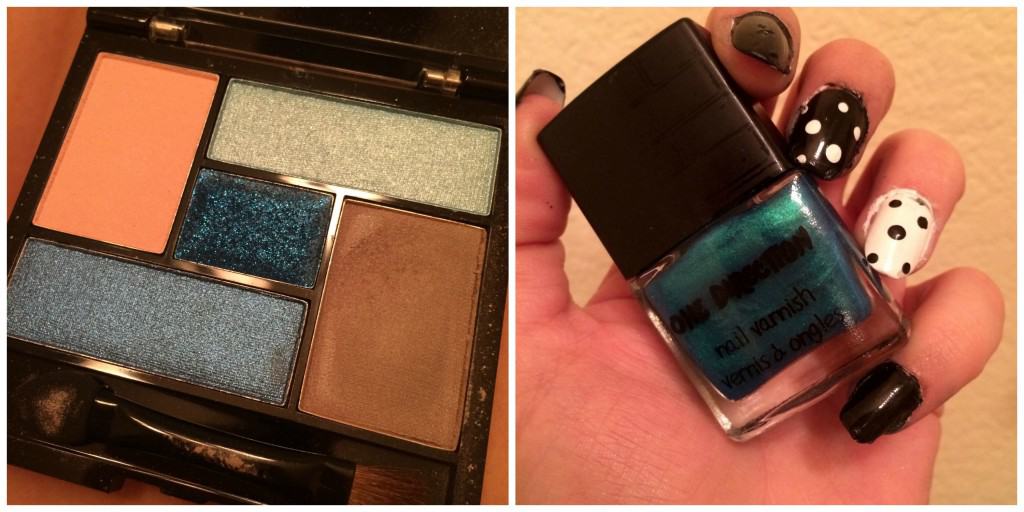 She played around using the directions and had a lot of fun with that. (She's 19 and gorgeous, with the big brown eyes I wanted but never got, so why not?) She was hoping the brown suggested shadows would be a bit more dramatic, but she really loved the suggested set for blue eyes.

She added her own flair and you can see the results of it all above, along with a picture of her unique usage of one of the fun stencils that come in the very neatly packaged metallic box that she can keep and re-use after. (And if you have teen girls, you know how much they love cool boxes to cram with stuff.)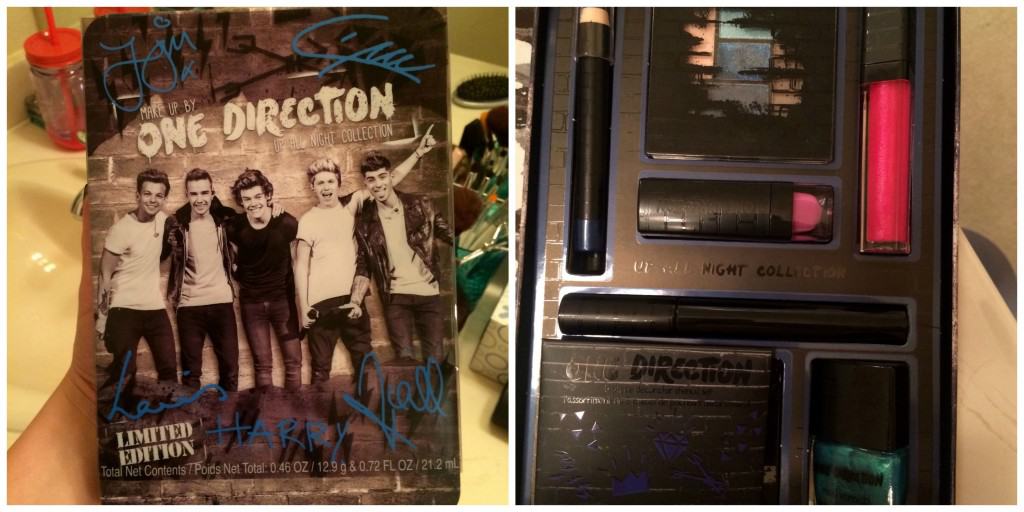 Here are some more details about the brand itself !
One Direction makeup Looks Collection is made for both the every day makeup, work, school, etc., and the party side of you, the kind that wants to jazz it up and go crazy in a fun way. Much like the One Direction band members themselves, this prestige makeup line is fun, bold and a tad mischievous, featuring vivid shades, premium formulas and chic, collectible packaging and components.
The Looks Collection line will be available worldwide starting in the U.S., dates below.
US RELEASE DATES:
Macy's – August 11th
Stage Stores – August 25th
Dillards – August 25th
Beauty Brands – August 25th
Lord and Taylor – August 25th
For a fun, quality makeup kit that is all-inclusive, you can't go wrong. (And if I'm going out to a party one evening, I may just steal, I mean borrow that blue sparkly shadow!)
Thank you, @DevonPaigee for your modeling and makeup application expertise. (You can find her on YouTube at https://www.youtube.com/user/OhHeyItsMeee though she's just getting ready to start it up again and would appreciate the love!)