Today, I made a spontaneous easy Valentine's Day wreath, so I'm sharing the steps below for inspiration! Dollar store crafts are cheap and I made this one for only $7, getting it on our front door in under 30 minutes.
There's still time to get to your local dollar store and pick up the items necessary to make this easy Valentine's Day decoration. I spent $7 on my items, but you can spend a couple dollars more or less, depending on how you want to change it up.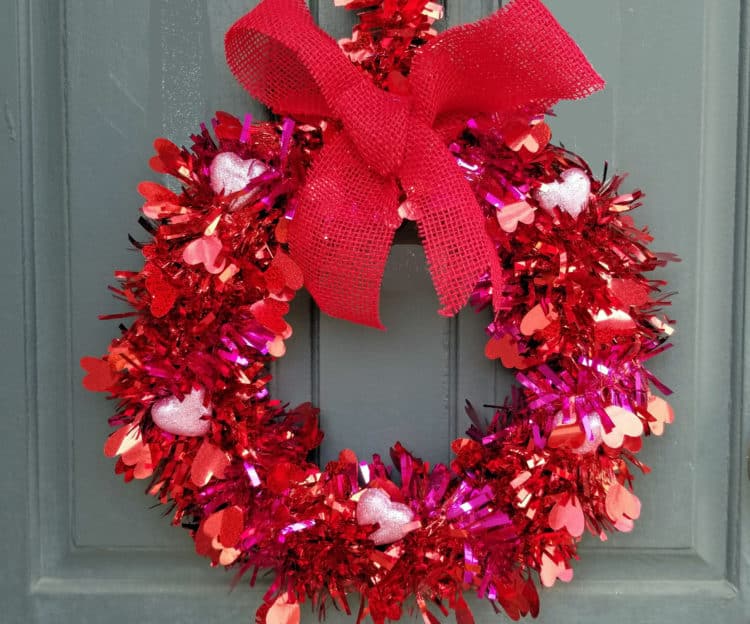 Valentine`1s Day Wreath Supplies Needed:
Metal wreath frame
Valentine's Day garland: two in red, one in pink and/or purple
Burlap ribbon in red
Floral wire in red, purple or pink
Pink foam or plastic hearts (at least 5)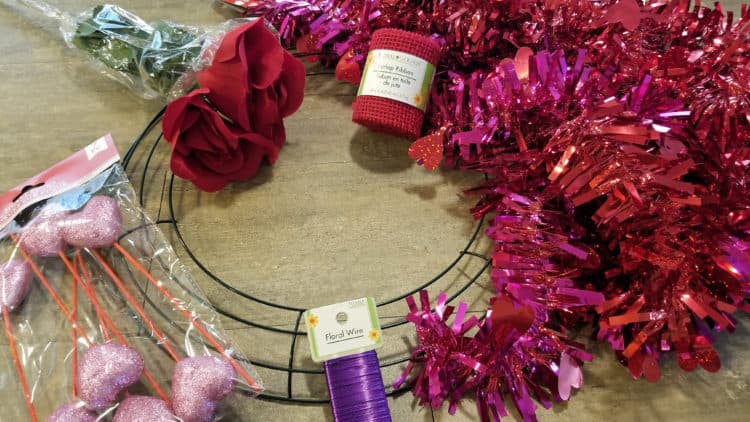 I also bought some red roses that I ended up not using, so I'll just add them to my dollar store crafts stash. The three-pack of roses, and all of the things listed above were $1 each, bringing it to a total of $7 worth of supplies that I used in this craft.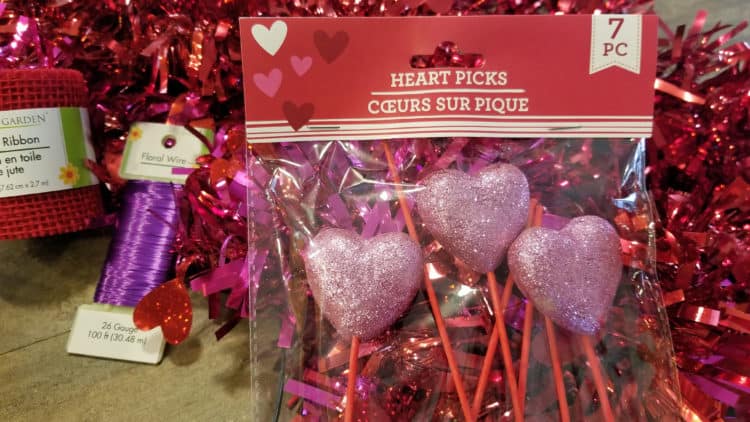 Easy Valentine's Day Wreath Assembly Directions
Begin to wrap one of the red garlands around the metal frame. Using a short piece of the floral wire, attach the first end to the frame. Continue wrapping the garland around; it should reach a little more than halfway. Attach other end to the frame similar to the first.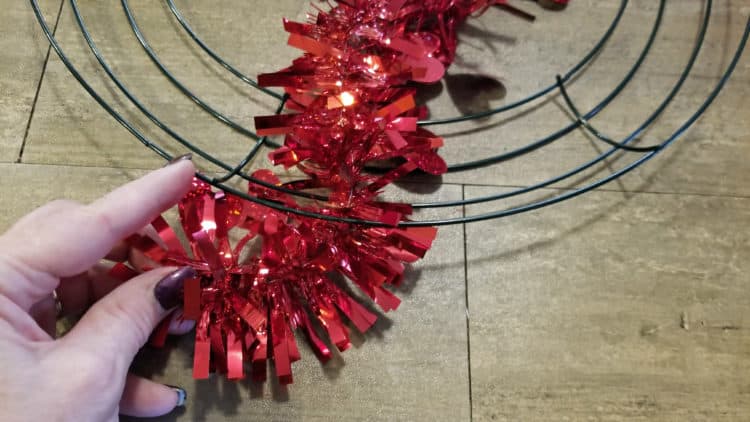 Wrap the second garland around, filling up the entire frame and leaving around 12″ remaining.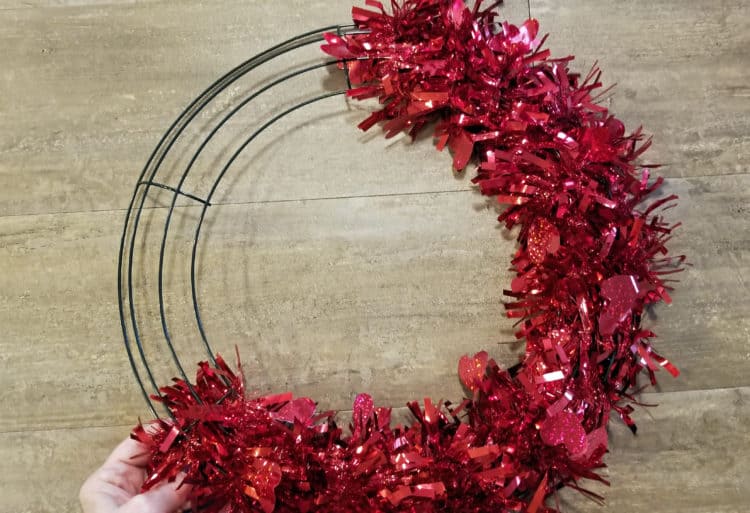 Attach the garland to the frame after it is wrapped, and then turn the remaining 12″ (approx.) into a loop-shape. Use another piece of floral wire to attach the other end of the loop. (This is how you'll hang the wreath.)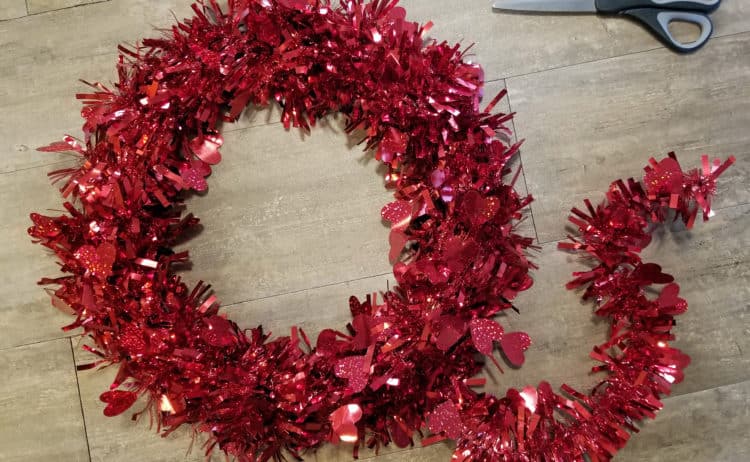 You can adjust the size of the loop if you want it to hang higher or lower.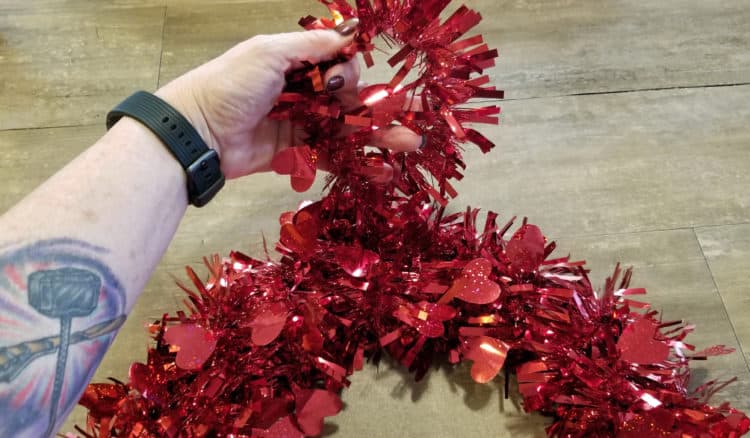 Break the sticks on the hearts and insert the remaining stick between the metal frame and the garland; this should securely hold the hearts in place.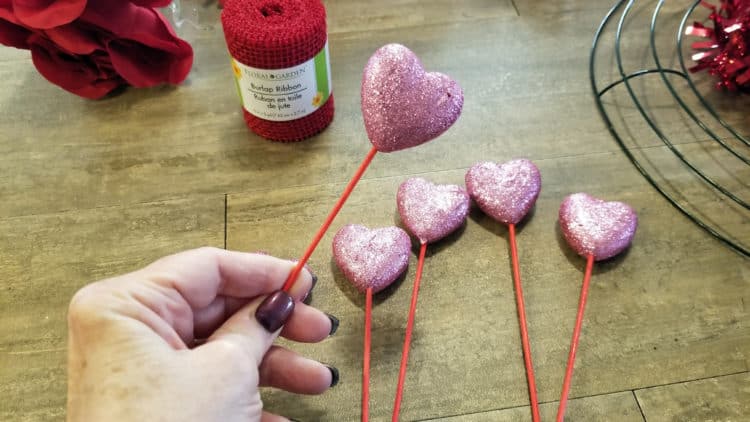 I couldn't find any, but if you find hearts hanging on ribbon loops, you could totally use those instead of hearts on sticks.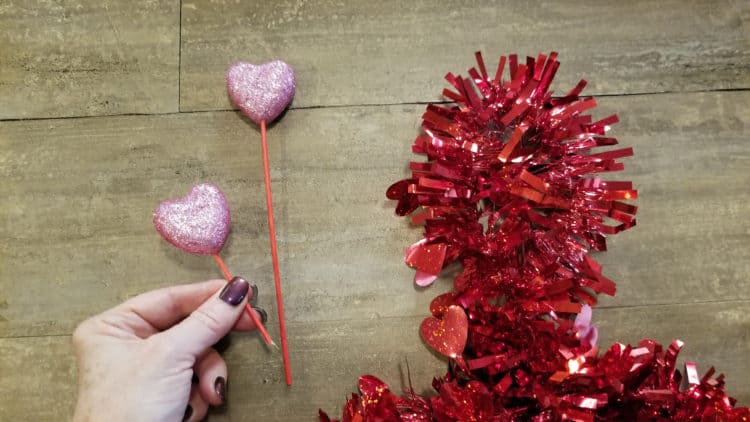 Between the hearts, wrap the remaining garland all the way around. It will be enough for the whole frame and you'll have leftover to cut off.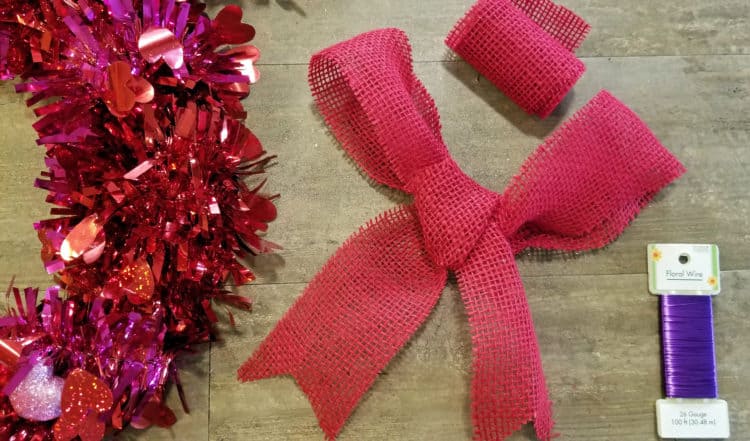 Cut approximately 20″ of the red burlap ribbon and create a bow.
I stink at creating bows, but if we let perfection stop us from doing things, we'd miss out on a lot! Or at least that's what I tell myself, so I didn't obsess over making this bow perfect. I like how it turned out!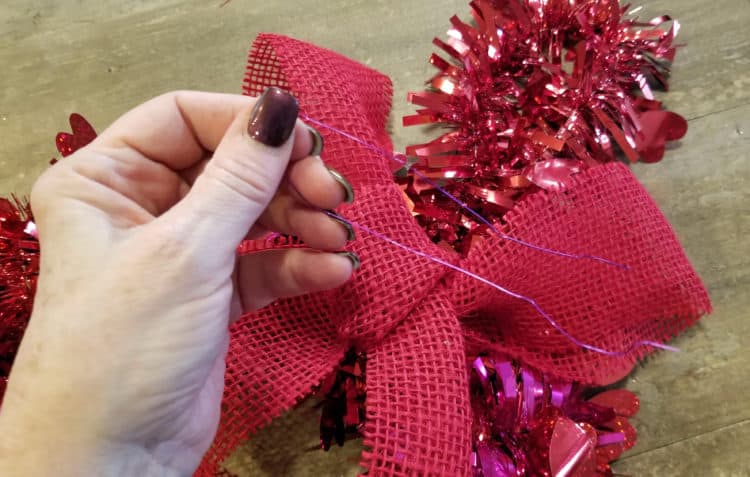 Cut off a piece of floral wire about 3″-4″ long. Bend it in half and poke both ends through the front of the bow, where you'll affix it right below the hanging loop at the top of the wreath. Twist the wire to tightly attach bow.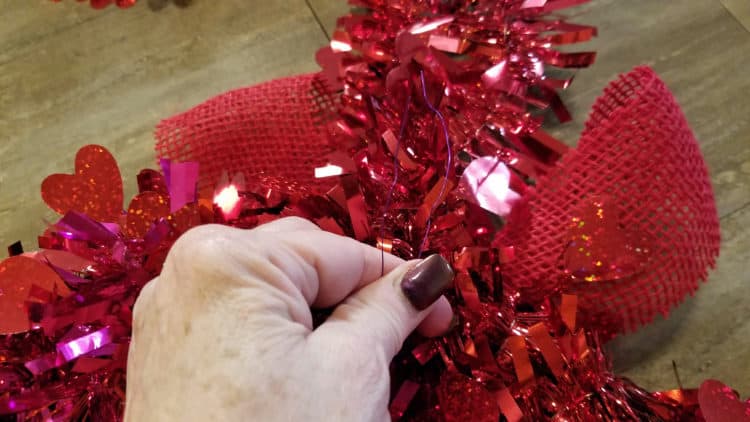 That's it, you're done with your fast and easy Valentine's Day wreath!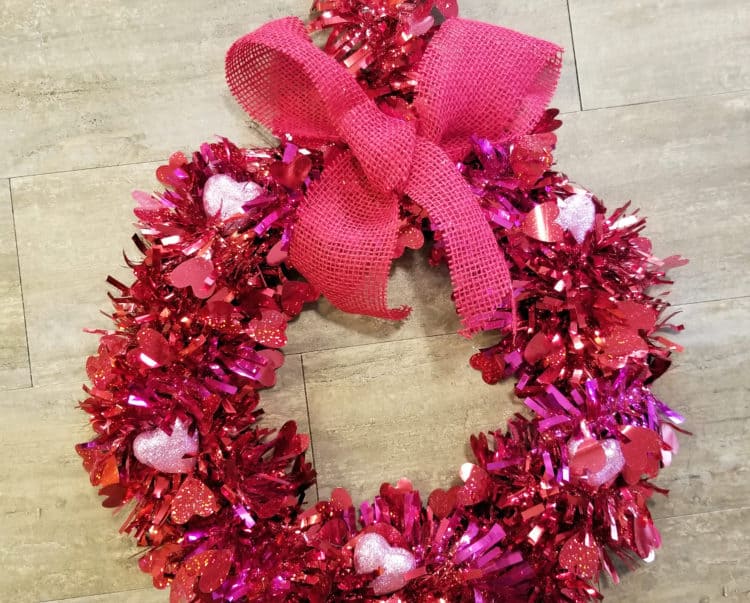 I hung my wreath on the front door and we get a lot of wind during early-Spring, so I hesitate to put up anything too expensive. This $7 wreath allows me to add holiday cheer for less and if the wind blows it away, I'm not out much money. We're about to begin a major renovation, including new front doors, so until we have a new shiny entry for guests, this wreath adds a pop of color.
This is just the beginning of a house full of pink, red and purple Valentine's Day decorations that will be going up soon. How do you decorate for the holiday? I hope this post helps inspire you to get started and do it for less! (I also plan on more upcoming dollar store crafts soon! I love not spending a lot of money to learn new crafts and decorate my house on a whim.
Happy Valentine's Day!