My 17-year-old son is a diehard gamer. He started playing video games the minute he could navigate the arrow buttons on a computer and hasn't stopped. He's got just about every gaming machine in existence and when a new game comes out, I get a text to tell me exactly where to buy it, which version, and cost. (Sometimes, he even sends me a link..you know, just to be helpful.) Gaming is what he does to let off steam, around his rigorous high school schedule and sports, so we cater to his hobby. Two years ago, we had a really high-end computer built to accommodate his needs, allowing us to upgrade the system as technology improved. Teen gaming is serious business.
Thing is, he doesn't always play on the PC, so we have to find good equipment to go with all of his machines, including his beloved PS4. When Turtle Beach® offered me a complimentary Recon 200 headset in exchange for sharing with my readers on the blog and social, it was an easy yes. When I told the son? YES. Resounding yes.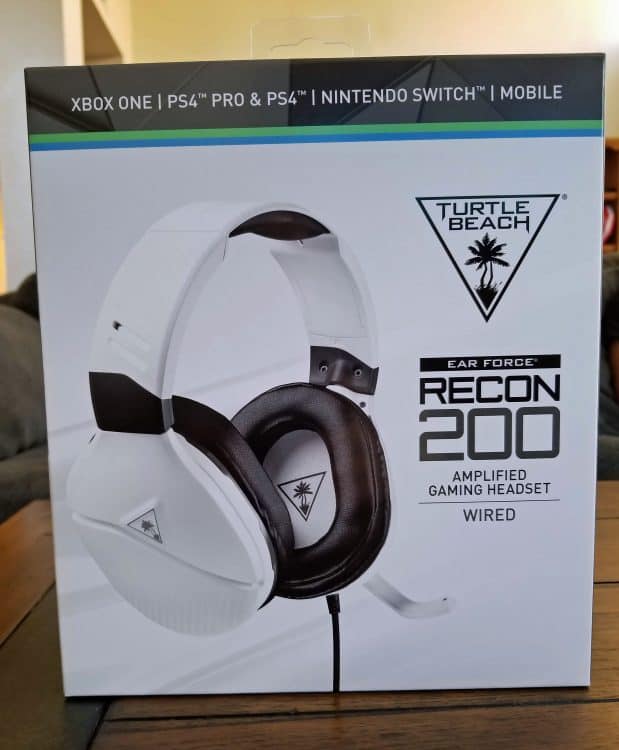 Moms and dads, we love it when we can make our kids happy, right?
The Turtle Beach® Recon 200 is a beast of a headset. With powerful amplied audio, you can immerse yourself in the games with its rechargeable battery-powered amplification. (What parent hasn't had to hear a frantic plea for batteries? No more of that since this headset can charge via USB.) It's got a bass boost, so you don't just hear the music and sound effects, but you feel it.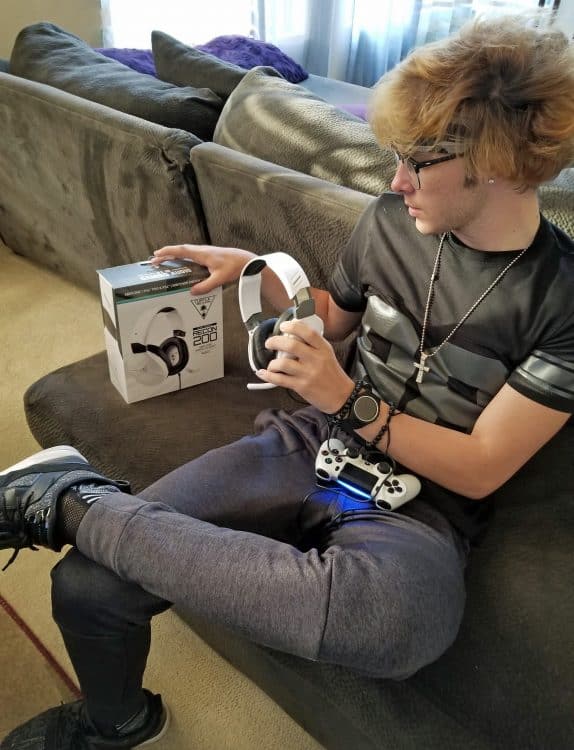 Son, can I borrow it while you're doing your schoolwork? I could really stand to block out the noisy street outside when listening to Duran Duran…oh, wait.
The headset is also surround sound ready for the XBOX ONE, and optimized to deliver immersive Windows Sonic for Headphones surround sound. (Windows Sonic for Headphones provided by Microsoft for Xbox One, and compatible Windows 10 PCs. Also compatible with Dolby Atmos® for Headphones, sold separately.)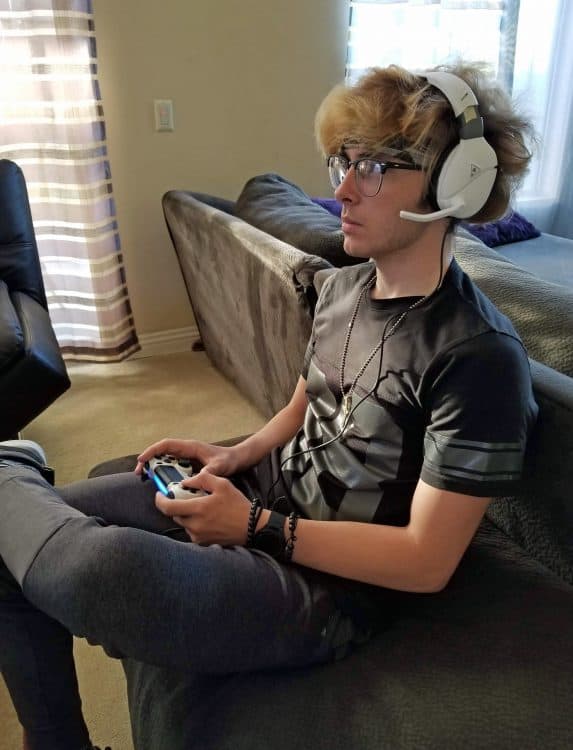 I put on the headset myself, so I could see how comfy they were. Impressive! The 40MM over-ear speakers produce crisp highs and thundering lows. The flip-up high-sensitivity mic means he doesn't have to repeat himself when playing, and when I walk in the room to interrupt him and tell him dinner is ready, he can flip it up and mute it.
See, I really need this. Mute option? Sign me up!
Add in a metal-reinforced headband for durability, variable mic monitoring so you can hear yourself inside your headset so you don't have to shout, and multiplatform compatability, designed for Xbox One and PS4TM, and also works great with Nintendo SwitchTM, PC, and mobile devices, and all-day battery life? It's beast mode for headsets, without a doubt. (12 hours of gaming per charge!)
Then there's the price — it comes in at $59.95 MSRP. Less than you expected, right?
Learn more at Turtlebeach.com or on Amazon.com. (Click to go straight there for info!)
My son plays on his PC a lot in his room, which means I don't get to see him enough. "Too much noise, Mom." Well, I miiiiight just get to see him more now, thanks to the Turtle Beach® Recon 200! Teen gaming happiness AND mom happiness, because now he can play out in the other family room where I can see him without background noise interrupting him. He can get comfortable on the futon in front of the gaming flat screen, and co-exist even while Dad's watching football behind him.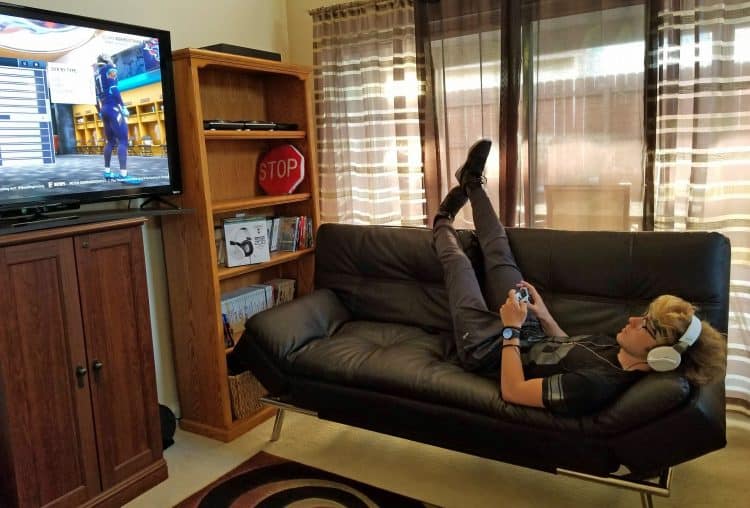 He looks pretty comfy, right?
And he looks pretty happy at this set-up! Maybe I won't hear "Mom, I'll be out when I'm done playing the game…" as much because he'll keep playing out here now.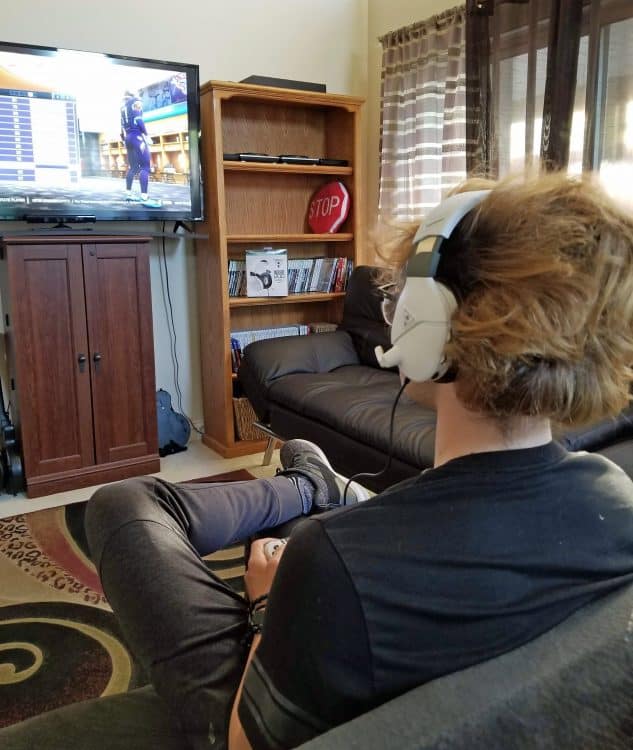 Thanks, Turtle Beach, for creating a quality headset that works with so many devices and sits solidly on your head without any discomfort. As a mom, I'll do anything to see his <sometimes> smiling face as often as possible, and this helps!