I love looking at peoples' Christmas trees. Not only are they pretty symbols of peace and beauty during my favorite type of year, but they are frequently a snapshot into the life of the homeowner. Color choices, amount of lights, twinkle vs. non-twinkle, these are all indicators of the decorator's personality. Big tree, little, real, fake, one theme (like blue and silver) or freeform, with just your favorites — more ideas of the person's style. Then if there are unique ornaments, you can really learn a lot about someone. Souvenirs, memories, favorites, hobbies, a Christmas tree can represent them all. My trees are no exception.
Each year, we put up two trees. One is the bigger tree that goes in the front family room. It's the more formal tree, with a color style each year and the specifically chosen ornaments that reflect us or our relationships with others, as gifts from others are on this tree, too.  This is the tree by the big screen and the couch, which really needs a better name due to its size and ability to make everyone so comfortable they fall sleep. The other tree is a little smaller and resides in the informal family room in the back of the house, the tree that is within view of our dining areas, the 'bar' area and the kitchen. It is the tree the kids decorate each year, with all the ornaments we collected for them throughout the years, but my favorite ornaments on that tree are those that were handmade by them as they grew. One son's first handprint, another's first Boy Scout craft, another's ceramic ball made as a toddler at a craft class and another's kindergarten Christmas artwork by way of macaroni on a gold spray-painted plate. I love them all and looking at that tree can draw us back in time. Each tree has such a different purpose and it's an occasion in itself having them up each year.
The more formal tree this year is decked out in hundreds of lights — sometimes purple and white, but this year, covered in new LED minis and big bulbs of all various colors — and is 9.5 feet tall. It's fake, but that's a preference. No need to remember to water it, no cutting down a tree and no needles for the dogs to eat. With my favorite color being purple, it's by far the most common color on the tree, but that is blended with so many other ornaments with special meaning to us. Here are some pictures of favorite ornaments and a little insight as to why.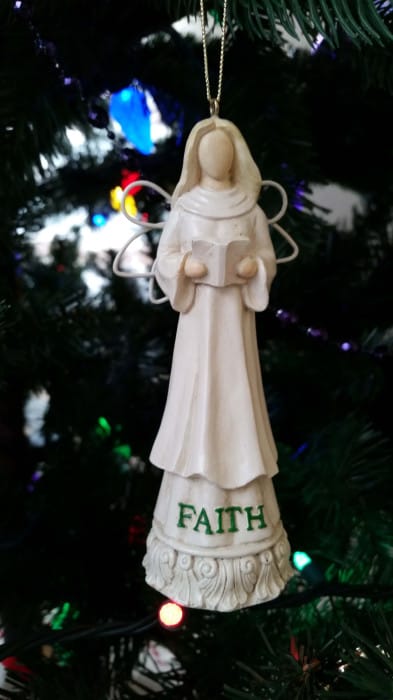 One year, we realized how many angels we have on our tree. It wasn't initially intentional, but now I pick up a special one now and then. This one is called Faith.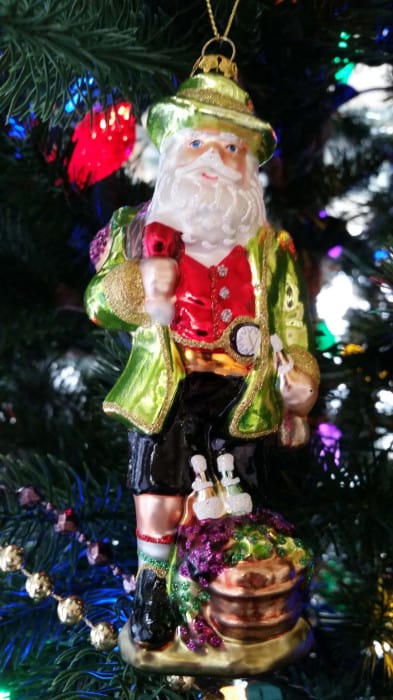 This one reminds me of Father Christmas, and my version of Santa would definitely like wine and put it under my Christmas tree!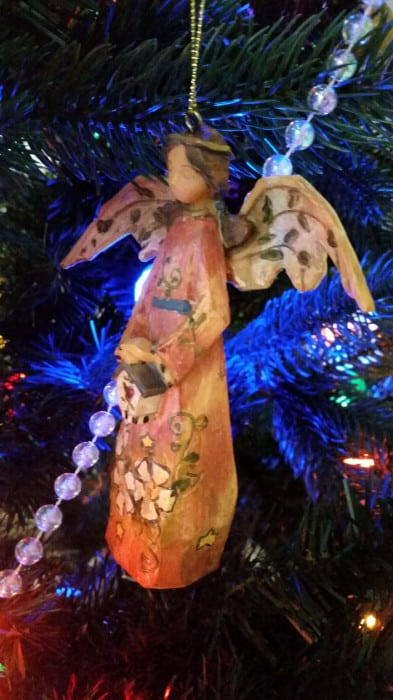 Another angel. She has a beautiful antique wooden look that I found really unique.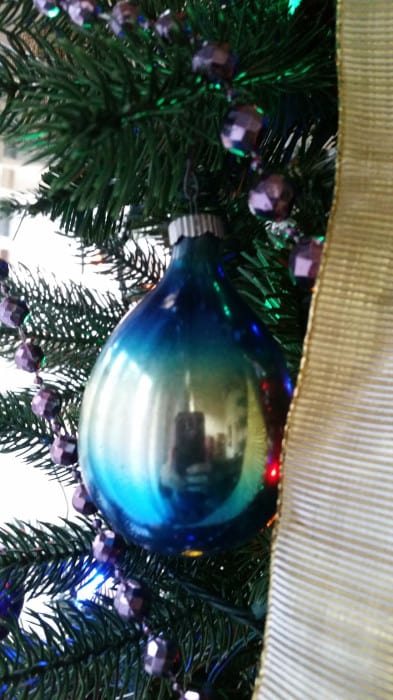 This is the one ornament I have from my parents' Christmas tree when I was growing up. You don't find them like this anymore!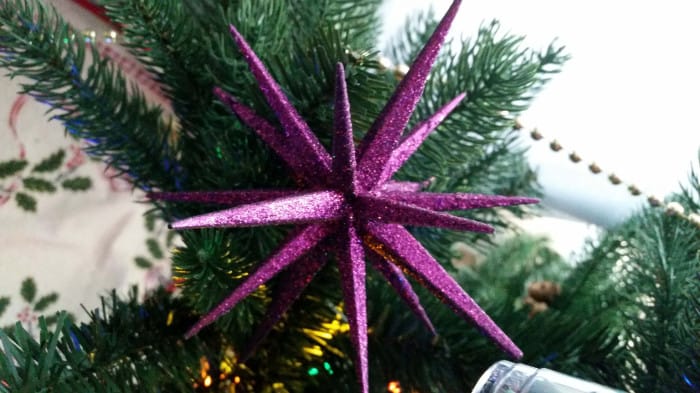 Just a simple, purple cool spiky looking ornament that nestles in a branch and adds a beautiful pop of color.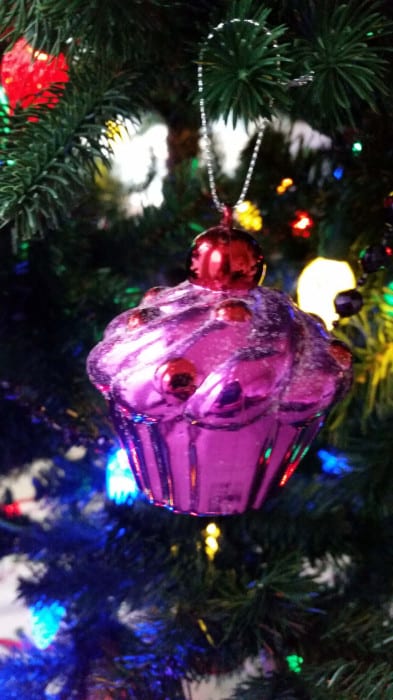 It would be a disgrace if I didn't have at least one cupcake on my Christmas tree, right? This purple one is my favorite!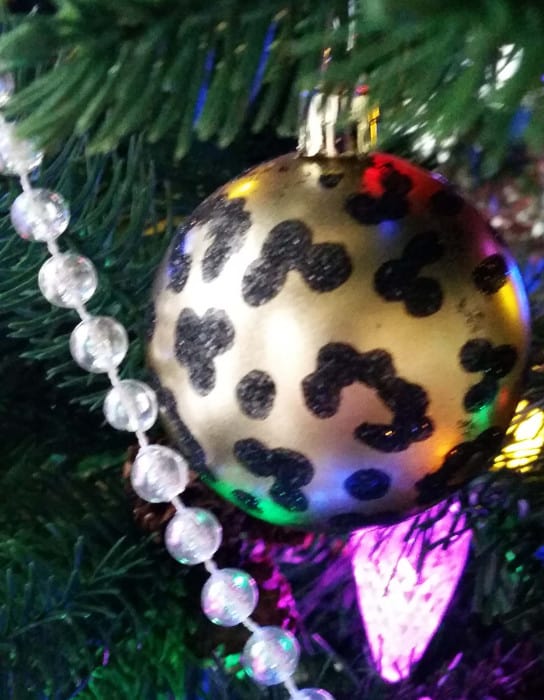 This is one of a set of quite a few animal print round ornaments; they also came with gold and bronze ornaments and some are covered in gold glitter that sparkle.

This speaks to my Starbucks obsession. I love how the clear/cold cup looks like it still has tea remnants in it! It's actually a yellow light behind it, totally unintentional.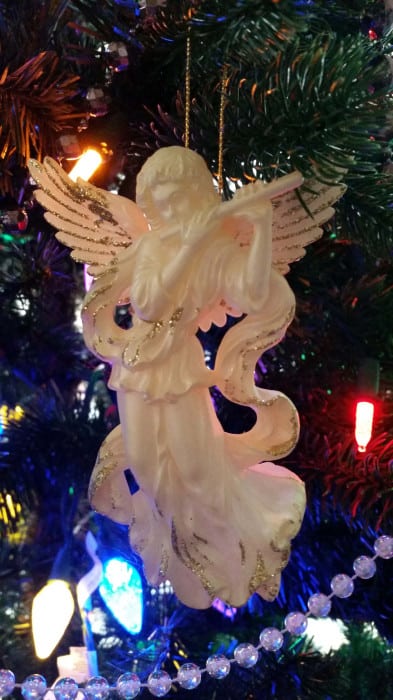 This is my favorite angel, given to me by my oldest son when he was around 10 or 11. She is probably the first angel we got.

Wine. Of course it belongs. These were all given to me by a very dear friend.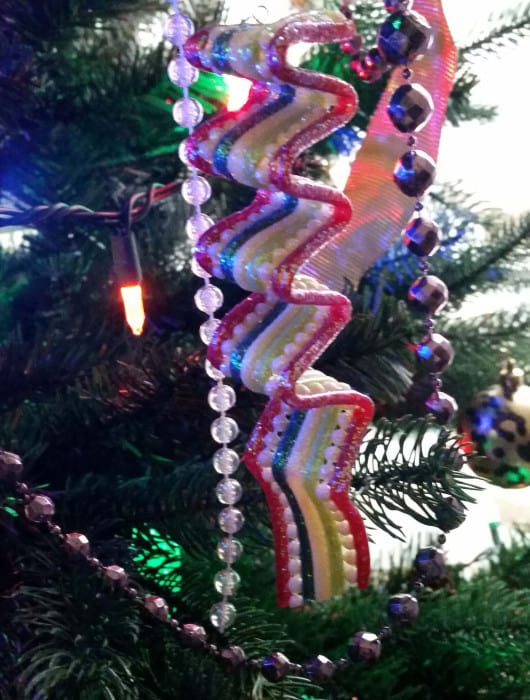 Doesn't this look like ribbon candy? We got this at a Christmas party years back, celebrating the holidays with the parents of other kids in the autism behavioral therapy program Little Dude was in. One of the moms made them and shared a few at the ornament exchange. It reminds me of the ribbon candy my mom always bought during the holidays — you can't find it like it was then!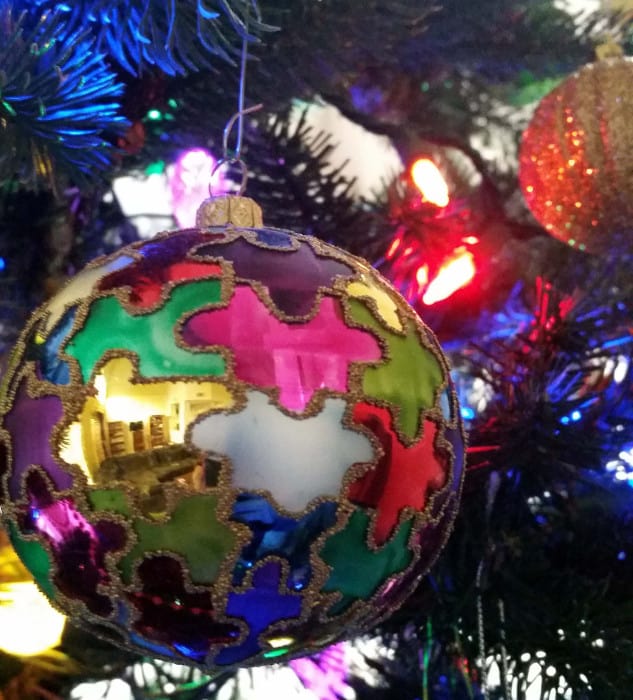 And this is one of my most cherished ornaments of all. It is a simple glass ball purchased at Crate and Barrel a few years back; we were out to dinner with some good friends, the last Christmas before we took a three-year detour in South Carolina. So rare to find an autism Christmas ornament, and this one wasn't even labeled as such, but the ribbon pattern covering the entire ball is unmistakable.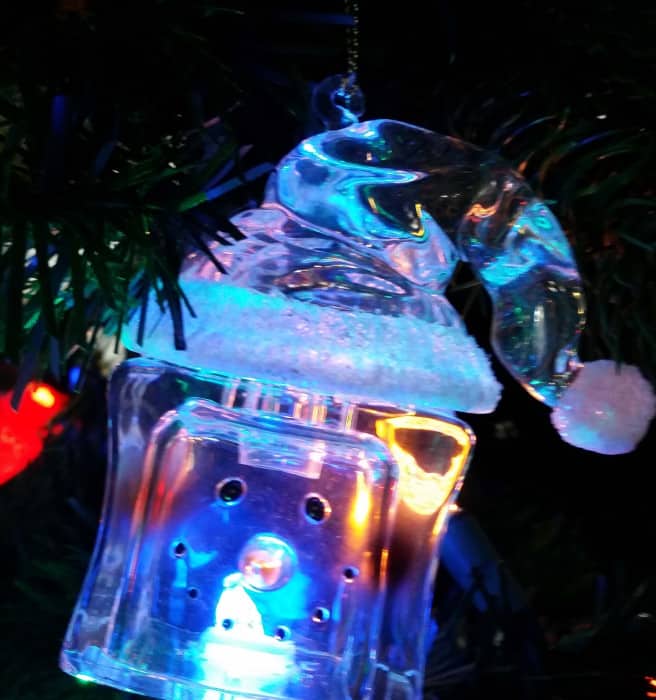 This little frozen guy was found on a special getaway weekend down in Julian, California. The husband is wonderful at putting together surprise trips, where I have no clue what we're doing other than 'pack xxx,' and sometimes he even takes care of that. On this particular weekend, we were greeted at our bed and breakfast by a horse-drawn carriage, which took us downtown, where we shopped, found this sparkly snowman (which actually sits on a branch with a light stuffed inside..no comment) and then had an amazing dinner at an outdoor grill. I had the best hot after-dinner drink I've ever had there.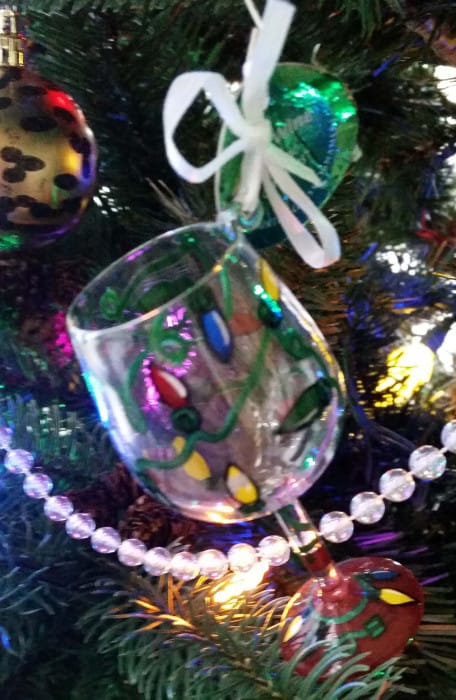 And another wine ornament, also gifted to me by the same friend who gave me the other wine ornaments. Isn't it so cute with all its details?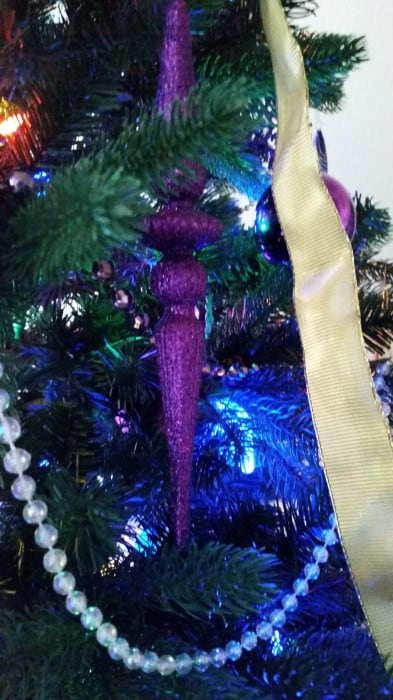 Just another pop of purple, with a brief glimpse of the Victorian ribbons that dangle down the sides of the tree.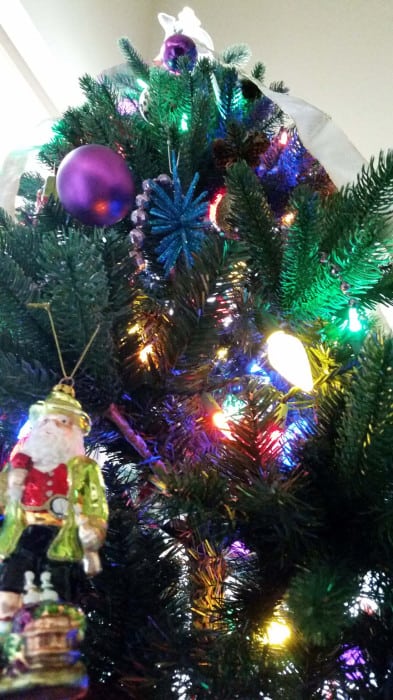 And an ending photo taken partway up the tree, showcasing the top. I love the glitter, the sparkle and the variety of colors. I could sit by this tree all day long! In fact, I am right now.  One of the best perks of working at home is being able to choose your work environment, and nothing's more seasonal and festive than this.