First, dream come true. With that admission out of the way, let me get on with the business of sharing some inside commentary from the cast of Captain America: Civil War. Just like when I was privileged to attend the interviews for Avengers: Age of Ultron, I drooled a little, stared a lot, laughed repeatedly and gained insight on this spectacular cast and their feelings about the movie. This member of Team Cap interviewed both groups and while I'm happily remaining Team Cap, this was such a fun interview and I'm excited to share some of the insights from this press junket.
I was so fortunate, let me just say, to have been seated almost center in the front row in the posh hotel conference room. Prime real estate for a beefy and beautiful set of actors like the two groups. There were so many actors in attendance that the interviews were broken into two sections. I'm Team Cap, 5000% (and even moreso after seeing the movie) but Team Iron Man is pretty darned amazing.
Team Iron Man Press Conference:
·         Robert Downey Dr. ("Tony Stark / Iron Man")
·         Don Cheadle ("James Rhodes / War Machine")
·         Paul Bettany ("Vision")
·         Emily Van Camp ("Sharon Carter / Agent 13")
·         Director Anthony Russo
·         Producer Kevin Feige
Team Captain America Press Conference:
·         Chris Evans ("Steve Rogers / Captain America")
·         Sebastian Stan ("Bucky Barnes / Winter Soldier")
·         Anthony Mackie ("Sam Wilson / Falcon")
·         Jeremy Renner ("Clint Baron / Hawkeye")
·         Elizabeth Olsen ("Wanda Maximoff / Scarlet Witch")
·         Paul Rudd ("Scott Lang / Ant-Man")
·         Director Joe Russo
·         Producer Kevin Feige
That's one heck of an array of talent, with a lot of smiling, laughing and inside jokes.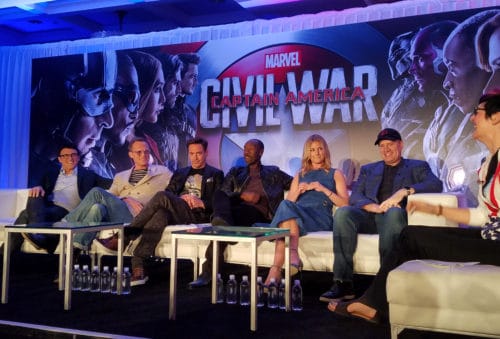 Still…I'm a member of Team Cap.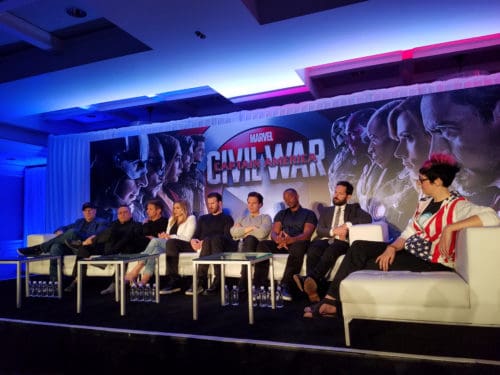 Without giving anything away about the story line, let me dive into behind-the-scenes, or better yet, behind the curtain, as the Russo brothers and Kevin Feige are wizards. They are masters at telling the progressing story of the Avengers, both old and new. Even if you haven't seen any of the prior Marvel movies (who are you??) you'll be able to easily pick up on the who and what without having to know the back story. (But if you do know the back story, you'll appreciate the evolution even better. Go watch at least Age of Ultron. Right now. Go!)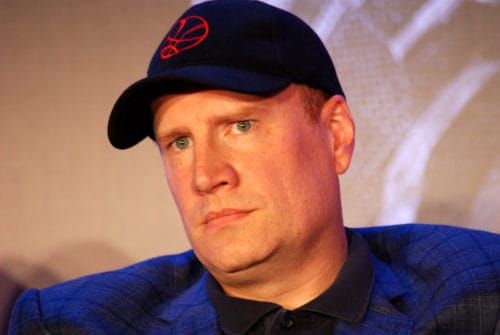 There is a lot of special effects, in basic terms, in all of the Marvel movies, but as Anthony Russo mentions, it won't take long before you are amazed at the fact that a once-non-human persona now has a body. There is also a 'very expensive' flashback scene that is entirely believable, but I won't say anything beyond the fact that they did a fantastic job in the technical aspect that gives you so much more insight into what shaped the characters. And then there's Vision, who spent hours and hours in the hot Georgia sun, suspended by wires in order to portray his airborne skills.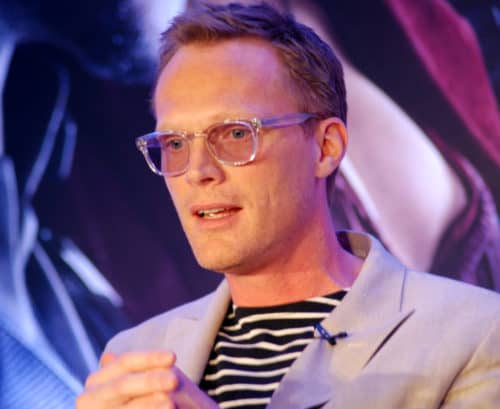 One very good question posed by press was: why were new characters brought in? Marvel and crew felt it was very important to bring in new people that didn't have the same emotional investment that the previous Avengers have. Ant Man and Spiderman brought new facets and allowed them to explore different areas, as well as a little well-placed humor.
Emily Van Camp, or Agent 13/Sharon Carter, addresses being a new-ish character, as this is only her second Marvel movie. (Her first was Captain America: Winter Soldier.) Allowing her character to become more involved in Civil War was a natural progression of her Winter Soldier role, where she as an actress hit her stride in addition to helping Agent 13 mature with the rest of the cast.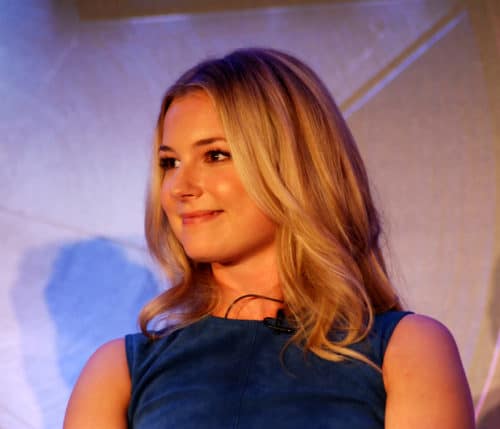 One favorite part of the interviews for me was listening to Anthony describe bringing in Tom Holland, who plays Spiderman, a young man new to the series and the role overall, and how generous Robert Downey Jr. was in helping him assimilate to what appears to be a pretty tight-knit crowd. Robert, as always, was energetic, witty and quick with the comebacks. It's clear that he and Don Cheadle maintain a close friendship and their between question antics had everyone wanting more.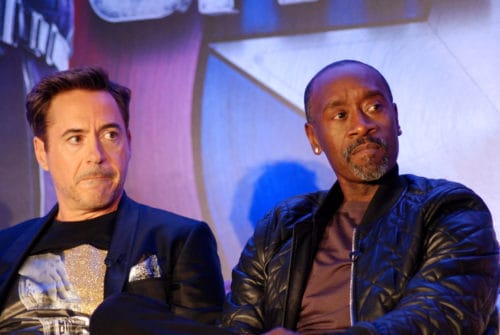 Press junkets are always fun, but when the group plays around a little, even moreso. Jeremy Renner moving over so Joe Russo couldn't sit down showed his playful side. After the Age of Avengers junket last year, I had the feeling that Chris Evans and Jeremy were a pair who enjoy keeping people on their toes.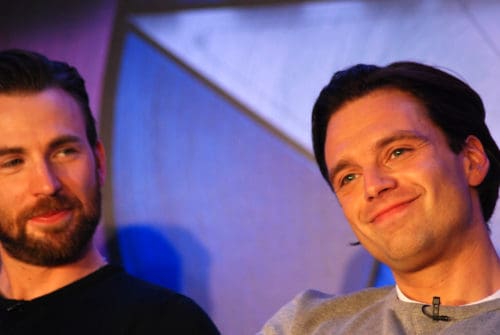 Something that had almost nothing to do with the movie itself was the gingko "biluba" joke — the rivalry between sides was lighthearted amongst the cast and was pretty hilarious. "Team Baby Oil," aka Captain America himself…I could listen to these guys go on for hours!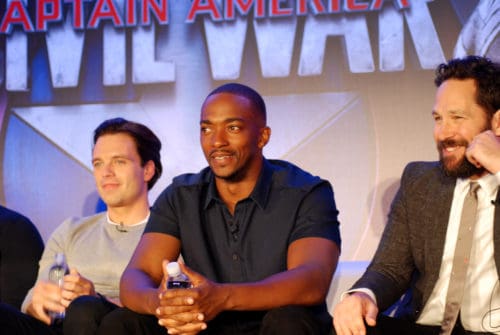 Bringing Paul Rudd in was genius. He's a hero in his own right, and all I'll say is the airport scene will prove it. Much like Robert Downey Jr. is Tony Stark — off-screen and on, with his wit and expressions — Ant Man is Paul Rudd. He's personable yet humble and just a little starstruck.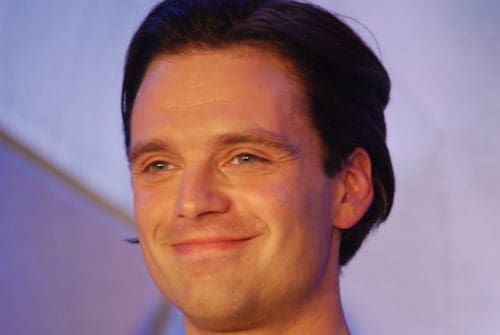 And Sebastian Stan. I'll just leave this photo here, as he's simply adorable. He's not nearly as dark as Bucky appears in the movies — for good reason, of course — and his smile is ever-present. I'm so glad he's a member of Team Cap.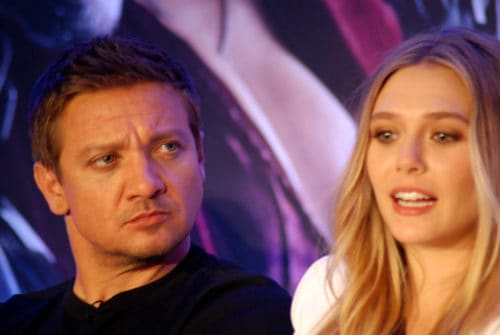 Jeremy Renner and Elizabeth Olsen were squeezed together on the far end but it didn't stop them from joining in on any silliness or answering questions. Both of their roles grow from the interaction shared in Age of Ultron — remember the "The city is flying, we're fighting an army of robots and I have a bow and arrow. Nothing makes any sense!" portion?
Here are a couple of small tidbits of the interviews — I don't have high-tech equipment but I hope you enjoy them!
Captain America: Civil War
In theaters May 6
Go buy your tickets now!