It's summer time. School's out, temps are rising and we're trying new things. New activities, new recipes, and trying to cram a lot of fun into a few short weeks. (School here starts the first week of August!) That means, as you can expect if you've been reading my blog, NEW FOOD ADVENTURES. Cupcakes and ice cream are at the top of my list!
Last summer, I bought a new ice cream machine. It's gorgeous! But, it's still in the box. I had all these grand plans, but actually getting to it was a different story. The idea of having a simpler recipe to make ice cream and other frozen treats is really appealing, so I gladly accepted the offer of a complimentary review copy of "No-Churn Ice Cream" by Leslie Bilderback, published by St. Martins's. Leslie is a certified baker and a graduate of the California Culinary Academy, in addition to being the bestselling author of "Mug Cakes," a book I clearly need to get my hands on. At 168 pages, the book has over 100 recipes that will undoubtedly meet everyone's sweet frozen treat needs.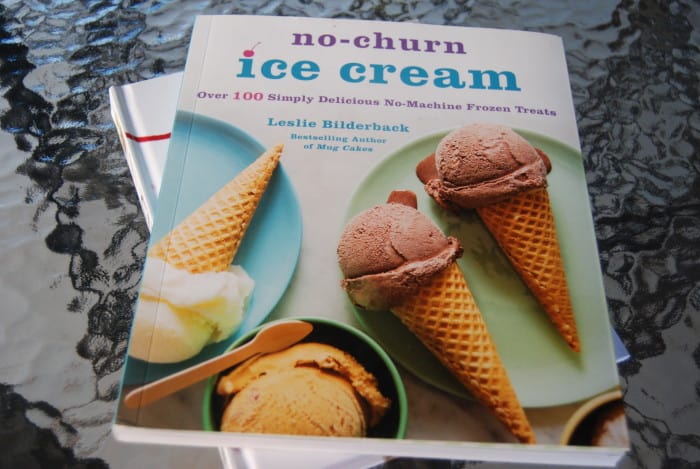 Almost everyone likes ice cream, but not everyone has a machine or wants to buy one. There are ways to make ice cream without the investment or extra equipment purchases of any sort. With recipes like Strawberry-Rhubarb and Pineapple-Pepper, you'll find a lot of ways to get creative with ice cream flavors, if you're looking for more than the classic recipes, like chocolate, which are also included in this book.
Then there are the gelatos, sorbets and sherbets. Bananas Foster Sorbet, Lampone (Raspberry) Gelato, Persimmon Sherbet, the list goes on. (I tried to make the Persimmon Sherbet, as I'm a huge persimmon fan, but when I went to the store to purchase persimmons, they were in bad shape.)
Each recipe has a description at the top, which includes a notation about the amount that the recipe makes, a list of ingredients, a list of steps and a photo on the page to the right. Some recipes have additional variations or further instructions on how to prepare a portion of the recipe, like the sweet potatoes for the Sweet Potato-Marshmallow Swirl Ice Cream. (I need to try that one next!)
And if you're like me, you like toppings on your ice creams, so the Toppings and Accompaniments chapter will be a favorite. Meringues, cremes, sauces, fruit sauces – all the way down to individual types of fruit and preparation – zest, cookies and dippers. It's all there, in addition to directions on how to make fruit jam much earlier in the book.
You'll also want to skip ahead to read the chapter, Sugar 101, before you do too much. It's a quick read but necessary, if you want to learn about sugar temps and results, followed by a brief glossary on terms. So helpful!
Paperback, easy to lay flat and colorful, this book will earn a place on your shelf for year-round treats that don't require an ice cream machine!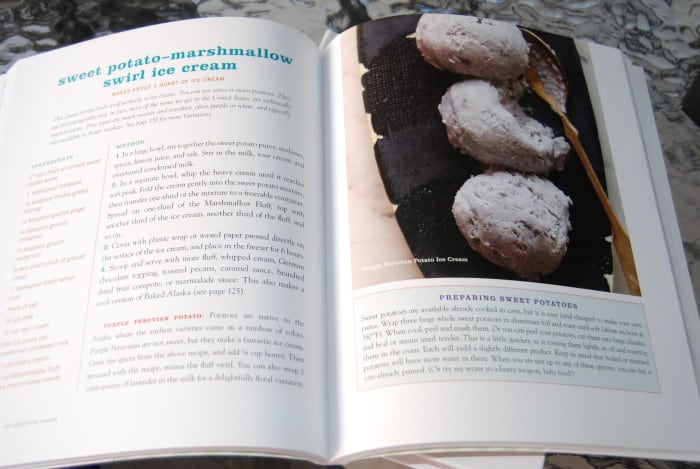 Then I was also sent a copy of "Sweet Savory Cupcakes, and Sometimes Boozy" by Alison Reide, with photos by Molly Hauge and published by the Countryman Press. Any cookbook with cupcake in the title has my attention, and then if you add 'booze' to it? Well, you have my attention.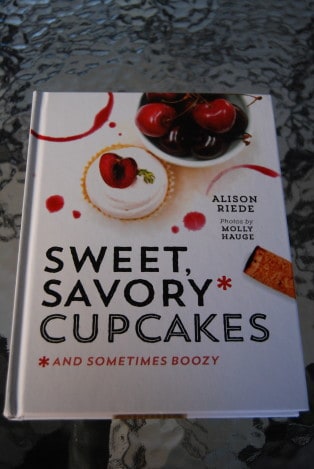 In fact, Florian Bellanger of Mad Mac NYC (and the Cupcake Wars judge) had this to say about the book:
"These are the perfect cupcakes to entertain with; they'll give your guests a conversation topic and you'll have an excuse to open a bottle of wine to pair with them."
Alison won Food Network's Cupcake Wars back in 2011. She also owns Sugar Cat Studio in Santa Barbara and has her cupcakes featured in celebrity gift baskets.
This book is designed to help you create cupcakes with a new flare – you can mix and match the frostings and batters, sauces and toppings, in combinations to win over your guests or just enjoy on a fun night at home. Combinations such as almond cupcake with cherry rum filling and almond cream cheese frosting or mimosa cheese cupcake with orange champagne frosting and orange zest… I die. They all sound amazing, don't they?
The book is hardcover, 185 pages and full of photos along with notes. It has a unique set-up, with chapters created around flavor profiles, such as tart, citrusy and light, or salty and nutty, or savory. (There are others, but I can't give all the secrets away.)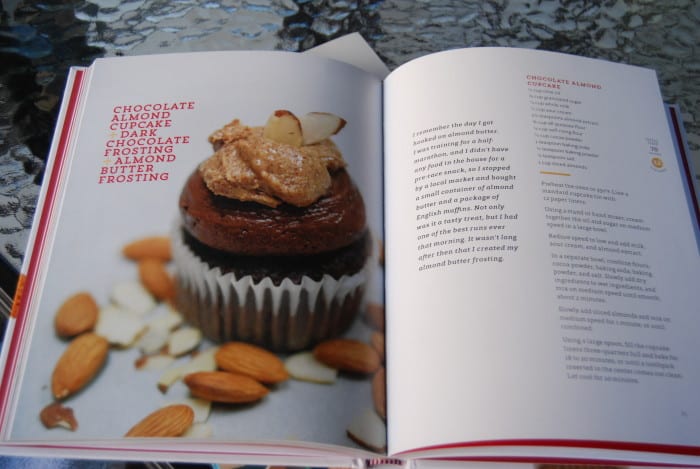 Photos accompany the recipes, with clear delineations between various components of a successful cupcake. I saw so many I wanted to make as is, but also saw a lot of possibility in many other combinations as the book can only give so many.
One good example of covering the basics and making it do-able for everyone is the recipe for Chai Spiced Buttercream. (Yum.) It includes Chai Tea Infused Milk, and they include a recipe for that as well, then some notes on how to assemble the cupcakes, making this book easy enough for any novice and a challenge enough for the seasoned baker.
My dream match from this book? And Orange Chardonnay Cupcake with Caramel Bourbon Sauce and Salted Caramel Bourbon Frosting. A bit of a stretch but then, I make dangerous cupcakes.
Summer is for cupcakes and ice cream. What are your favorites?