As an active, busy mom in southern California, my dry winter hair is a real problem this time of year. We get a lot of sunshine year-round, but living in the shadows of the foothills, we get periods of heavy wind and rain. We're inside our homes, where our furnaces keep it warm but the air is dry. We go outside and expose our hair to the elements. The cycle continues, and it all does a number on our hair.
To help combat it, I stopped using chemicals on my hair back in 2018. Since then, my hair's growth has increased, it doesn't break off and it's softer. I also don't need to punish my hair with curling irons on the daily as my natural wave has returned.
My hair is just one example of the benefits of using safer products to keep it clean and styled. I'm sold on never going back, so I was excited when Sauce Beauty reached out to ask me to be an ambassador for their products. I said a quick yes, so this post is sponsored by Sauce Beauty, and I get to use their products to tell you about them!

Sauce Beauty products are clean products: salt-, sulfate- and paraben-free. They're basically haircare for foodies!
Here's some info directly from Sauce Beauty.
WHAT IS FOOD WITHOUT THE SAUCE? FOR MOST RECIPES, THE SAUCE IS WHAT MAKES IT HAPPEN. IT GIVES FOOD ITS UNIQUE FLAVOR, MAKING THE ORDINARY A LITTLE MORE DELICIOUS AND A LITTLE MORE FUN.

WE BELIEVE THE SAME APPLIES OUT OF THE KITCHEN. INTRODUCING SAUCE BEAUTY. HAIRCARE PRODUCTS INSPIRED BY AT-HOME KITCHEN HAIR REMEDIES AND RECIPES DEVELOPED BY WOMEN FOR CENTURIES – ALL PERFECTED BY SCIENCE.
SAUCE [sôs] noun: 1. a thick liquid used to add moistness, flavor and visual appeal 2. something that adds piquancy or zest.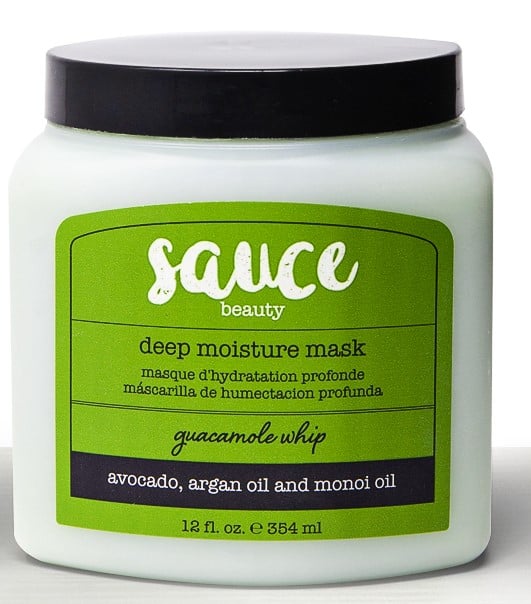 Doesn't it make you even more interested in testing the products? I got to try several so far: Guacamole Whip Deep Moisture Mask, Chimichurri Mint Tingle Intense Repair Shampoo and Intense Repair Oil Treatment. The products smell fabulous, they're affordable and they provide results that typically come from much more expensive products. My dry winter hair is going to be a thing of the past!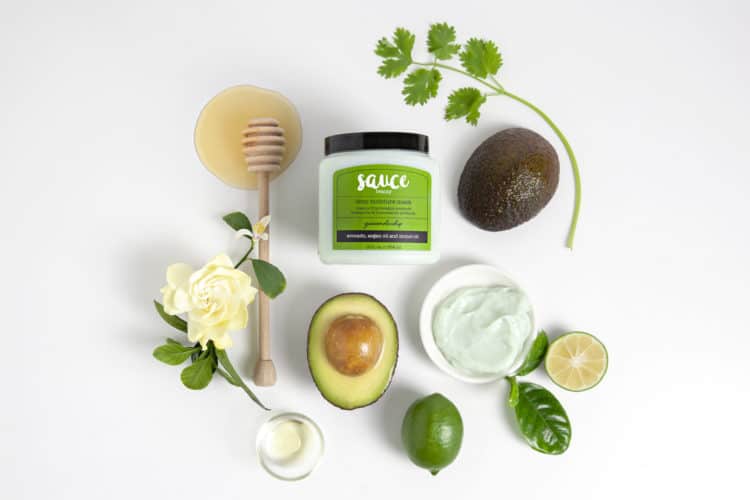 When I started using a natural approach to help my curls return (sometimes called the Curly Girl Method), I was a bit shell-shocked at the cost of the items I needed. There are a few cheaper options but not everyone's hair has the same results so there is a process of trial and error to see what works best for your type of hair. I was thankful that Sauce Beauty products ended with good results on my dyed coarse hair that leans towards the dry side.
When you shop at the Sauce Beauty website, you'll find that each item has a full description of ingredients, scents and benefits of the product in addition to the type of hair it's best for. There are products for dyed hair and natural, and all types in between. The ingredient-driven botanicals and extracts are what your hair craves.
My hair responded so well to the products! I was able to pull my fingers through my waves, and they can sometimes be a little unruly, with random spiral curls that make it impossible to brush without fear of a frizzy mess.
Sauce Beauty was founded by Andy Rah, a foodie with a passion and history of creating quality hair care products. Sauce Beauty is a combination of those two passions, and he has made a success of using only the best ingredients, such as Jarrah honey, Greek yogurt, avocado, shea butter and more. You can find the products at Sally's Beauty and Amazon or you can buy them directly from the Sauce Beauty website.
Let me know what you think when you try them! Your frizzy or dry winter hair will go away and bonus: your significant other may just tell you that you smell really delicious.