As an annual passholder, I fit in several trips to the parks before my current pass is blocked for the last two weeks of the year. (Bummer, but I have done zero Christmas shopping or baking so now I have less distraction and more inspiration after all the holiday ideas I saw at the parks!) The last two visits, we decided to purchase Sip and Savor passes, giving me and the husband the chance to eat our way through Disney California Adventure, trying all the special holiday-inspired treats. What fun it was!
The Disney Festival of Holidays takes place in Disney's California Adventure through January 7, 2018. For $45, and available only to annual passholders, each Sip and Savor Pass gives you eight tear-off tickets to use on your choice of tastings throughout 11 kiosks. You can purchase it in AP Corner and with the pass, you get a commemorative lanyard and a special collectible metal pin at each of the kiosks from which you try food. You can end up with a really cool collection of one of a kind pins — unless you're like me, and you return to the same booth a second time. (That pork belly though!) Keep in mind that you can't use the Sip and Savor Pass on beverages that contain alcohol; the beverages are a little pricey but every single one we tried was worth it. More on that later.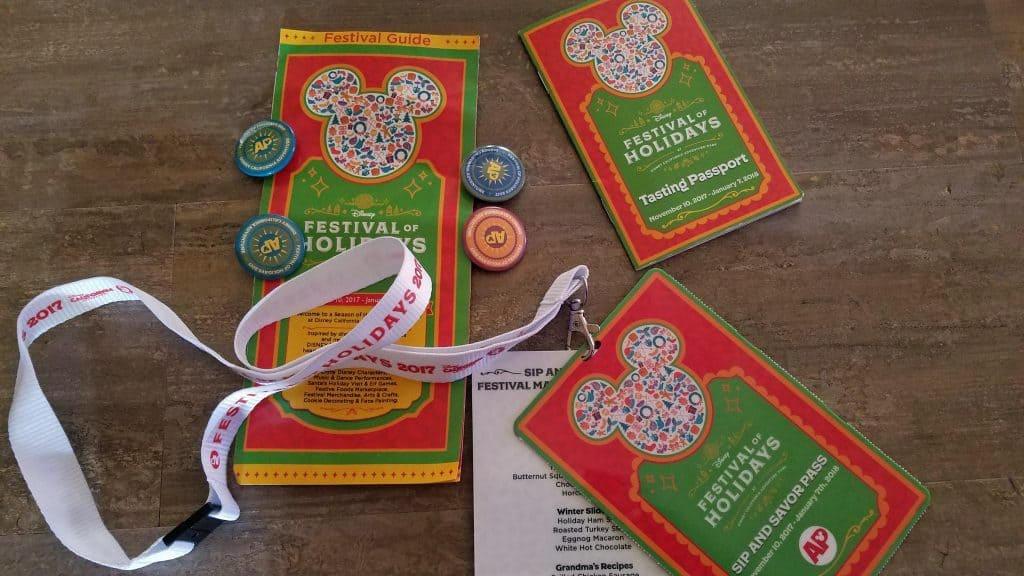 Disney during the holidays is a spectacular event. As usual, Disney spares no details in creating an extraordinary display of holiday beauty in all places. Look up, down and all around — in each direction, the holiday spirit is present. Add in a MaxPass for photos and you can commemorate your visit for only $10 per day or add it to your annual pass for $75. (I have it on mypass but the husband just pays $10 per day if we go on days where the parks are more crowded, so we can use the FastPass option on the Disney app on our phones.)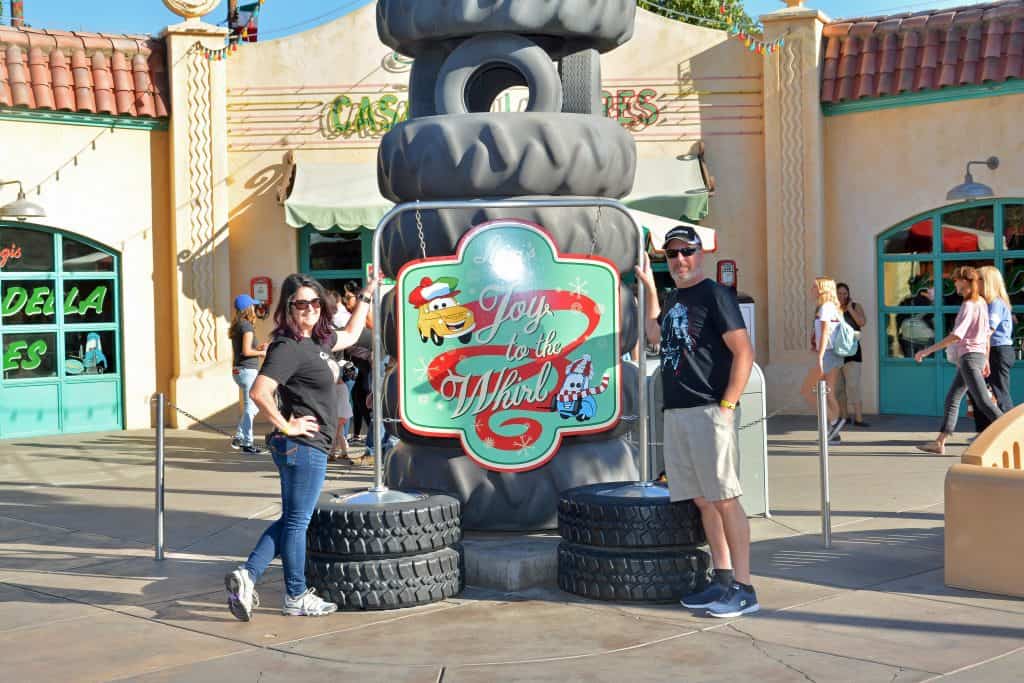 Joy to the whirl! Cars Land is as decorated as it could be, from wreaths above to Christmas trees made out of license plates. Once it gets dark, it becomes a whole new vision that you have to see to believe. Wherever you go during the day, see it again at night and enjoy it all over again! The Sleeping Beauty Castle in Disneyland is the most photographed place in the parks and you can't beat its sparkle-covered exterior during one of the evening shows. (Be sure to check the daily schedule and get to the castle before the time to ensure a good viewing spot.)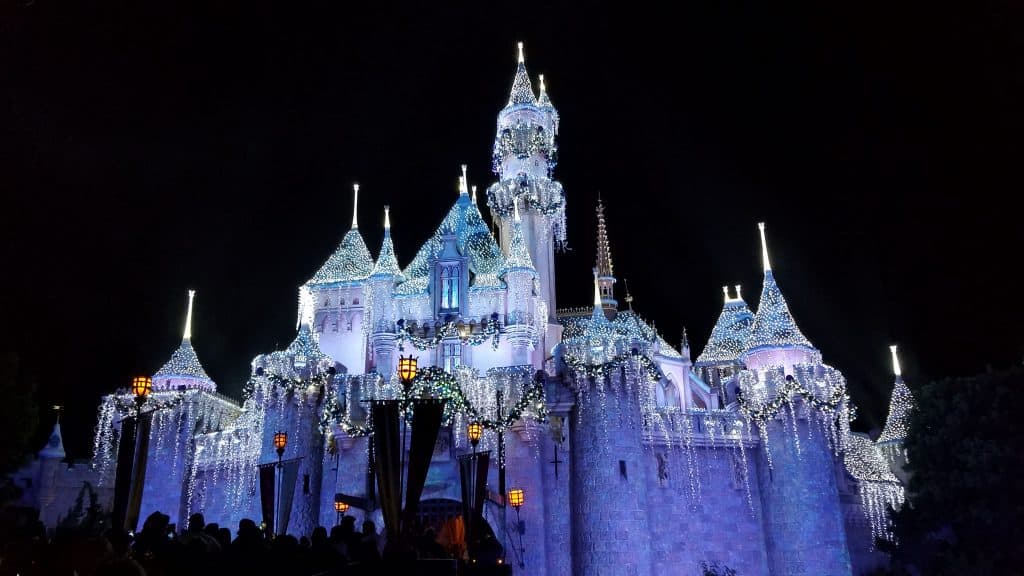 But back to the Disney Festival of Holidays. Be sure to pick up a Tasting Passport when you purchase your Sip and Savor Pass. You'll need to refer to it to see which kiosk offers what foods/drinks and it also includes a map. You don't need the pass to purchase foods, but it will save you money if you plan on eating at least eight tastings.
My favorite tasting was the Cookie Butter Cheesecake & Jelly Tarts, available at Kiosk #6, Holiday Duets. The two tarts are big enough for a dessert for one, but we shared. The cookie butter flavor is strong in the cheesecake and the crust and was delicious with the light layer of jam underneath the cheesecake filling.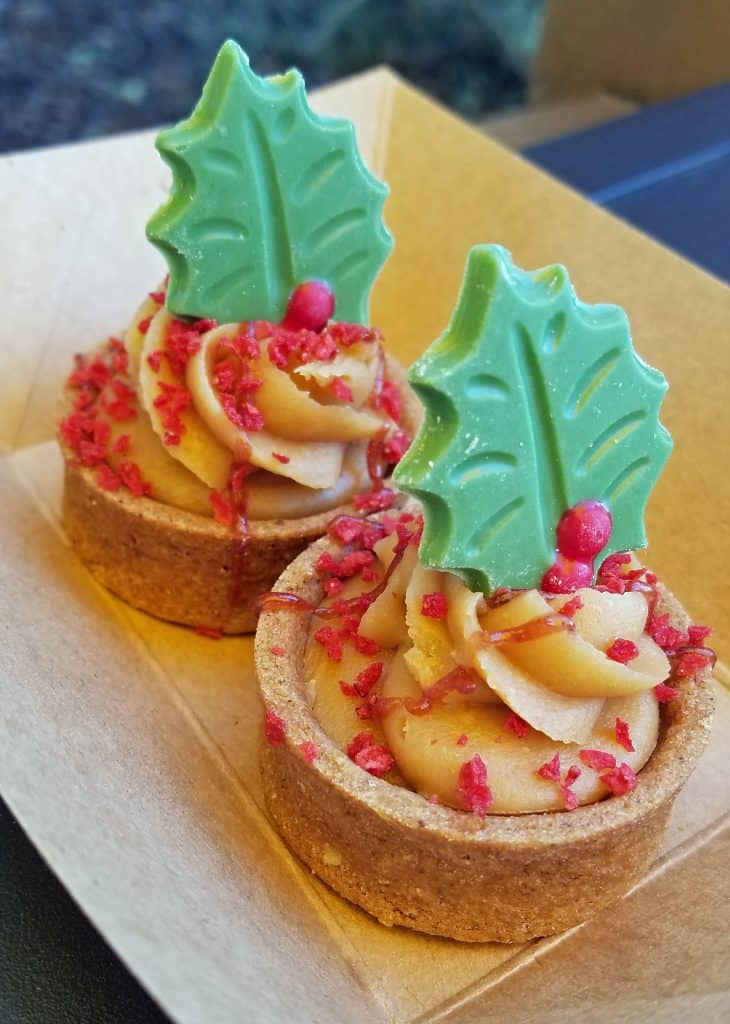 My favorite savory food was the Braised Pork Belly on top of Garlic Fried Rice, available at Kiosk #8, Blissfully Braised. The crispy pork rinds add a new texture that was a surprise and the scallions add a little tang. The first time I bought the pass, I ate the pork belly and an order of the above tarts and was actually full so space your foods out.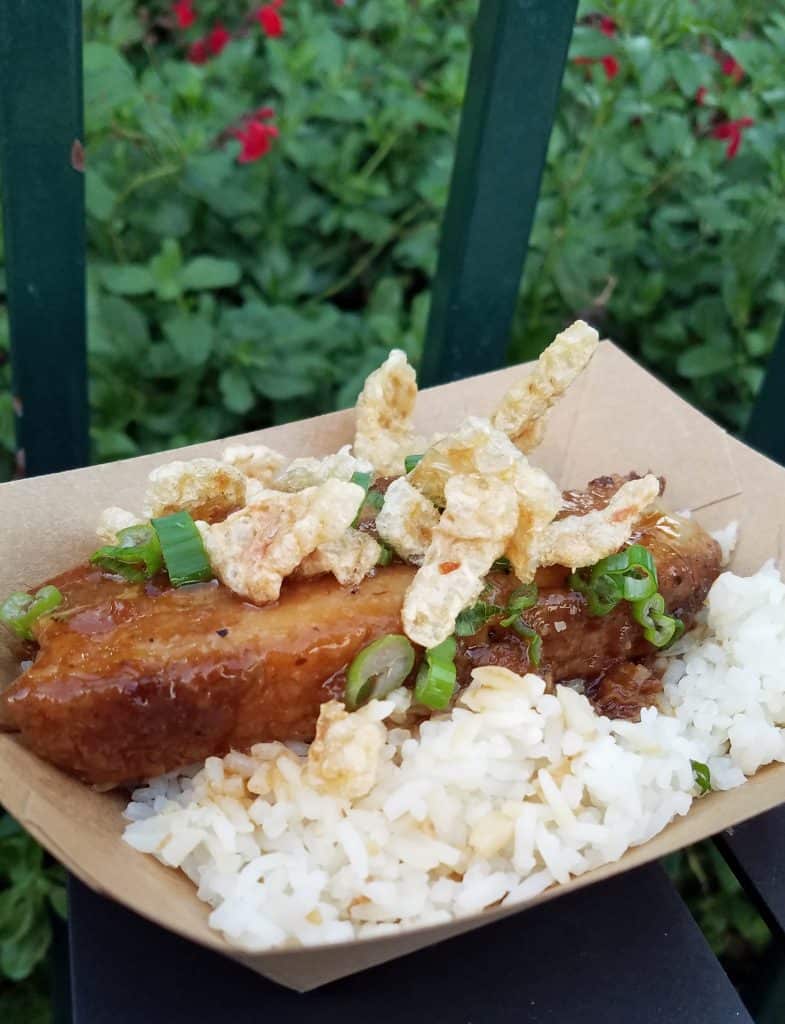 The husband got this Seared Salmon Filet with Lemon Caper Sauce over at Kiosk #3, Joy to the Sauce. (I love the touch of sass in the kiosk names!) It was another filling food with good flavor. I didn't try it, I was still eating my pork belly but he enjoyed the moist salmon and the texture of the potatoes.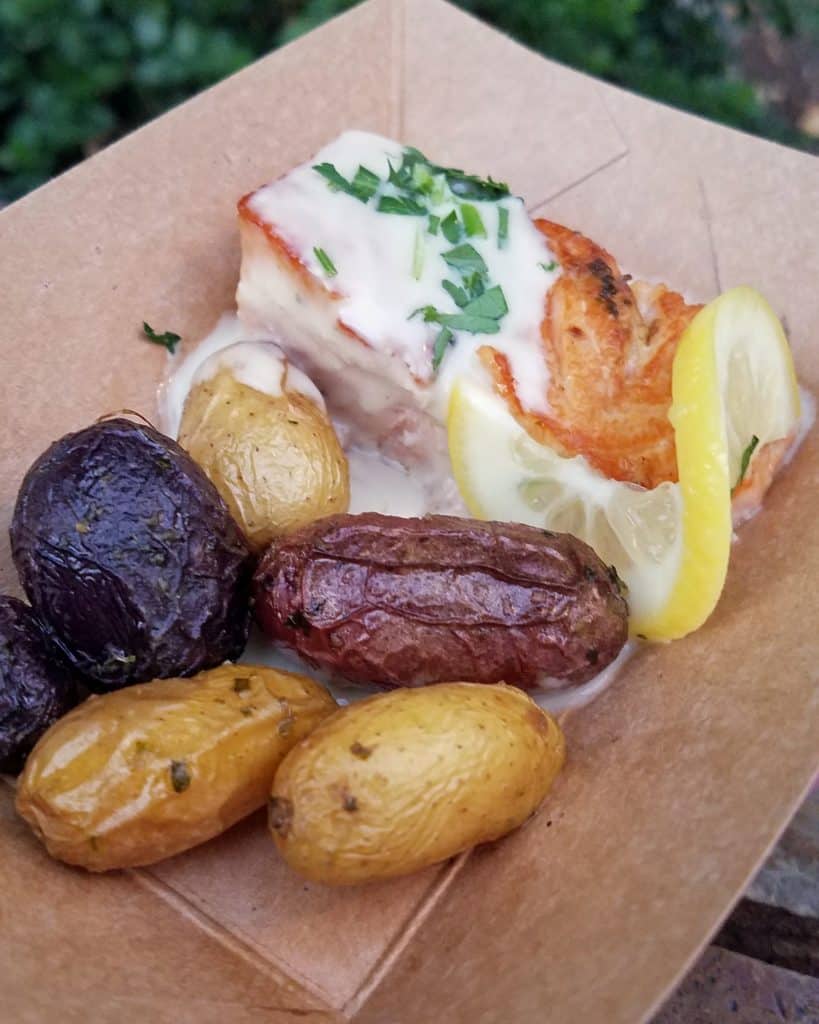 Because we're gluttons for punishment — aka being too full — we tried one more savory dish, the Warm Polenta with Chilled Crab Salad at Kiosk #6, Holiday Duets. Turns out I'm not a fan of the combination of hot and cold together in this manner, but the crab salad had good flavor and I absolutely loved the polenta. We had this towards the end of the day, as the temperatures were dropping, and the warmth of the polenta was comforting.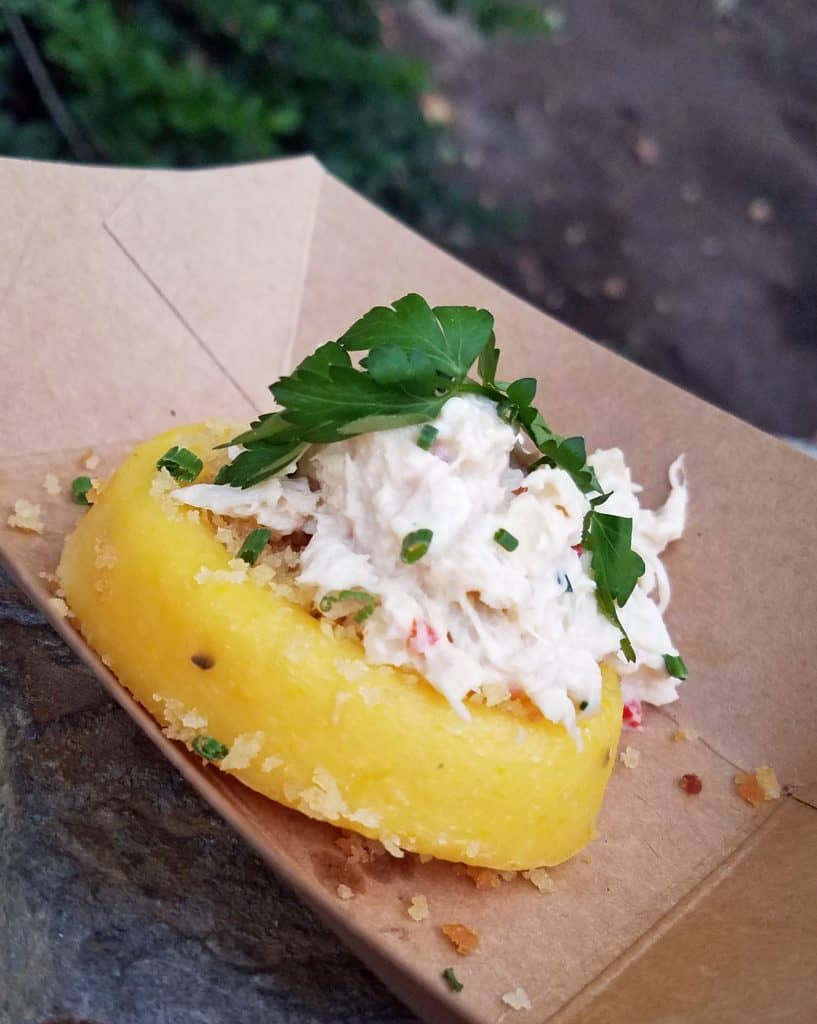 One of the Bourbon Ciders with a Bourbon Marshmallow (available at Grandma's Recipes, Kiosk #11) would have been perfect just then, but I had already tried it the week prior and I'd enjoyed this Pomegranate Martini with Chipotle-smoked Sea Salt. It's on the big side, which is not a complaint, and is very refreshing and tangy. The sea salt's smokey taste really adds to the drink. This is a must-try.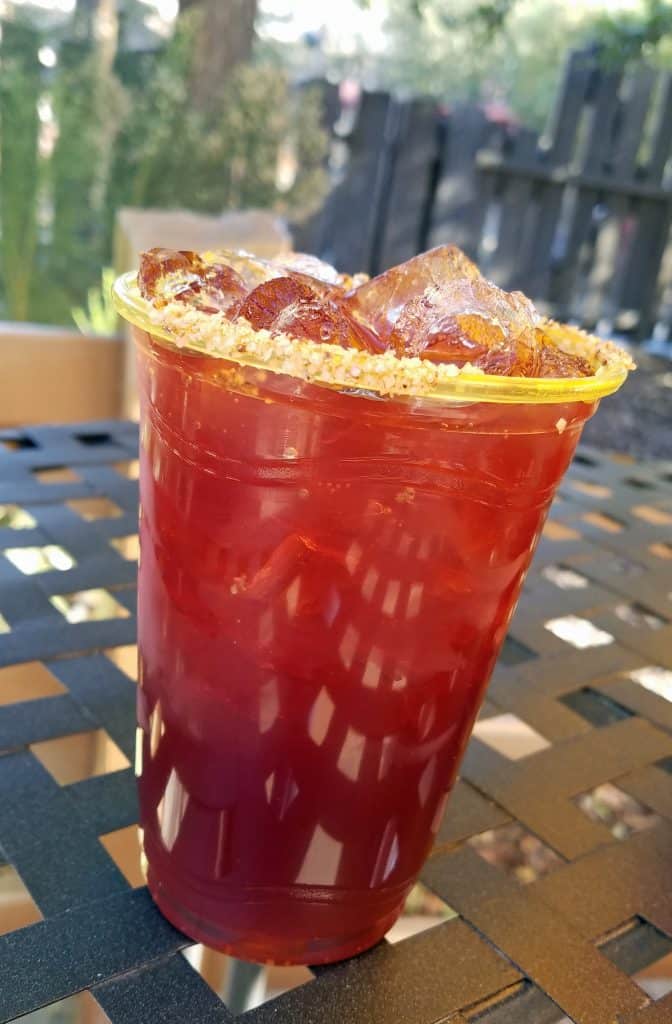 Capping off the day was this Cranberry Pear Tart with Rosemary-infused Cream. Not overly sweet, it's a departure from the other treats we'd tried because it's got a slightly savory component, more like an appetizer and not a dessert. I could order this one a few more times!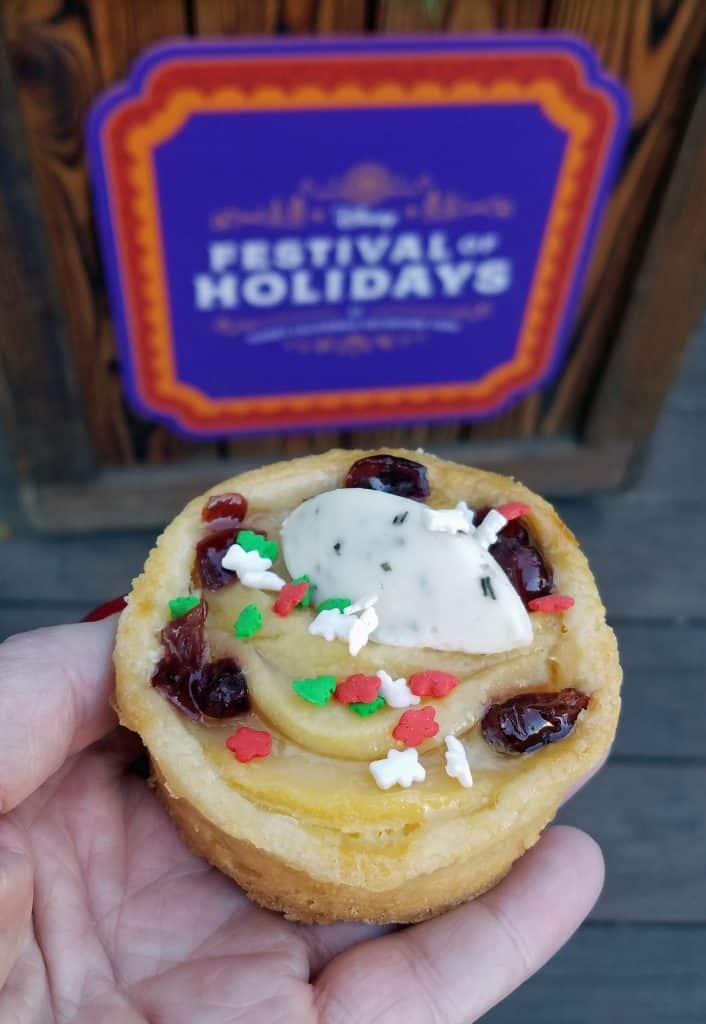 If you can, get down to the Disney Festival of Holidays and enjoy the festivities. From all of us here at Dangerous Cupcake Lifestyle (and It's a Small World), we wish you happy holidays!