It's time to get OUT OF THE BOX and watch the new Ryman Arts livestream art-making party on Friday, May 29! Hosted by Disneyland Resort announcers Bill Rogers and Camille Dixon, Out of the Box features an exclusive art-marking demonstration by artist and former Walt Disney Imagineer Eric Robison. Proceeds from Out of the Box will support Ryman Arts' service to young artists.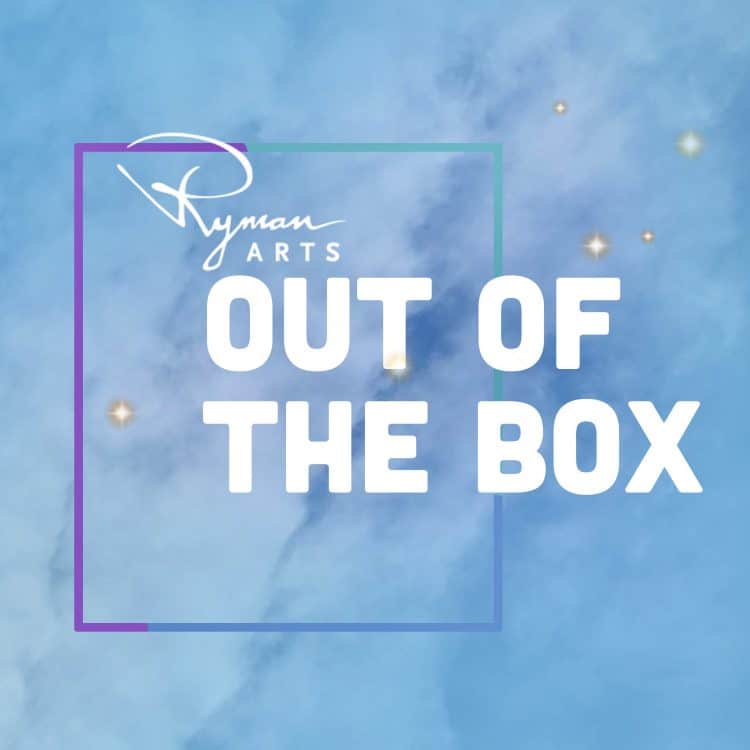 For a donation, you too can attend this fun evening, taking place on May 29 from 7:00 – 8:30pm PST. Because it's being held online only, so you can all attend while safe at home, you only need wifi to be able to be a part of this fun evening!
Here's a little more about the night, straight from the Ryman Arts website.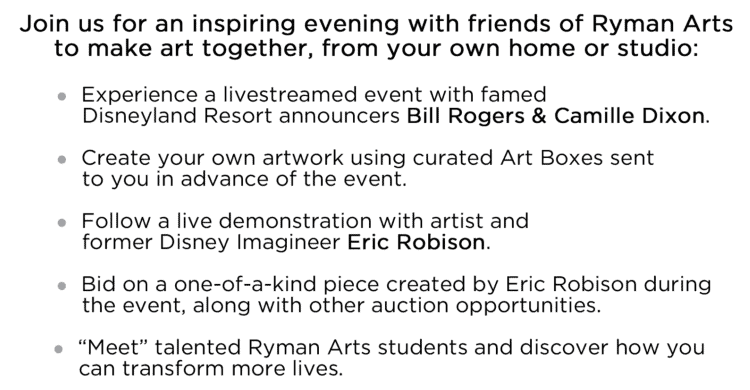 Every purchased ticket not only includes participation in the evening's events, but you will also receive a package of Ryman Arts art supplies, sweets from Bella Sophias Chocolates along with other awesome surprises!
If you want to go a little further, you can see on the website how to become a sponsor of the event. In addition to knowing you've helped other art students achieve their dreams of success in the art field, but you'll receive a gourmet dinner for two, including wine, delivered to your home, along with two art boxes and recognition at the event for your support of young artists. That's a win-win!
As a participant of the evening, you'll be able to take part in the online auction. The items will be available online soon, so head over to the Ryman Arts website soon to find out what's going to come up for auction during this exciting event.
If you're new to Ryman Arts, in a nutshell: Ryman Arts is a non-profit organization that serves approximately 500 students annually by providing a cost-free art instruction, college and career guidance, art supplies and support services. Kids from all over Southern California are eligible to apply for this amazing experience.
A couple of years ago, I had the opportunity to attend an event honoring Kevin Feige. What an evening! (You can read more about that here, including how I got to meet Kevin and how he showed my tattoo to his fellow Marvel friends, David Dastmalchian and Peyton Reed.) This year's event features a Disney Imagineer, so you know it's going to another amazing time!
While we're all locked down, we're finding new ways to help others, be entertained, and smile. This is one more way to pass the time in a way that you'll remember!