A few years ago, I watched my first Disney•Pixar short, and I fell in love with the idea of a short story that pulled at the heartstrings, a bonus before settling in for the full-feature movie. I don't even remember which one that was, but since then, I've seen so many that I can't tell you what my favorite is. We watch them, we like them, and then we want to be able to watch them again!
Disney•Pixar has made it easy now to enjoy them all at once, all on one Blu-ray. From Disney•Pixar and the creative minds who brought you The Incredibles, Finding Nemo and Toy Story comes the studio's latest collection of delightful and inspiring animated stories – Pixar Shorts: Volume 3.  Thirteen short films include Oscar® winner Piper (Best Short Film, Animated, 2016) and nominees Sanjay's Super Team (2015) and Lou (2017). With unforgettable characters, insightful bonus extras, and cutting-edge animation, it's a must-own for any movie fan!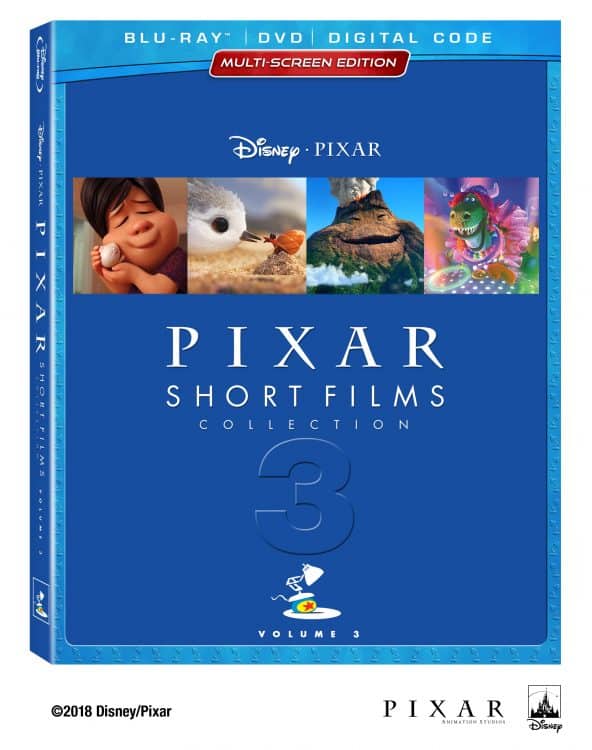 Pixar Shorts Together For The First Time:
Bao
Lou
Piper
Sanjay's Super Team
Riley's First Date?
Lava
The Radiator Springs 500 1/2
Party Central
The Blue Umbrella
The Legend Of Mor'du
Partysaurus Rex
Bonus Mini-Movie: Marine Life Interviews
Bonus Mini-Movie: Miss Fritter's Racing Skoool
Okay, so after reading through the list, I think I can tell you what my favorite is. It's Bao. No, wait, Lava. WAIT NO…Lou. Oh seriously, I love them all! The Disney•Pixar team can't do wrong when it comes to shorts, in my opinion. They pull at your emotions, make you laugh and end up happy, three perfect things for any movie, long or short. 
Seriously though, right now, I'm going for Bao. I saw it with my son at the Incredibles 2 screening and he got a little sniffly. Don't tell him I said that, he's a teenager….but that movie is the story of a mom dealing with her son growing up and away, so after watching it, my son promised he would never go too far away, enough to make me want to envision him as a dumpling that I eat in order to keep him close to me. Trust me, see the movie, you will lava it. (You need to watch that one, too.)
The Blu-ray is available for purchase now, as well as on digital download. Perfect for all ages, it would  make a great Christmas gift for any Disney lover in your life. I'm putting mine (which I got free so I could review it for you here) on my Disney shelf so I can watch it with my son again — or with my first grandbaby, arriving in March!
Go pick up the Blu-ray now!