Disney's Pixar has done it again, giving us an enjoyable family summer flick with a whole new meaning to 'fish out of water.' For any adult who can remember being overprotected by mom to any child who feels like they aren't being allowed to roam, Luca will provide laughs while pulling at the heartstrings. Just the premise alone, of sea monsters in Italy, is spot-on Disney fantasy you'll believe by the movie's end.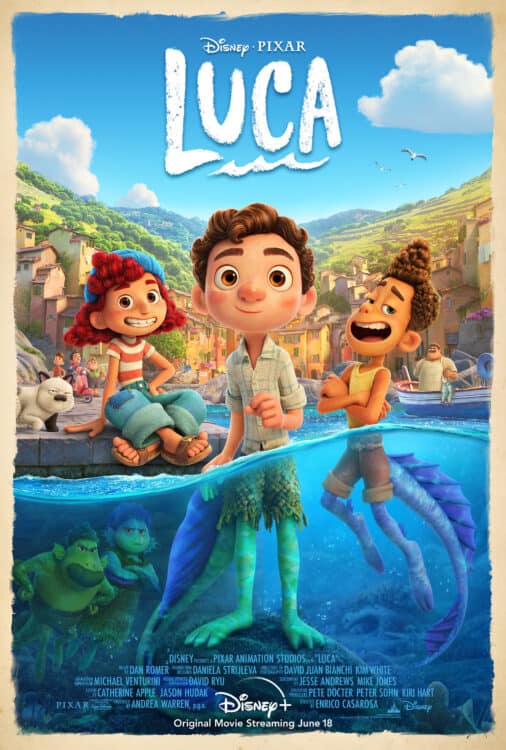 Every Disney movie has a message, and this one may have multiple, so depending on your emotions when you start, you may end up with a different take from the person who viewed it next to you. The underlying current of two growing children, unsure of how to move forward as themselves because they feel they're supposed to be something different, hits deep. They struggle for independence, each in their own way, while focusing on an arbitrary goal that's just a means to an even bigger end.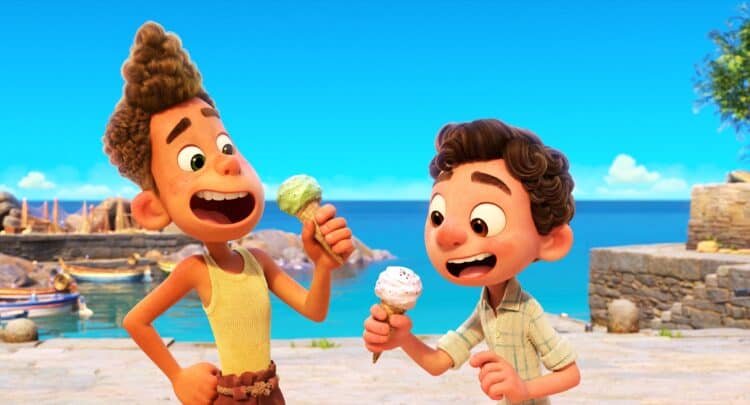 The voice cast features Jacob Tremblay as Luca Paguro, Jack Dylan Grazer as Alberto Scorfano, Emma Berman as Giulia Marcovaldo, Saverio Raimondo as town bully Ercole Visconti, Maya Rudolph as Luca's mom Daniela, Marco Barricelli as Giulia's dad Massimo, Jim Gaffigan as Luca's dad Lorenzo,  Sandy Martin as Luca's grandma, and Giacomo Gianniotti as a local fisherman.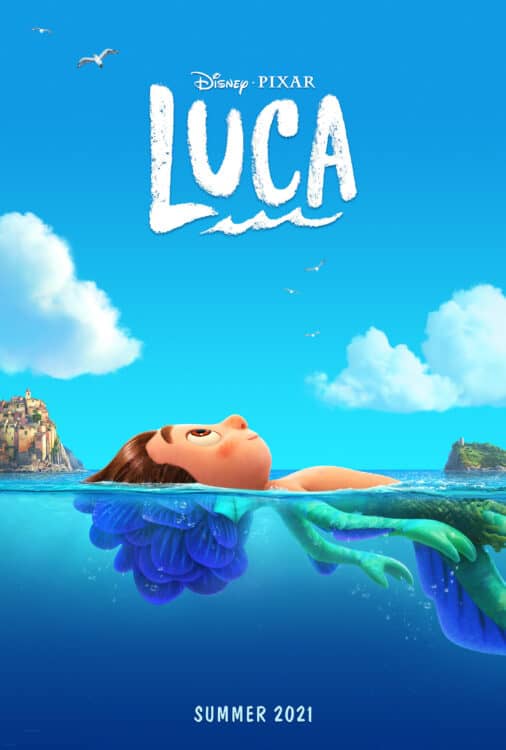 Luca and his new friend, Alberto, are hiding a big secret: they aren't just two kids trying to win money to buy a Vespa. They're actually sea monsters who snuck away to experience life in a the Italian town of Portorosso. Luca's mom is incredibly frightened about Luca living amongst the humans and has serious attachment issues at letting him try. Things are never easy though, and not just because Luca and Alberto can't touch liquid without morphing back into their sea monster state, and because of the amazingly talented Disney Pixar animation crew, they are some of the most beautiful sea monsters we'll ever see.
The under-the-sea scenes are some of my favorites, though the cobblestoned streets of Portorosso are realistic and whimsical, to the extent of a form of peace and tranquility despite the energetic citizens. The colors used in this movie play into the feeling of disparity between under water and on land; neither is better or worse than the other, but the difference is so vivid, you can almost feel the emotions as Luca transforms for his first time. If only sea monsters were as beautiful as Luca and Alberto, no one would ever fear them.
In life, we often hide who we really are, sometimes better than others. Our liquid is metaphorical, a non-tangible thing we avoid to keep up our facades. The freedom to not have to do that is something some of us never find, so you'll find yourself rooting for Luca to be able to fully let go of the fear and embrace who he is.
Luca is a movie that everyone will enjoy, young to old. There's no real violence or language, and the colors are so engaging that even younger eyes will be drawn in, at least for a good portion of its 1 hour and 36 minutes. Sea monsters in Italy won't sound so far fetched either.
Luca streams exclusively on Disney+ beginning June 18.