This week I got to screen the newest live action movie to come out from Disney. While this latest of original stories will put the main character in a new light, the Cruella costumes and music make the movie into something you will need to see.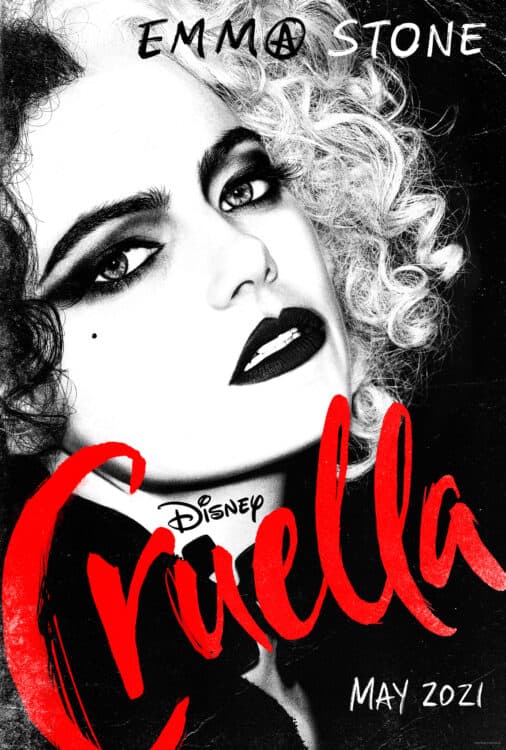 With 277 costumes, Cruella takes the visual story telling to the next level. Add in the amazing sound track (listed below) and it's an emotive glimpse into what made Cruella who we all know her as today.
Cruella's back story isn't what you think it is. You won't see it coming, and by the end of her saga, you may just add Cruella to the list of villains who don't really qualify anymore.
The cast of Cruella is talented. Headlined by Emma Stone and Emma Thompson, new faces and names like Joel Fry, Paul Walter Hauser, Emily Beecham, Kirby Howell-Baptiste and Mark Strong pull the diverse lineup together. Emma Stone's portrayal of Estella, a white-and-black haired child with a distinctly unique personality, is stellar. She's both tough yet fragile, strong yet insecure, extroverted yet not…but you'll have to watch the movie for all the details on how this loved child turns into a persona that's so hated yet so misunderstood. Essentially raising herself, with the help of a couple of fellow thieves, Estella turns into a young fashion designer with big dreams…and a little deserved contempt.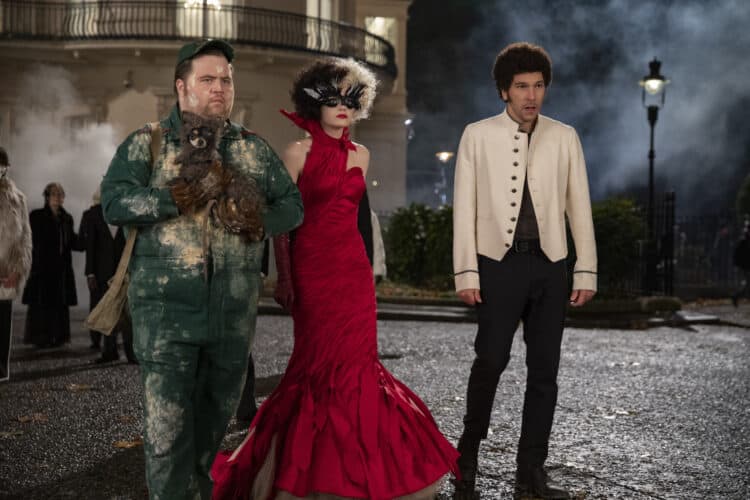 This PG-13 movie runs for 134 minutes, and you'll want to watch through the credits for a fun little bonus. It's a bit long for the longer crowd, but very little violence and the strongest word is 'fart.' Honestly, I'm a little surprised it was given a PG-13 rating, as there's no nudity the language is tame. It is a bit of a dark premise, and the most plays into it but I think kids under 13 would be able to handle it.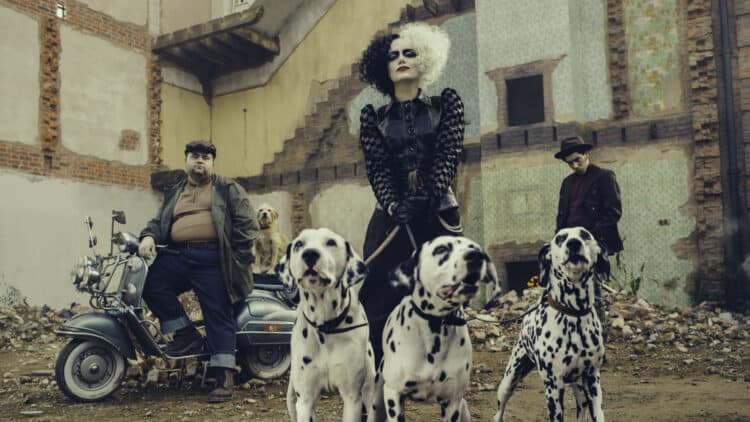 Now let's get to some fun facts, because the 277 Cruella costumes is just a top level number. Cruella herself wears 47 different costumes, and at one point, there are 74 in Cruella costumes at a ball. There are 96 different sets, in fact, and 16 different canines, which is a lot less than the 101 Dalmatians mentioned in later movies. (And if you're worried about dog deaths, don't. I was ready to grab a tissue and sob, but I ended up not needing it.)
So imagine this one scene: 88 wigs, with it taking four hours per wig in prep time. 80 dresses. 400 shoes. 2672 candles. Can you imagine how much work…and how much fun…was involved in making this movie?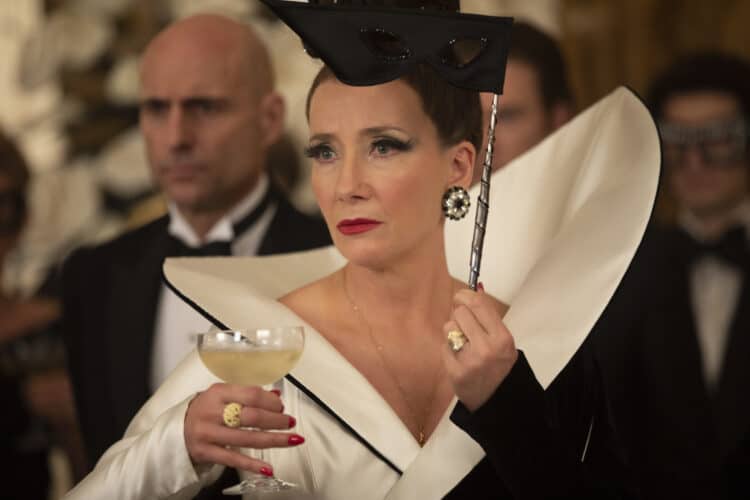 I personally loved not only the Cruella costumes, from the ones Estella designs to the one Cruella designs, even the ones the Baroness designed, but the music had me from minute one. The song written specifically for the movie, "Call Me Cruella," by Florence + The Machine is hauntingly beautiful. Keep an eye out for a dark, wordless rendition of "Sweet Dreams Are Made of These" throughout various scenes. Here's the whole sound track, now available for purchase online an iTunes and other sites.
"Call me Cruella" – Florence + The Machine (2:07)
"Bloody Well Right" – Supertramp (4:34)
"Whisper Whisper" – Bee Gees (3:25)
"Five to One" – The Doors (4:26)
"Feeling Good" – Nina Simone (2:53)
"Fire" – Ohio Players (4:35)
"Whole Lotta Love" – Ike & Tina Turner (4:41)
"Livin' Thing" (2012 Version) – Electric Light Orchestra (3:42)
"Stone Cold Crazy" (2011 Remaster) – Queen (2:15)
"One Way or Another" – Blondie (3:27)
"Should I Stay or Should I Go" – The Clash (3:08)
"I Love Paris" – Georgia Gibbs (2:30)
"Love Is Like A Violin" – Ken Dodd (2:10)
"I Wanna Be Your Dog" – John McCrea (3:55)
"Come Together" – Ike & Tina Turner (3:38)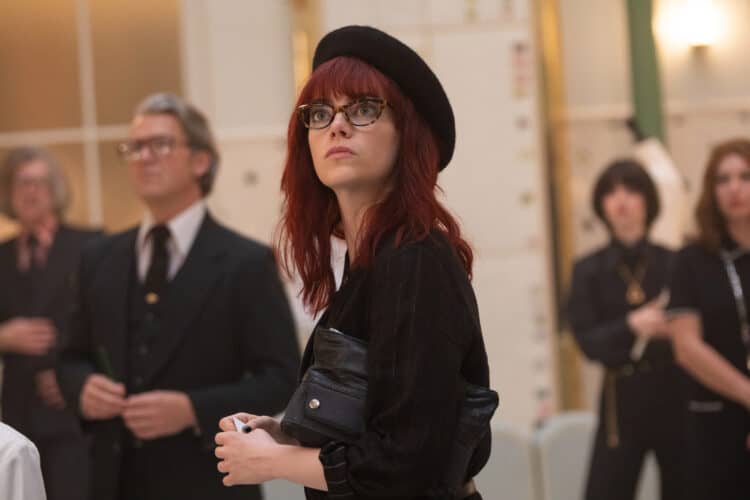 Cruella comes out on May 28 in theaters and on Disney+ Premiere (for a one-time additional fee). It's worth the money, and is great entertainment for adults and kids alike.
Watch the trailer here!
And since you are likely a Disney fan, just two weeks until Loki begins! Are you ready??