As part of last week's #QueenofKatweEvent, we got to hold interviews with the Cast of Queen of Katwe, Disney's newest live action movie. (Read my review here!) Available everywhere on September 30, it's the true story of a young girl whose life was changed after discovering her affinity towards the game of chess. Helped by a missionary, friend and mentor, Robert Katende, and given spitfire courage by her mother, Phiona Mutesi's story is one that needed to be told.
One of the interview sessions was with Lupita Nyong'o ("Harriet Mutesi"), Madina Nalwanga ("Phiona Mutesi") and Martin Kabanza (Phiona's brother "Brian Mugabi.") So much talent in one room! As we sat waiting for the cast to arrive, the excitement built to an audible level. Lupita, an Academy Award-winner, flanked by two young soon-to-be stars, entered the room and it was a surreal moment. I've seen Lupita at a couple of other press conferences prior to the Queen of Katwe event and I knew already that she exudes this air of peace. For such a popular star with talent to the moon and back, it's such a welcome surprise.
Her calm demeanor was shared by her two co-stars. Young kids, Madina and Martin, were adorable. Their smiles, their genuine happiness and no appearance of nerves at all, they were a sincere joy to listen to.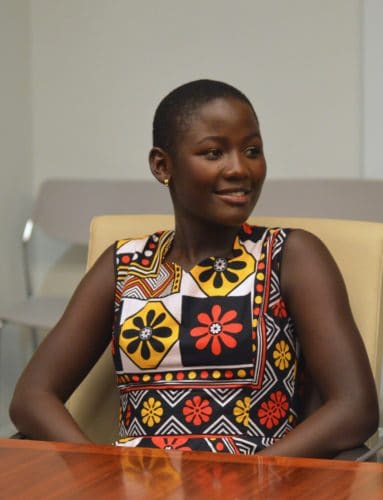 In every press conference or interview, there's one thing that stands out. You hear a lot of gems and good trivia, and you get a feel for the personalities of those being interviewed, but you have one main takeaway each time, one thing that sticks in your head. This time, it was for a reason that's going to stick in my head for a very, very long time. It's one of those moments that makes you speechless and puts you in awe of the maturity and essence of the speaker. It was when both Madina and Martin shared that their favorite part about working with Lupita was being able to call her mom. "She is Mom."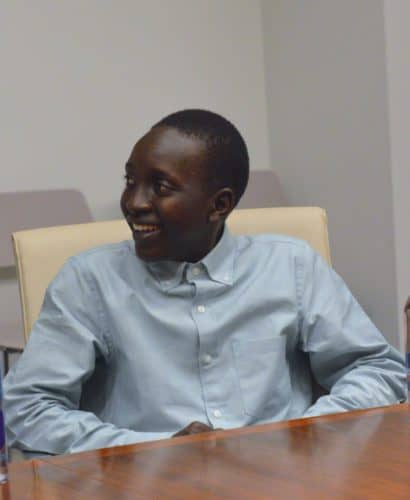 You could have heard an invisible pin drop…amongst the sniffs.
Then Lupita was in tears, a happy kind of tears that had us all wanting to hand her tissues. She is such a sweet woman!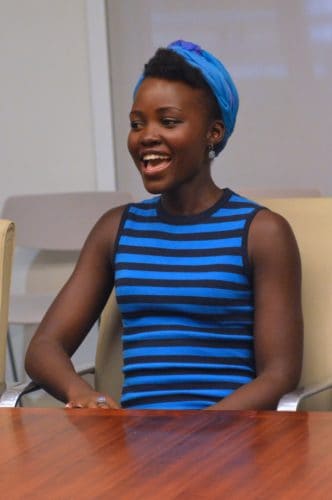 Madina and Martin both have stories about their childhood that made us all blink a little…okay, a lot…but when they each shared that they'd not been able to call anyone Mom before, it was a moment. It was a moment that's hard to put into words. The impact it had on us though was nothing compared to the impact on Lupita. She's touched these kids' lives in such an amazing way that she probably never thought about when she accepted the role. It's all glitz and glamour when you're watching the movie, but to know what a difference the movie creation has made? These are things you don't think about until you experience something like this.
While they mentioned how they liked working together, that was obvious. They are clearly a close trio and it showed throughout the entire round table. Some of the things they shared with us?
Madina taught Lupita how to cook. Any mom who has spent time in the kitchen knows what a bond cooking together can create, right? Martin also helped and together, they all cooked a meal to share.
Martin and Madina still call Lupita mama. Oh, my heart…
Madina called herself "copycat" because she found herself mimicking Lupita's actions often, including how to cry, "because dancers are never sad" and Madina's a beautiful dancer.
When asked what was one of the most touching scenes, Lupita replied about a particular scene, one I won't share specifically so as not to give a spoiler. It was indeed a heartwrenching scene, but what made it moreso was knowing that both these children had experienced that in their real lives. "This was their life."  We've become so jaded here in the United States, so comfortable with our problems that are frequently not really problems. Martin and Madina have experienced problems that we can't fathom, and you'll see some of that in the movie. You'll go to your cozy home at night and appreciate it in a new way, I guarantee.
You may have seen Lupita's cover on Vogue. Did you know it was shot in her ancestral home of Ragda, in Kenya? Kenya and Uganda share Lake Victoria, and the cover was shot just on the other side of where Queen of Katwe was filmed in Uganda. What an amazing moment for Lupita to share her history with her present.
Lupita had to learn Uganda for the movie, especially when working with Baby Richard, (who plays the youngest son) who knew only Uganda.
Favorite scenes for all of them:
Martin's chicken scene, which is a very funny scene. If you put a big plate of food in front of a child that doesn't normally eat in that quantity, they may get a little excited. On-screen, that was the plan, but off-screen, Lupita had to remind him that he should eat only tiny bites each take or he'd get full…and what do you think happened?
Madina's choice was a scene with David Oyelowo running around with a cat and a dog. She explained it was because in her real life, not everyone takes the time to do that, but he did. He made time for her and she hadn't had that before. (See what I mean about this movie changing lives? This round table alone made me love these people even more and the memories I have from this time with the cast will stay with me. Oh, how we so often don't notice the things around us that matter!)
And Lupita's choice of favorite scene was no less poignant. Queen of Katwe was shot during a cold four days in Africa, when it was around 30 degrees. A scene that resulted in them all getting wet made them of course even colder, so they'd jump in a hot tub between takes, singing and talking. She describes the mud and the frenzy and it was funny yet we all shivered a little for them. Lupita has a soft way of responding that allows you to so easily visualize what she's sharing, and that is a gift.
Lupita had never worn a winter coat until she visited NYC. (A lot of us Californians can relate to that!)
This cast was amazing to interview. They even took the time after to take group photos with us. While every part of a press trip is memorable, this round table stands out in my mind as a highlight, and that's even including walking the red carpet. Sometimes you come away with so much more than you imagine. Thank you, Disney and ABC, for that opportunity. I am a better person for having the chance to sit at that round table with those three people.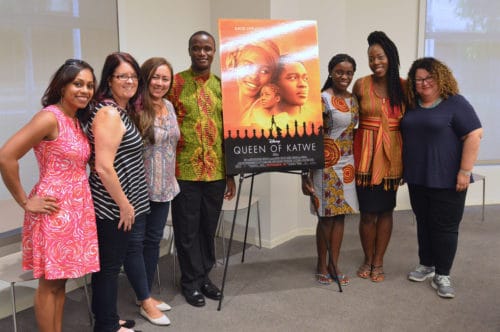 (All photos courtesy of Carol Jones at AllMommyWants.com)
Watch the trailer here and get more details on the movie you need to see next!