Growing up, I ate a lot of fried green tomatoes. My mom made them frequently, but I didn't appreciate them until I moved to South Carolina and had them at Paula Deen's restaurant on a weekend trip to Savannah, Georgia. I won't ever be able to recreate that recipe, but thanks to Melissa's Produce, who sent me a big batch of fresh produce, I made this spicy fried green tomatoes sauce and dish as an appetizer…or a meal, depending on who you ask.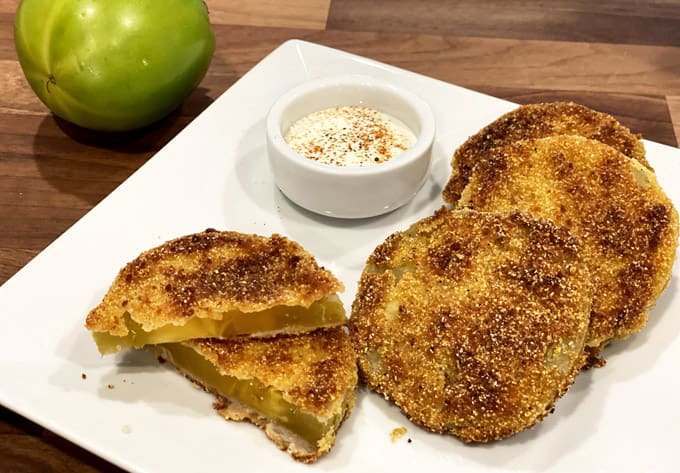 Me. Ask me. I will totally eat a huge plate of these as my dinner.
Spicy fried green tomatoes are a typical fried green tomato recipe, with just a little kick. I also made a fried green tomatoes sauce to dip them in, but if you're not a fan of spiciness, you have options!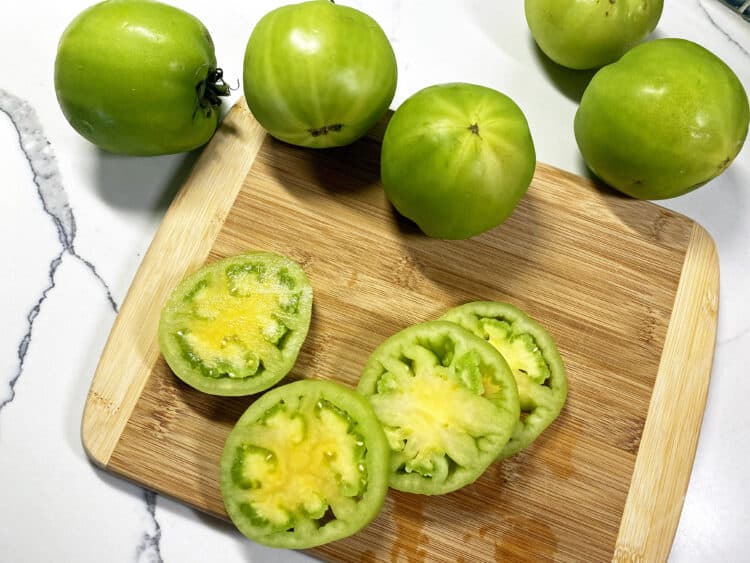 A year before we moved back to California from South Carolina, we visited Asheville, North Carolina. It's nestled in the Blue Ridge Mountains and it's a haven for foodies and craft beer drinkers. We had dinner one night at Mayfel's and our shared appetizer was fried green tomatoes. They were fantastic, and we should have ordered two plates. I order fried green tomatoes every single time possible, and out here in Southern California, I don't get that chance often, so I'm glad I'm able to make them here at home.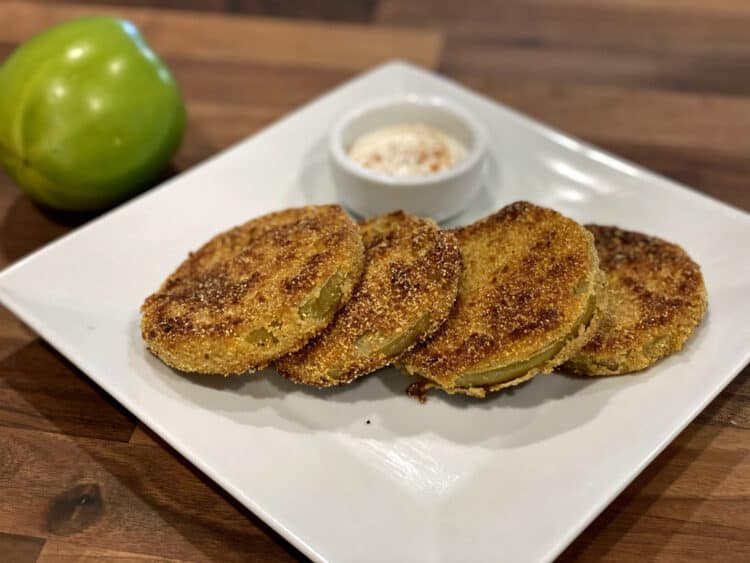 My Spicy Fried Green Tomatoes Sauce is simple…and goes perfectly with my Spicy Fried Green Tomatoes. Both recipes are inexpensive and easy, and I bet that if you try them once, you'll want to make them again.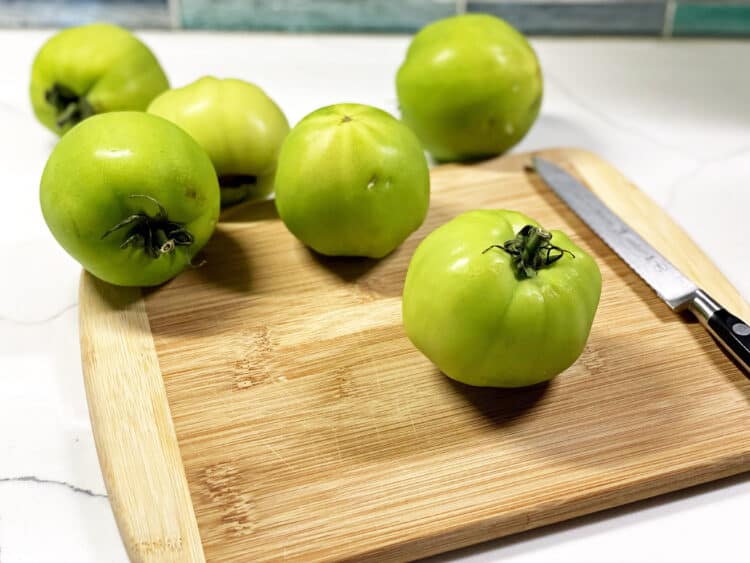 Fried green tomatoes are best when they're hot and fresh out of the pan. You can reheat them in an air fryer or toast oven, but please learn from me: don't reheat in the microwave. You'll be really disappointed in how they come out. Eat them immediately after cooking for the best experience, but be ready. They're HOT. Inside and out. Even green tomatoes will be slightly juicy and seedy inside, so if they're hot, you can burn your mouth. Be prepared.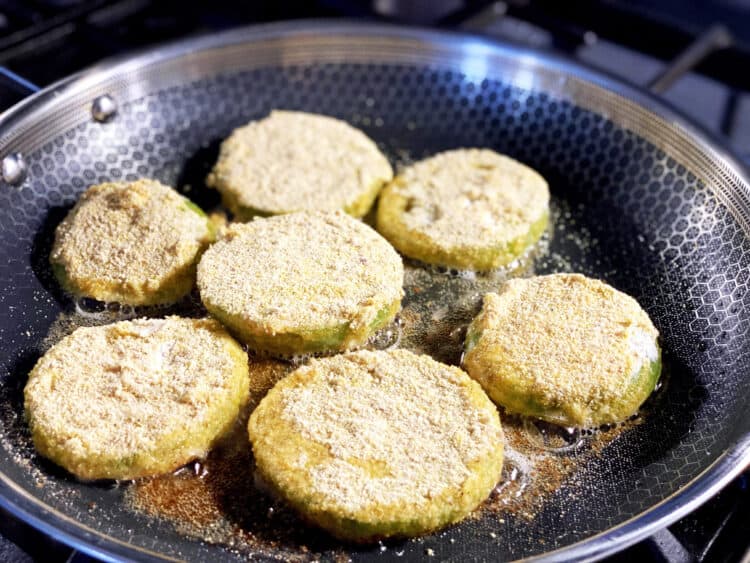 Fried foods aren't necessarily healthy for you, even if it's produce. The batter and the oil involved mean they're not something you want to eat daily, but if you're going to do it, do it right. Enjoy them. Make a dipping sauce that compliments. You can use a blue cheese or a more traditional remoulade…or get creative like me, because I'm not a fan of mayonnaise. Use fresh tomatoes for the best results and newly-opened bread crumbs and corn meal.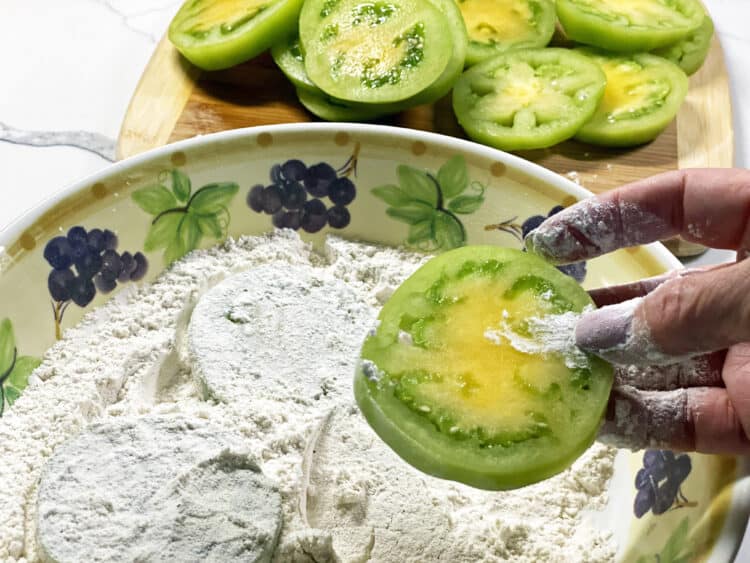 Let's get on with the recipe for these babies!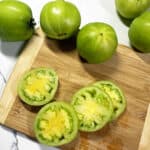 Spicy Fried Green Tomatoes
Ingredients
6-7

fresh green tomatoes, sliced

3

eggs

2/3

cup

milk

I use almond milk

1 1/2

cup

flour

2/3

cup

cornmeal

2/3

cup

bread crumbs

2

tsp

salt

1

tsp

pepper

1

tbsp

chili powder

1

tbsp

garlic powder

vegetable oil for frying
Instructions
Put flour in one shallow bowl.

Mix eggs and milk in another shallow bowl.

Combine cornmeal, bread crumbs and seasoning in a third bowl.

Heat vegetable oil in frying pan.

Dry tomatoes if they are wet.

Dip tomato slices in flour, then egg/milk mixture, then cornmeal mixture.

Place in hot frying pan. Fry 2-3 minutes on each side, flipping when coating gets dark.

Serve hot, with or without dipping sauce.
Fried Green Tomatoes Sauce for Dipping
Ingredients
3/4

cup

sour cream

1/4 – 1/2

cup

spicy green salsa

1/2

tsp

salt
Instructions
Mix all three ingredients together. Serve with the tomatoes!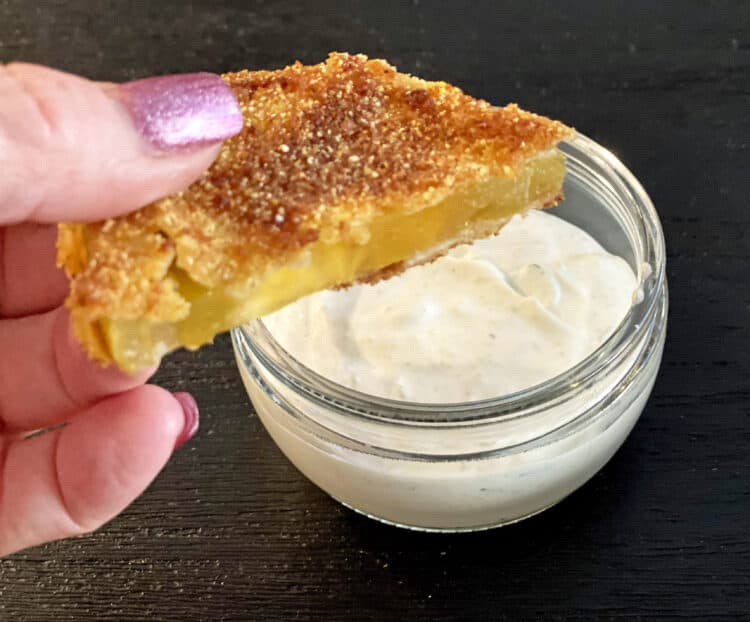 The sauce isn't difficult nor fancy, but green salsa is often made with tomatillos, so it has a very different flavor than regular salsa. The green salsa flavor adds a kick without overwhelming the flavor of the tomatoes. I used salsa from Martin's Hot Salsa (@MartinsHotSalsa on Instagram), a local small business that makes all their salsas by hand. Their mild green salsa is on the hot side of mild, but mixed with the sour cream, it's the perfect combo of creamy and tangy. You can also sprinkle cayenne pepper on the top to take it up a notch.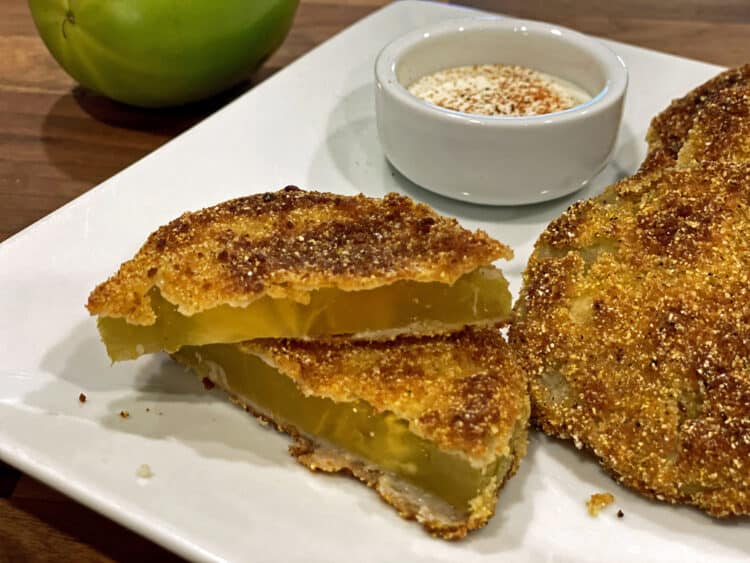 A lot of the fun of these tomatoes is the tradition of making them. Food in the south is often about people cooking together and passing down recipes. You'll see so many different approaches to making them, but there are a few tips that are the same:
Make sure the cornmeal batter covers the entire tomato, both sides and edges.
When you remove them from the frying pan, place them on a rack or on a plate on top of a paper towel.
Leave space in between the tomato slices while they're frying.
If you have to add more oil between batches, let it heat up before you place the next batch in the pan.
In between batches, use a slotted spoon or mesh tool to scoop out some of the excess batter. If not, sometimes cornmeal can burn and leave darker spots on your food.
Use very fresh tomatoes. If they are soft, their consistency is less pleasant when fried.
And one fun fact: fried green tomatoes often change color when you cook them! They are such a vivid green and then can turn to a shade of orange. They don't soften much though if you fry them fast enough! You don't want a mushy fried green tomato.
You can order green tomatoes, and a whole list of other fresh produce, spices, seasonings and more over at Melissas.com. Green tomatoes can be hard to find in brick and mortar stores, at least locally. I'm so glad I was able to get in some good southern cooking to start the summer off right!