I've got a Disney's Mary Poppins Returns review with no spoilers here!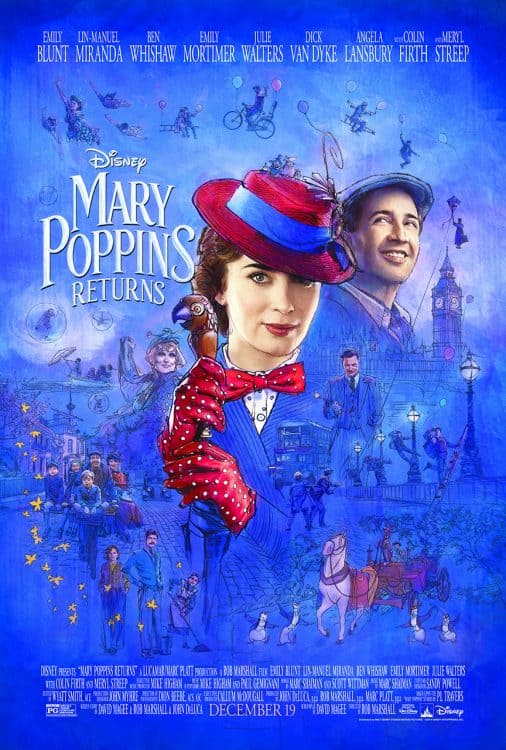 Disney's sequel to the original Mary Poppins, which hit theaters back in 1964, has a whole new cast, a full musical score sure to win awards, and a theatrical story that will have children and families laughing and smiling for the length of the movie AND after.
This addition to the Mary Poppins story takes up 25 years after the first movie ends, focusing again on the Banks children, who are now grown adults. Jane is an activist for feminist rights and Michael ends up working for the same bank that his father worked for. Things aren't going so well for Michael, who is close to losing his home after the death of his wife. He and his two children are struggling along, with Michael's spirit taking a hit, and though he tries his best to cover it from his children, he reaches a breaking point after realizing how far down they've fallen.
Enter Mary Poppins, and enter she does, in a way that only Mary Poppins would, umbrella in hand, song on her tongue.
The Banks children remember Mary, though they still aren't sure that the things they remember from their childhood really happened or are a figment of their once very-active imaginations. Now their children are getting the same experiences, as Mary has returned to once again save the day. This means exactly what you think — amazing fantastic adventures.
New to the cast is Lin-Manuel Miranda, a lamplighter who has befriended Jane as well as Mary. He's akin to this movie's version of Dick Van Dyke's famous character, Bert.  His musical talent and ability has added so much to this movie, as he accompanies Mary and the children on several of their adventures. My personal favorite is when he and his fellow leeries perform a long musical number while dancing with Mary. It's a scene you won't forget!
Another scene you won't forget is with Dick Van Dyke, whose nimble dance moves belie his age. That scene had me teary, as a long-time fan of Mr. Van Dyke in both movies and TV shows. Angela Lansbury makes a special guest appearance, and there are a couple of other faces you will recognize if you look closely.
The movie moves quickly, and contains a lot of music, so be warned if you're not a fan of musicals….but give it a chance even if you don't, because scenes like the Royal Doulton Music Hall and Mary's topsy-turvy cousin (Meryl Streep) will have you moving in your seat. The mix of animation with live action is spectacularly done.
Mary Poppins Returns is suitable for all ages, and is while it's on the long side at 2 hours and 11 minutes, there is so much activity and many scene changes that the little ones won't get anxious…though you may need a mid-movie pit stop if you don't plan ahead!
Disney's newest makes a magical holiday movie event and will definitely get you into the holiday spirit. Watch the trailer again, and then go buy your tickets!