I don't go to happy hour a lot — okay, I go probably every couple of weeks, so maybe that's a lot — but when I do, I want to go to a good one. When I look for a happy hour in Rancho Cucamonga, or anywhere, I want one with unique drinks, tasty apps or lower-priced entrees and a fun atmosphere. The new-ish Rock and Brews on Foothill and Day Creek has all that, with the bonus that it's close to my house, making it perfect for a last-minute decision to head out for the evening. Have you visited Rock and Brews yet?
Rock and Brews has 17 locations around Southern California and the United States, and they also host a food area in several arenas. Founded partially by KISS band members Gene Simmons and Paul Stanley, the restaurants are focused on just what you'd think: rock music and brews. Every location has a unique decor, from hand-painted murals to rock memorabilia to fun lighting. Our first visit was to the Rock and Brews in San Manuel, where we ate under a huge KISS painting while being entertained by an Elvis impersonator who knew how to shake his hips like the real Elvis.
We visited during happy hour in Rancho Cucamonga on a special media tasting night. With a few other diehard local Inland Empire foodies, we tried a large menu of appetizer and entree samples, each paired with craft beers, something Rock and Brews is known for. Within just a few minutes, we knew we were going to leave full, satisfied and looking forward to our next visit.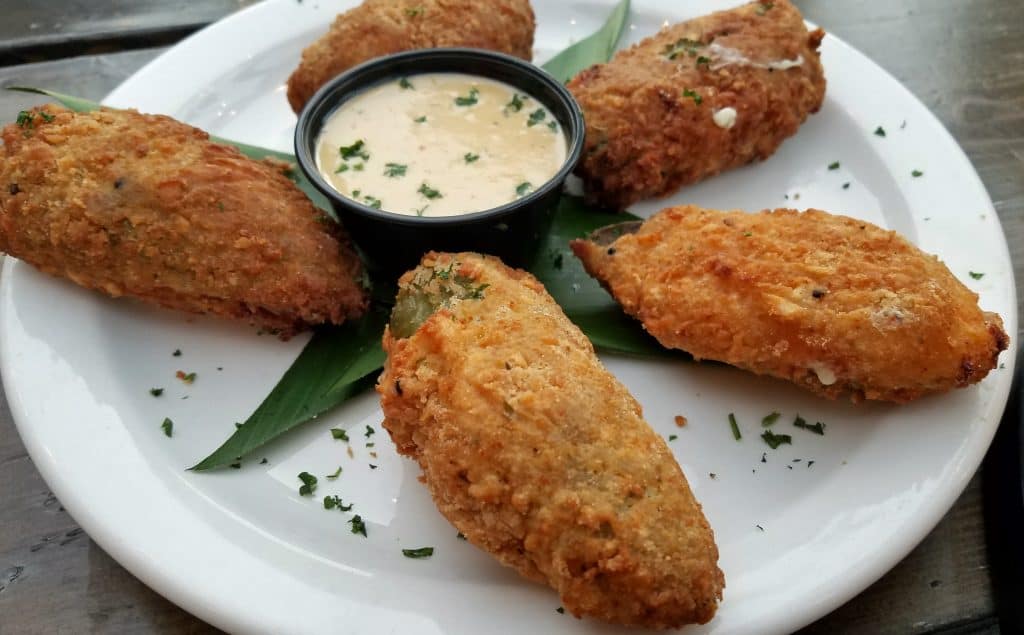 First up were those gorgeous jalapeno poppers, paired with 2 Hearted Ale by Bell's Brewery. (The staff at Rock and Brews knows exactly how to pair, so if you're unsure of what to choose with your meal, ask for help!) The coating was crispy but not overwhelmingly thick, so you tasted more of the jalapeno. The chipotle ranch dip is a spicy addition if you like to level up the kick.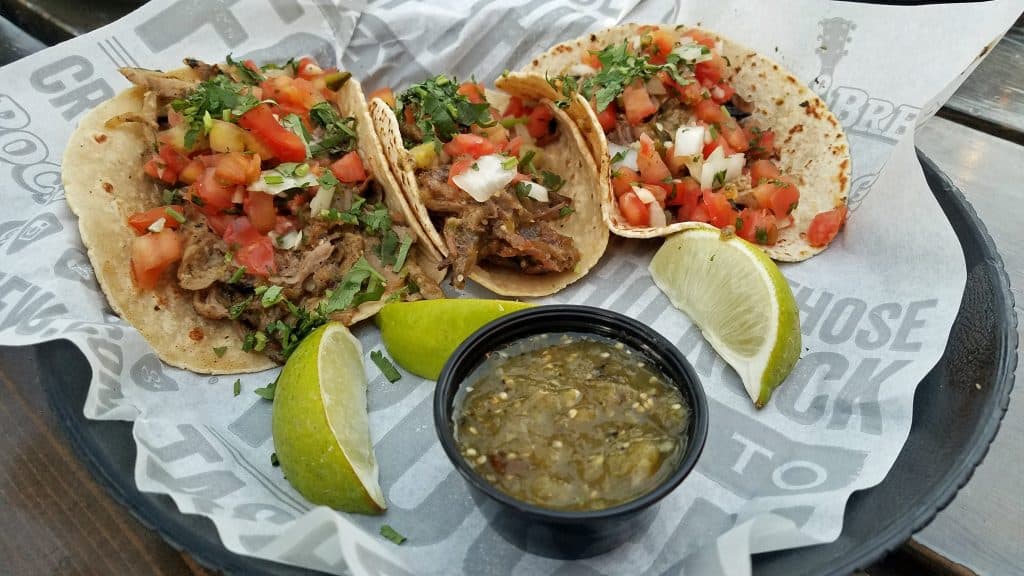 Carnitas Tacos were next on the menu, paired with El Chango by Bootleggers Brewery. The pork is melt-in-your-mouth tender and the freshly made pico de gallo adds the perfect seasoning and texture to the tacos. Pour on a little of the salsa verde with a squeeze of the lime? Perfect. Just like the 2 Hearted Ale, the El Chango beer compliments the acids and the slight fat of the pork and makes it a pairing you'll want to try again.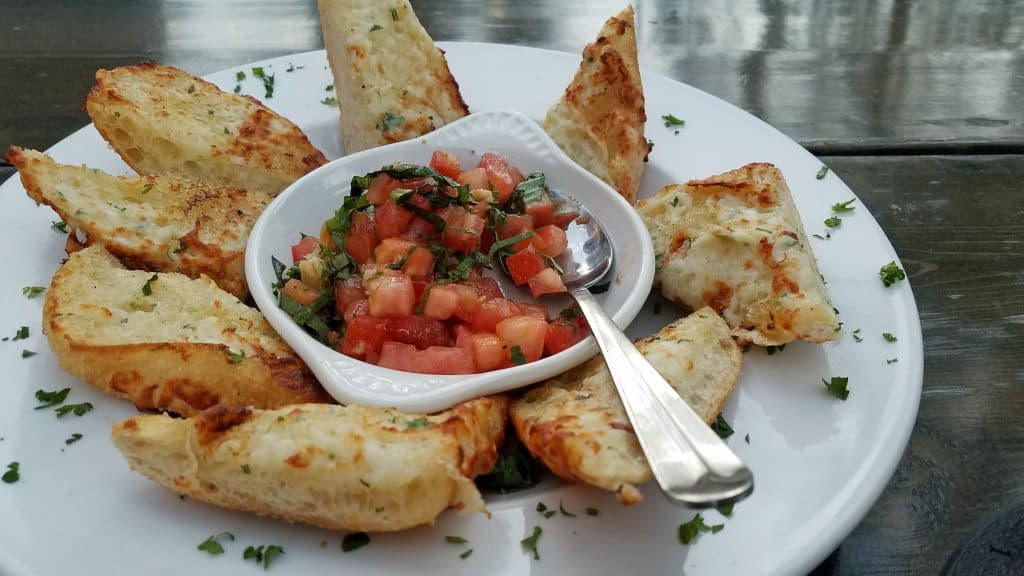 I could order a plate of the bruschetta, with a tall, cold glass of the paired Spaten Lager, and be totally happy. Crispy crust, soft center on the garlic cheese toast and basil-forward topping with balsamic vinaigrette, it's an ideal happy hour or pre-dinner appetizer, or if you're like me and sometimes just order an appetizer, this is the perfect size.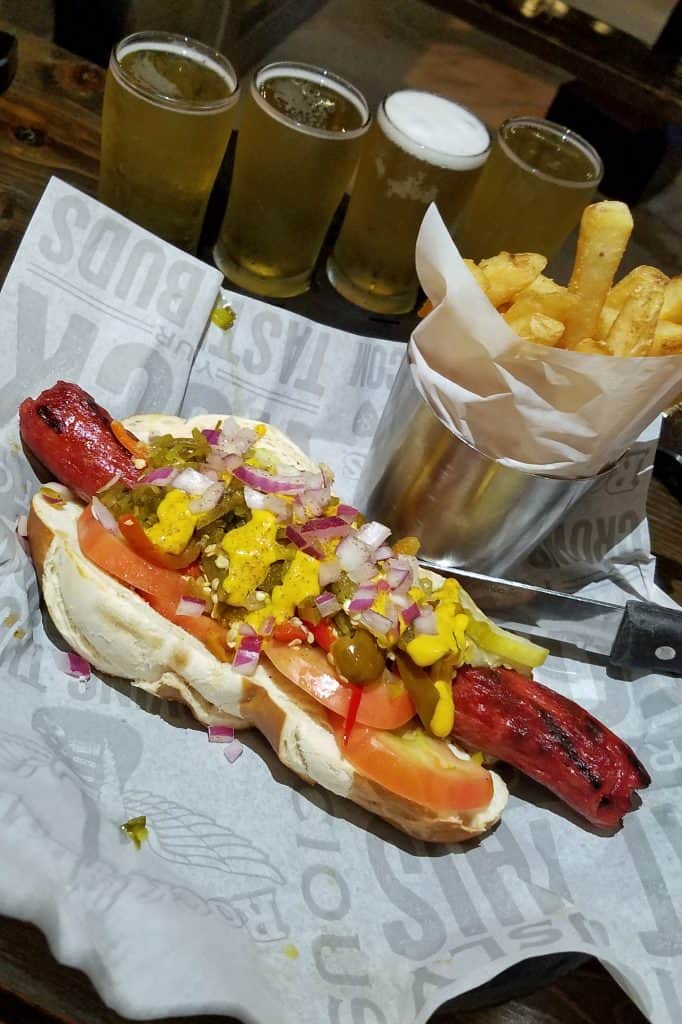 Because of my very sad inability to eat to beef, I had to rely on the husband's taste experience with this Chicago dog. Covered in red onions, mustard, pickles, relish, hot peppers, tomato and celery salt, it was paired with the Duvel Belgian Single. He enjoyed the different mix of toppings and textures to go along with the juicy dog. I do admit to trying the beer, because why turn down perfectly good beer, right?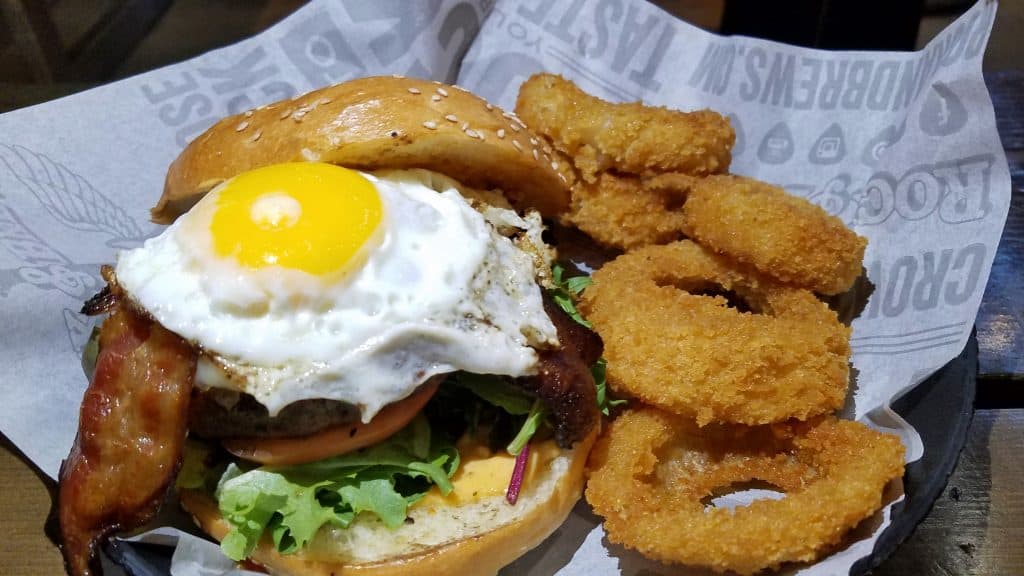 I also couldn't eat the above Gastropub burger but boy, did I want to. I love eggs on burgers, and then anything with bacon gets my vote. The burger is served on a brioche bun, along with double melted Swiss cheese, a sunny-side-up egg, bacon, caramelized onion, baby greens, tomato and garlic aioli. We have kind of a hard stop on soggy buns, and this one passed the test. The perfect amount of toppings made it a nice fat bite of burger and the fresh greens add a tasty hint of crispyness. Speaking of crispy, those onion rings were so good! The taste of the onion came through the coating and they weren't greasy at all. We drank a glass of Ripper Pale by Stone Brewery along with the burger. (I, of course, tried this too. So refreshing! While they ate the burger, I may have gone back and eaten more of the jalapeno poppers and bruschetta. Can't let good food go to waste, right?)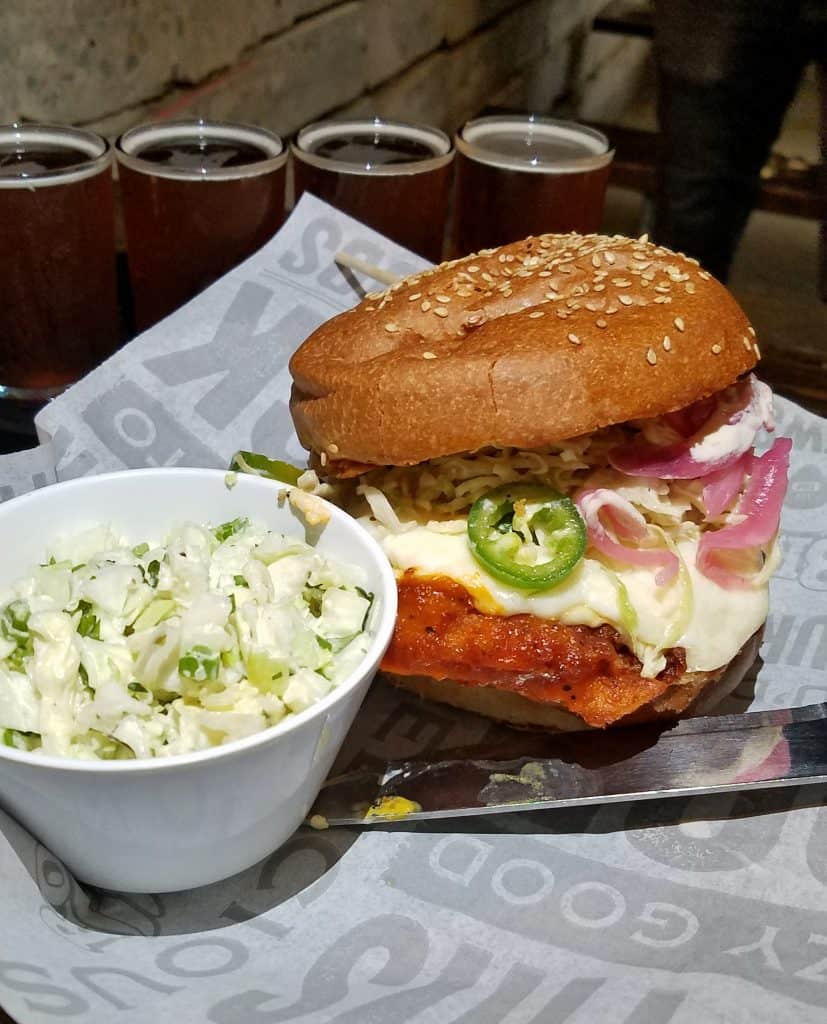 This Demon Chicken sandwich was fantastic! A good chicken sandwich, not dripping with too many condiments, can be hard to find. The sauce on this chicken breast was just spicy enough to earn its name, and the pepper cheese spread, chipotle slaw, marinated red onions, fresh jalapeno and ranch completed it. We drank it with a West Coast DIPA from Green Flash. (We enjoyed Green Flash at the Sea World Craft Beer and Food Festival so I was excited to see them on the menu for the tasting!)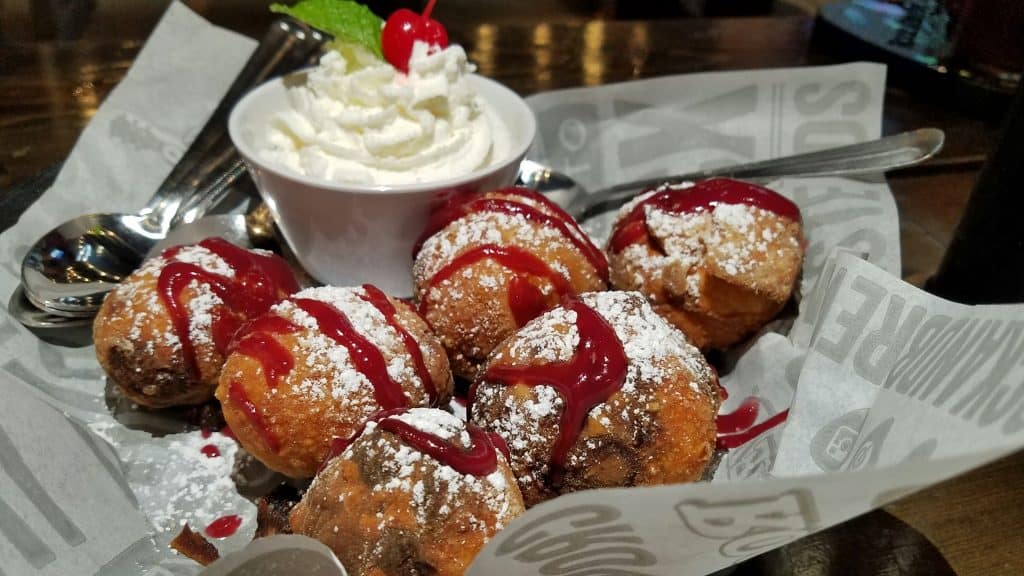 Purple Rain Drops — the picture says it all, right? These six French donuts are filled with chocolate with raspberry puree drizzled on top of a light powdering of confectioner's sugar. Dip it in the fresh whipped cream and all you hear for a few minutes will be oh my yummmm…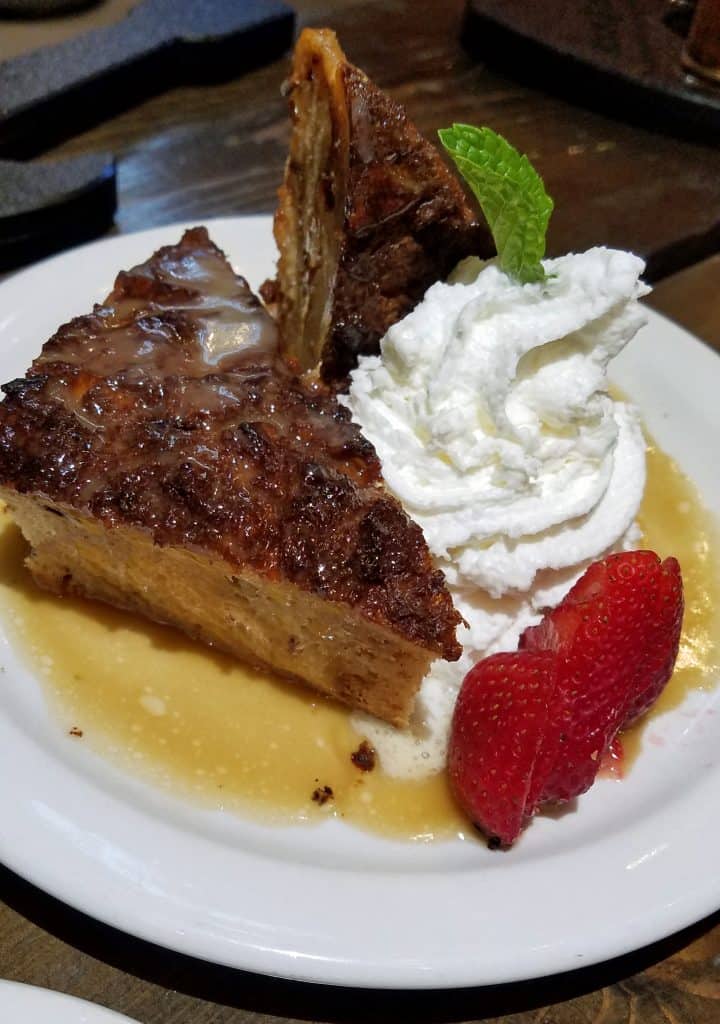 We also tried the Sweet Surrender Bread Pudding. (Aren't the names so cool?) It's a Rock and Brews spin on traditional bread pudding, covered in a Jack Daniel's sauce, served with fresh berries and more of that homemade whipped cream. By the time we had this dessert, we were all trying so hard to keep eating but one bite and it was no longer a worry. So good! I'll take a bowl of the sauce please?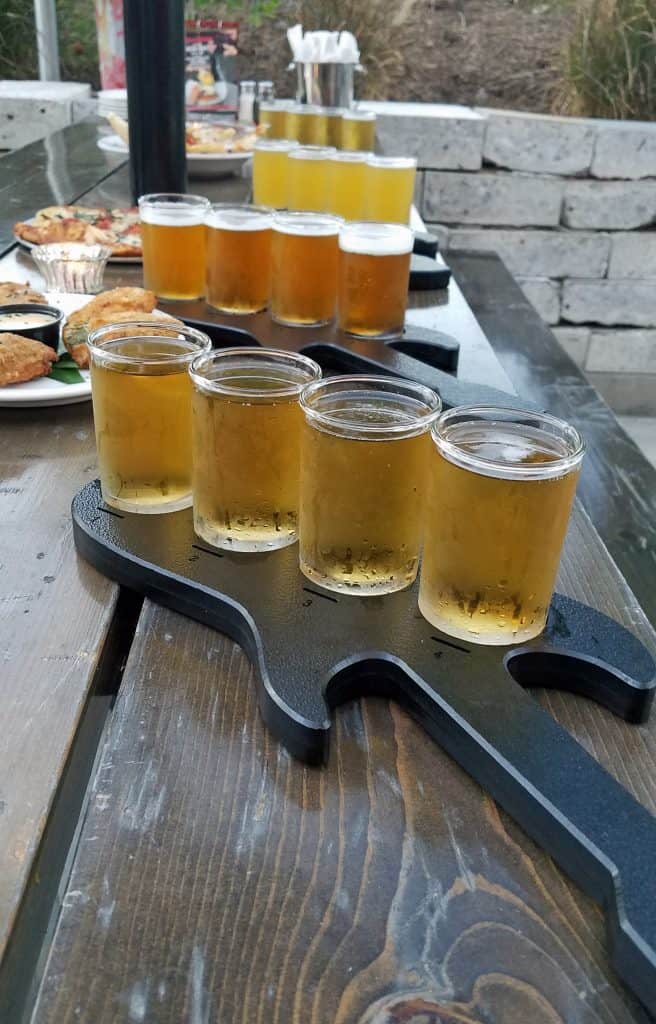 Rock and Brews Rancho Cucamonga offers a big indoor seating area, a long bar and a lot of ambiance. Wherever you sit, you'll be within view of a lot of flat-panel TVs showing various sporting events. From small parties to big, there's room for everyone.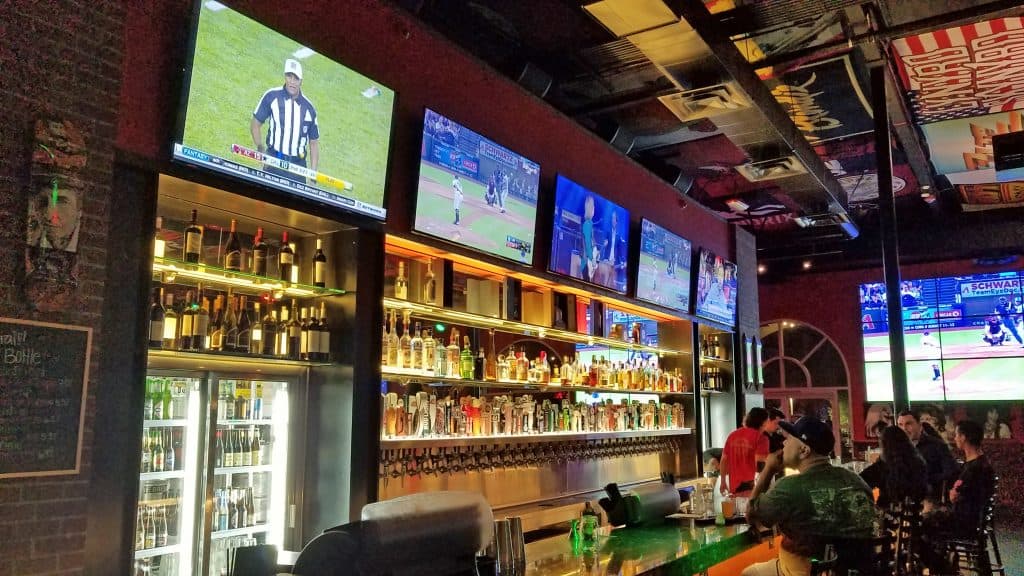 The outdoor patio is also spacious, with heaters for the cooler nights along with a large fire pit surrounding by Adirondack chairs, perfect for happy hour chat or drinks with friends.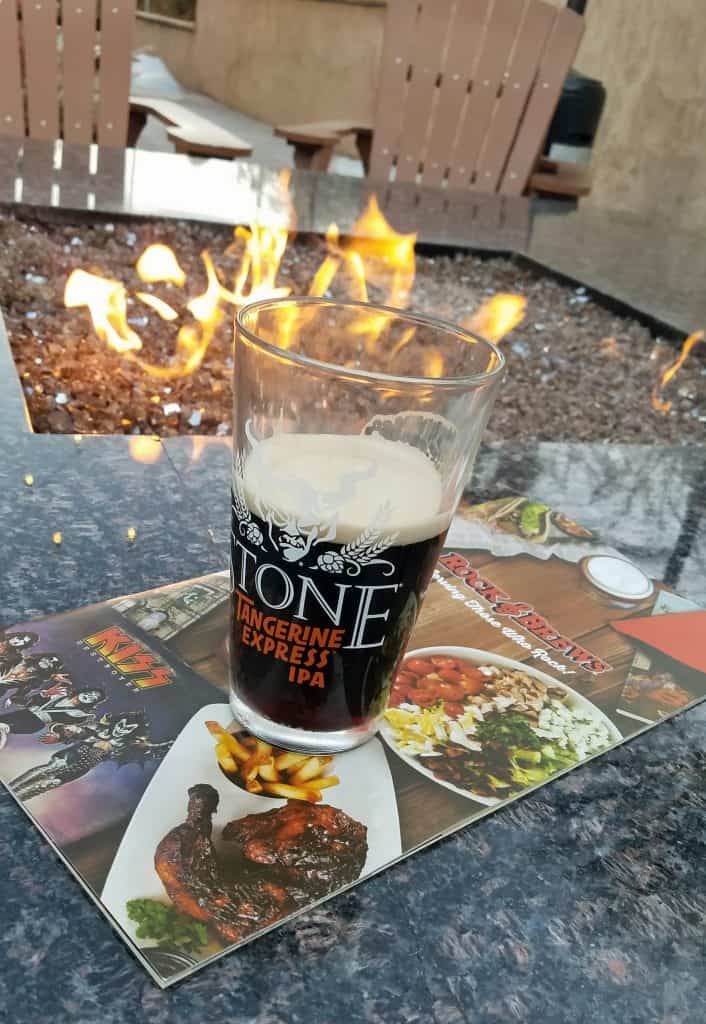 No matter where you sit, Rock and Brews does it right. There's a long side area to play cornhole, and I was SO close to challenging a few people to a game. I don't have a lot of talents, but that game may be one…..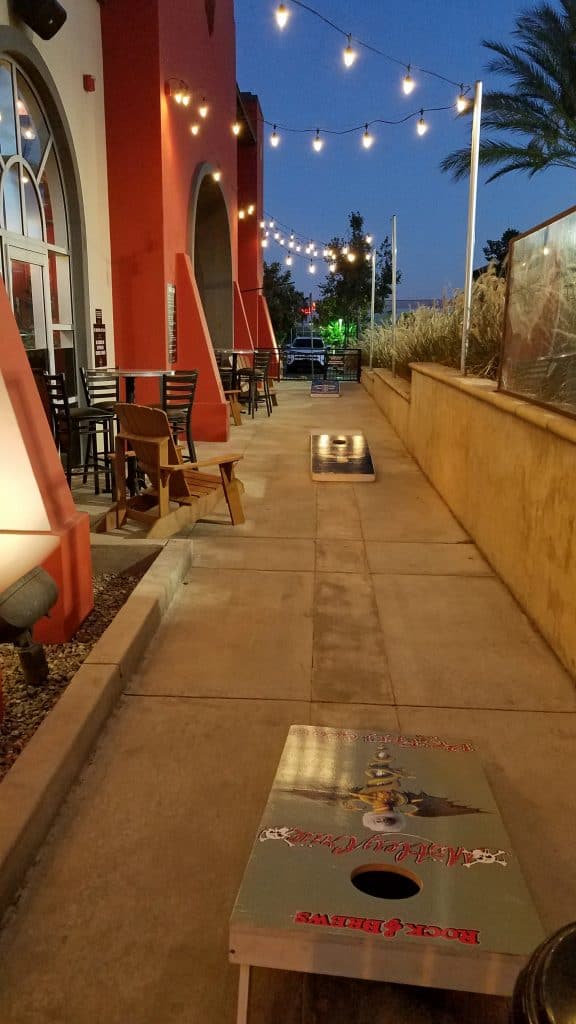 The environment is well-lit and very California'esque, so we actually returned just a few days later with our older daughter and her husband. Happy Hour in Rancho Cucamonga is a popular event, so we tried a couple more cocktails and food items but after the food, we ended up out back watching baseball on a big screen TV, enjoying the light night breeze under the lights.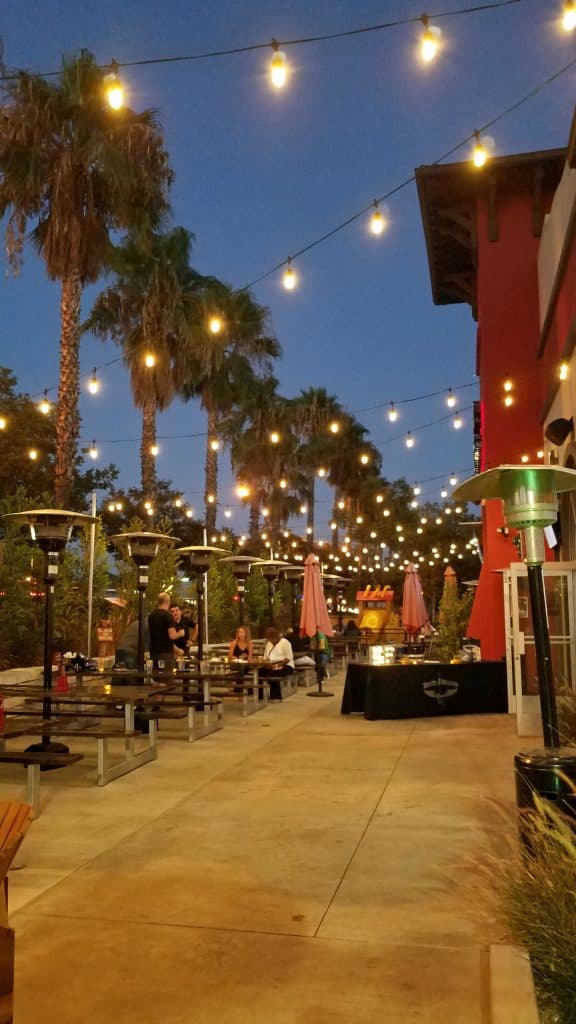 Thanks, Rock and Brews Rancho Cucamonga for offering another happy hour in Rancho Cucamonga, one that runs until 6pm, making it easier for people who work until 5pm to attend. We enjoy your new location and look forward to visiting frequently!