When you think of a seasonal menu, you may think of fresh greens for the spring and winter vegetables in January, but the new Seasons 52 seasonal menu takes it to a whole new level. I had never been before but I was luckily the guest of a blogger friend of mine — thank you, Erin, for inviting me, and thank you to Seasons 52, too, for the media tasting!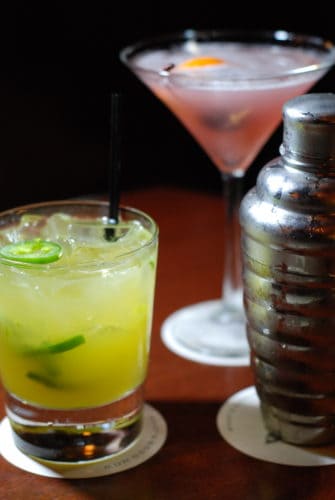 The evening started off with drinks. I chose a Mango Jalapeno Crush, made with Prairie Organic Gin, Mango, Housemade Lemonade, Fresh Jalapeño, Cilantro and Cucumber. It was a perfect mix of spicy and fruity, and I honestly didn't even realize it was gin until I looked at the menu more in-depth later! I always like to try any spicy drink and I neglected to read the type of alcohol, but no worries whatsoever, it was delicious! I almost ordered another. Don't tell anyone. That's Erin's Hawaiian Pineapple Cosmo peeking around the back of that photo there. Those two drinks together made for a beautiful drink array on our table and she said it was indeed as good as it looked.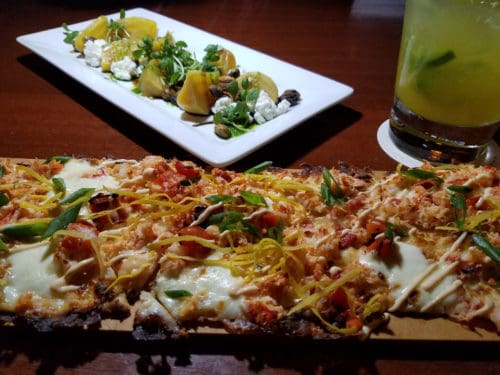 Seasons 52 is known for their flatbreads, so we had to be sure and try one. We asked our waitress for her suggestions and she mentioned two: Lobster and Fresh Mozzarella or the Prosciutto and Asparagus. We chose the Lobster and Fresh Mozz, covered in roasted sweet peppers, scallions and lobster sour cream. Flatbreads can often be difficult to eat, but this one held up in our hands without dripping and folding and was so good without being too crispy.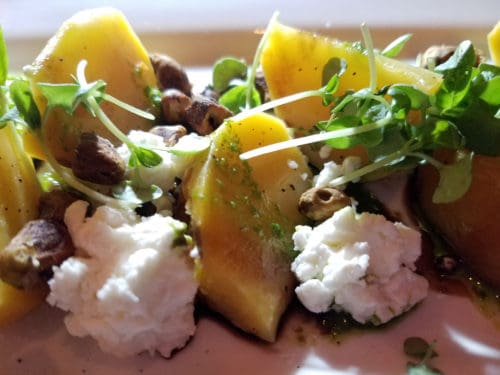 We also chose the California Beet Salad, with Laura Chenel Goat Cheese, toasted pistachios and micro basil. It's definitely not something I'd have thought to combine, but the flavors and consistencies pair off each other perfectly. The creaminess of the goat cheese is a perfect partner to the firm and tangy beets. It was so unique, it felt decadent, not something you can say frequently about an appetizer.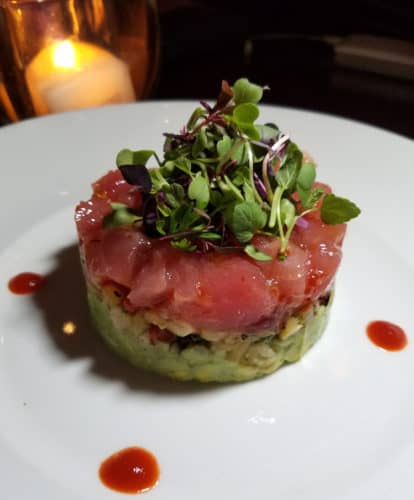 Next up was the Ahi Tuna Tartare. This appetizer was large, so it's definitely big enough to share. The micro-greens cut the richness of the tuna and the avocado-wasabi mousse and tropical salsa add just the right amount of acid-y tang to pull it altogether. The chef was spot-on with the tuna and I'd order this again…and maybe not share. I love a good ahi!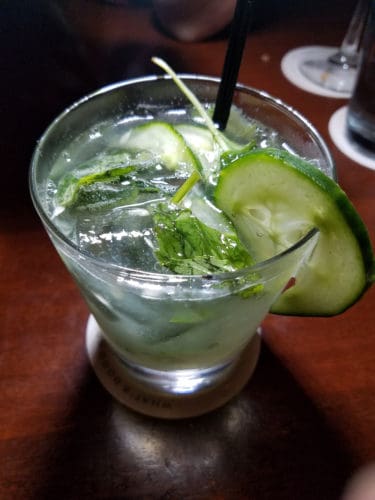 We sat back during our meal and thoroughly enjoyed the whole experience, so we decided to try a second drink. This was a Cucumber Basil Smash, made from Prairie Organic Cucumber Vodka, White Cranberry Juice, Agave, Fresh Lime, Cucumber & Basil. It was light, refreshing and tasted like a drink I'd enjoy on a balcony while on vacation. Sign me up for another please! (Vacation AND drink.)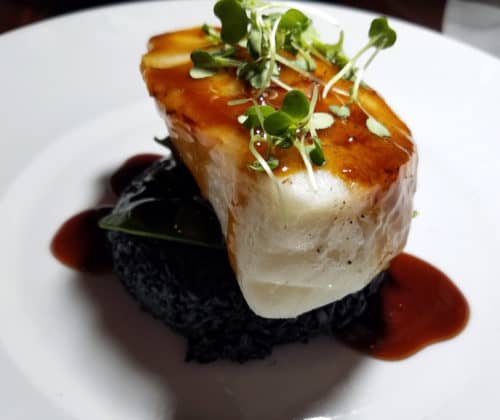 I decided to try one of the recommended entrees, the Asian-Glazed Chilean Sea Bass, served with organic black rice, snow peas, shiitake mushrooms and micro-wasabi. My picture does not do this melt-in-your-mouth wonder of the sea justice. It was one of the best pieces of fish I've ever had the pleasure of trying. It's also a large piece of fish, so come hungry when you come to try the Seasons 52 seasonal menu. The rice underneath was moist, well-seasoned and the flavors of the vegetables came shining through. I almost licked my plate.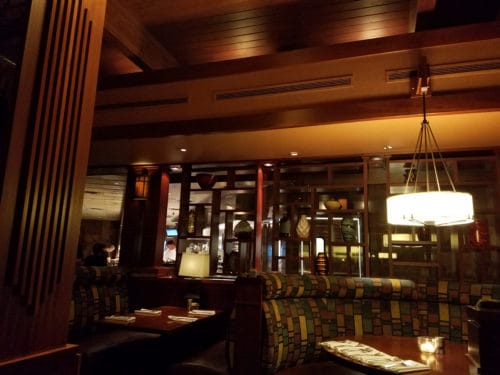 The ambiance of the restaurant is another winner. The tables and booths are well-lit enough to see what you're eating or to read the menu, but not so bright as to ruin an intimate setting for a date night. We did pull out our lighting equipment to remove the shadow out of a couple of photos and found that the wait staff is well-versed in serving media; one waiter walked by, and without saying a word, pulled out his mini-Mag lite, held it over our plates long enough for a photo, then quietly walked on once we were done, without skipping a beat. I love going to a place like that!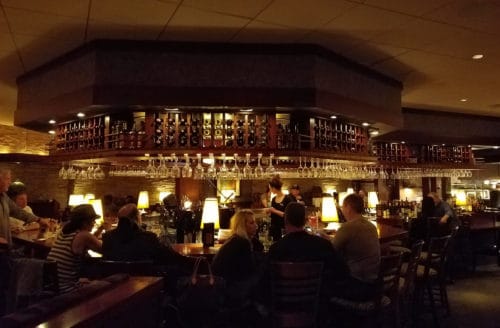 And the bar. It's beautiful. One big horseshoe shape with a pianist in the middle playing the latest hits.  Everyone was happy and enjoying the entertainment.
No meal out is complete without at least some dessert, right? Seasons 52 really takes that to the limit with this sampler tray.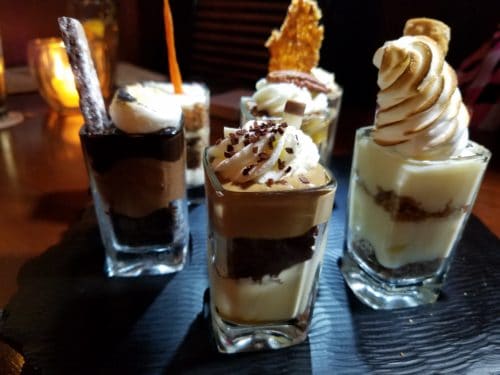 The tray, a gorgeous black slab that resembled a piece of granite, contained six mini-desserts in parfait glasses. Peanut-butter mousse, S'mores, key lime pie, raspberry, apple pie…they were all so good, yet we were too full to finish them. My favorite was the key lime but the roasted meringue, chocolate straw and crispy sugar cracker were all beautiful ways to decorate.
The Seasons 52 seasonal menu is extensive, and it changes frequently, so be ready to try new things. If something was on the menu last week, it won't necessarily be on it this week, but that's the beauty of it. You can always try different foods yet know you're getting something healthy, locally-sourced and delicious. Seasons 52 has other locations, which you can find on their website, and they also offer things like a Mother's Day brunch, happy hour and gluten-free options. Located at South Coast Plaza, valet parking is available and of course, there's the choice to shop before/after dinner and take advantage of all the great stores.
Enjoy your dinner out at Seasons 52 and let me know if you visit!