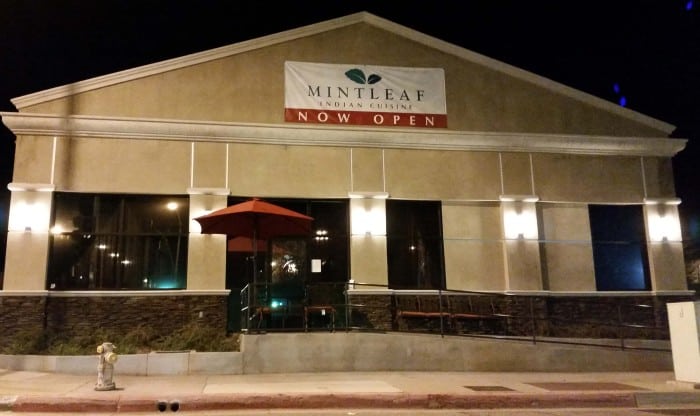 Last week, we were invited to a media tasting at Mint Leaf Indian Cuisine (Washington and Alta Dena in Pasadena, just a few minutes north of the 210 freeway). Open only a few weeks, Mint Leaf already has repeat customers and reservations booking them solid throughout the night. As we sat enjoying the very large meal they provided, people were continuously streaming in and out the door, with momentary standing-room only while guests with reservations waited just a few moments for their table. What a great way to start their business! The woman who sat next to us, with her son who was a big fan of the Saag Paneer (a cheese dish), had actually come weekly since the restaurant opened, and only partially through our meal, we understood why.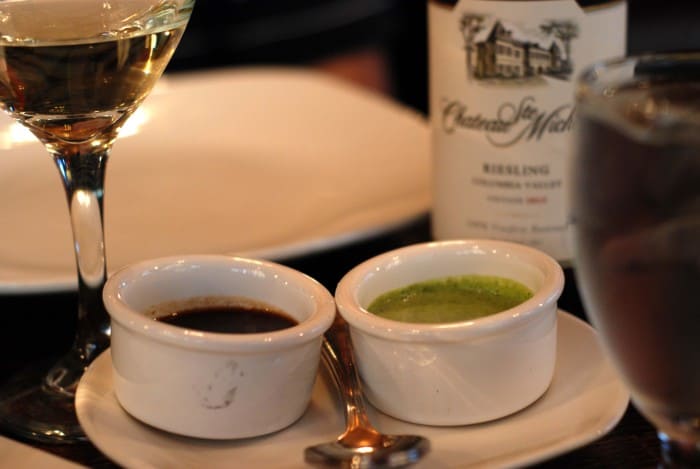 We were immediately seated when we arrived, and we chose a bottle of Chateau St. Michelle Riesling, a favorite of ours, and one we learned paired well with Indian food. Our waiter was Santos, who shared with us that he was new to Indian food but you wouldn't have known that unless he told you. His knowledge in helping us choose our food was exemplary, along with the history of Mint Leaf Cuisine, the chef, the owner and Indian food in general. We not only had a delicious meal but we got a quick education on the cuisine.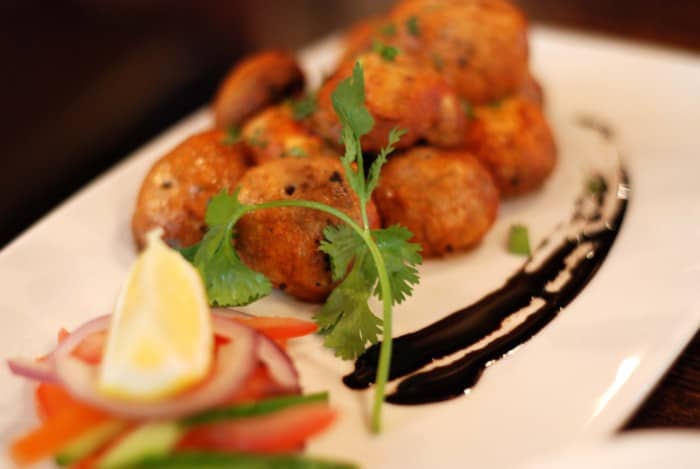 Our appetizers were phenomenal. We had Achari Tandoori Mushrooms and Corn Malai Tikkis. The mushrooms were marinated in a special spicy sauce and then roasted, with a consistency that was ideal for a roasted vegetable. The perfect texture without any hint of mushiness, something you sometimes see in a mushroom. The tikkis were similar to a corn fritter, with an almost-oozing mozzarella cheese, potato, corn and onion dough, fried to a crispy outside.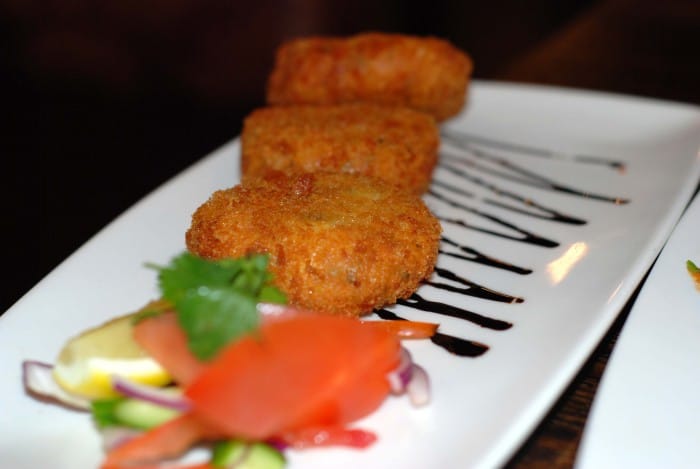 Then came the entrees, and we knew immediately we'd be taking home leftovers. I love spicy food, leaning towards hot, so I chose the Lamb Vindaloo. The chef customizes the dish to your requested level of heat, so after telling Santos what type of heat I typically enjoy, he passed it along to Chef Paul. It resulted in a deliciously vindaloo with a kick that I loved. The husband chose the Mint Leaf Chicken Chili; he's not a fan of curry and he wanted to try something that was very different from my choice. His chili was just the right amount of heat for him, though I have to admit here, in private, that he did bite into a chili, making him appreciate the Mango Lassi in a new way. The chili was fantastic!
We also enjoyed a bowl of Aloo Gobi, which is cauliflower and potatoes stir-fried with spice and other vegetables. It was the perfect side and completely different from any Indian food I've ever tried, which I have to say is something that Mint Leaf excels at. I've been to New York City and other places where Indian food is common, and while good, the food is fairly typical. Not so at Mint Leaf. Mint Leaf has found a way to take what may be a common dish and elevate it in a different and unique way, sometimes with the combination of vegetables with the tikki, for example, or a new approach to spice. This is not your average Indian food, and one visit will show you how they do it.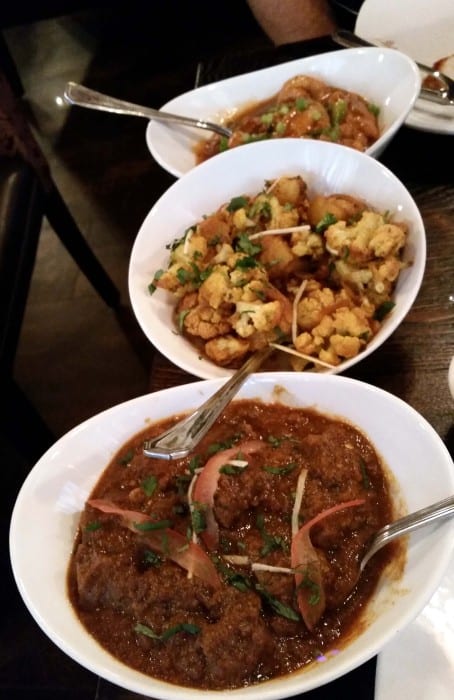 That naan — it is the perfect addition to the rice and Lamb Vindaloo, or really, any dish you may order. We tried the Basil and Parmesan Cheese naan, which is exactly as it sounds and was so fresh and mild. We also sampled the Feta Cheese and Olive Naan; clarified butter, olives and cheese fill it and is a totally different taste.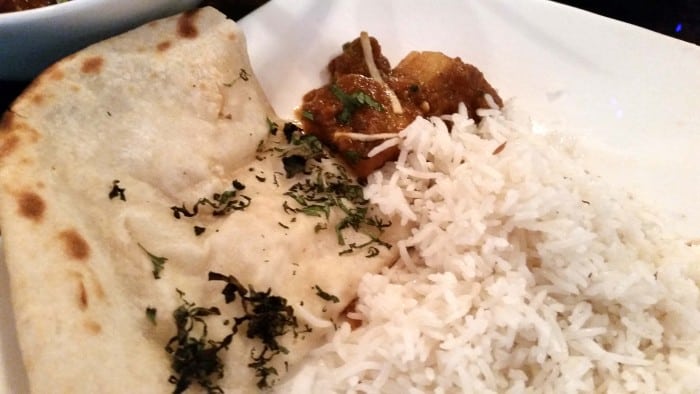 Look at the colors of that Lamb Vindaloo!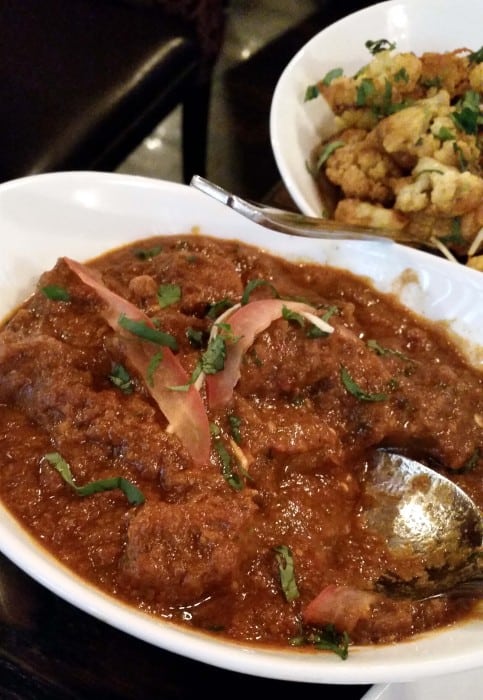 And there's that Mango Lassi, which is a great way to cleanse your palate in between dishes or just cool down your tongue if you bite on something like, say, a green chili.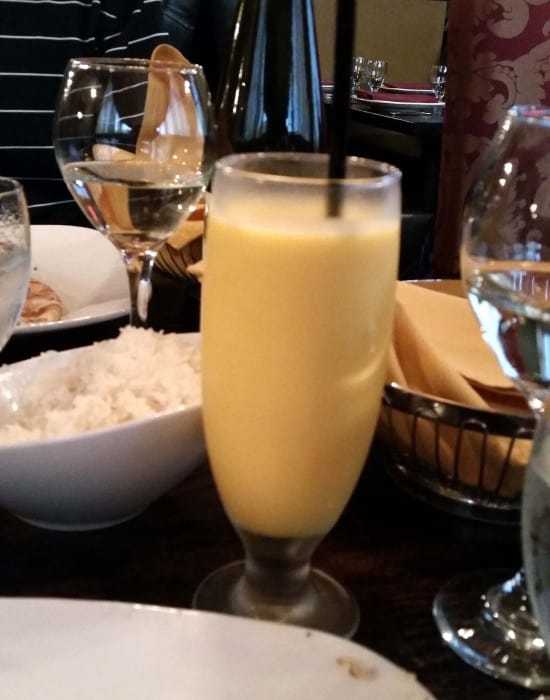 Santos, thank you so much for providing the service that you did. You added to the enjoyment of our evening in a big way with your authenticity and love of your job.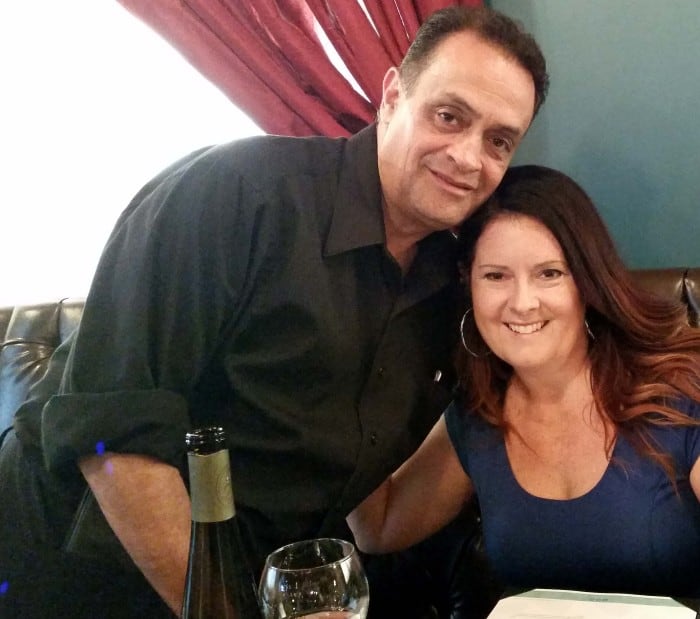 This is me and Sameer Kumar, the owner of Mint Leaf Indian Cuisine. Sameer, thank you for taking the time to meet us and take this (badly angled) photo with me. You have a success on your hands!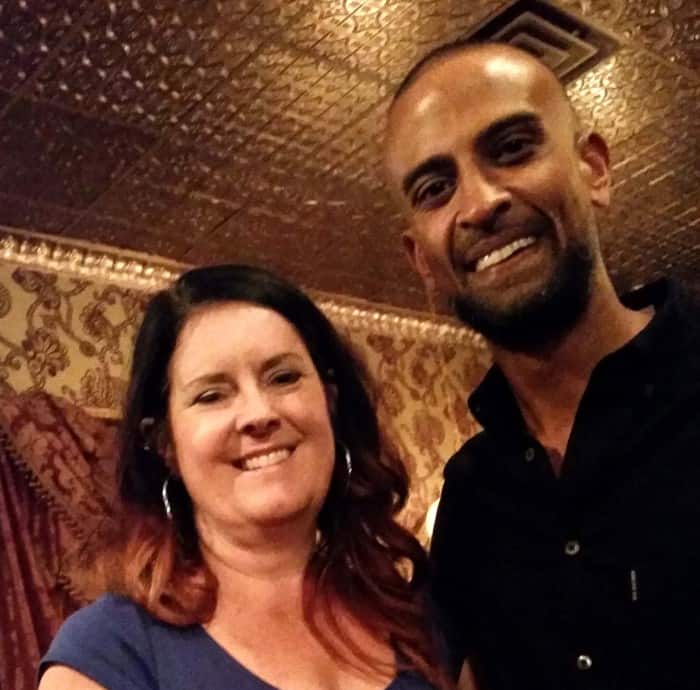 Mint Leaf has scored on the environment and design as well. From the music that plays quietly in the background to the metal ceiling, gorgeous lighting and color palette, it all comes together with a very intimate feeling that makes you forget that you're really in Pasadena/Altadena, not India. The husband and I dined at a Japanese restaurant last week, and while it's a favorite of ours, we've joked before that it feels strange to eat with chopsticks, drink sake martinis and put away a couple of sushi rolls with Taylor Swift playing in the background. I vote for the authentic music in an ethnic restaurant!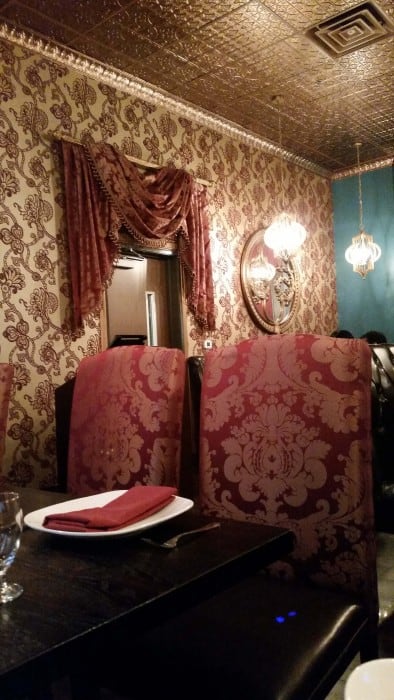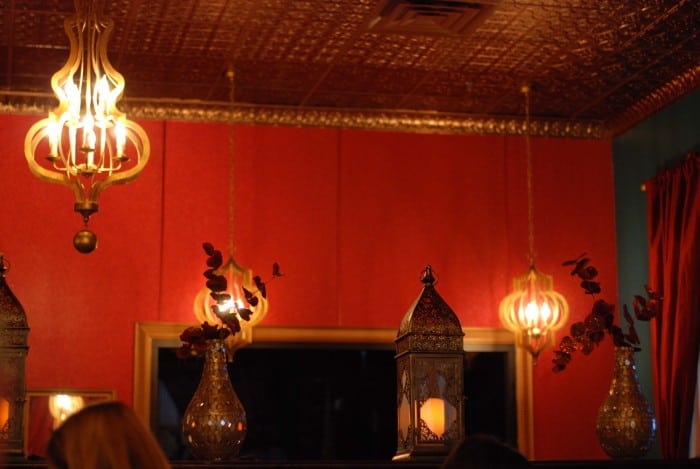 No meal at Mint Leaf would be complete without trying a dessert. We got lucky and were treated to three. In order of the photo below, they were Blueberry Rasmali, Carrot Pudding (though I'm sure there is a better name for it that I fail to remember) and Fig and Almond Kulfi. The rasmali had a custard-y feel to it, with a rosewater hint and perfect consistency, then the carrot pudding was warm and so delicious, I could literally order a huge bowl and have just that. (Let's just say that it is the first time in years that I've eaten a raisin in any dish, as I'm not a fan of raisins. This pudding was THAT good.) The kulfi is cold and plays perfectly next to the warm pudding. Such a delicious combination without overwhelming.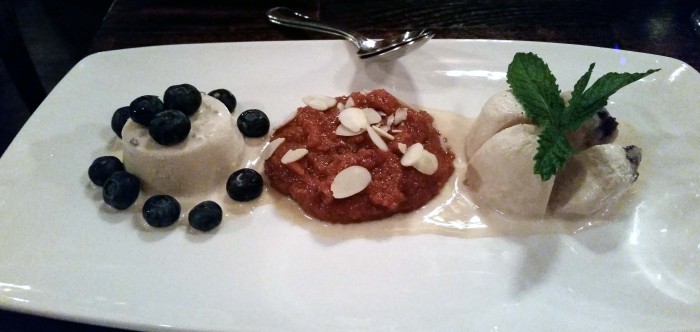 All in all, each dish was exemplary. The spices are not so hot that you don't taste the food — they accent it rather than take over. The consistencies range all over the map so each dish is just part of the whole experience without being repetitive. This is how food should taste — like a trip to another place with unique, fresh flavors.
Thank you, Mint Leaf Cuisine, for a wonderful evening — we will be back with the family!