Did you know that with a few clicks, you can donate money to a worthy cause that could help a sick child and their family? It's just that easy to help with the CHOC Walk in the Park, presented by Disney, held at the Disneyland Parks in Anaheim, California, on August 11, where you'll pass Disney characters and iconic Disney sights along the way! Keep reading for info on how to fundraise for the CHOC Foundation AND to enter a giveaway to win two (2) wristbands to walk in the CHOC Walk without paying the entrance fee!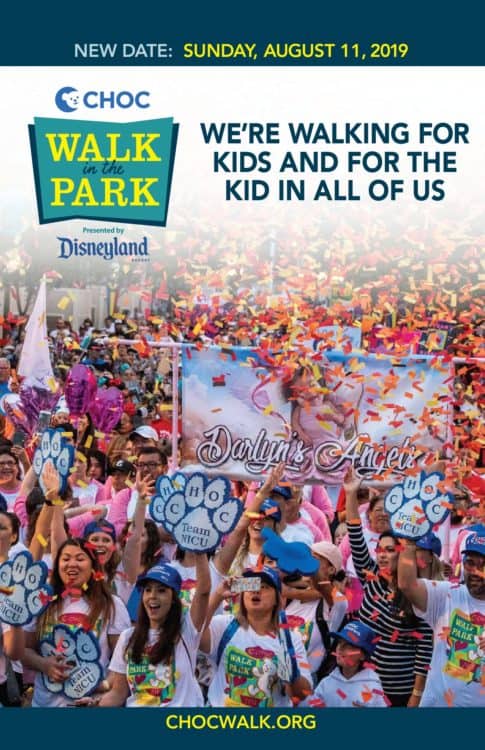 The 2018 CHOC Walk raised $2.9 million dollars to help kids in Southern California. These funds go towards covering medical treatments so families don't have to worry about bills. Money also went towards the Mental Health Inpatient Center, the ASPIRE Intensive Outpatient Program and broke ground on the Thompson Autism Center. Check out this playlist for video stories on why people walk for the CHOC Foundation.
Here's this year's sizzle reel for a brief intro!
Funds also allowed the creation of a calming sensory room, a sanctuary for patients to calm down, focus and rejuvenate, allowing their treatment to work to its best possibilities.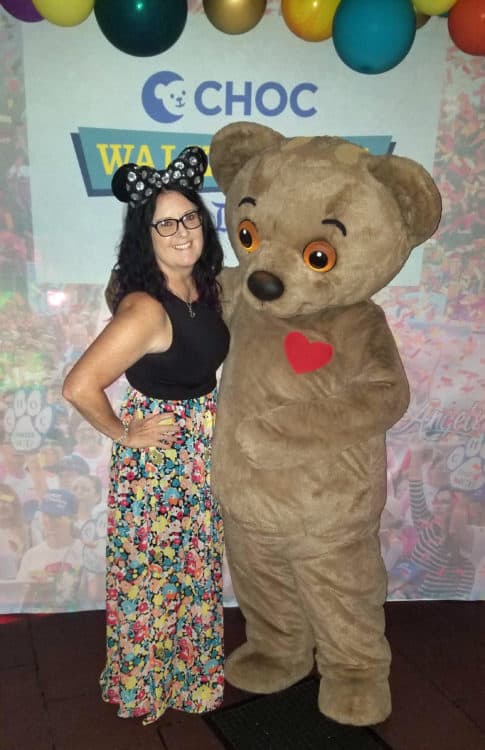 The CHOC Walk is open to everyone, but its very popular amongst families and friends of sick children. Everyone can create a team, in honor of their loved one — or just because — and fundraise together. Teams gather together the morning of the walk, to make the 5k trek through the parks, but it's also open to individuals. For event information, visit the CHOCWalk.org website.
How to Fundraise for the CHOC Foundation
Fundraising is easier than ever this year, because now you can donate via Facebook. You can also create your fundraising page so others can donate to your team, to help you meet your goal quickly; instructions for that are also available on the CHOC Walk website.
If you are a Disneyland annual pass holder, there is a DAP team you can join, and there are special momentos you can win if/when you meet specific fundraising goals, such as a really cool Star Wars 2019 collector's pin, a Star Wars drawstring backpack, and DAP insulated water bottles.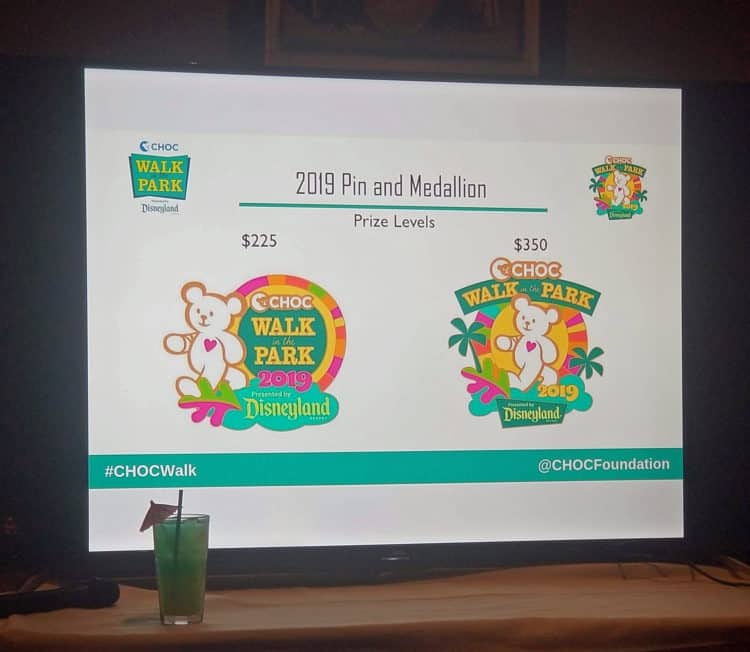 There are also benefits to meeting your goals even if you don't join the DAP team, such as a colorful CHOC bear Walk in the Park pin and a beautiful medallion. Walkers can also purchase highly discounted Disneyland tickets.
This year's event is on August 11, with the parking structure opening at 4am. (Parking is free that morning for walkers.) Main street opens at 5:30am and the opening ceremony is at 6:00am. Some local hotels are offering rates for walkers if you want to stay there the night before rather than make the drive down. Information for those is also on the website.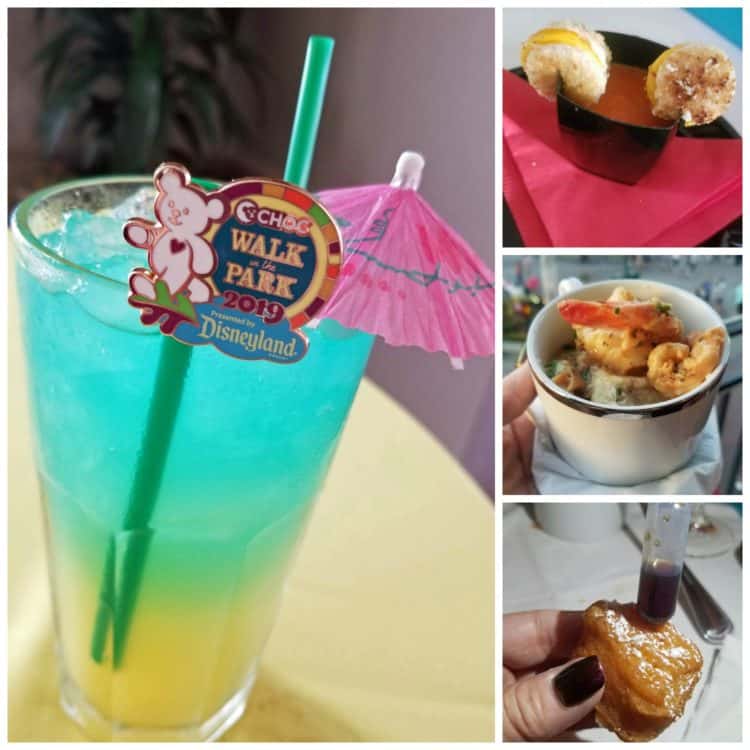 Thanks to Disneyland, the CHOC Foundation and Ralph Brennan's Jazz Kitchen for the invitation and for hosting us at media night this week. We were treated to CHOCTails, delicious food (like shrimp and grits as good as what I've had in the south), Kahlua-filled beignets and photos with CHOC bear!
The evening ended with us watching Disneyland's Forever fireworks show from the Jazz Kitchen's balcony. We learned a lot about this year's walk and got to meet this year's ambassador family, and we left with our own pin, medallion, t-shirt and Star Wars mouse ears hat!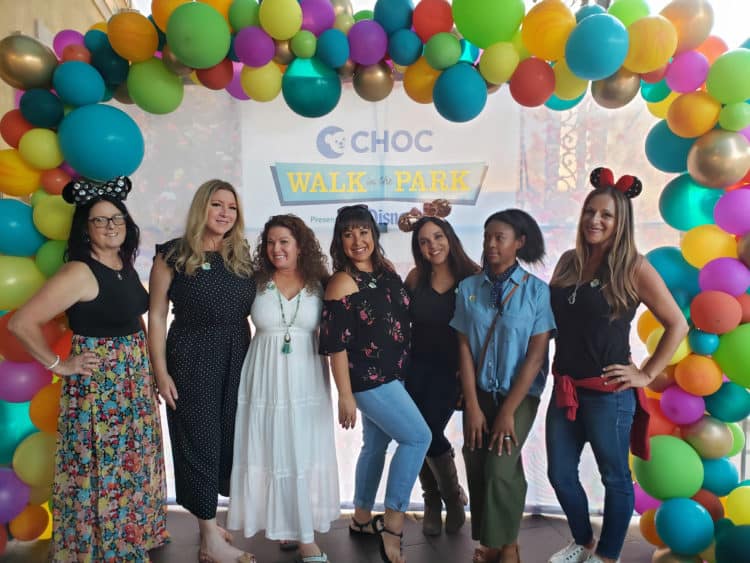 Want to enter my giveaway for a chance to win two (2) wristbands to enter the walk without paying the $85 fee and without fundraising? Here are the rules: Winners will have to sign up to walk and will have to pick up their wristbands during CHOC Walk check-in on Friday, August 9th and Saturday, August 10th at the CHOC Walk offices in Orange. Hours and location info on CHOC Walk check-in here. Winners must be a US resident, 18 years of age or older. One winner per household. Void where prohibited by law and no purchase necessary to win.
a Rafflecopter giveaway
See you at the park on August 11, walkers!