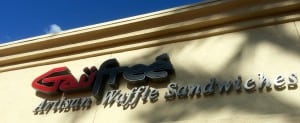 Last Saturday, my family and I were invited down to Irvine, California, to visit Gaufree, a restaurant serving artisan waffle sandwiches. With a menu full of farm-to-table salads, artisan soda pops, organic fair trade coffee drinks and handcrafted waffle sandwiches, it was well worth the 1+ hour drive.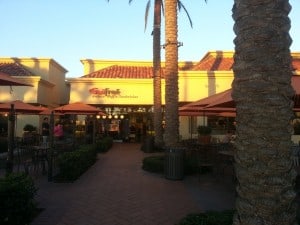 Located in an upscale strip mall on Alton Parkway, not far from the 405 freeway, Gaufree has an ideal location. They offer an outdoor seating area, a large selection of booths and tables indoors, and a brass espresso machine that's been in the family for a very long time and is still used to serve customers the best espresso I've had in a very long time.
This particular event was geared towards bloggers and media members, and Gaufree put it all out there for us to try. We were offered a large menu to select our options from, complete with sandwiches, sides, drinks and dessert.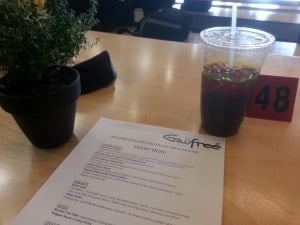 I opted for the Vegetarian Gaufree, with field greens, roasted peppers, egg plant, port wine glazed tofu, caramelized onions, goat cheese, garden pesto and balsamic reduction with garlic aioli. The waffle was light, held together well despite the many ingredients inside, and tasted fantastic. Each ingredient lent a different taste and stood out on its own, and it all came together perfectly.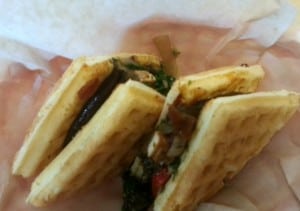 The husband got the buttermilk fried chicken. Chicken and waffles. It's a southern dish we'd tried back in South Carolina and enjoyed. Having it waffle sandwich style? Awesome!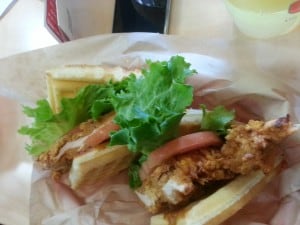 My daughter, my social media assistant and junior photographer, ordered the Philly Cheese Steak. Grass fed beef, sautéed peppers, sweet onions and melted swiss cheese. How can that be anything but good? She ate the whole thing. But then again, we all did.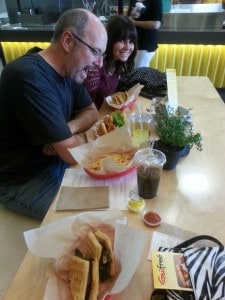 I chose Cherry Coke, and I'm normally a Diet Soda kind of person – if I drink soda – but they recommended it so I tried it. (We got there about 20 minutes early so we got to hem and haw over the options a bit and had prime choice of seating.) The husband got a lemonade and DD had the cream soda. Score all the way around. The servers were very attentive – without being too much in our faces – and always kept our glasses full with smiles on their faces.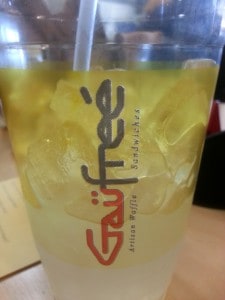 We also tasted the Belgian Street Corner Fries. They came with the famous garlic aioli and homemade ketchup, and as is everything in the restaurant, including the soda, there was no high-fructose corn syrup. SO good. Crispy, well-seasoned fries dipped in either option was delicious, but my daughter is a ketchup fiend so I stuck with the aioli.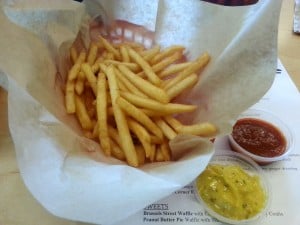 For dessert, we all chose the Peanut Butter Pie Waffle with Sea Salted Caramel. I can hear you groaning now, yep, it was like that when I first heard it, too. We were warned by one of the servers that it was a lot for one person, but that didn't stop us each from trying to demolish our own. The only person that did was the DD! (She's not ashamed of it – in fact, she happily Instagrammed that she ate the entire thing.) I brought the rest of my home to a very happy little dude who had opted out of going as he was started to get the cold that kept him out of school on Monday and Tuesday.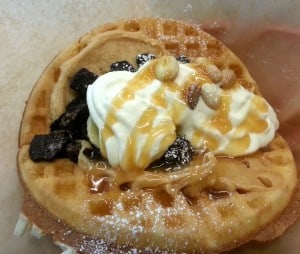 After everyone finished and was leaning far back in their seats, chatting with other bloggers and taking photos together, we got the chance to speak with the owner. He'd introduced himself earlier to everyone and shared a lot of the history of the restaurant, their concept and their approach to food. Organic, non-GMO, sauces and dressings from scratch. Homemade sodas without additives. Local farm to table products and providers. Free range chicken and grass-fed beef. Compostable and recyclable disposable products. Don't we wish more restaurants took this approach?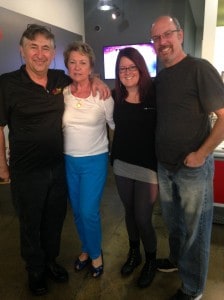 The owner, Paul Hortobagyi, is from Hungary but lived in Italy for some time as well, learning the skills to make that espresso I mentioned earlier. (I've had a lot of coffee, and his espresso was amazing. I thought for sure I wouldn't be able to sleep that night, but it was so worth it. I can't forget to add that they also shared their spectacular hot chocolate.) Mr. Hortobagyi was a joy to speak with, and we scored a picture of him and his wife. She tried to bow out of the photo but he grabbed her and said "You are my world, get in this picture." WAY cool.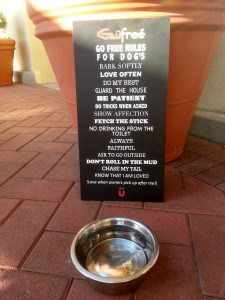 Another cool thing? That. I don't normally take my dogs out with me, not even Missie the Yorkie, but I could, she'd be welcome here!
Gaufree and staff, thank you for a memorable Saturday afternoon. We enjoyed the food, the company and the waffle pie…ahhhh. We're so glad to see more and more businesses work with bloggers like Gaufree did. We will be back!