Do you like snacks? Salty, crispy, seasoned snacks that you can dip or just shove in your mouth on their own? If yes, you'll like the Pretzel Crisps we had the fun of trying last week.
**Disclaimer: Pretzel Crisps sent us a very large complimentary bag of pretzels and dip fixings. The photos and opinions are my own.**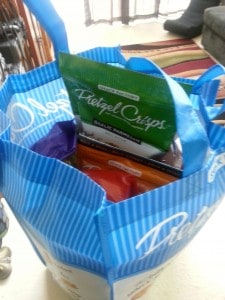 We ended up having a party for last week's big game. Last year, in South Carolina, we sat home alone watching the game, just the two of us, in our livingroom. Me on the computer, the husband on the couch, both semi-bored and me complaining constantly that a) everyone local was a party pooper who didn't want to hang out and socialize and b) none of the commercials that everyone was raving about on Twitter were being shown in our small town. We decided we weren't doing that again! We invited over a small group of family and friends and started planning a menu.
Chicken wings? Enchiladas? A big sandwich? I ended up making a huge pot of chicken tortilla soup and jalapeno popper dip, while my youngest made cotton candy white chocolate chip popcorn and to-die-for lemon brownies with lemon glaze. Everyone that came brought something, so we ended up with so much food. SO.MUCH.FOOD.
Some of the soup is still in my refrigerator. (It was good, but we did so much snacking, people were full!)
A big hit of the party was the Pretzel Crisps. They were different from the regular potato chips or tortilla chips and were good with the jalapeno cheese dip, blue cheese dressing, and our favorite (which was gone way too quick) was the salsa, with the recipe and ingredients provided by Pretzel Crisps.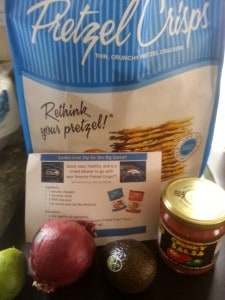 A jar of salsa, the juice of a lime, a chopped avocado, a red onion chopped fine = yum. Good mix of acid and onion and seasoned tomato salsa. The hardest part was choosing which Pretzel Crisps to open! (I have to admit to sneaking the personal size bag of jalapeno chips into my desk drawer as part of my personal stash for while I'm working. You'll need help if I ever catch you in my stash. Trust me.)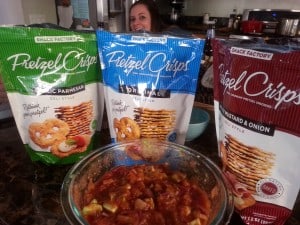 As you can see, the chips and dip was appreciated! In fact, by the time the last guests arrived, it was <horrors> gone.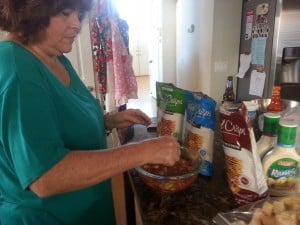 Moral of the story: if you want dip, come early. Or this happens.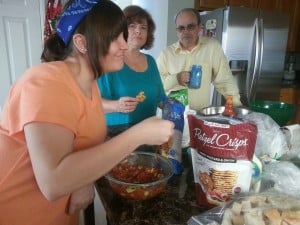 Someone hogs the bowl!! She really did share, but you might have had to push her out the way just a little bit.
Thank you, Pretzel Crisps, for contributing to our awesome party and turning it into a #Pretzelbowl!
Pretzel Crisps come in nine deli-style flavors (all of which were included in my large bag, sweeeet), four modern classics, two minis and their seasonal indulgent options. You can find the flavors listed on their website. Pretzel Crisps are not only delicious but they have a lot less calories than traditional chips and none of the fat, coming in at only 110 calories per serving. They are thin, flat-baked pretzels and their shape also means they are easily stacked into mini-sandwiches with cheeses and deli meats.  The Pretzel Crisp company started in its early form back in 1970 and with a long timeline of events, detailed on their website, eventually came to make pretzel chips after starting with funnel cakes. (Like that wasn't a good sign, right? I LOVE funnel cakes.)
For more information, you can visit their website or find them on Facebook, Pinterest and Twitter. They're available at fine stores nationwide, including Ralph's, Vons, Sprouts, Circle K, and a ton of other stores all over the United States that this California girl is unfamiliar with. You can also order them online should they not be local to you. (And I know how that is, I used to have to either order online or drive 2+ hours to Charleston or 1.25 hours to Wilmington to get a lot of the 'cool' food we liked. It's usually worth the drive!)