Back in July, I attended an early press day for Disney's Moana, coming out on November 23. A new animated movie, Moana is a story about the spirited and independent daughter of a king, drawn to the water and towards finding her purpose. Along the way, she meets Maui (played by Dwayne Johnson) and the real action begins. I'm going to go see Moana next week and I can't wait!
Someone asked me what happens at press day. My answer of "It's a whole lot of fun!" didn't really help her. The real story about what happens at an early press day is so much more.
We meet for breakfast at Disney Studios. You take at least one picture like this at the Plaza of Legends. (I take one every time I go. The scene doesn't change, but there's something about being next to the shadow of Walt and Mickey….)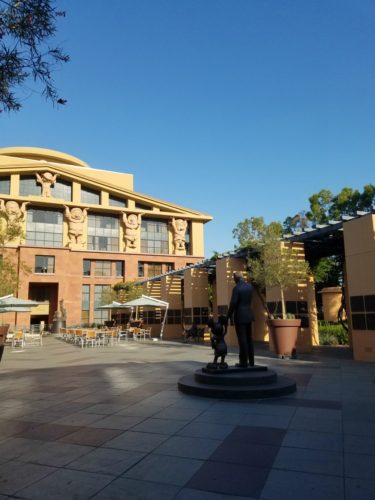 We get on a shuttle for the current animation campus. Everyone's buzzed on caffeine and excitement about what awaits us at the studio. We're broken into groups, for rotation throughout a number of mini-conferences where we listen to speakers from various Disney Animation departments, like set designers, special effects, animation, story development, etc. This mural greeted us when we walked in for Moana's press day.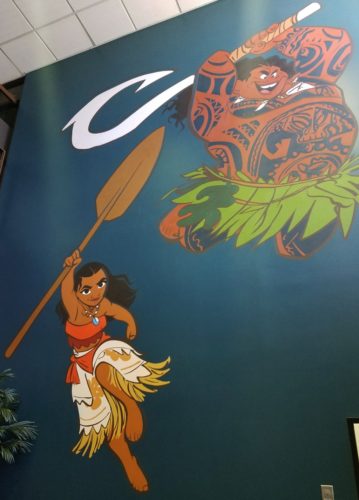 Then the learning begins. We learn the inspiration for the characters, how the cast was chosen, who helped in the creation of the clothing or set (in this case, it was the Polynesian Trust) and a million other amazing details that result in a movie as spectacular as Moana.
Isn't that cool? I can never watch another animated movie the same away, and that's a good thing. After learning the years of work that goes into what starts as a simple concept, I appreciate a movie so much more. The software programs involved have always fascinated me, and the picture above depicts just a little of how scenes evolve into what you see when you're in the theater.
Maui's character is going to be a popular one. (Well, so is Moana and Pua, the pig, but Maui's got a special mini-Maui to make you love him more.) His conscience lives on his chest, or wherever his mini-Maui roams on his tattooed body. Don't we all need something like that to keep us in line? Maui also has the eyebrows that Dwayne "The Rock" Johnson is known for. You can't look at Maui without seeing more similarities that make him such a likeable character, despite his flaws. Learning how Maui's concept was changed — like how the Trust wanted him to have more hair, because hair is a valued trait — was so interesting.
Then we eat.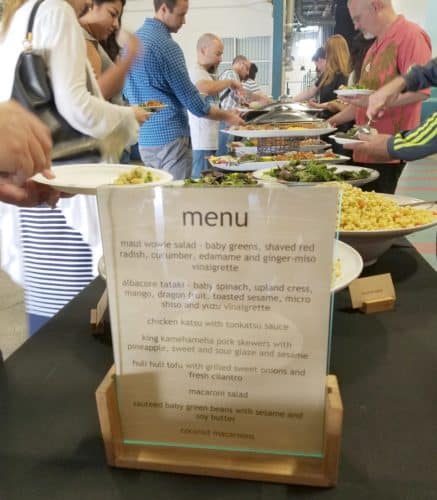 Disney's food is always delicious, healthy and unique. I may have had a second helping of that Maui Wowie salad.
Photo opps are plentiful, too.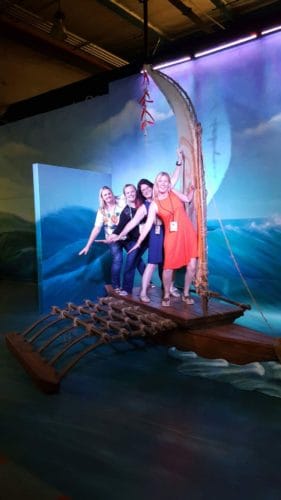 We may have gotten a little too into it, but how can you not? I tell people all the time, enjoy it. Get on the catamaran. Get in front of the green screen. Get on the stage and do the hula. Life is short, when will you be able to do this stuff again? If you can't laugh at yourself, you're taking life too seriously! (Check out my post about the making of Moana where I may or may not have shared a photo of me dancing on stage.)
Isn't she beautiful? I happened to run into her at the premiere of Pete's Dragon and she's got that ever-present smile as she rocks the runway.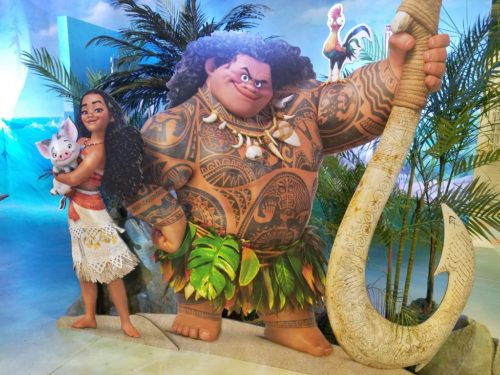 The making of Disney's Moana is a labor of love. Every single person I met at the studio that is involved in the creation of this masterpiece is a happy camper. Smiles everywhere, just like when you visit a Disney resort. To have a job that you love is a gift, and to work in a building so full of creativity, intelligence and true devotion to your job…it's got to almost not be a 'job' in the sense that you dread going each day.
Go see Moana when it comes out. Until then, watch the trailer below, download the printables I share here and know that you're going to be in for a treat!