With holiday parties on the horizon, having a new cocktail recipe to add to the mix is always a win. That's why I created this Mezcal Guava Margarita, because I wanted to wow my guests on Thanksgiving with something new. It's easy, only takes a few ingredients and is something different from the regular margarita.
Thanks to Melissa's Produce, I had two packages of guava paste. I love guava, but the fruit isn't readily available and my neighbor's tree stops dropping them in my yard before I've had my fill. Enter guava paste, stable longer than the fruit and edible straight out of the package. It makes a delicious addition to your Christmas Eve charcuterie tray, in slices to place atop crackers, cream cheese, brie or even on its own. If you haven't had it before, it's kind of like a firmer version of fig jam.
Making a Mezcal Guava Margarita Cocktail at Home
Guava paste can be rehydrated and used in place of guava juice or nectar, and it's so easy to do! I made a batch for this recipe that uses only half the guava paste package and only took about 90 seconds. It's so simple!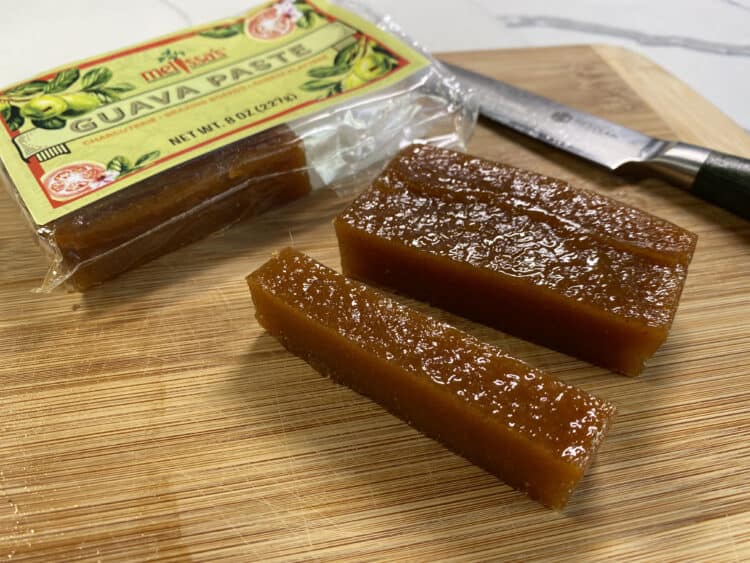 Guava Syrup from Guava Paste
Cube up one half of the guava paste package. Add to one cup of water in a microwave safe bowl. Microwave at regular power for 40 seconds. Stir and using a fork, begin to mash the guava paste, which will already be softening. Put it back in the microwave for another 30 second or so, then finish smashing the paste into the water. You'll end up with a nectar-consistency liquid, and you may need to let it cool for a few minutes before you use it in your cocktail, or you can do it ahead of time and refrigerate.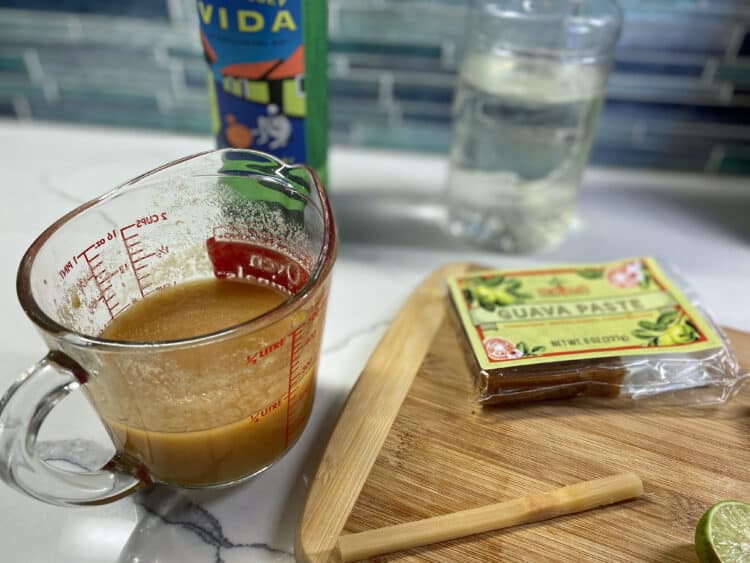 Once you have the guava paste ready and cool, you can make your cocktail! It's even got a fall color to it, so while it's perfect for Thanksgiving, you can change up the sugar rim to make it more Christmas-y!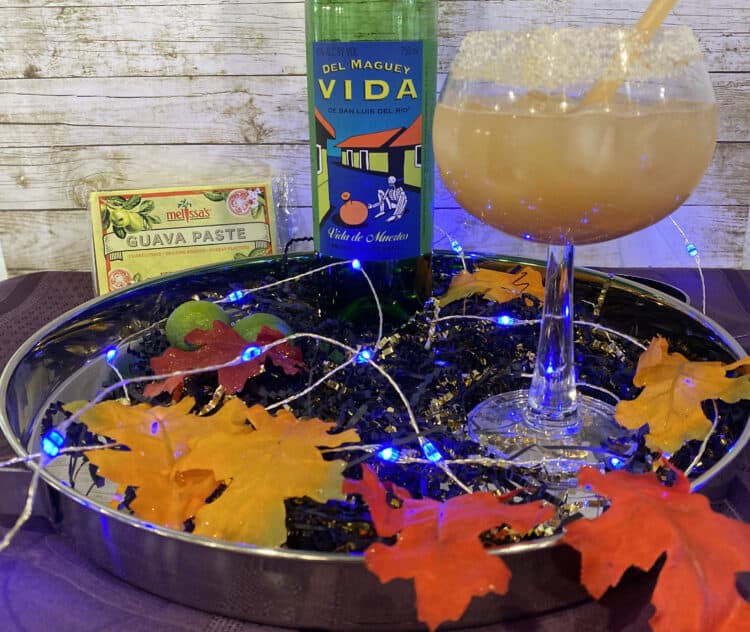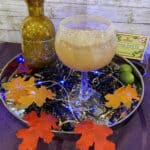 Mezcal Guava Margarita
Ingredients
2

oz

Mezcal

2

oz

Guava paste nectar (recipe above)

3/4

oz

Triple Sec

Juice of one key lime (or small regular lime)

flavored sugar for rim (optional)

sugar cane swizzle stick (optional)
Instructions
Pour the Mezcal, guava paste nectar, triple sec and lime juice into a cocktail shaker 1/3 full of ice.

Rub squeezed lime half around rim of cocktail glass.

Roll edge of cocktail glass quickly into the sugar, on a shallow bowl or plate.

Pour cocktail into glass. Stir with swizzle stick.
Turning guava paste into a liquid with this recipe leaves you with enough to make at least 5-6 cocktails, or you can add it to a glaze for pancakes or add it to buttercream frosting. I hate to waste anything so I try to find fun ways to use things before they go bad.
If you smash the guava paste enough, you shouldn't need to strain anything. No chunks will remain! You'll get the full flavor of guava without peeling and chopping, and it will last longer in your refrigerator.
The sugar cane swizzle stick is totally unnecessary BUT it's also totally fun. Sugar cane can be chewed on (but don't swallow it) so it's just a cool addition to a drink. Festive and unique for the win!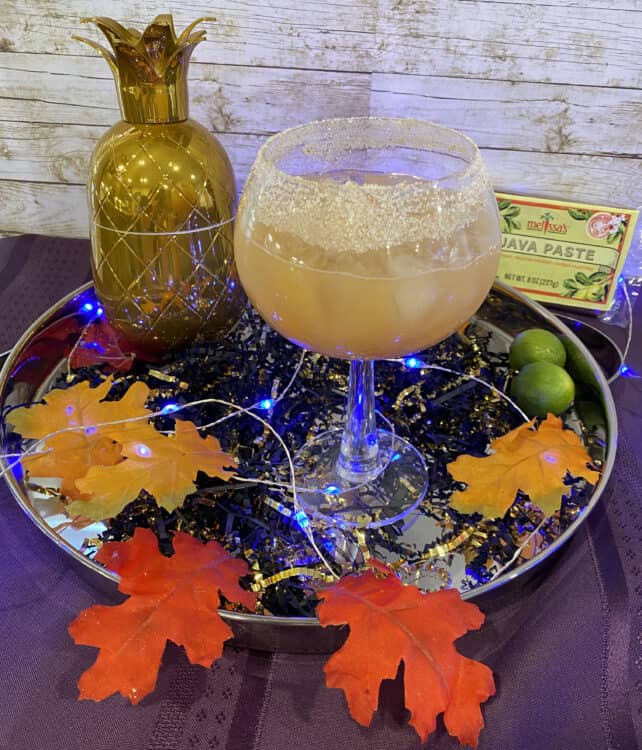 I can't wait to take this to one of our Thanksgiving celebrations this year! So far, we've got four on the itinerary. Perks of having a large family and a bunch of amazing friends. That's another bonus with this beverage: I only need to take the guava paste nectar, the Mezcal, limes and Triple Sec, along with the sugar cane and fancy sugar for the rim. For the drink in these photos, I used a Mango Tangerine Sugar we bought from Gainey Vineyards on a wine trip. You could switch that up and use any number of complimentary flavors.
I wish you a happy Thanksgiving and a very merry Christmas — happy holidays, however you celebrate! This time of year is about being with those you love. Enjoy every minute!