I'll drive a long way for a Halloween experience, but it feels like so many of the events are in the Los Angeles area. Well, Inland Empire and San Diego peeps, now there's Halloween fun in Temecula, in the heart of wine country, so you don't have to make the long commute to take the family out for an evening of spooky fun!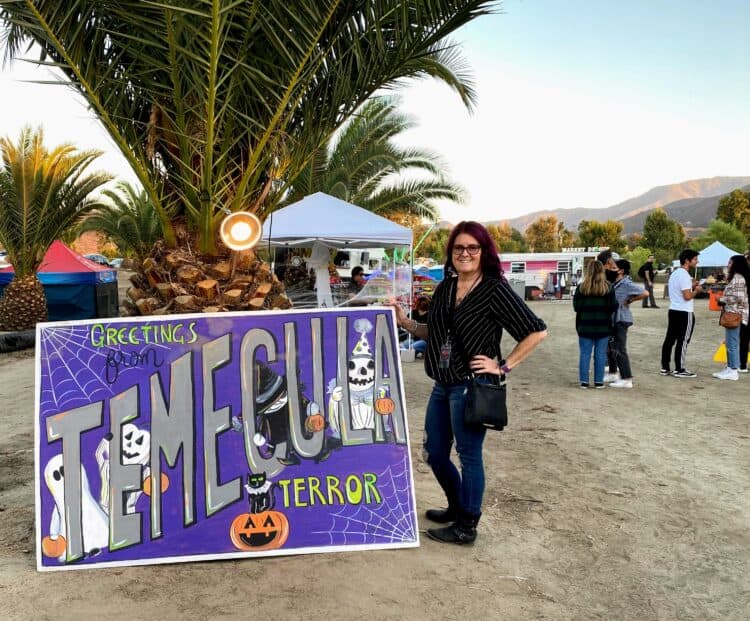 Temecula Terror is located on the back side of the wedding and equestrian venue, Galway Downs. It's a short 7.5 miles from the 15 freeway, off the 79, surrounded by trees and rolling hills, the perfect backdrop to a Halloween Harvest Festival turned haunt.
And that's exactly what makes this new Inland Empire Halloween event unique, because the festival itself is part of the story! This tiny "town" is haunted, and its residents are all part of the experience. We were invited to experience the pre-launch media night and we had a lot of fun.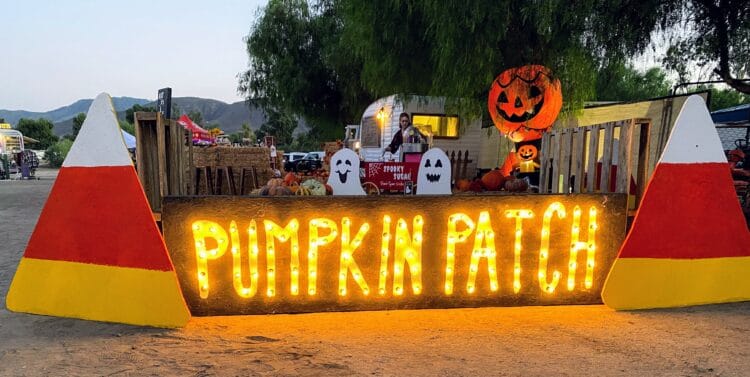 First, you enter the "festival" portion of the event. This is where, from 5pm-7pm each night (Thursdays through Sundays all the way until Halloween), families with children can enjoy the pumpkin patch, a painting craft area, pop-up shops, a carnival ride, trick-or-treating, photo opps, fun music and good eats. It's simply spooky, not scary.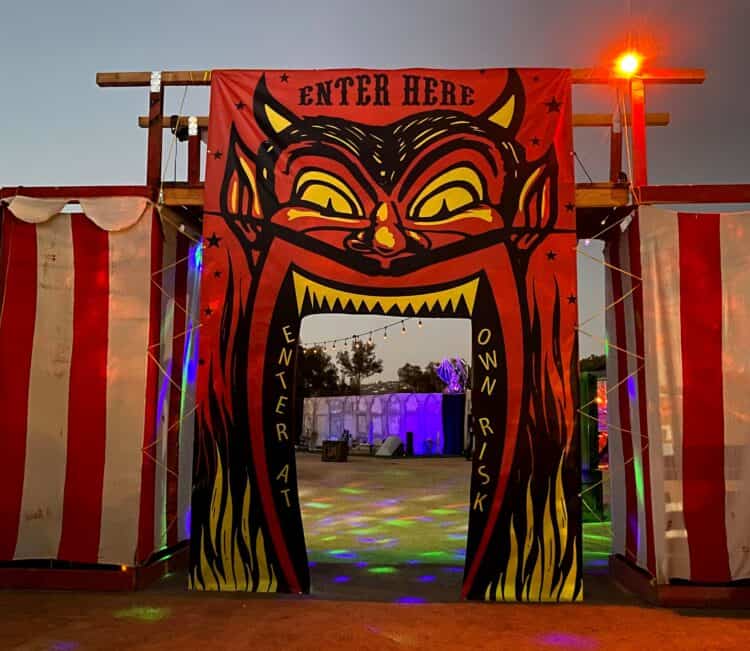 But at 7pm, when the sun sets, the monsters come out. The mazes open in the scare zone to the left (clearly marked with an imposing gateway entry, so there's no mistaking it) and the atmosphere changes.
There are three mazes at Temecula Terror: Otis Hatcher's Home, Butterfield Asylum, and The Crypt. Each maze is much longer inside than it appears, and the producers of the mazes, the Bloodshed Brothers, utilize a plethora of props, sounds (or lack thereof) and lighting, along with special effects, to pull you into the story of the maze. Reality blurs as huge animatronic spiders crawl from the walls, body bags dangle in a pitch-black space, and Otis's pumpkin collection — as he's quite obsessed with Halloween — takes you into a twisted space where you'll find yourself hurrying along for no apparent reason…until there is one.
Monsters come out when you least expect, and not in the typical spaces that you see in many Halloween mazes. The art of distraction is heavily employed in all of the mazes, and whether it's due to COVID or just an attempt to be different, there are less monsters in the mazes than you may expect — and it works perfectly. These Temecula Terror mazes aren't just created to make you run screaming from bloody butchers with cleavers, but to creep you out just simply walking the hallways.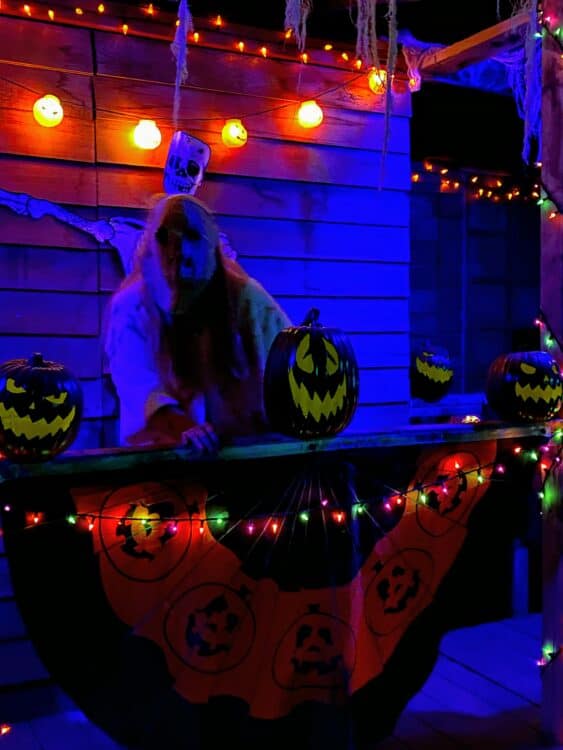 If you've ever done the Queen Mary's Dark Harbor, you may have walked through the green misty lasers designed to make you feel as though you're underwater. It was always a favorite of mine, and Temecula Terror has a similar space that pulls off the feeling with it's dark pathways and creepy faces popping out of the mist.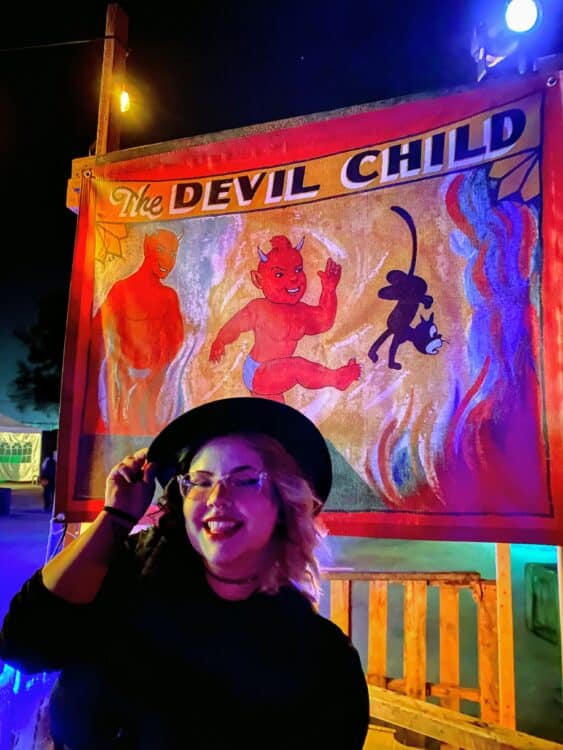 Once you're done with the mazes — or if you need to do it before — there's a bar available to the left of the entry into the scare zone, which is the center of the maze area. Tickets to the event are $25, which includes the 5-7pm family time and 7pm-11pm mazes, entertainment and more, but if you purchase the VIP add-on (an additional $10), you'll have access to the VIP Bar, where there's a secret speakeasy serving unique craft cocktails you can't access elsewhere.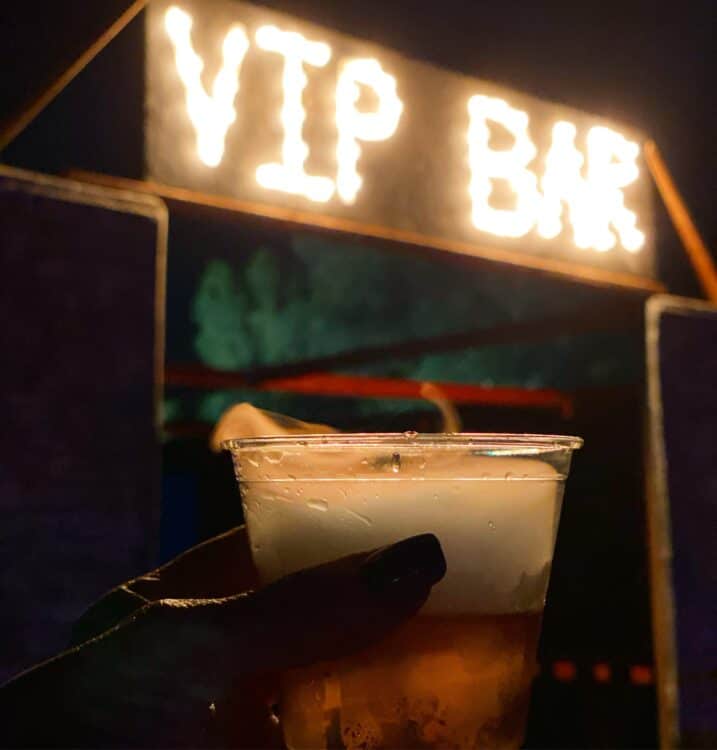 You'll also get VIP maze access included in that extra $10 fee. Lines moved quickly during our media evening, but groups are spaced out in order to enhance the experience, so I don't know what the wait will be like on a regular night. My recommendation is that the $10 fee is worth it…and not only because you'll want to visit the Speakeasy. Halloween fun in Temecula doesn't have to be expensive!
Purchase tickets online. Parking is included, and is around the corner from the entry, so there is a slight walk on a dirt grade area. Wear proper shoes — we saw quite a few people attempting it in heels and they were having to walk a little slower, as well as all our shoes were covered in a fine layer of dust. Bathrooms are port-a-potties located towards the back of the mobile DJ, who was rocking the whole area with fun tunes all night long.
Food is available for purchase in the Pumpkin Patch area at Tacos Before Vatos, a food truck serving street tacos, burritos, funnel cakes and more. We tried their street tacos and our only complaint at all was there wasn't a lot of seating available…and you need to sit to hold your plate and enjoy those tacos sufficiently, they were delicious.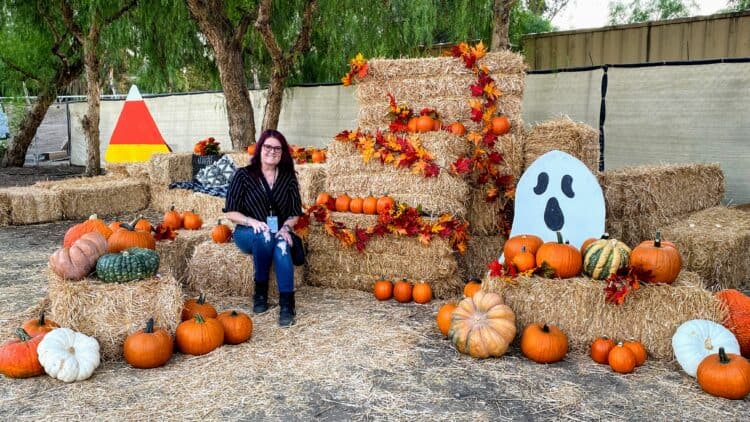 Thank you, Temecula Terror and Bloodshed Brothers, for a spooky, scary, enjoyable Halloween fun in Temecula! It was worth our 80-minute drive one-way, and I'd definitely return next year.