The last two years, I've had the pleasure of taking a couple of the kids to see the Harlem Globetrotters. This year, we'll be attending again and I'm excited! Going to see these basketball players and their skilled ball antics is one of my son's favorite activities ever. Comedy, talent and a lot of crowd participation makes for a fun family event and I'm giving away a four-pack of Harlem Globetrotter tickets for one of the Feb. 11 games below!
We're going to see the Globies at the Citizen's Business Bank Arena in Ontario in February, courtesy of local PR for the Harlem Globetrotters. We'll again be able to watch them spin that basketball like no one else can, and their mascot, the Big G, has me in hysterics yearly. One of their most famous skits is the slow mo ball play and it's gotta be seen to be appreciated.
Last year, my son was able to go behind-the-scenes and meet the team. If anyone has a young teen, you know how hard it is to make them smile. Even if you're taking a photo, you have to prod or coax. Well, the solution to getting real, legit smiles?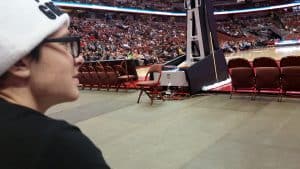 Take them to meet the Harlem Globetrotters. His grin was ear-to-ear and it lasted all day long. Watch the Globies for just a few minutes and you'll see why.
Years ago, I had a job working as a customer service representative in a very large appliance company. I worked closely with the service techs and from time to time, they'd come into the building and say hello or ask questions. My first week there, I met one very tall tech with this big smile and hearty laugh. We talked every day he came in. He'd ask about my two young kids and sometimes even leave a snack on my desk. "You take that home to your kids now!" (I did.) His name? J.C. Gipson. A little later, I learned that this 6'8″ sweetheart was J.C. "Gip" Gipson, one of the early Harlem Globetrotters. He'd been featured on lunchboxes and even in the Saturday morning cartoon back in the '70s. J.C. was a lot of fun to work with, and I was sad to hear of his passing back in 2010. He was a very special guy and beloved Globetrotter.
Thus my interest in the Globetrotters continued, long after watching those original cartoons as a young kid. My kids love being able to continue that interest, especially after knowing my story about working with J.C. What an honor that was!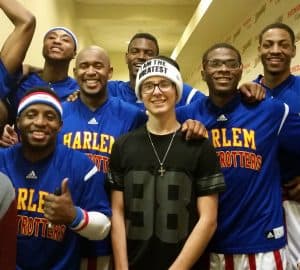 Read more about the team and how to get Harlem Globetrotter tickets here. They are playing all over the country and in many venues, large and small. Here in SoCal, they'll be playing (a real game, btw — they've actually lost a number of games!) at the Honda Center in Anaheim, the Staples Center in Los Angeles, a gym in Mission Viejo and all the way down to San Diego. NorCal has games as well, so visit their schedule to see when you can fit in a game. It'll be a blast!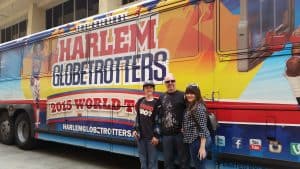 Ticket prices start at $18 at the Ontario show, but prices at all venues are affordable. Be sure to stick around afterwards, as they host an autograph session around the court. Their goal is to ensure every child that wants one is able to get at least one autograph. Balls are available for purchase pre-game and during half-time, but I'd suggest pre-game to avoid the rush. They also sell a lot of other gear. Last year, my son got a pair of team basketball shorts, which he played in repeatedly. (He also got a concussion while playing once — he was having a great game on the school courts at lunch and he was knocked backwards during vigorous play. He's fine, after a trip to the emergency room in an ambulance and a lot of testing to make sure his moderate concussion was nothing worse. It didn't stop him from playing once he was released to school again!)
I'm giving away a family four-pack of tickets to a February 11 game at the Citizen's Business Bank Arena in Ontario. Enter below. Rules are simple: winner must be a U.S. resident of 18 years of age or older, one winner per household and winner must respond to notification letter within 48-hours, so please use an email address you check frequently. If winner doesn't answer within those 48-hours, another winner will be chosen. I will email you the ticket vouchers directly. You will turn them in at the CBBA to redeem them for tickets. *These tickets are only good at the Ontario, California, Citizen's Business Bank Arena.*
Harlem Globetrotter Tickets Giveaway!