We're a Costco family. We don't work for them or get anything by recommending them, other than passing along the fact that you really can save money at Costco. Not a month goes by that we don't drop some serious coin there, but on food and other consumables we need and for a lot less than we'd get them elsewhere. If you're looking for quality products for a good price, you can't go wrong at Costco. I have very few actual grocery items to get each week because of the husband's Costco trips every other weekend. (See my prior post about how to shop there successfully.) Keurigs are sold at a great price there, and that's where we bought our machine. I tell everyone who wants to make yummy summer beverages without having to buy numerous specialty machines that make just one product that buying a Keurig will kill a lot of birds with one stone.
What summer beverages can I make with my Keurig? Here are some of my favorite Keurig summer beverage ideas. I have a long list of drink recipes, and I'll share some ideas here. Nothing more yummy than a cold drink with one of my cupcakes, sitting in my backyard enjoying the summer sky.
Let's start with the obvious. It's super-easy to make iced coffee and other summer coffee drinks with the Keurig. K-cup 18-packs are inexpensive at stores like Bed, Bath & Beyond and Target, or you can order them online at Amazon. I've made pitchers of chai tea, cold chai lattes and green tea lattes as well as individual servings. Here's a link to making an iced chai drink that I shared last summer.
Yesterday, I made a big pitcher of Tazo tea. I used the Iced Passion bag that makes an entire pitcher. (They are on sale at Target this week, two boxes for $6.00.) Rather than heat up my stuff numerous times since my tea pitcher's fairly small, I used the Keurig to heat up the water. Pour it over the bags, let it steep five minutes, then fill the remainder with cold water. Faster than using the stove, too.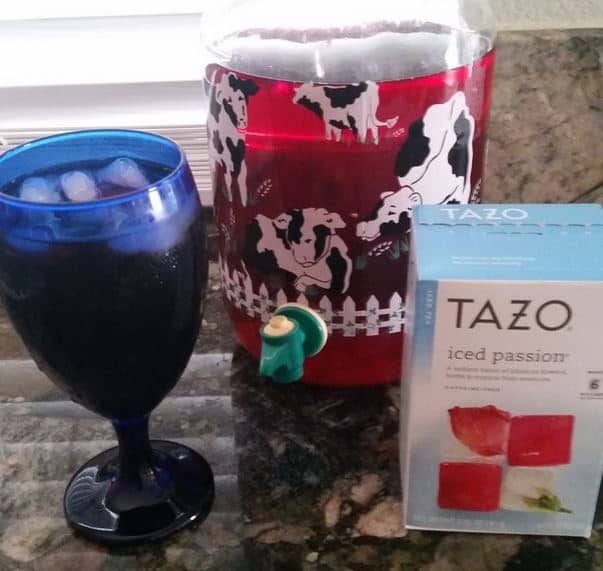 Like lattes? Here's a simple latte-ish drink I love to make. Use the Keurig on its smaller portion options to make a very concentrated tea or coffee, whichever flavor you prefer. I love to use a Raspberry coffee blend on the smallest size so it is very strong. Add it to 4 oz of milk (I use lowfat, nonfat or almond/vanilla) and 1 oz. of a raspberry syrup. Gently blend together and pour over ice. The heat from the coffee will melt the ice just enough to cool it while not diluting the flavor. If you like it sweet, Nectresse is an excellent but healthier sweetener to finish it off. You can substitute any flavors you like for syrups or K-cups. The combination possibilities are endless.
Do you prefer juice or fruit flavors? Make a concentrated hot tea in the Keurig, pour it over ice and add a few ounces of your favorite juice or juice blend. A strong black tea or Chai tea with a little fresh orange juice is so good!
I have favorites at coffee and tea retailers, but there are times I can't get out of the house to go get one. Recreating one you've had somewhere else is easier than it sounds, and even if you don't get it perfectly right, chances are you'll find you really like it!
Maybe you like frappuccinos? Follow the same steps as for a latte, but I use my blender and ice to get a frothier feel. Freeze your leftover coffee/tea in ice cubes and blend them for less water dilution. One cool thing I recently tried was to take leftover infused syrup and water from various baking projects and freezing them into ice cubes. Throw those into the blender or your iced drink and find a whole new way to flavor your beverages quickly and uniquely! (Remember those grapefruit cupcakes I made two weeks ago? That candied grapefruit peel syrup was so good in ice cubes!)
Don't overlook herbs and odds and ends around your kitchen, too. I freeze mint leaves in ice cubes made with some mint simple syrup. Lavender makes great syrup to freeze in a cube as well as basil. Different, right? Orange peels, a couple of raspberries, even pears make fantastic additives in summer beverages. Coconut milk in place of your milk choices adds a bit of a tropical punch, too, and I won't even start on all the fun things you can do with these if you want to add a bit of alcohol into your tea or coffee drink. A Bailey's Frappuccino is great for a summer night on the balcony!
Summer beverages just take a little bit of creativity and time, but with my Keurig, some K-cups and/or tea (loose or in bags), I can always make something for alone time with a book or entertaining a group of people for a summer barbecue. Look around at what you have, experiment, and enjoy!