I wasn't born in California. Far from it, in fact. I was born in a New York hospital, 20 minutes from the family farm in Pennsylvania. We moved to a house in New York when I was nine. Then, at 13, my parents decided that warm California was a good place to start over. I had no say in the matter but was excited about moving to what sounded like a sparkly place full of celebrities and things to do, a world away from the small cities and farm life I had experienced. Little did I know what real life in California would be like.
It took me a while to assimilate. I am not a fashion plate, I bloomed late and I didn't look good in a bikini. I did however do a lot of traveling. My parents took me all over Southern California and surrounding areas, so I learned early on that exploring was a great way to experience life. From amusement parks to museums to Catalina Island and the Hollywood sign, I became familiarized with California in just a couple of years.
I can't brag about my entire childhood but I can say that my parents exposed me to a lot, from east to west coast and sights in between. It gave me the motivation to make sure my children all had that same opportunity. All four of the kids can tell you about cross-country road trips and seeing fun and historical sites from east to west. Even when I think they don't remember, they do, proving that it was all worth it.
Fast-forward all these years, after a questionable three-year hiatus in the south, we're never moving out of California again. Yes, never say never, but it will have to be kicking and screaming. Sunshine tax, smog and traffic, I love it here, and our recent trip down to the beach for the evening is just one reason why. It was a spontaneous visit, but it was a weird couple of days so when the husband suggested we pack up and head to the beach for the evening, I went with it. Not initially, because I was envisioning traffic and parking nightmares (both of which were realities) but in the end, who can say no to going to the beach?
*This post is sponsored by RVShare! As an RV owner, I recommend everyone give it a shot!*
Newport Beach is beautiful. It's high end California beach living. Surfers. Nightlife. Restaurants. Some of the most unique beach shopping storefronts.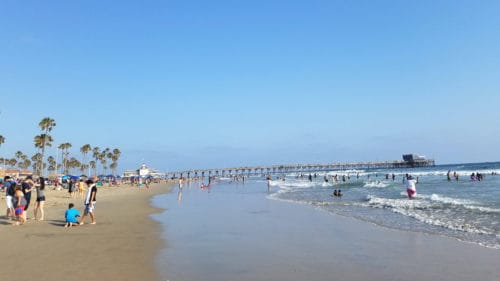 Saturday was a hot day inland, but at the beach, it was only in the high 80s. Newport Beach Pier was crowded with fishermen and families enjoying the view and the breeze. I was waiting for the spectacular sunset I knew wasn't far away.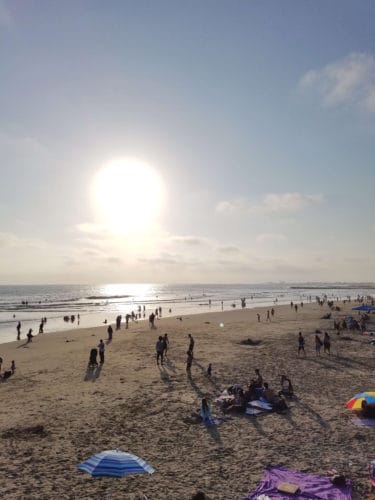 You can't beat those views, but the food is just as perfect. We ended up at Rockin' Baja Lobster Coastal Cantina because when you're at the beach, you have to try the seafood. I ordered the Lobster Fajita Tacos. They say you eat with your eyes, and I really think that is true, because these tacos screamed "take my picture!"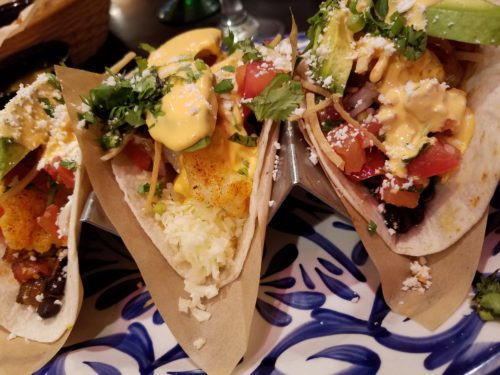 Screen-lick inducing, I'm told. They really are that good. The lobster and shrimp melted in my mouth, and the caramelized onions were just slightly pickled, adding a whole different nuance to the already existent level of flavors. And that aoili…  I wish I could say I ate all three tacos, but I enjoyed the chips and salsa too much.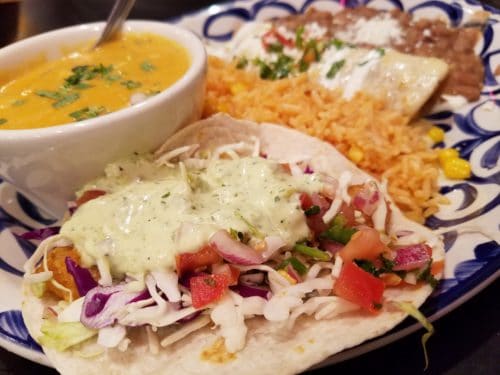 The husband ordered this lobster trio plate and immediately inhaled the lobster soup. I had one bite. One. But I was so busy eating my own food coma-inducing plate that I didn't mind. If you visit, you have to try that soup, and hopefully more than one bite.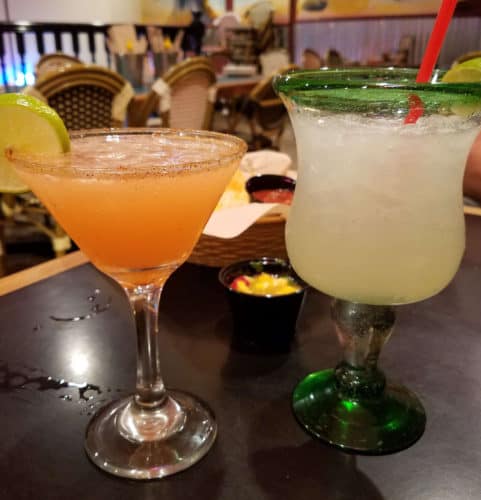 Two margaritas. Two out of four, actually, but the second two don't count because they were repeats of the first, right? They were that good that we ordered the second round. This spicy watermelon 'rita was hands down the best watermelon margarita I've ever had. The house Cuervo margarita was heavy on the lime in the best way possible; it was a more authentic margarita than you get most places, and I'd definitely give that one a try, too. (The husband tries the more traditional margaritas where I always tend to lean towards the spicy options.)
Then, it was back to walk the beach more. I was putting my Garmin fitness tracker to good use.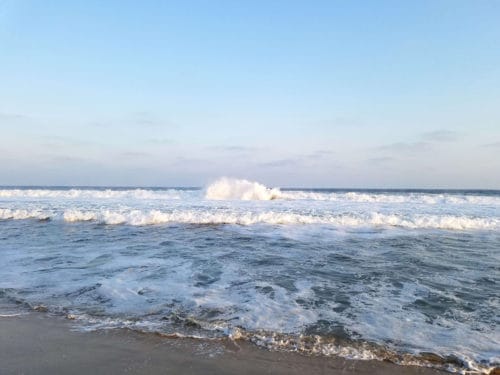 We didn't get quite close enough to the Wedge, but the waves were already decently high not far below the pier. In fact, there was a couple of rescues that afternoon; one was due to a rip tide and high waves, and the other was when a couple ignored warnings and drove their jet ski way too close to the Wedge. They were apparently in a lot of danger and risked the lives of their rescuers. (Heed the warnings, peeps.)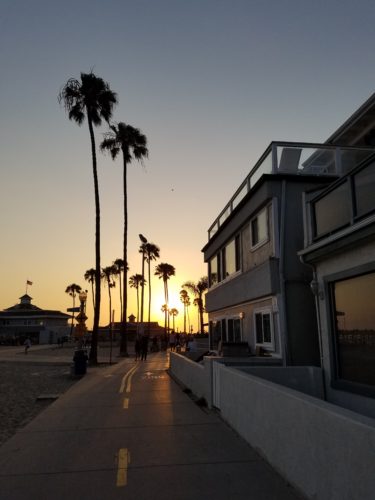 Along the way, we were choosing which beach house we were going to buy. That one. No, that one. Wait, it's THAT one. Then we laughed when we passed another couple doing the same thing. I don't think it's going to happen, but we are looking at renting a beach house next summer. The idea of waking up to the sound of the waves and eating breakfast on a boardwalk patio is exciting.
Whenever I camp down near the coast, I try to do it so I'm on the beach, where I can hear the waves outside my RV window. There's nothing like that sound, and since I won't be moving to the beach any time soon, at least having the RV down there for a weekend is the next best thing! (If you've ever thought about trying it out, did you know you can rent an RV? Here's a link to a good place for RV rentals in Los Angeles. Let me know if you try it out!)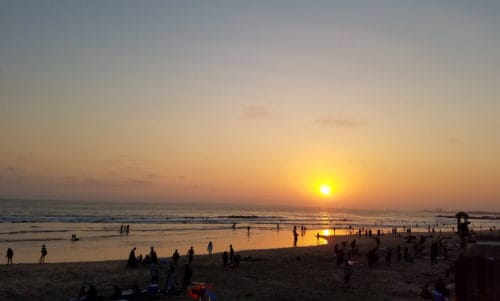 We hung around until around 8:30pm, making another visitor very happy by creating an empty parking space. Parking down there is at a premium. You can pay for parking by a machine or app, so have cash or a credit card handy. An expensive parking ticket makes the $1.75 per hour fee look like nothing.
We also took time to take a silly selfie by the pier. It is California, after all… It took several attempts to get a usable picture, because the beach breeze kept blowing purple hair in my face.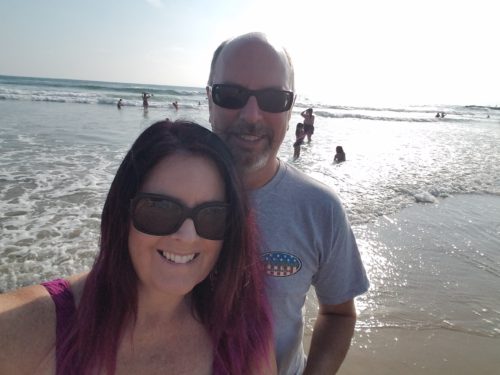 It was the best evening, it totally made the drive worth it. Several hours of sandy toes, wet maxi dress bottom and hand-holding with the husband was the best Saturday night! Head to the beach, you won't be sorry!