Brunch.
Admit it, I have your attention now. Brunch has that power. Everyone likes brunch, the noun and the verb. Eat brunch, do brunch, 'let's brunch.' It's a common Sunday morning activity that gets everyone out of bed…later than usual, which just adds to the beauty of it.
A couple of weeks ago, I was invited to brunch with the Gigasavvy gang, an amazing group of foodies. It was hosted by Kayndaves Cantina in Culver City. They also have locations in Brentwood and Pacific Palisades. I drove from the Inland Empire and it was completely worth it, so don't let the distance be a deterrent. Trust me. One sip of one of their amazing cocktails and you'll be glad you went.
Kayndaves began back in 1991 with a location on the Pacific Coast Highway, owned and operated by Dave and his wife, Jintana. Neither of them are chefs, so they hired Alejo to run the kitchen with his two brothers, Ruben and Roberto. They're from Oaxaca and grew up with a love of food inherited from their great grandmother, learning to cook using only fresh ingredients. They have brought that love and the knowledge of authentic traditional food onto the extensive menu at Kayndaves, and we were treated to a large sampling of all that's available.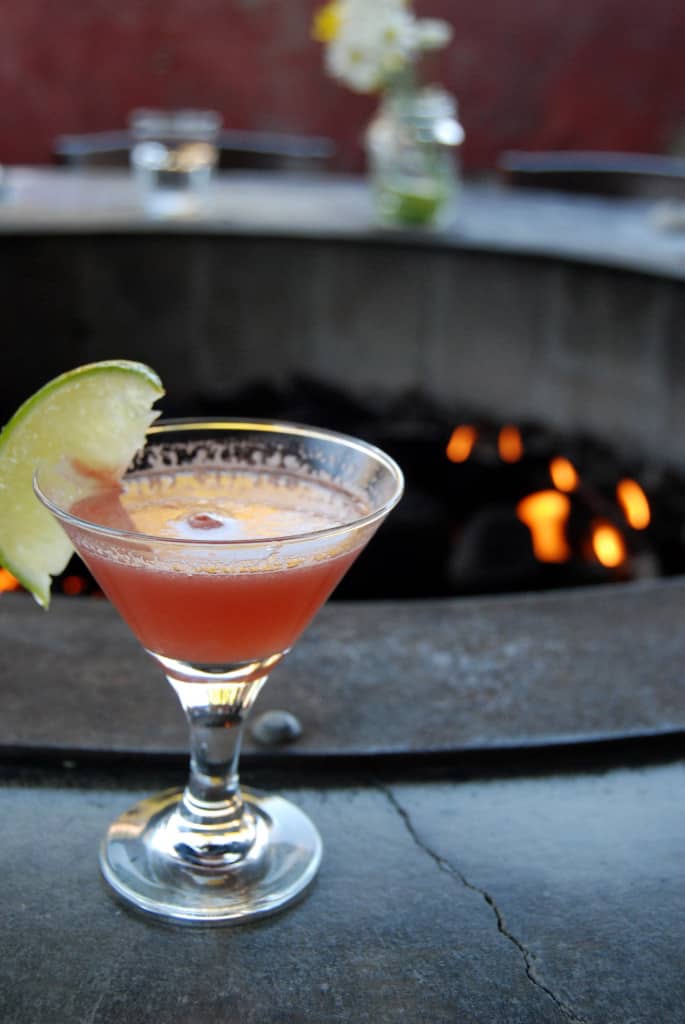 Isn't that adorable? That martini shot glass holds a watermelon shot, made with fresh muddled watermelon. No watered down melon-flavoring here, it's nothing but the real thing and was a fantastic way to get us in the mood for what was to come. The morning was chilly and many of us gathered around a big round table with a fire pit in the middle; other heaters are scattered discreetly around the outdoor seating area so everyone's warm on a California-cold winter's day, creating a warm, rustic environment that's both family- and singles/couples-friendly.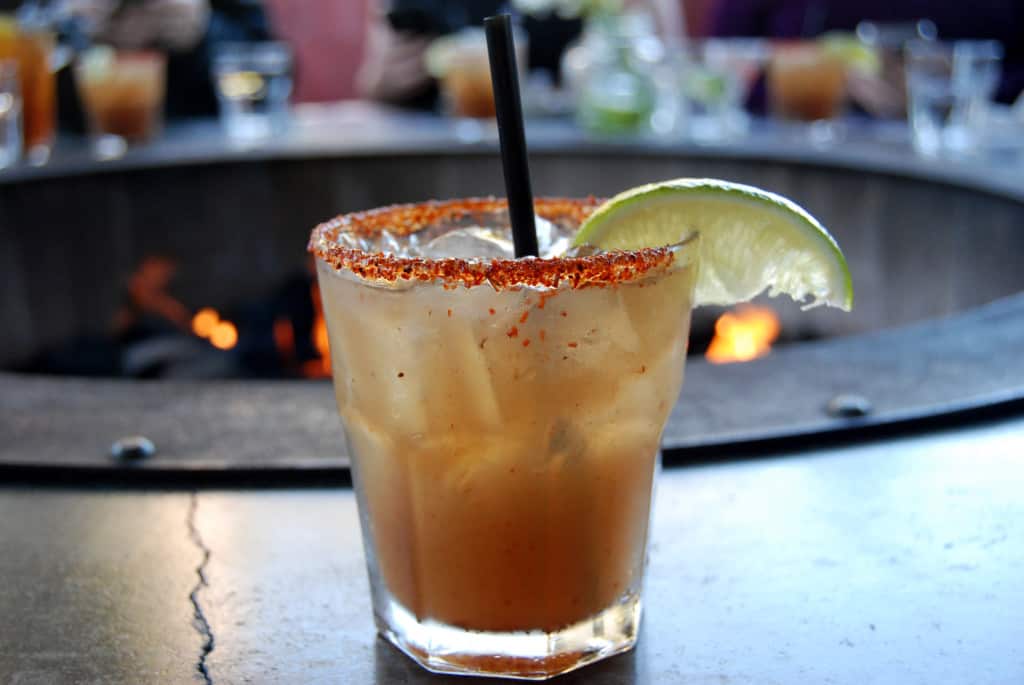 Next up was the Tamarindo Margarito. Made with Xicaru Mezcal, with a chili-rimmed glass, this was my favorite of the four drinks we sampled. (And while Jintana told us that these glasses weren't the normal size, they were plenty big, and no skimping on the alcohol here!) I am a new fan of Mezcal and would gladly drive back just to drink another of these and introduce the husband to all-things-Kayndaves. A margarita and a molcajete — perfect Sunday afternoon drive destination!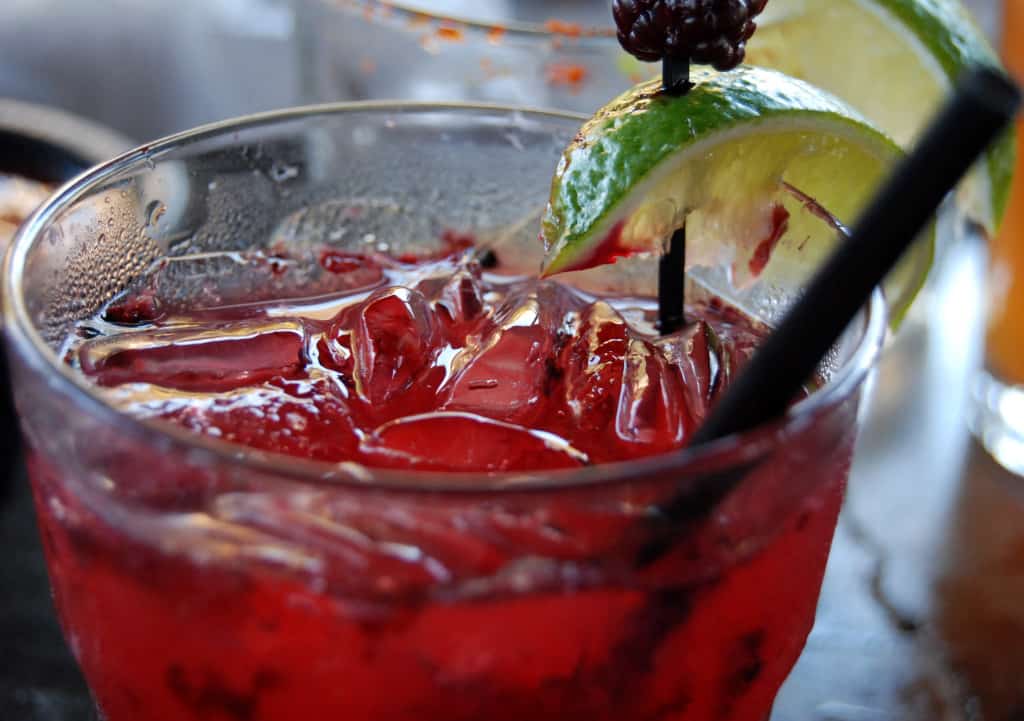 That beauty is a Blackberry Margarita, made with fresh muddled blackberries and mint. No filter required on that gorgeous drink, complete with chunks of berries and mint that almost hid the tequila, which is both good and bad, right? So easy to drink and perfectly thirst-quenching after chips and salsa and guacamole.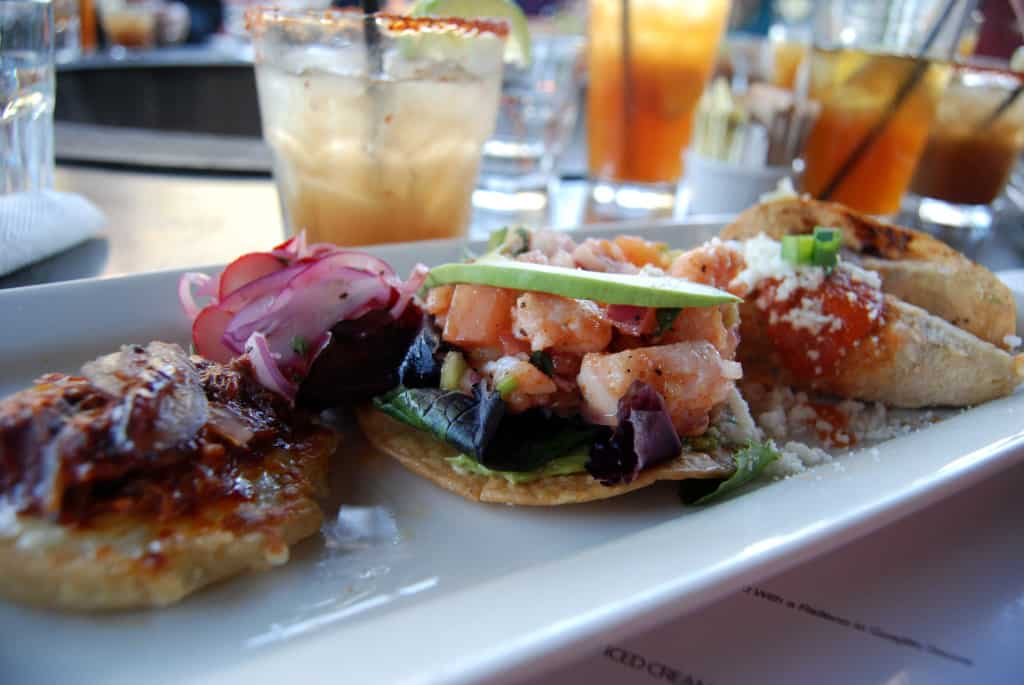 The starter plate was an array of textures and tastes, from the mini Pibil Sope on the far end (cochinita pork oven-roasted in banana leaves with agave leaves) to the Squash Blossom Relleno (fresh blossoms stuffed with jack cheese, Mexican herbs, crema and pico de gallo) and on to the Ceviche Tostada (sole marinated in fresh lime juice) and the mini Chicken Mole Taco (and the mole is made from scratch, as it should be).
I think I liked the Squash Blossom the best — I could pick it up to eat it whole and the cheese pleasantly oozed out. And the ceviche? Sign me up for more of everything please.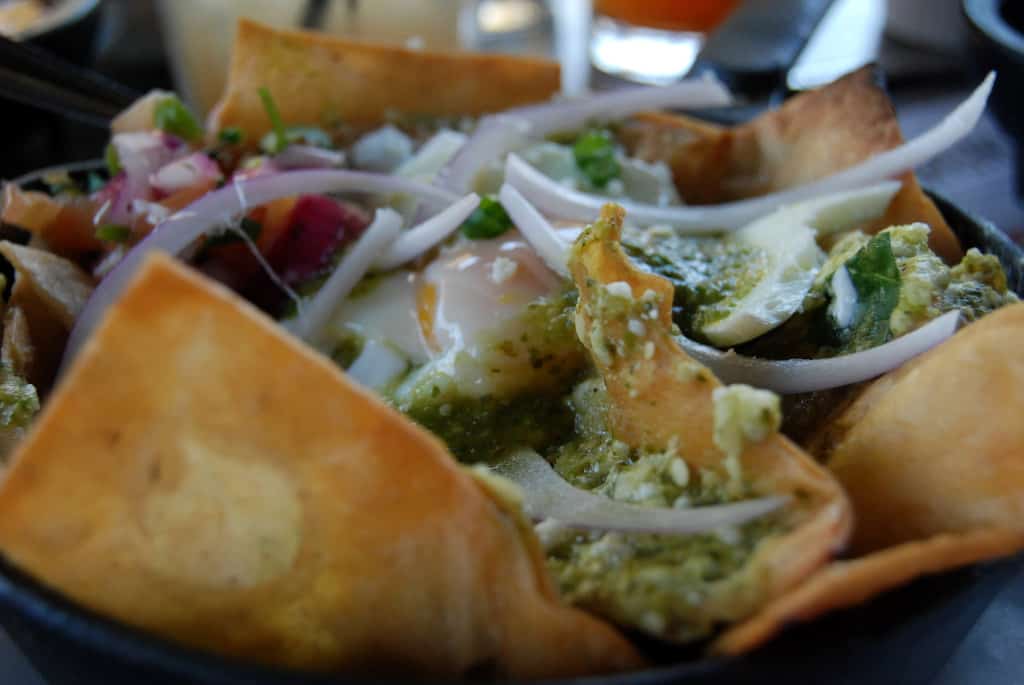 Chiliquiles verde!! It's been a while since I've had a legit chiliquiles. I've been going to a local Mexican store that has a deli/restaurant on the side for mine, but this was amazing. Made with spicy tomatillo salsa, cojita cheese and fresh herbs, it was layers of flavor and texture, with a perfect crunch. The yolk slowly covered the surrounding chips making it absolutely perfect. I ate almost that entire plate, despite all the prior food. (And then I went for a long run after I got home.)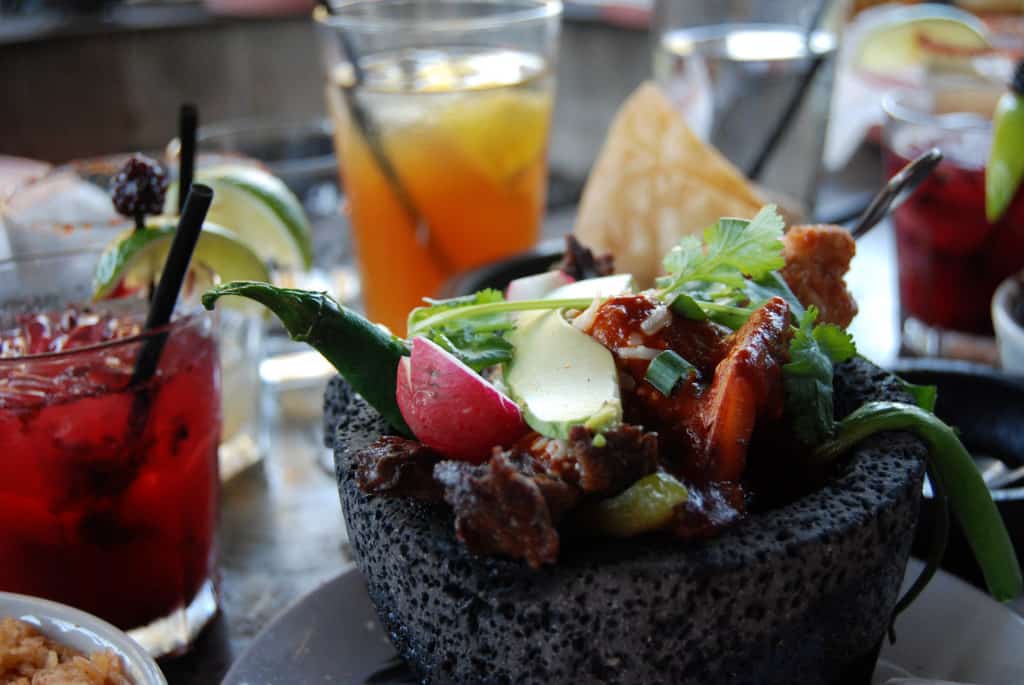 This molcajete was reportedly a small version of the real thing, but I can't imagine it being any bigger. It was so satisfying, full of grilled steak, shrimp and chicken slow cooked with a relleno in guajillo sauce. The sauce was just thick enough to coat everything and the vegetables had the perfect crispness to alternate bites with. I can't eat red meat so a lot of this went home with me, along with those savory, seasoned rice and beans.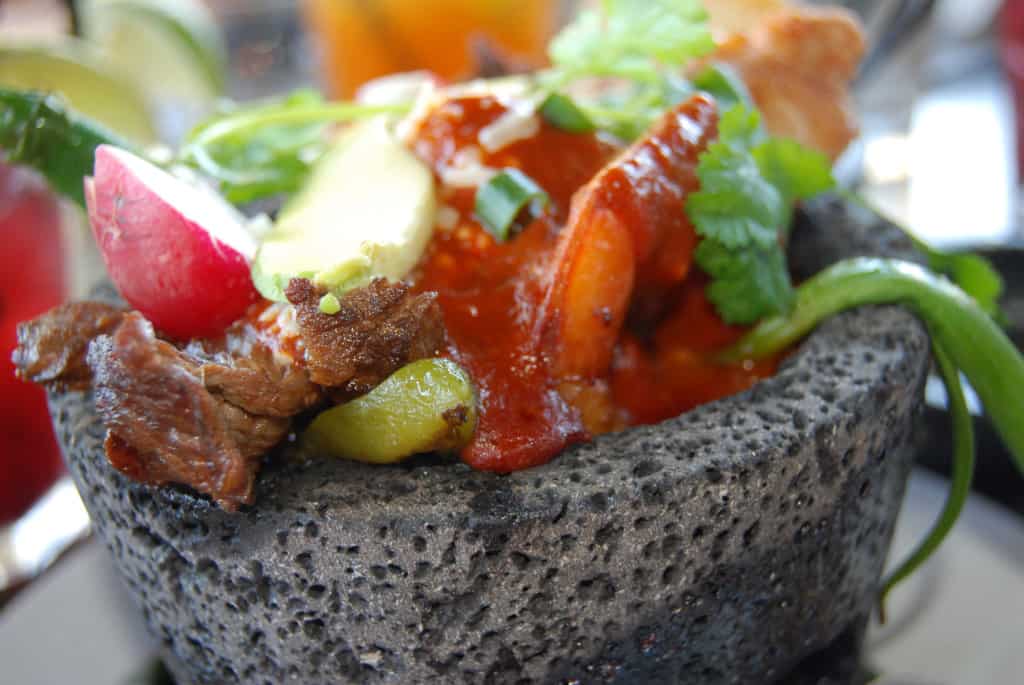 Aren't those colors beautiful?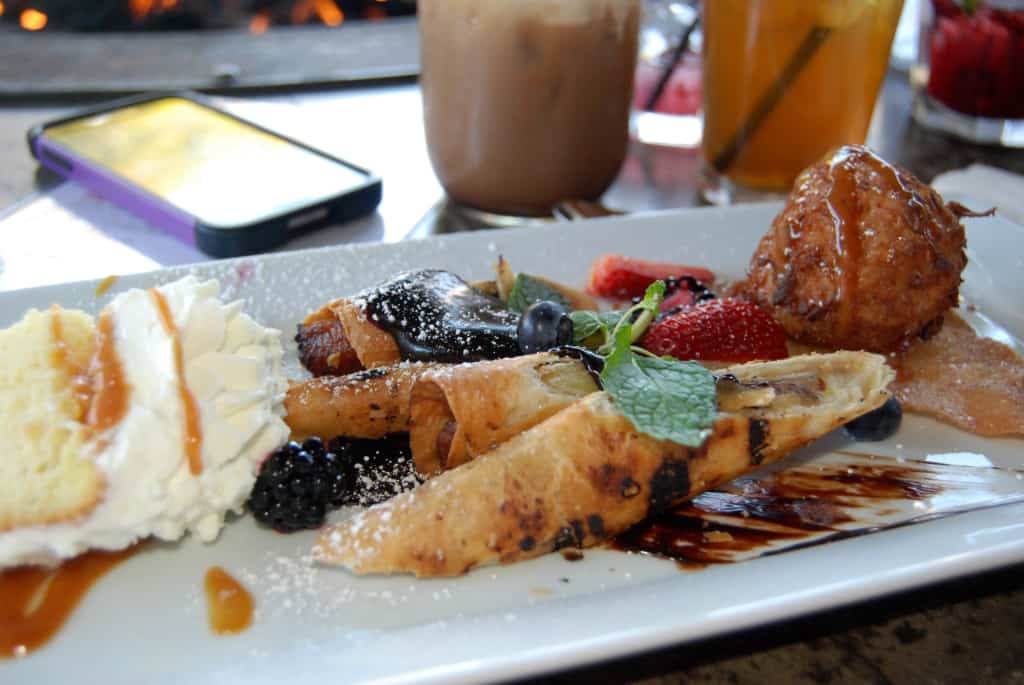 Then there was dessert. Some food is too pretty to eat, and this plate was one of them…but I didn't let it stop me. The Tres Leche cake on the left was soft and moist, and that caramel tasted entirely handmade, like everything else in Kayndaves. Of course, handwhipped cream, too. The Bananas Flautas in the middle were light on the outside, slightly crispy and the bananas inside reminded me of a fancy flaming bananas foster dessert on its own, but my favorite was the Coconut Crusted Fried Ice Cream. I was pretty full by this point but I managed to put away that entire ball of crispy coated ice cream. It's such a contradiction in terms, but that's what makes it even more fun to eat. (And I couldn't take it home, right?)
I can't not share a photo of the iced coffees they brought us right before we left. They hit the spot perfectly, as most of us had a decent drive home and being alert is always important after a full meal. Enjoying iced coffee in front of the fire just felt right, and it was a nice ending to a relaxing and fun few hours with good friends.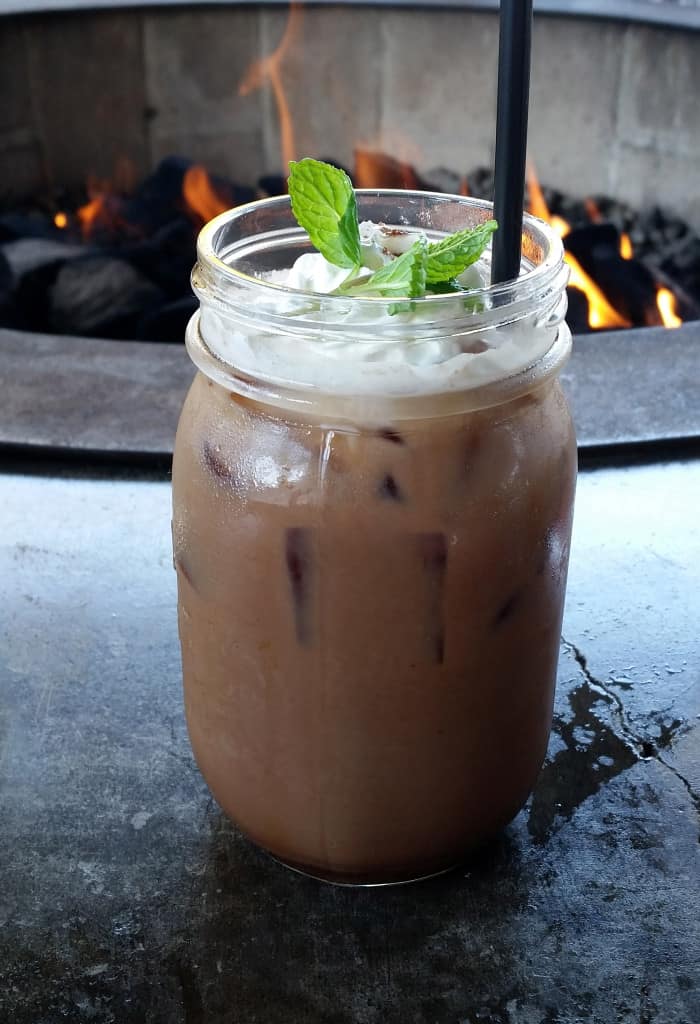 Kayndaves right across the street from Trader Joe's and next to a public parking area not far from the 101 freeway. (I took the 210/134 from here in the Inland Empire, making it an easy drive.) You can follow them on their Facebook page, Twitter, or on their colorful Instagram account. Let me know if you try it and what your favorite food is!