If you're a regular reader of my blog, you know that our two dogs are an important part of our family. They are our fur babies, longstanding members of the family who deserve to be as comfortable and happy as we can make them. Both of them are ten years old now. The Labrador has had both of his rear ACLs repaired, and he's beginning to show signs of mild arthritis in his rear hips. The Yorkie (whose story I share here) has only one kidney and as such, has a harder time regulating her body temperature. When she gets cold, she shudders and we leave her beautiful hair longer than many Yorkies so she's able to stay naturally warm. Helping to keep senior dogs warm is a problem we are now having to worry about frequently.
Despite how hard we try, both of them feel the cold faster than they normally would. When Magasin asked me to review their new pet beds, designed to reflect heat back onto the dogs and therefore helping them stay warmer, I said yes. In exchange for my story here with you, they shipped me a free bed for each of the fur babies, so this is a sponsored post but the photos and words are my own. While it's summer here in Southern California, we still tested them out to see how they liked them. We got a high rating from each pup! We'll be bringing them out for full use once the temps start to fall, and I'm sure they're going to appreciate the added cushiness, too.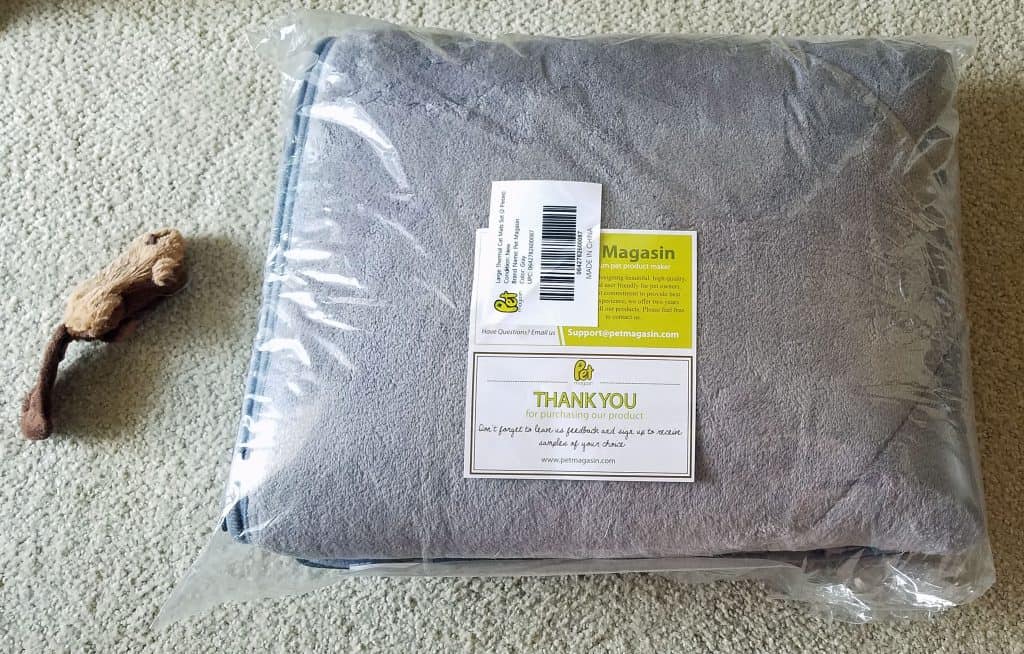 Each of the Pet Magasin self-heated beds includes a layer of mylar, the same insulating fabric used in spacesuits. The fabric reflects the heat back onto the pet, helping them to keep warm using their own body heat. Available on Amazon for about $17, the pet beds come in a two-pack : 1 large (28.5″ x 34.5″) and 1 small (17″ x 11″). (They are currently labeled as cat beds on Amazon but they are actually for cats or dogs as there is no real difference in the product so don't let the label throw you.) The bottom is rubberized so the mats won't slip and the top is velvety soft.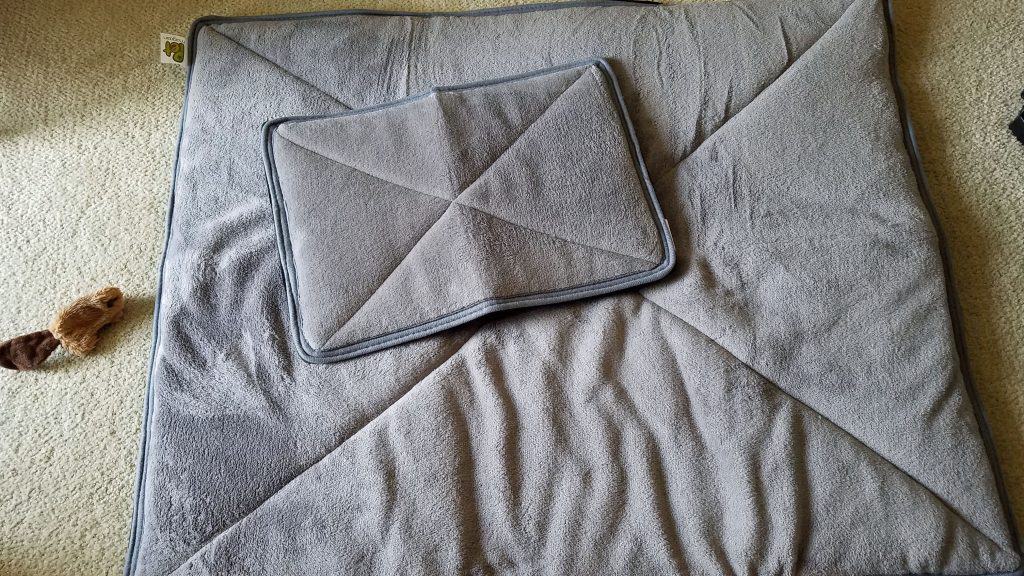 The big bed is just the right size for the Labrador. He likes to lay on a thick surface, so I laid his bed on top of his orthopedic bed. The slight crinkly sound seemed to confuse him a bit at first, but he quickly got over that.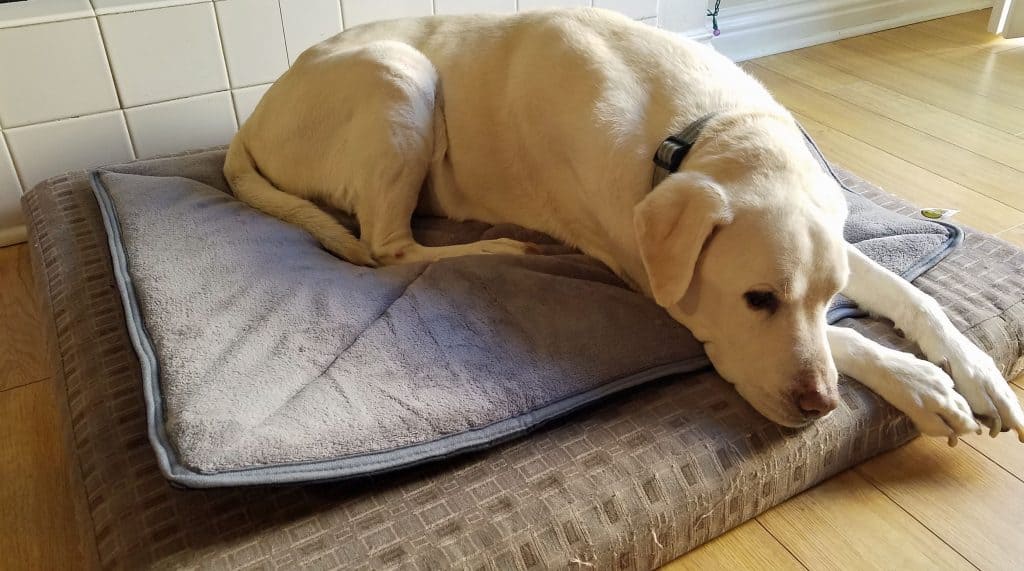 The smaller size fits right inside my Yorkie's bed, though I did lay it on our dining table's under-carriage, a small shelf that's the same shape as the table but much smaller and sits at foot level. She likes to lay there but the surface is slick. The smaller bed fits just right and she's warm and doesn't slide around when she skips in her sleep. (Dreaming dogs are too cute!)
One added bonus of both of these beds is that they are easily portable. I can fold them up and throw them in the back seat of my car or take them in the RV while we go camping. The dogs like to lay outside by us when we camp, and these machine-washable beds keep them away from the cold ground temps while allowing them to socialize with us and our guests. Throw it in the machine after we get home and it's ready for the next day.
My pups are happy when they're laying on one of the Magasin pet beds and that's what it's all about. No more worries about how to keep senior dogs warm when there's such an affordable option. If you're interested in purchasing a set for your own furbabies, visit Amazon here or go to PetMagasin.com to get 30% off with code: 5F2WSQO4!
An update a couple of winters later? My yorkie passed across the rainbow bridge in October of last year, but our labrador is laying on his Magasin pet bed as I type. It's been an unusually long and cold winter by Southern California standards, with a lot of rain and cold mornings. Our floors are naturally colder than usual, and cold floors are hard for dogs with any type of arthritis. Charlie, the lab, has arthritis in both his rear hips, so we have to take extra steps to keep him warm.
That's where the pet bed comes in handy. Charlie likes to lay in front of the fireplace or where the heater vents, so we place the pet bed on the floor or on top of his orthopedic bed. He's comfortable, seems to get up more easily from the laying position and if he makes a mess, we easily wash it in the machine. It dries safely without wrinkling or melting and it is stain free all this time later.
I would buy one of these pet beds in the future, and Charlie's demeanor while laying on his is proof. He even looks for it and heads to it to lay down on, even when it's not in his typical sleeping or resting area. For a low amount of money, we've just ensured we're really doing all we can to keep him comfortable and warm!